This is a recent photo of Kevin Oratowski.
<![if !vml]>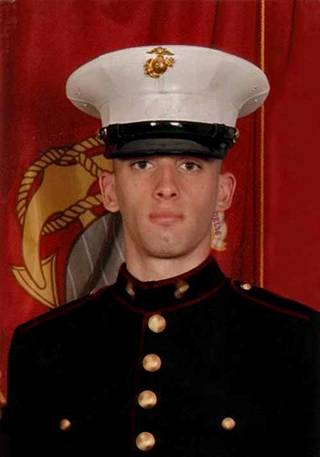 <![endif]>
He graduated from high school in 2005.
<![if !vml]>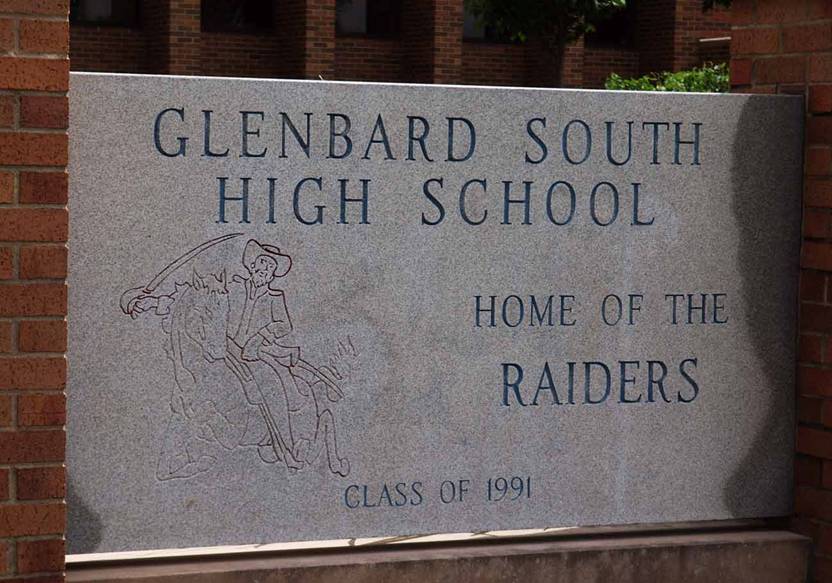 <![endif]>
This photo of Raiders was taken last fall, after Kevin graduated.
<![if !vml]>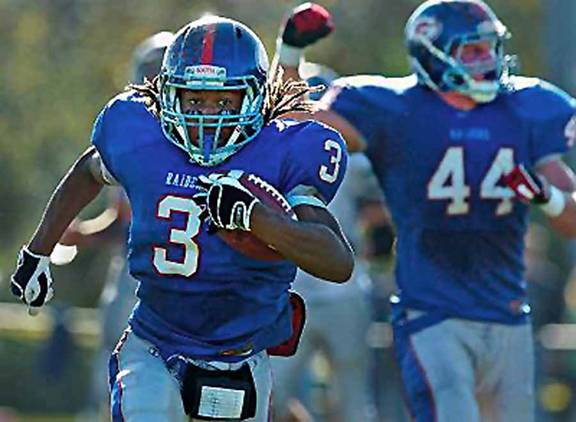 <![endif]>
(Jon Cunningham/For Sun-Times Media)
The athletic teams of Glenbard South are the Raiders.
<![if !vml]>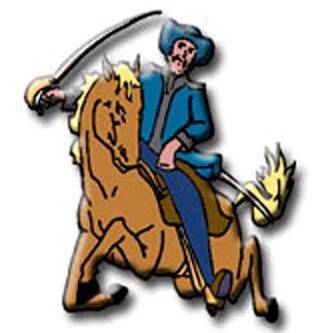 <![endif]>
First Division Marines of the 1st LAR Battalion are the Highlanders.  They deployed to southern Afghanistan in May, 2010 – the first time for the Battalion to deploy as a whole to Afghanistan.
<![if !vml]>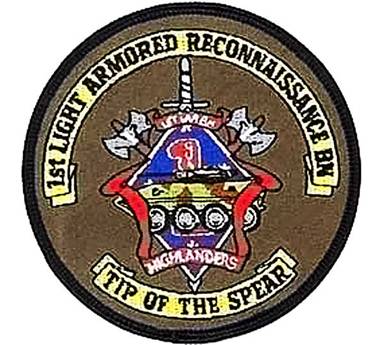 <![endif]>
The Helmand River (and the tributary Arghandab River of adjacent Kandahar Province) drains the mountains of central Afghanistan and runs across the desert of the south.  Eventually it crosses into southeast Iran where it dries up.  It is a river to nowhere.  In the 1950s we helped Afghanistan to starve a little less by creating a network of irrigation canals that further dissipate this scarce resource.
The current mission of the Highlanders involves counterinsurgency operations along the Helmand River in southern Afghanistan while also conducting deep interdiction operations in the desert areas (shown in the red circle below) connecting the Helmand River Valley with the border cities of Afghanistan and Pakistan.
<![if !vml]>
<![endif]>
map from Google, modified by author
Afghan children watch Marines pass by their home during a patrol near Combat Outpost Castle, July 14. Corpsmen with 1st LAR Bn. treated two Afghan girls, who fell into a nearby river. The girls were treated at 1st LAR's Basic Aid Station then sent to a larger medical facility:
<![if !vml]>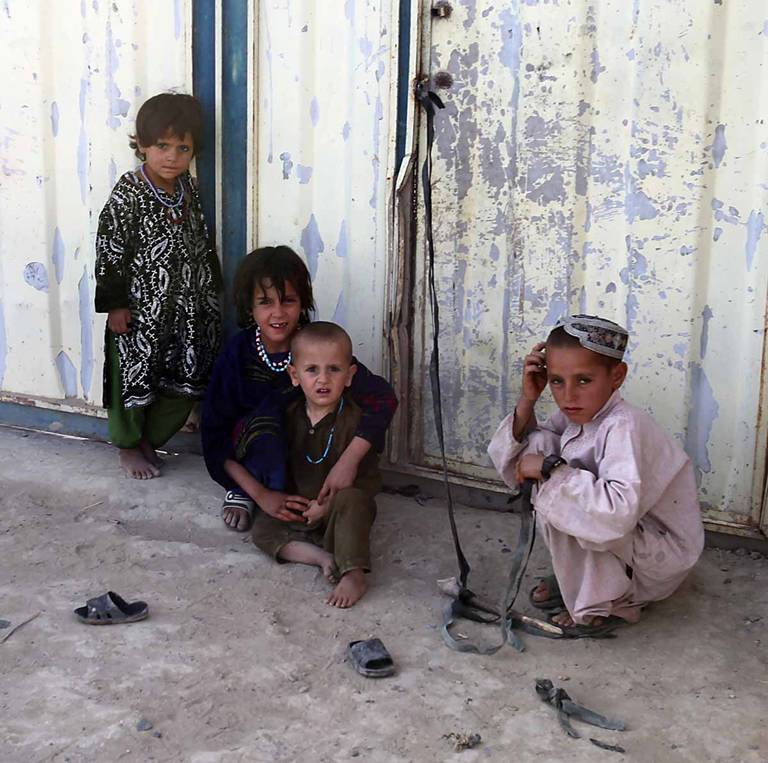 <![endif]>
Marines with 2nd Platoon, Alpha Company, 1st Light Armored Reconnaissance Battalion, patrol through a deserted bazaar near Combat Outpost Castle, July 14. "My quality of life has improved since the Marines arrived to this area, I am very happy they are here," said Normo Muhammad, a local farmer:
<![if !vml]>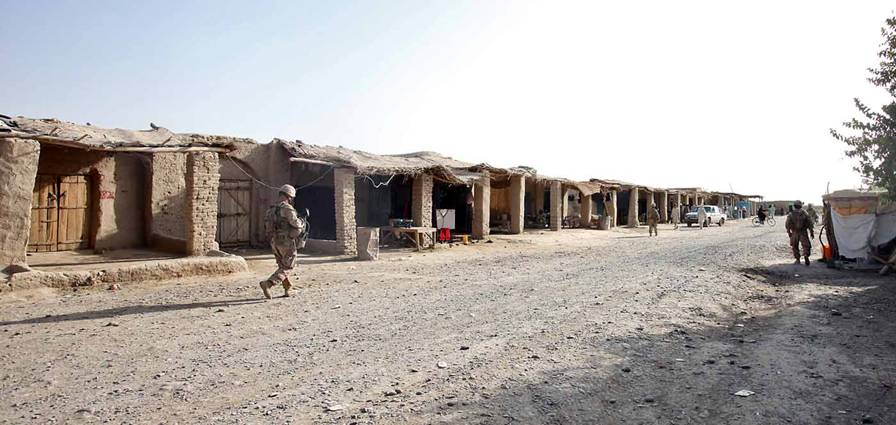 <![endif]>
First Lieutenant Mathew Newman, executive officer for Alpha Company, 1st Light Armored Reconnaissance Battalion walks by an Afghan boy during a patrol near Combat Outpost Castle, July 14:
<![if !vml]>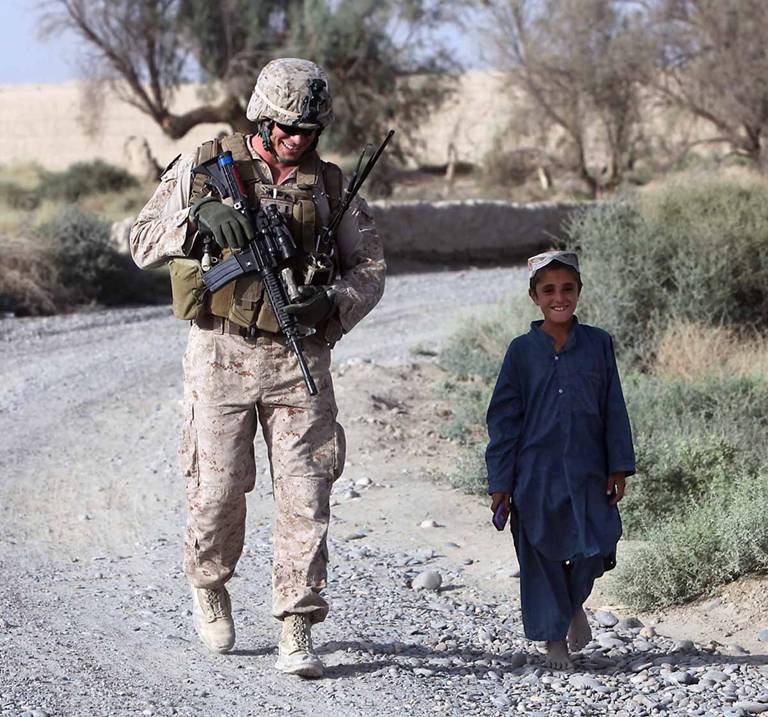 <![endif]>
(3 photos taken last month are courtesy of dvidshub.net)
Dismounted patrols are what they do when they get there, but their eight-wheelers are how they get there.
<![if !vml]>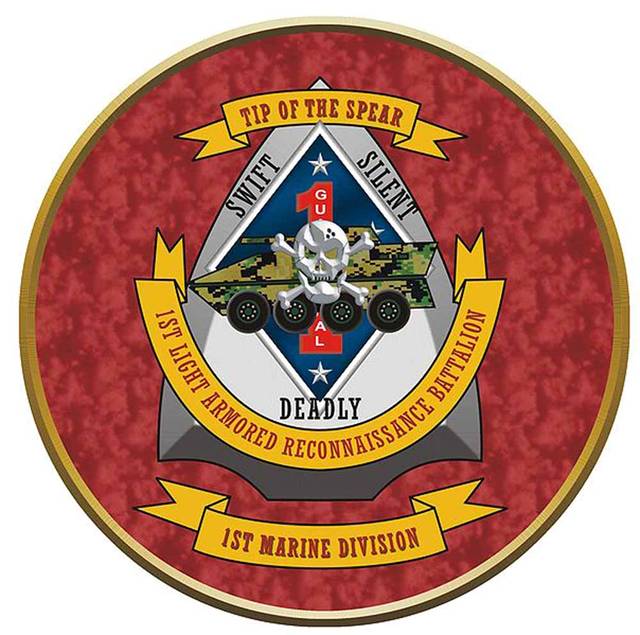 <![endif]>
The LAV-25 is the Light Armored Vehicle used by the Marines since 1983.  It is the primary equipment used by the 1st Light Armored Reconnaissance Battalion of the 1st Marine Division.  Originally intended to be half boat, the current Service Life Extension Programs (the LAV-25A1 in the '90s and the LAV-25A2 currently) trade amphibious capability for extra armor.
<![if !vml]>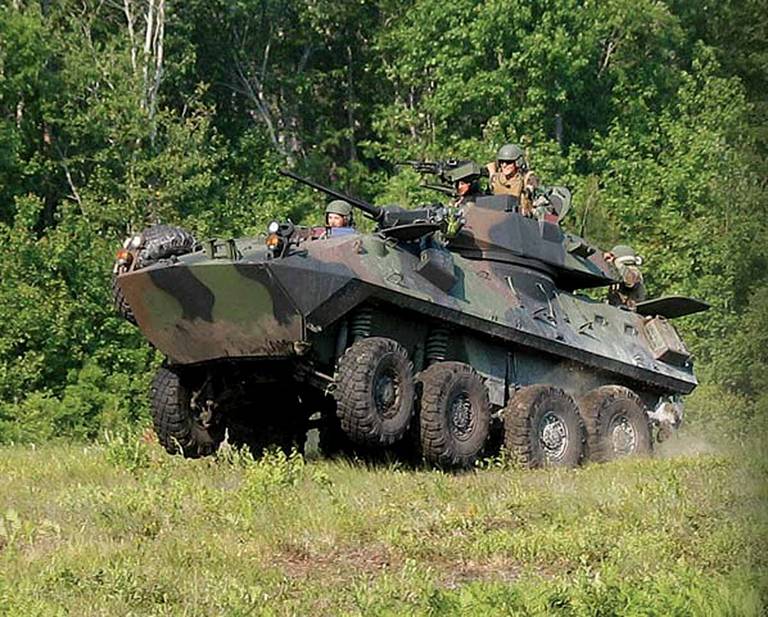 <![endif]>
Rumsfeld famously said, "You go to war with the army that you have, not the army that you want."  It is all to the credit of DoD planners for the SLEP to make that trade-off.  River crossings are not the tactical imperative in Helmand and Kandahar Provinces.  IEDs are.
The LAV-25 is a magnificent machine.  It is powered by a 318 cubic inch turbocharged V-6 two-stroke and carries 71 gallons of JP-8 diesel fuel giving it a range over 400 miles.  It can climb a 60 percent grade and traverse a 30 percent slope.  It has a 51-foot turning radius – the Dodge Power Wagon has a 49-foot radius.
<![if !vml]>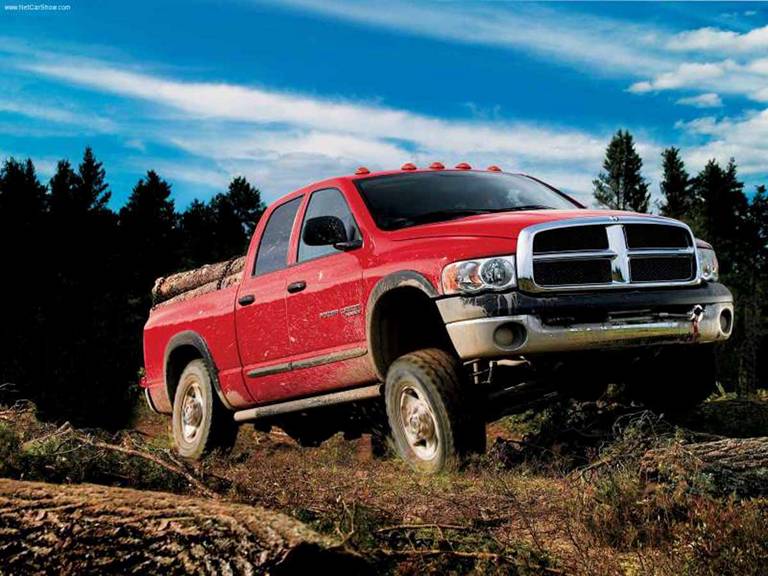 <![endif]>
no armor, no guns, but four percent tighter turning radius than the LAV-25
Its primary weapon is a 25 mm chain gun supplemented with several 7.62 mm machine guns.  Combat loaded, there are 210 ready rounds and 420 stowed rounds of 25 mm ammunition and 400 ready rounds and 1200 stowed rounds of 7.62mm.
<![if !vml]>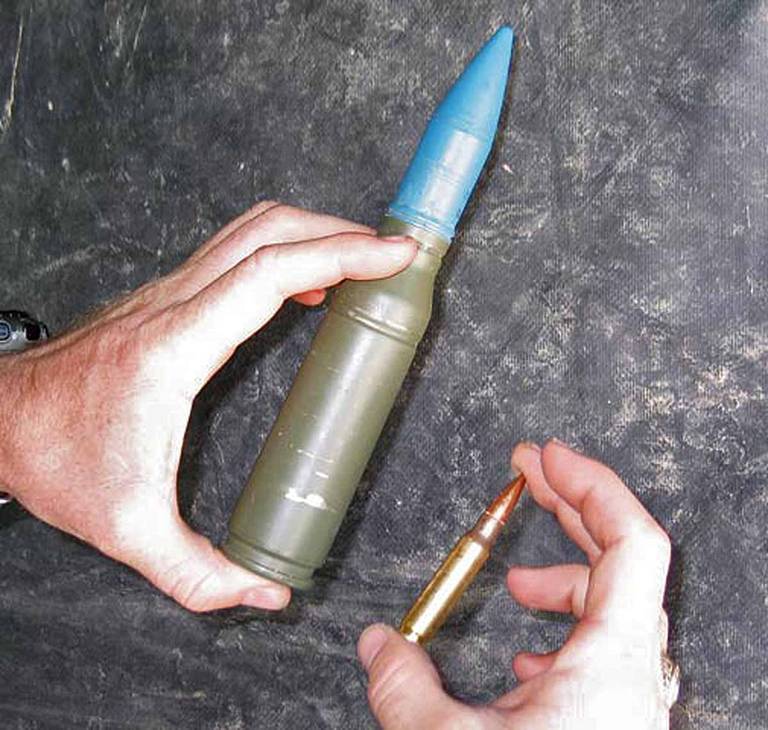 <![endif]>
25 mm and 7.62 mm
It takes a crew of thee:  Commander, driver and gunner.  Additionally it can carry six Recon Marines or four with full battle-rattle.
The word behind the S & CBs is "Guadalcanal".
<![if !vml]>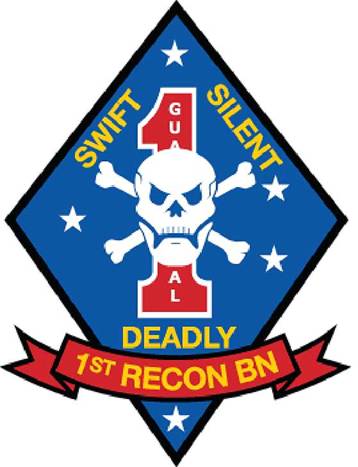 <![endif]>
Kevin Oratowski was conducting mounted combat operations against enemy forces in Helmand Province, Afghanistan, when a roadside bomb blast killed him.  He had enlisted in the Marine Corps in June 23, 2008, according to the Marines.  It was his first combat deployment, according to Camp Pendleton officials.  He was returning to Wheaton in November, according to his family.
<![if !vml]>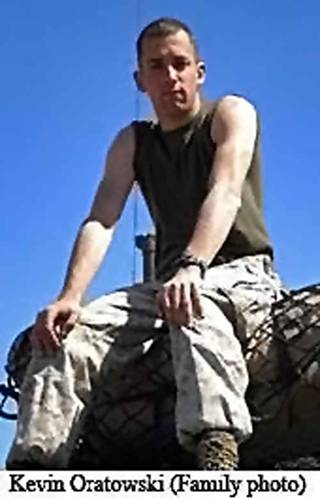 <![endif]>

And according to the DoD press release:  Lance Cpl. Kevin E. Oratowski, 23, of Wheaton, Ill., died Aug. 18 while supporting combat operations in Helmand Province, Afghanistan.
<![if !vml]>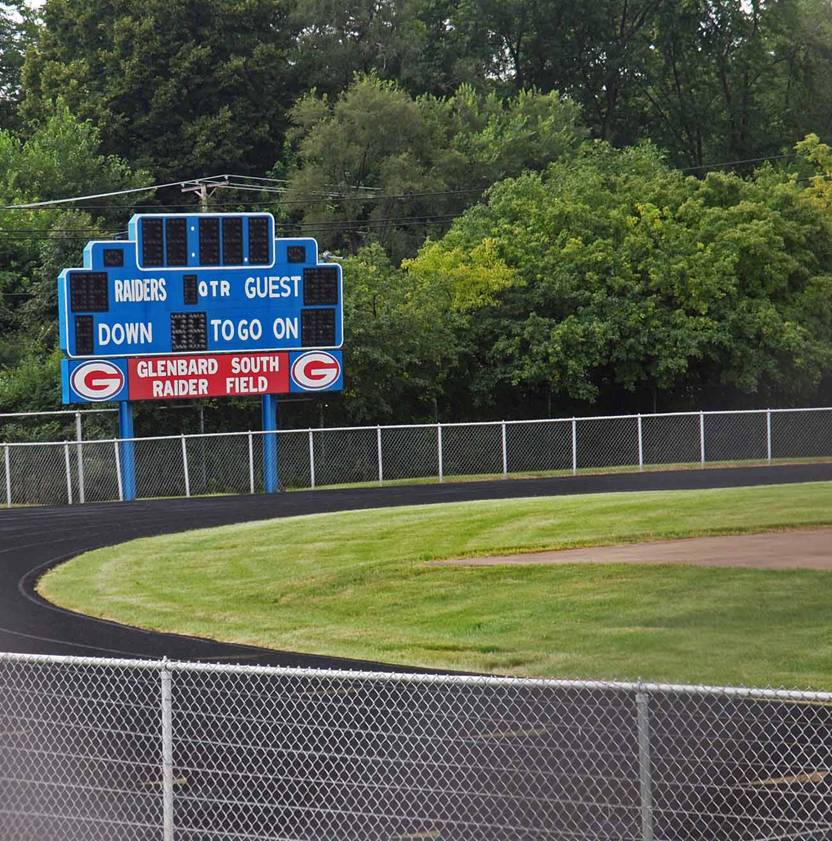 <![endif]>
Rest in peace, Kevin.
back to ALL MISSIONS