2009 is the very first year since 1921 that traffic fatalities in Illinois alone have not exceeded 1,000.
 After 8.5 years of American troops engaging the enemy in Afghanistan, KIAs have exceeded 1,000.
If it hadn't been for the nail-polishing of Lora Hunt, most of us would never have heard of Anita Zaffke.  The way we build cars and roads and the way we use them results in one hundred Americans (37,313 p.a.) dying in "accidents" every day.  It is a choice we make as a society.  Individuals can shift the odds in their favor by taking individual actions:  Not speeding, not traveling during rush hour, not riding motorcycles.  Win this country, we have individual choices, freedom, liberty.
As a society, we have made the social choice to pay a lot for the way we move around.  And, as a society, we have made the choice to pay (so far) 1,000 American lives for the influence we have had in Afghanistan.  Like traffic deaths, we don't know exactly who will die or how, but we know we must pay a price to get the job done the way we want to do it.
After September 11, 2001 we could have nuked that place.  In the other extreme alternative, we could have "turned the other cheek".  We chose a middle way:  We would target individual bad guys, we would kick the Taliban out and we would help the Afghans to stand on their own feet.  These are difficult things to do and there would be a price to pay.  We knew that because we have done similar work in Iraq.
Two weeks ago, the Taliban announced a spring offensive called al Fatah saying they would besiege Afghanistan's big cities.  This was in reaction to our action in Marjeh and in anticipation of our action in Kandahar.  Two days ago, at 8:30 (local time) in the morning in that nation's capitol city, a "vehicle-borne IED" exploded.
Taliban spokesman Zabihullah Mujahid said the VBIED with 1200 pounds of explosive was driven into a U.S. convoy and detonated.  The blast destroyed 12 civilian vehicles, one of them a bus.  Five NATO vehicles were damaged and some 50 people were injured.  12 Afghan civilians died and Colonel Geoff Parker became the highest-ranking Canadian to give his life since their mission began there in 2002.
Five USA soldiers also died.  Specialist Joshua Tomlinson, 24; Staff Sergeant Richard Tieman, 28; Lieutenant Colonel Thomas Belkofer, 44; Colonel John McHugh, 46; and Lieutenant Colonel Paul Bartz of Waterloo, Wisconsin, age 43.  I would be honored to be given the opportunity to travel to Waterloo for the funeral of LTC Bartz.
<![if !vml]>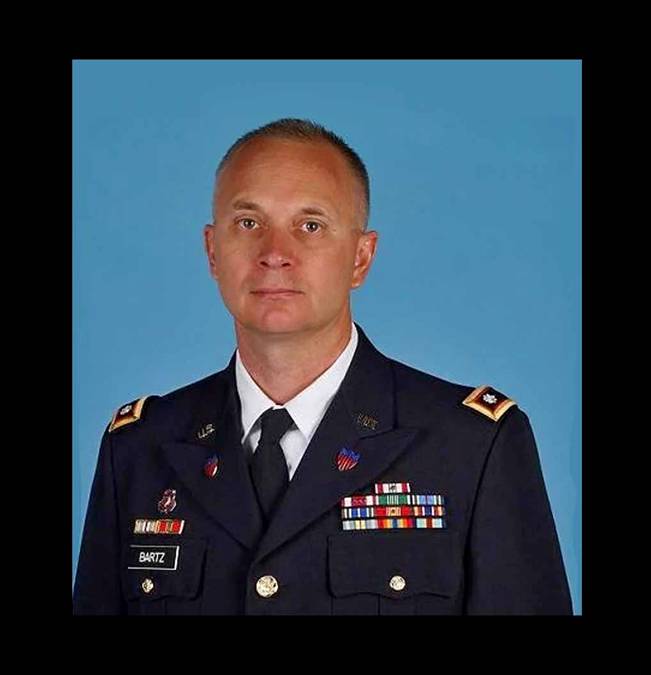 <![endif]>
Paul Bartz did not die because some driver was applying nail polish and not watching the road.  He died because we Americans chose to pay a price in blood and treasure to make the world a better place.  Paul Bartz was one who volunteered to make that payment.
The Watertown Daily Times is the first paper with a thorough background story:
As students graduate from high school, seldom do they realize what great achievements they may accomplish in the future. That was the case of U.S. Army Lt. Col. Paul R. Bartz, son of Robert and Darlene Bartz of Waterloo, who died Tuesday while serving his country in Afghanistan.

"When they say these wars have taken the very best and brightest of our country, Paul's a great example of that," Richard Jones, former history teacher at Waterloo High School, said. "A lot of kids in school just haven't found their niche and he was an example of that. In school he was just an average student. He really didn't care for school. I am so impressed with what he accomplished in his life."

Bartz, 43, of Watertown, N.Y., a native of Waterloo, was among five soldiers killed Tuesday when a suicide vehicle-borne improvised explosive device exploded near their convoy in Kabul, according to a press release from the Defense Department.

Bartz was part of a team from the 10th Mountain Division headquarters to conduct key leader training and set the conditions for the 10th Mountain Division headquarters' deployment to Afghanistan later this year.

He served as the assistant chief of staff, G-1 (personnel) with the Headquarters and Headquarters Battalion, 10th Mountain Division (light infantry).
Although, Bartz had moved to Fort Drum in Watertown, N.Y., in June he visited his hometown as often as he could and was home for a visit with his parents in Waterloo in December 2009 where he gave a presentation at St. John Lutheran Church.

"He shared his extensive military career, perspective on the war and places he had served. He attended St. John's Lutheran grade school when he was growing up," the Rev. Tom Wilsmann, of St. John Lutheran Church in Waterloo, said. "He was a very interesting person."

He made other trips home over the years including a special trip to Waterloo High School in 2006 to speak to the class of his favorite teacher, Richard Jones. Bartz graduated from Waterloo High School in 1985.

"During my last year of teaching he called me up and wanted to speak to my classes. I wish I would have taped it now," Jones said. "He did a great job talking to them."
Jones said Bartz talked to his history students about what high school was like for him and said after high school his initial goals were to buy a car, work at Perry's and drink. He told students those plans quickly changed after his father talked him into going on to college and he received a bachelor of science degree from the University of Wisconsin-Oshkosh in 1989. During that time he joined the Army ROTC to help pay for tuition. That was just the beginning of a very successful career in the military. He shared other stories of his career with the students and at times became very emotional.

"He easily could have been in the Pentagon on 9/11. He said he just happened to be out of the office that day and knew a lot of people that had been killed there," Jones said. "When he was telling the story he had to pause and fight back tears."

Bartz had traveled around the world through the military and played a big role in some of the decisions made over the years. He talked to the students about his experience of sitting in on a meeting with only President George Bush, Secretary of Defense Donald Rumsfeld and one other person before the official decision was made to start the war in Iraq trying to show students what an average person from the small town of Waterloo can be a part of.

"He said his theory on 9/11 was that those 19 guys just got us that day. There wasn't any master plan they just pulled it off," Jones said.
Others remember Bartz in his recent years as being a very dedicated and determined individual. Elaine Baumann, a close friend of the Bartz family, said Paul was planning to retire in two years but was determined to advance in his rank before retiring.

"He had a wonderful personality and was a very well-liked person," Baumann said. "He cared so much for this community."

Bartz was a highly decorated officer, receiving awards such as the Defense Meritorious Service Medal, Meritorious Service Medal, Army Commendation Medal, Joint Service Achievement Medal and the Army Achievement Medal.

He is survived by a wife and son; his parents; a brother, James; and two sisters, Beth and Debbie; also several nieces and nephews.
         The Bartz Coat of Arms:
<![if !vml]>
<![endif]>
We didn't "take them prisoner" but we did "arrest" them:
Seven people have been arrested over a suicide bombing that killed six NATO troops in Afghanistan last week, Afghan intelligence spokesman Saeed Ansari said Monday.
Five Americans - including a colonel and two lieutenant colonels - a Canadian colonel, and at least 12 Afghan civilians were killed in the blast on May 18.
The arrests took place last week, Ansari said. He said the people arrested were working for a Taliban "shadow governor," Daoud Surkha.
The militant Islamist movement has a system of "shadow governors" assigned to order operations in Afghan provinces.
Ansari told CNN Surkha was "across the border," presumably in Pakistan.
Not here:  He will be buried in Washington state, according to the Wisconsin PGR website
.