This would be Nailer's mission when we got to Moline; our job was to take him from Midway across the state.
His obituary lists the many small Illinois cities where his surviving family lives: Lawton, Sheffield, Sterling, Kewanee, Peoria and Rock Falls.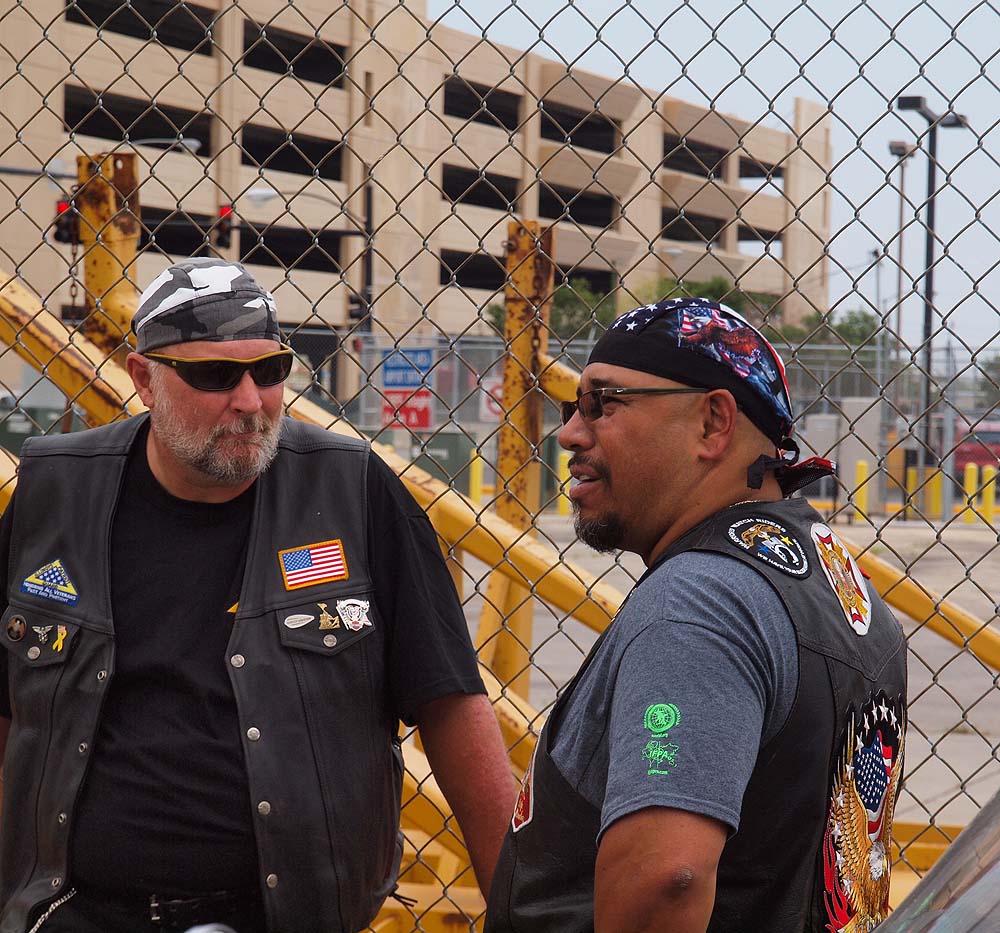 Joe would drill the next morning but he would make the whole cross-state trip and back again anyway.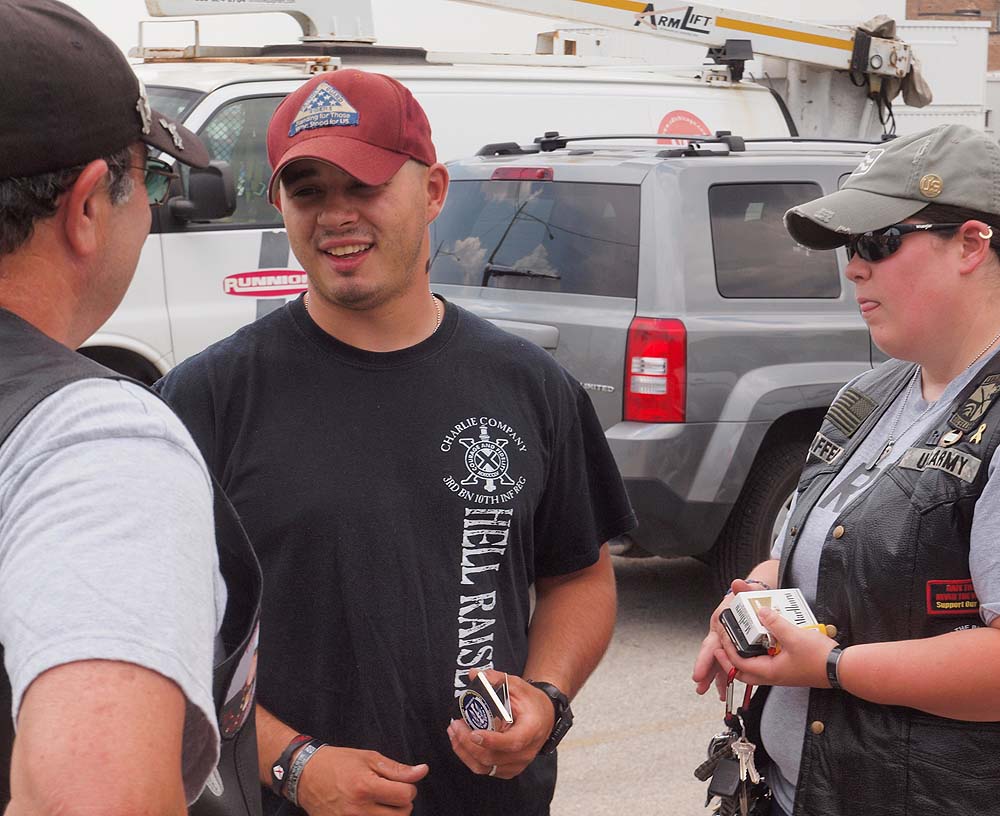 Chuck was the breifing RC. It was his first mission as Ride Captain and he took it seriously. (When I arrived, even before I dismounted, he advised me that our trip would be 107 miles and that I should check my gas.) I developed a special appreciation for Chuck after his rock-solid performance during the chaotic McHone cemetery escort. The weather would make our escort today even more dangerous then that one.
While we all survived this mission, for one of us it would be his last. Ron Oswald would finish this escort but the next day, on his way to another, he would be killed on his bike in a chain-reaction traffic crash triggered by a drunk driver. As I write this, his funeral is planned:
http://forums.lutzkicksass.com/cgi-bin/forum/Blah.pl?m-1342320670/
http://www.patriotguard.org/Forums/tabid/61/postid/1838736/view/topic/Default.aspx
I put my camera away early this mission and I wish I didn't. I have no good photo of Ron the day before he died, but from a bridge in Princeton I do have this of his hearse escort with his friend "Iron Rick" Williams. Ron and Rick would lead the Jeremy all the way from Midway to Moline.

Rick submitted this photo of his friend.
RIP Ron.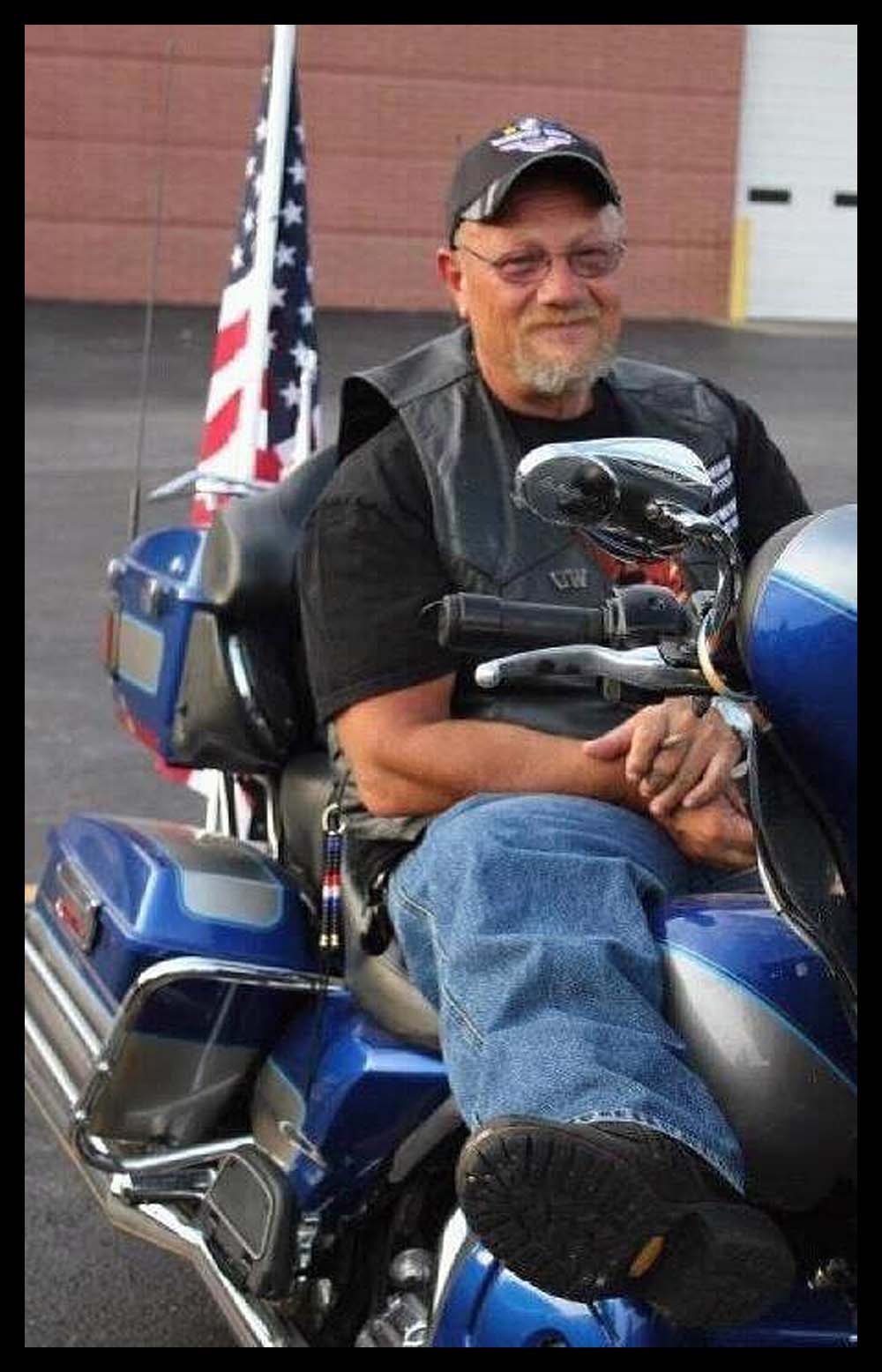 But this day was about Jeremy R. Gonzalez who enlisted in the Illinois National Guard right after high school in 1991. He became regular army and served in Germany and Korea. He earned a Bronze Star during Operation Iraqi Freedom when he was greviously injured. After eight years of struggle, it overcame him.
The sky got dark just before we left.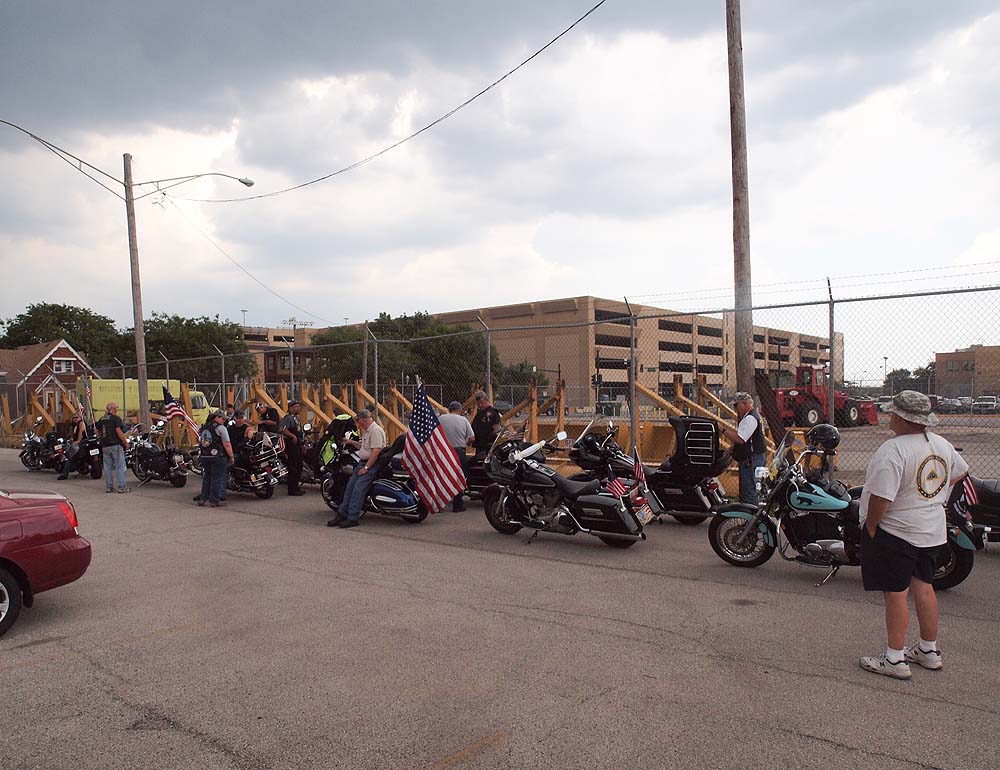 We would pass under bridges near Minooka, Morris and Ottawa where firemen and police made demonstrations. (If the weather had been better, I would have gotten their photos.) It rained. Then it go sunny. Then it rained gain and got sunny again.
And then it really rained. We rode through a thunderstorm that produced a soaking, driving rain. Whether you use sunglasses, goggles or the visor of a helmet, the cold rain on the outside surface and the warm humidity on the inside cause a condensation that fogs your vision. The falling rain and the spray from tires further reduce visibility just as the roadway becomes more slippery.
Half of us dropped out, but half of us didn't. And then it cleared again. And then we arrived in Princeton.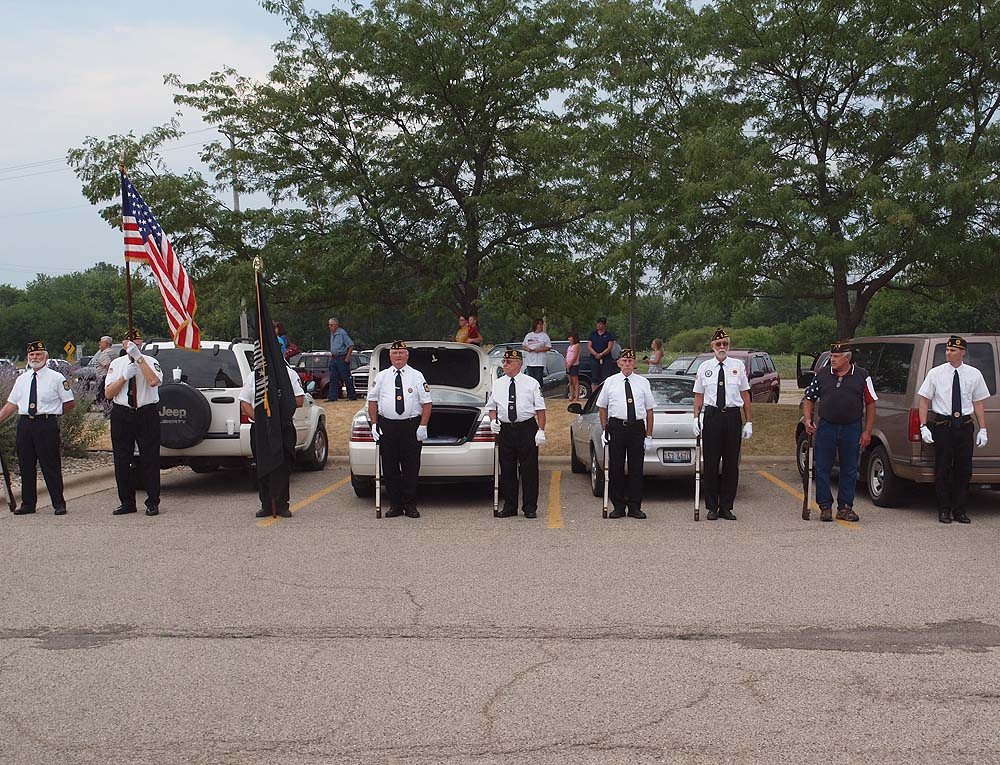 Other bikes were waiting and 34 motorcycles would travel the last 57 miles.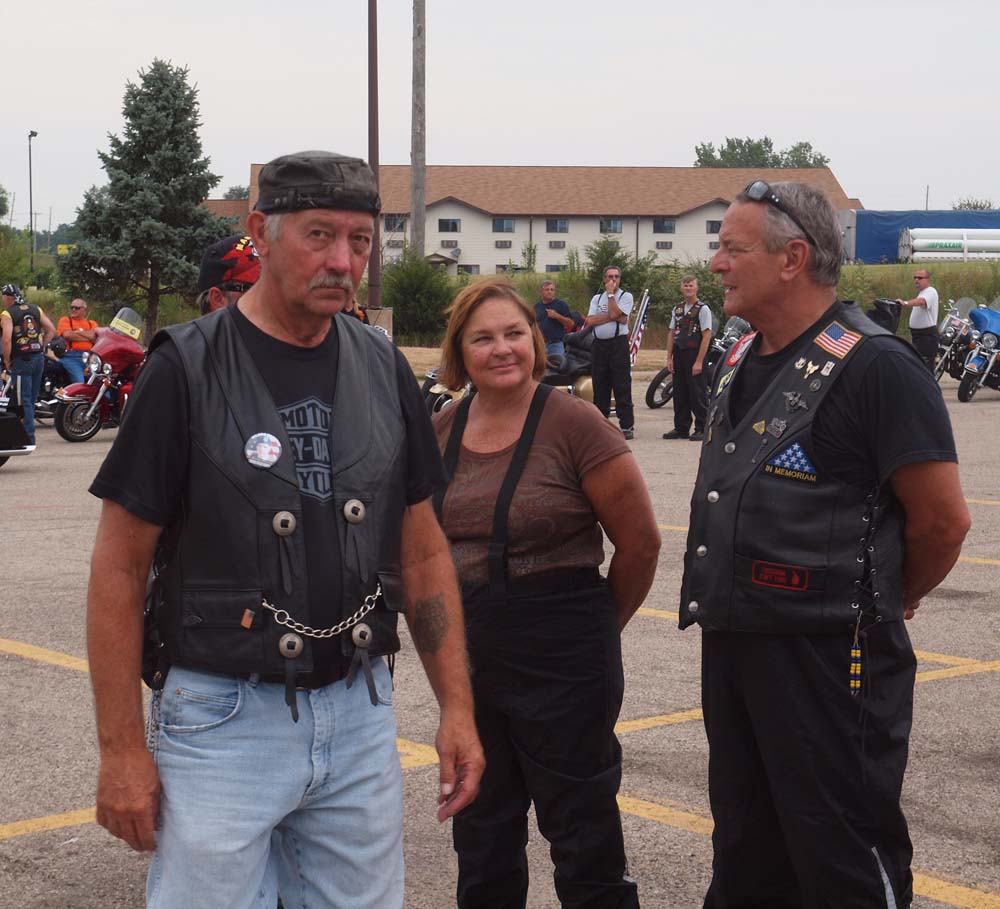 Scouts were there too.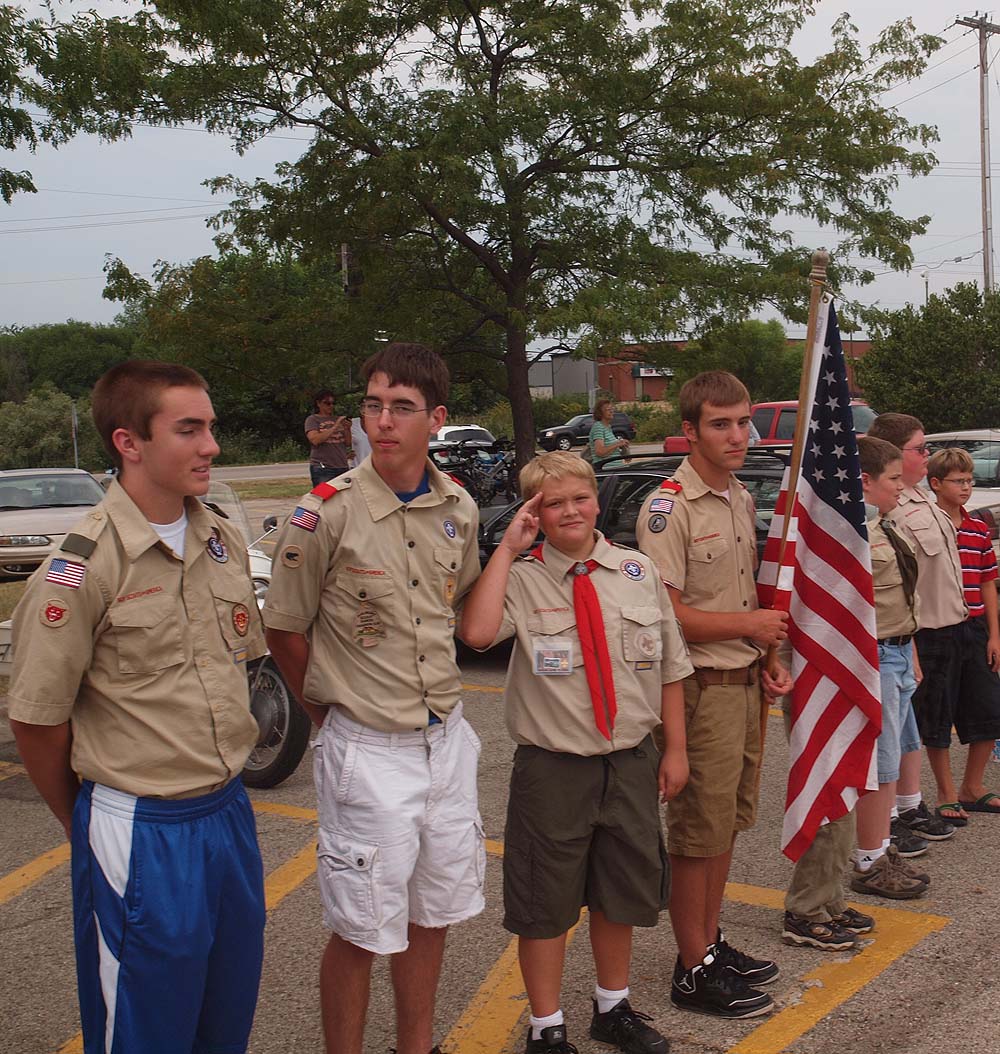 Troop 63 was there for Jeremy. There are many things that boys could do on a summertime Friday afternoon. These boys stood in a line and saluted.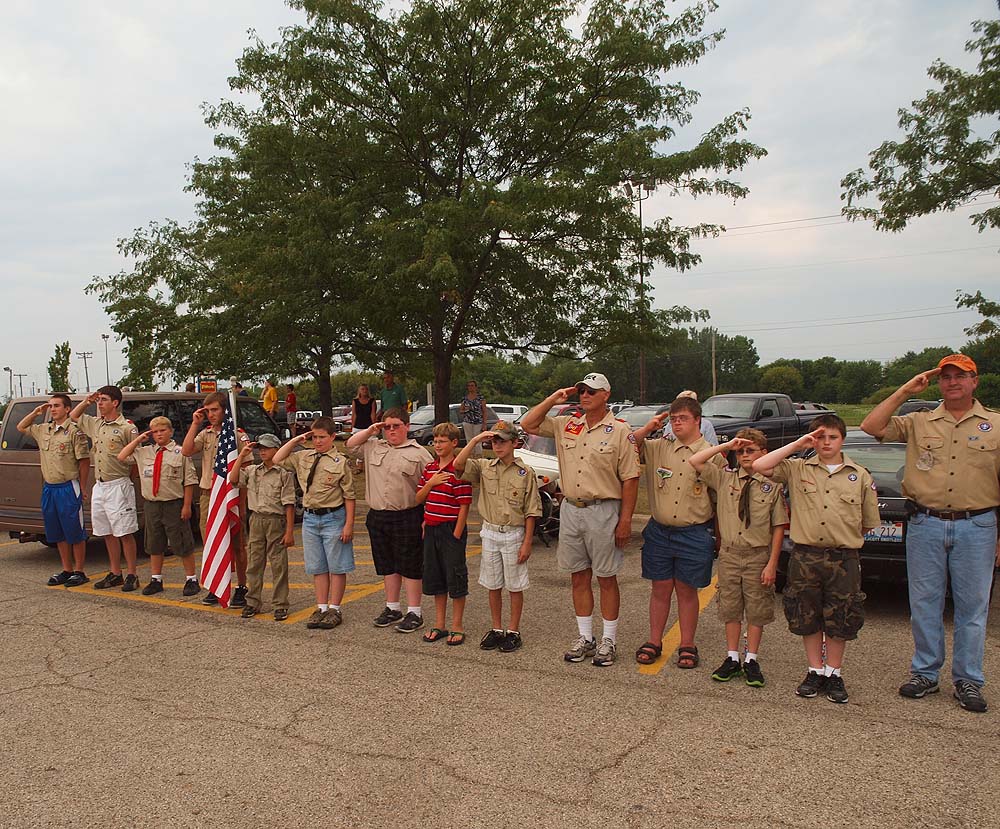 We each do what we can. I could have done more for Ron Oswald, 57, and Jeremy Gonzalez, 38. I wish I worked harder to make this memorial more meaningful.
I did, however, bring my 5-by-8 and an appropriately large flagpole. I left Princeton before the rest of the group and traveled to a bridge two miles down the road. I set-up and waved to the traffic that honked at me.
And then they came.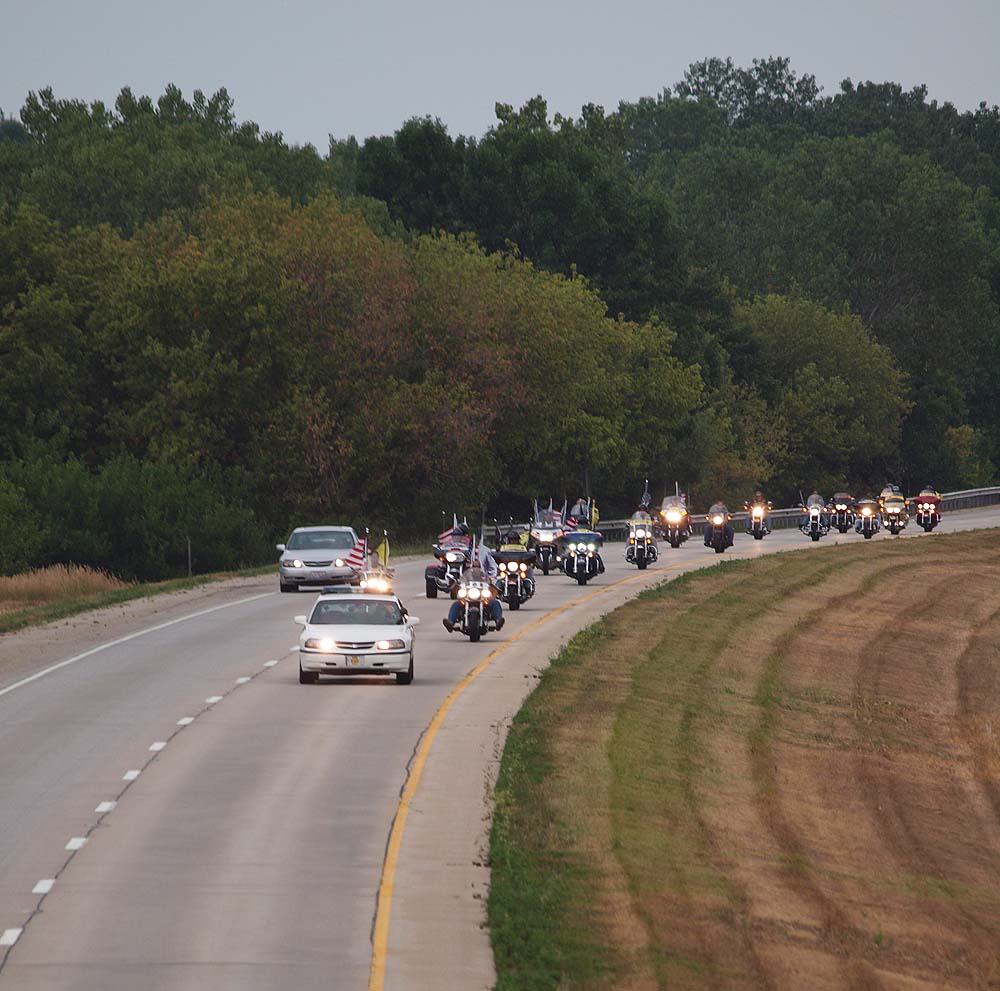 Nailer led the group.
33 motorcycles followed him and led Jeremy through the many small Illinois cities of his family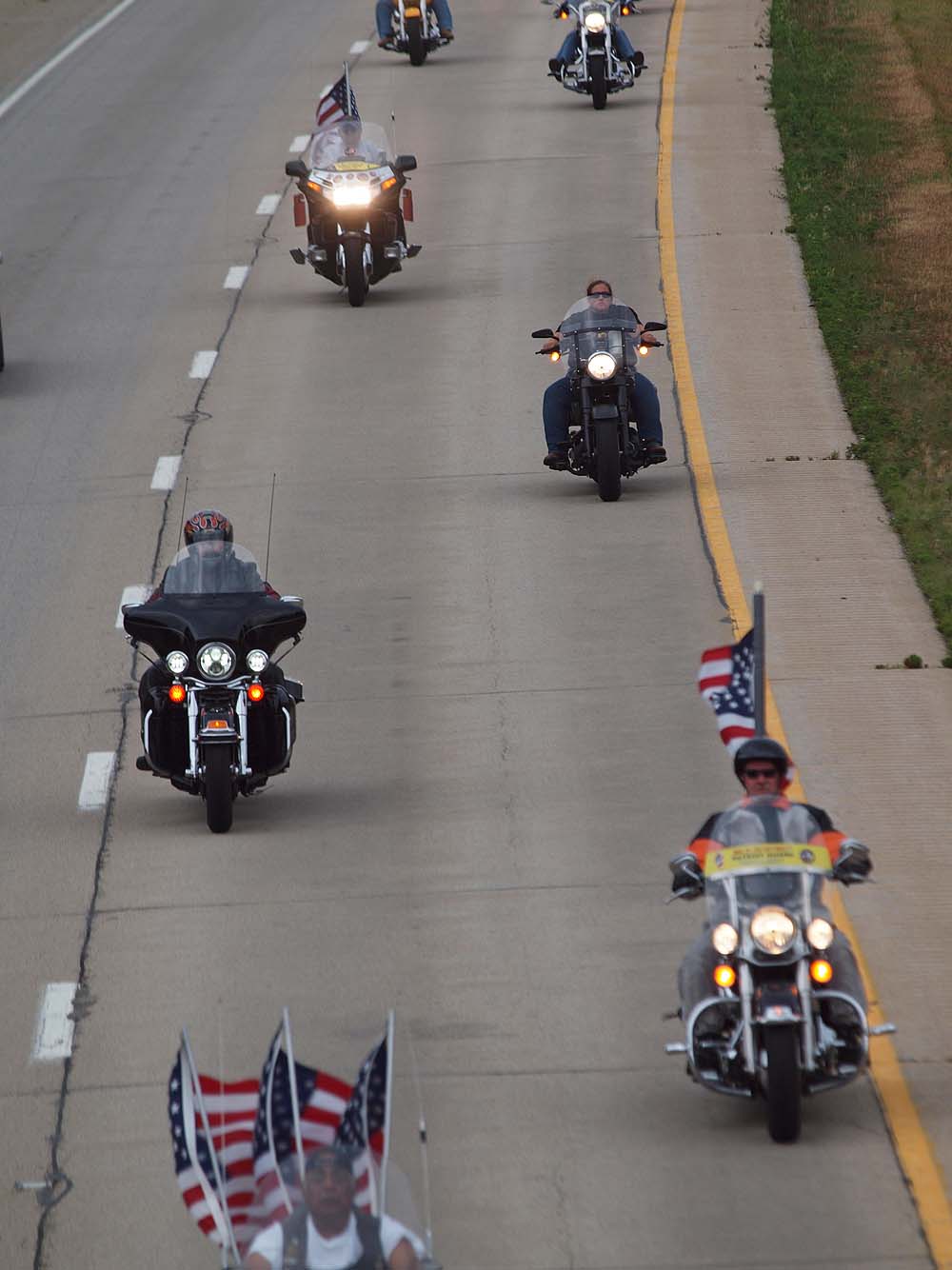 west to the military cemetery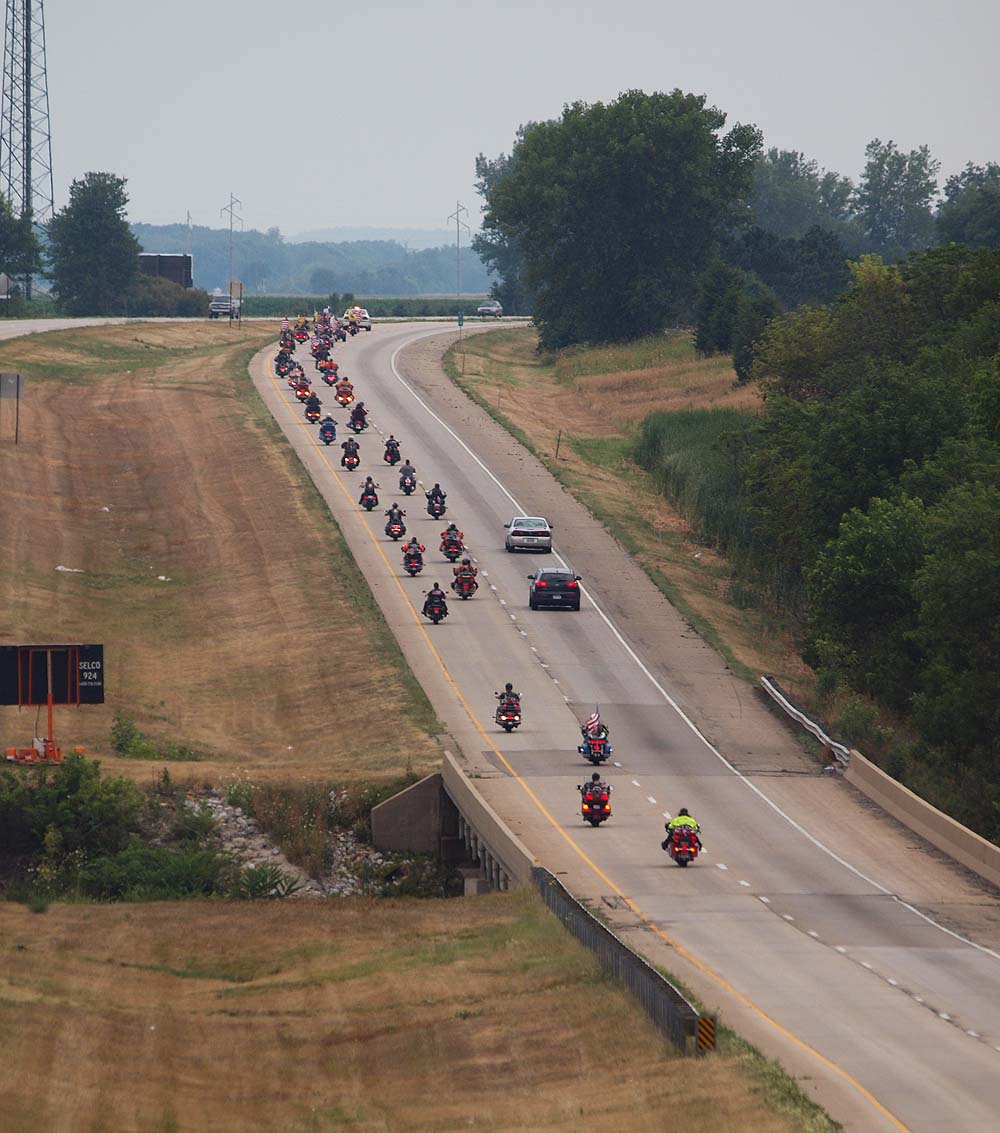 on an island in the Mississippi river where he will rest.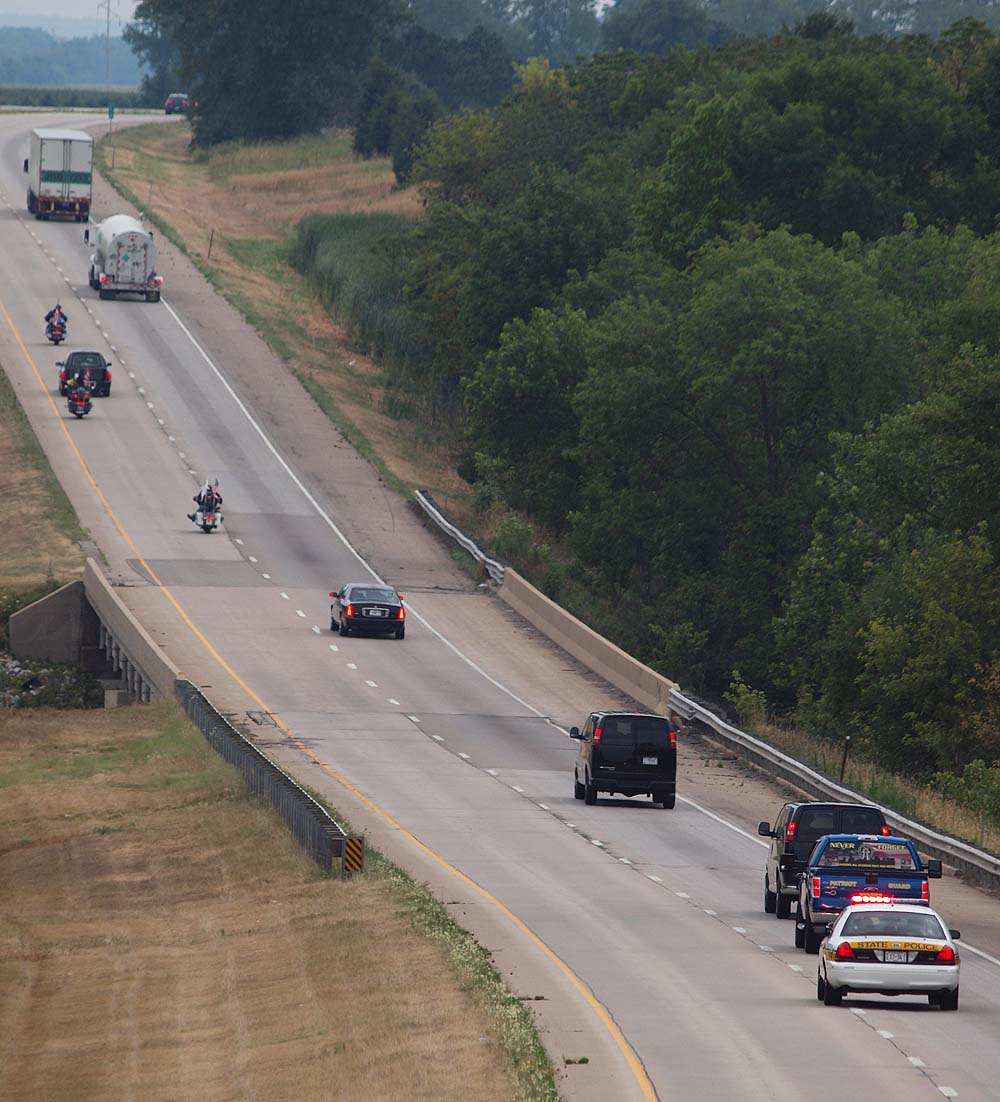 On my way home I passed through Polo and another cemetery.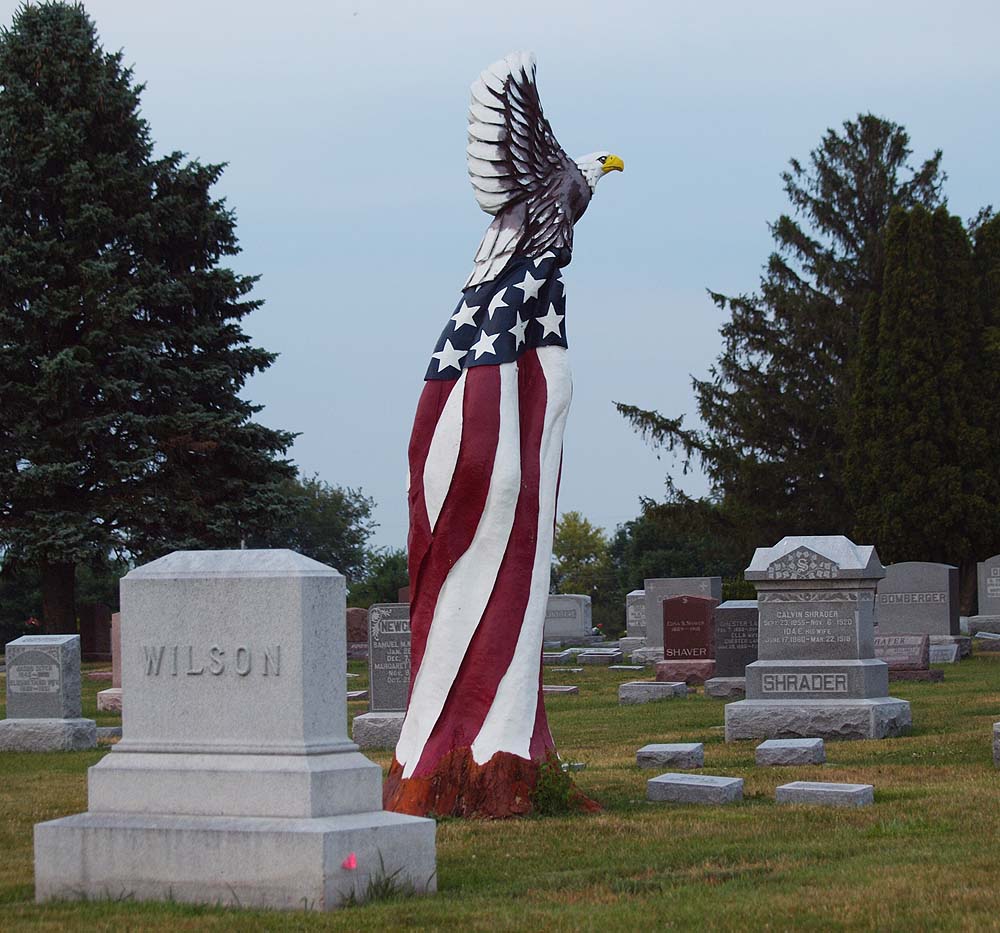 Most of us involved in the escort across Illinois did not know you Jeremy. But the scouts and the bikers were there anyway. We want you to know that we respect the way you lived your life. We want your family to know that too.
And may this page let the rest of the world know.
back to ALL MISSIONS