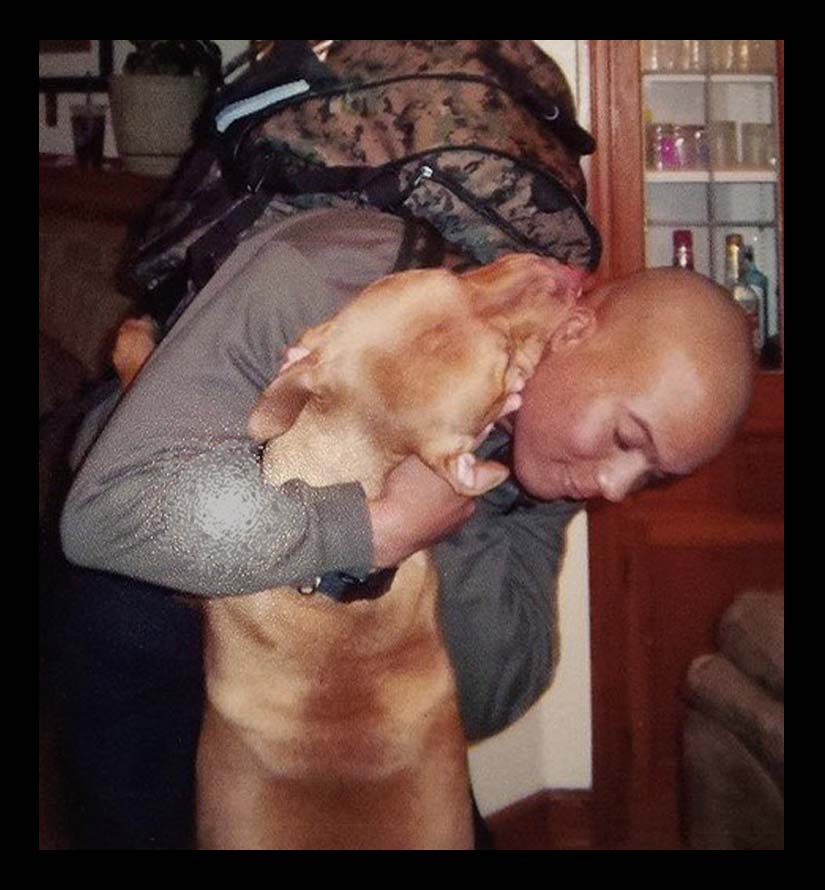 Jeremiah and his dog.
16 months ago, Jeremiah graduated from high school. One week ago, Lance Corporal Jeremiah M. Collins, Jr. died in Afghanistan.
The fiscal year for the federal government ends September 30th. As a result of some political theater, the government "shut down" at the beginning of October. In fact, only 13 percent of government operations were halted, mostly the Park Service. The political purpose was to demonstrate disruption of government without actually causing much disruption. 87 percent of government spending, the "essential" spending, continued apace.
He died on October 5th, so there was some delay until the powers that be were able to establish that spending related to the death of a young warrior during the final stages of our 12-year war is indeed part of the essential 87 percent. Some of us already knew that.



Confirmed Mission
Lance Cpl. Jeremiah M. Collins
Milwaukee, WI
October 16, 18-19, 2013

Lance Cpl. Jeremiah M. Collins, Jr., died on Oct. 5, while supporting combat operations in Helmand province, Afghanistan. He was assigned to Combat Logistics Regiment 2, 2nd Marine Logistics Group, II Marine Expeditionary Force, Camp Lejeune, N.C. LCpl Collins was highly respected by his comrades, some of whom will be traveling here from Camp LeJeune to pay their respects. His family has invited the Patriot Guard Riders to join them in paying respects to their son. This is expected to be a sizable mission and a strong PGR presence is requested.


Arrival Detail

Wednesday October 16, 2013


Signature Flight Support
923 E Layton Avenue
Milwaukee, WI 53207

(changed Tuesday at 1240)

128th Air Refueling Wing
take Pennsylvania Ave to Grange Ave
General Mitchell Airport

"We do not know yet if we will have clearance to enter the base. If we do have clearance you must have a valid license for ID, Insurance, helmet, gloves and boots."



Staging 12:00 noon

This is a motorcycle escort only.

All persons participating must sign in before staging their bikes.

All motorcycles with mounted flags must have been tested to highway speeds and are subject to inspection by the Ride Captain. Any questionable mounts must be taken down or you will not be part of the escort.

We will escort to:

Krause Funeral Home & Cremation
9000 West Capitol Drive
Milwaukee, WI 53222

Those not on motorcycles are to report to the funeral home to set a flagline for arrival.

Staging at the Funeral Home 2:00 p.m.




First Visitation

October 18, 2013
4:00 p.m. to 7:00 p.m.

Krause Funeral Home & Cremation
9000 West Capitol Drive
Milwaukee, WI 53222

Staging 2:00 p.m.





Second Visitation

October 19, 2013
10:00 a.m. to 11:30 a.m.

Military Honors

11:30 - 12:00 noon

Krause Funeral Home & Cremation
9000 West Capitol Drive
Milwaukee, WI 53222

Staging 8:00 a.m.

Funeral Service

12:00 noon

No burial





Ride Captains

Arrival and Escort Tom Sberna tsberna@wi.rr.com

Arrival at Funeral Home Bryan Olson bryanolson11@gmail.com

First Visitation Bryan Olson bryanolson11@gmail.com

Second Visitation / Funeral Ralph "Chappy" Netzel wischarley@yahoo.com

Assisting: RC - Steve Jensen, SRC - Jim Unruh, SC - John Curran

http://www.patriotguard.org/showthread.php?384323-LCpl-Jeremiah-M-Collins-Jr-19-Milwaukee-WI
Jeremiah has returned.

On a Wednesday afternoon under threat of rain, the mortal remains of a fine warrior were landed, transferred to a hearse and escorted across Milwaukee from the southeast side to the northwest side. The police diverted all other traffic and the rain held off so each of us had just two things to think about: The vehicle you are following, and Jeremiah.

videos: http://www.620wtmj.com/news/local/228112721.html
http://fox6now.com/2013/10/16/body-of-fallen-marine-returns-home-to-milwaukee/
Photos: Salute at the airport

Jeremiah has traveled on.

On Friday afternoon and Saturday morning we stood in front of the funeral home. People entered and left, entered and left. Most folks were there because they knew Jeremiah and will miss him. We didn't know him before, but we came to know him over those two days and now we will miss him too. Farewell faithful warrior.
videos: http://www.620wtmj.com/news/local/Milwaukee-Marine-remembered-today-228470171.html
http://fox6now.com/2013/10/19/funeral-services-held-for-lance-corporal-jeremiah-collins-jr/
Photos: Friday visitation
Flags lowered to half?
back to ALL MISSIONS