Today is Saturday, 8/27/2011. Two days ago Kevin and I attended the funeral for a PGRider. His name was Owen Stuckey and he was loved by many people.
While I took photos Kevin stood in the flagline as he has many time over years of PGR participation. He was visited by several women who only see him holding his flag: Brenda, Judy, Debbie, Ro. On the way home I commented that he saw all his girlfriends. He responded, "Well, all my Patriot Guard girlfriends."
Which is a valid qualification. He has many waitress girlfriends and dry-cleaning girlfriends. No Fourth Grade girlfriends yet, but the school year has just begun.
Many familiar faces gathered for Owen and that was nice for me too. I can't always put names to the faces but it is always comforting to see the relieables, as I call them. I'm not sure that I ever spoke to him but I will miss Owen.
And I miss the reliables who are absent for less necessary reasons. We can carry-on without Old Coastie and Big Joe, but we would have been richer with them. Then the Warriors Watch sapped the PGR of much of its vitality. (I get weekly emails from WW telling me of many "Welcome Home" and "Send-Off" opportunities.) And now, here in northern Illinois, it has happened a third time.
This morning I got an email from the Illinois Patriot Guard. And then this afternoon I got an email from the Illinois Patriot Guard Riders. The difference between them is not difficult to understand. Since the two national organizations and the two Illinois organizations will all need to pay the lawyers, I thought this might be helpful.
I saw both Fred and Gary at Owen's funeral. Fred was holding his place in the line like a good soldier. (Eric was in conference with the State's Attorney. He will be a witness at the trial of his father's murderer. Eric would have been here for Owen if he could.) Gary made the trip and I was glad to see the State Captain attending.
Febrary, 2012: The struggle continues.
May, 2012: Sam deserved Vuk.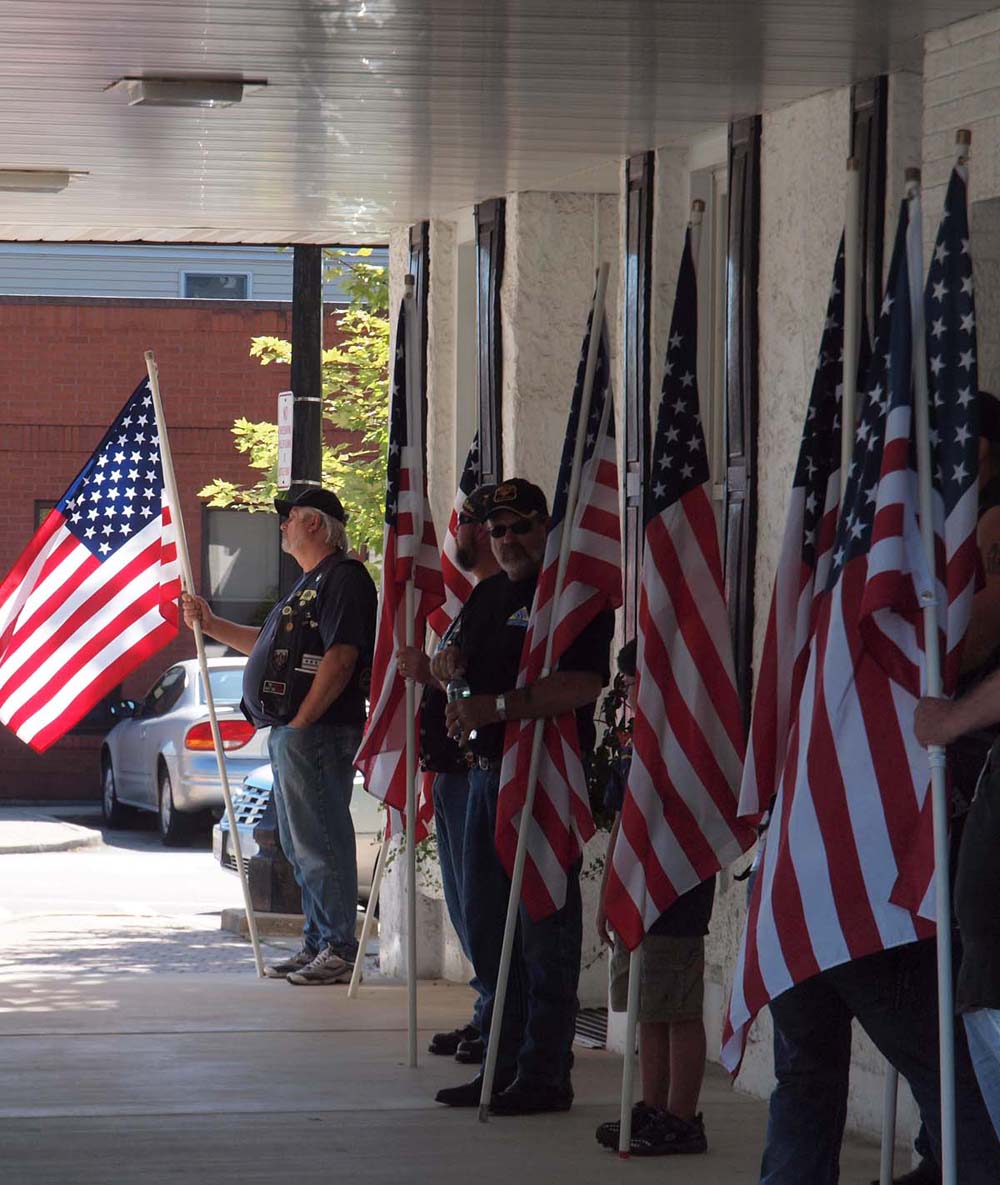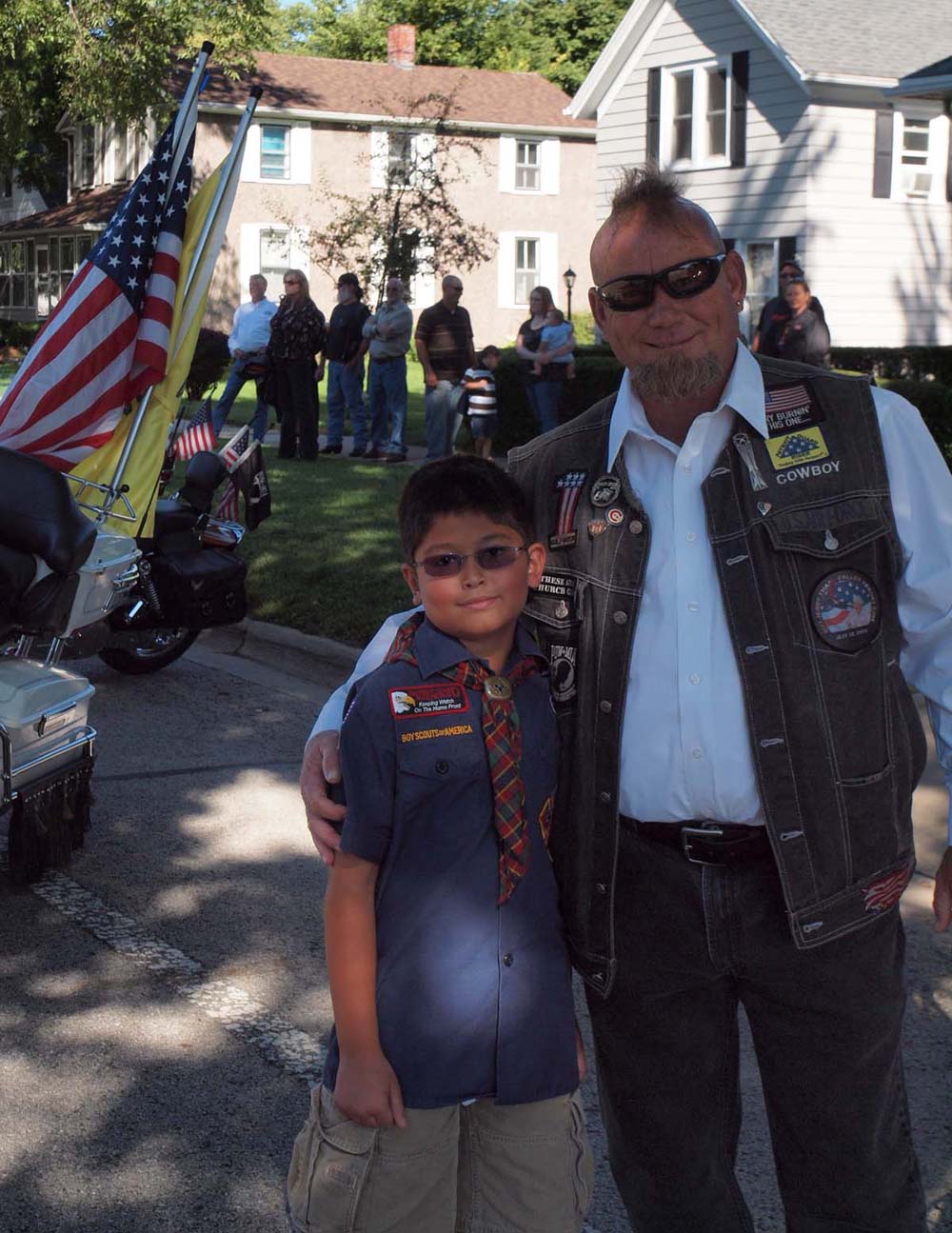 We are united in a serious business. Owen brought Fred and Gary together, but he can't do it all.
back to ALL MISSIONS
P.S. The Welcome Home worked out just fine:
and according to http://couriernews.suntimes.com/news/7315551-418/west-dundee-vfw-post-welcomes-returning-soldiers.html
:
Tim Bulger Sr. teared up Sunday as he talked about waiting for his son, Tim Bulger Jr., to return home from Afghanistan.
"You don't know until you are part of a military family what that means," to wait for word on a child's status or whether the son or daughter will return home, Bulger Sr. said Sunday at a welcome home event for his son and another area serviceman.
Riders working with Warriors' Watch and the Illinois Patriot Guard picked up Pfcs. Tim Bulger Jr. and Scott Herron, both 22, from their Elgin and Sleepy Hollow homes before escorting them — with motorcycles, cars, police cruisers and fire trucks — to the West Dundee VFW Post #2298. The two served in the same unit in Afghanistan and both returned home Saturday following their deployment.
This is the second welcome home event sponsored this summer by the West Dundee VFW, said Erick Seals, commander at the post. "That is our job, taking care of vets," when they return home, Seals said.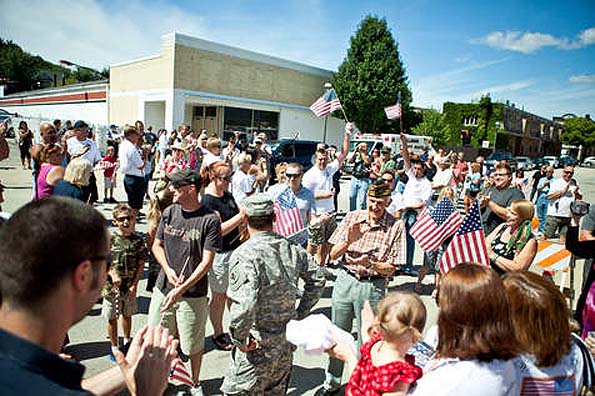 Bob Johnson, of East Dundee, told the returning soldiers how he remembered what it was like for Vietnam veterans returning home. "They were spit on," said Johnson, a member of the local VFW.
That is what groups like Warriors' Watch and Patriot Guard want to change, said organizers from the two groups — letting soldiers and their families know that their sacrifices are appreciated and giving them a welcoming not afforded to soldiers a generation ago.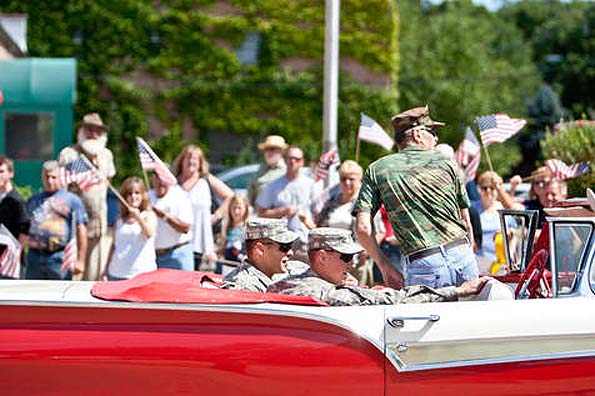 It doesn't matter which group welcomes soldiers home, said Jon Gear. The St. Charles man has ridden in nearly 100 welcome-home escorts, he said. "We are here to support the soldier," Gear said. "We ride to thank them for their sacrifice and shake their hands."
Todd Hoger of the Illinois Patriot Guard said he's attended 25 funerals for soldiers killed in action, and doesn't mind giving up a little bit of his day for the families of those soldiers.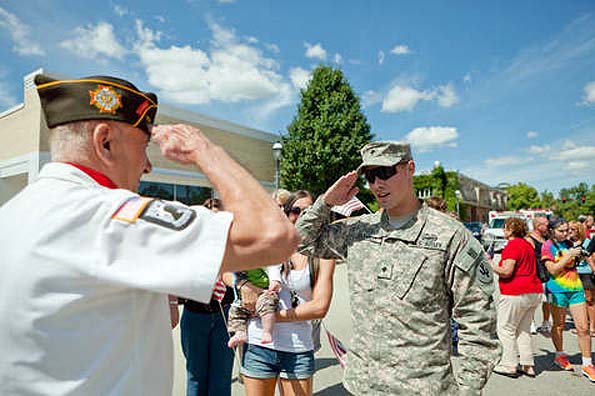 The support the two groups gives to soldiers as they return home does not just stop with the party, however.
"The family has our phone numbers," Hoger said, adding that since he works for a veterans hospital, he will often refer soldiers there to get help if they ask. Members from both groups said they are also there and willing to be an ear if needed and have internal groups available to help the soldiers and their families.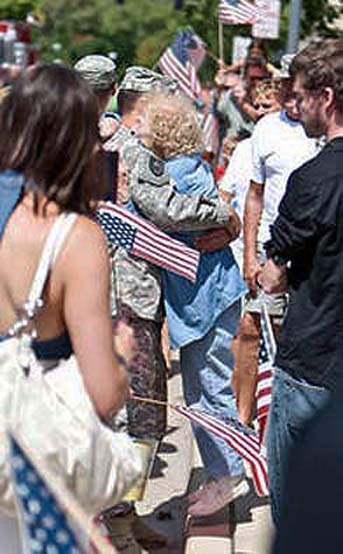 One of the first things on the agenda Sunday was to give Bulger Jr. and Herron applications to become VFW members, Seals said.
One of the functions of the VFW is to help soldiers in need, Seals said, and give them a place to talk to other servicemen and women about their time in active duty.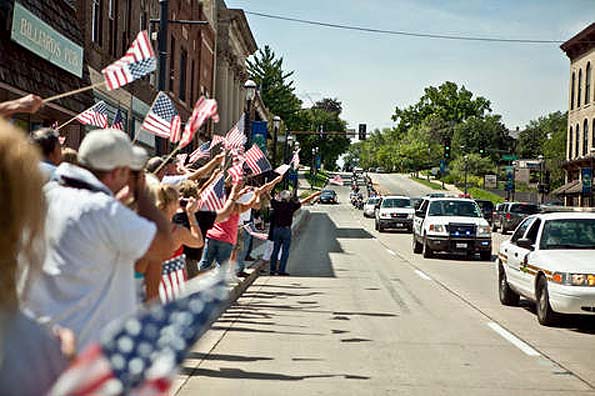 "They can come down here and talk to someone else who knows about what you did," in the war, Bulger Sr. said. "That is the whole purpose and why they signed the boys up today."
Now that Bulger Jr. and Herron are home, they cannot be deployed for another year, they said. Bulger Jr. plans to spend some time getting to know his four-month-old son, Jayden, and spend some quality time with his wife, Lyndsey. Herron said he plans on finishing college, possibly with a business degree.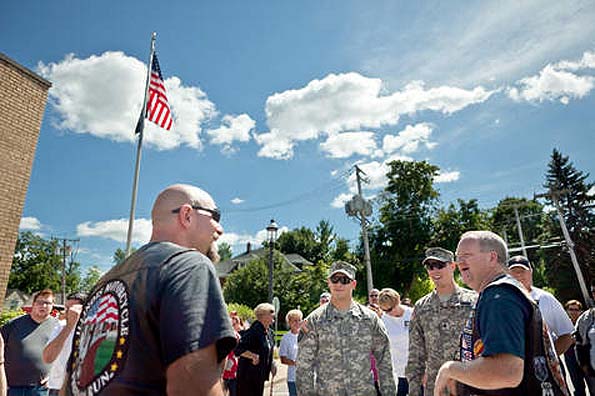 In the meantime, they said, people can continue to show their support by simply shaking the hand of a soldier.
"A simple handshake, thanking them for what they do for people, or give us your condolences. That is all. Let us know that what we gave is not overlooked," Bulger said.
by Janelle Walker for The Courier-News, August 28, 2011 10:32PM