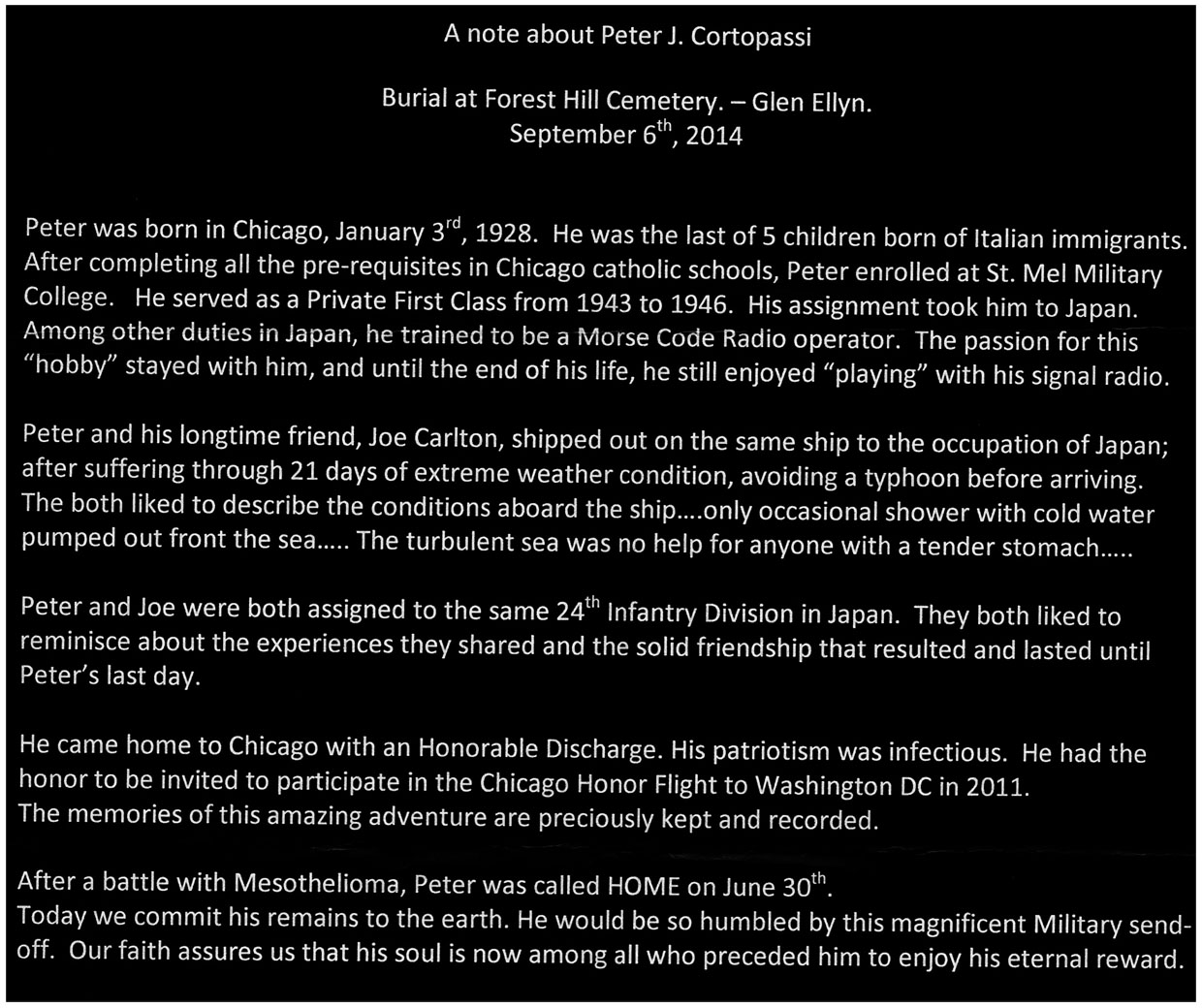 I was the second person to arrive at the cemetery and parked my bike behind the first one. We introduced ourselves and he asked me to confirm my name. I pointed to the grave marker next to our bikes. "Donald Russ, just like that" indicating the place where my father was buried 50 years ago.

The next to arrive was a younger fellow, tall and thin. He was surprised to see us and was concerned that he might be late. After we established that instead we were early, he became at ease. We asked who he was.

"I'm the gravedigger."

The Ride Captain was Rick Lomax who goes by "Madmax." A lot of the guys have handles like that, but I knew at once that "gravedigger" was not a handle. Perhaps a euphemism? Was he a representative from the cemetery or the funeral home? Even still, it seemed a dark choice.

And then it made sense. He was the grave digger.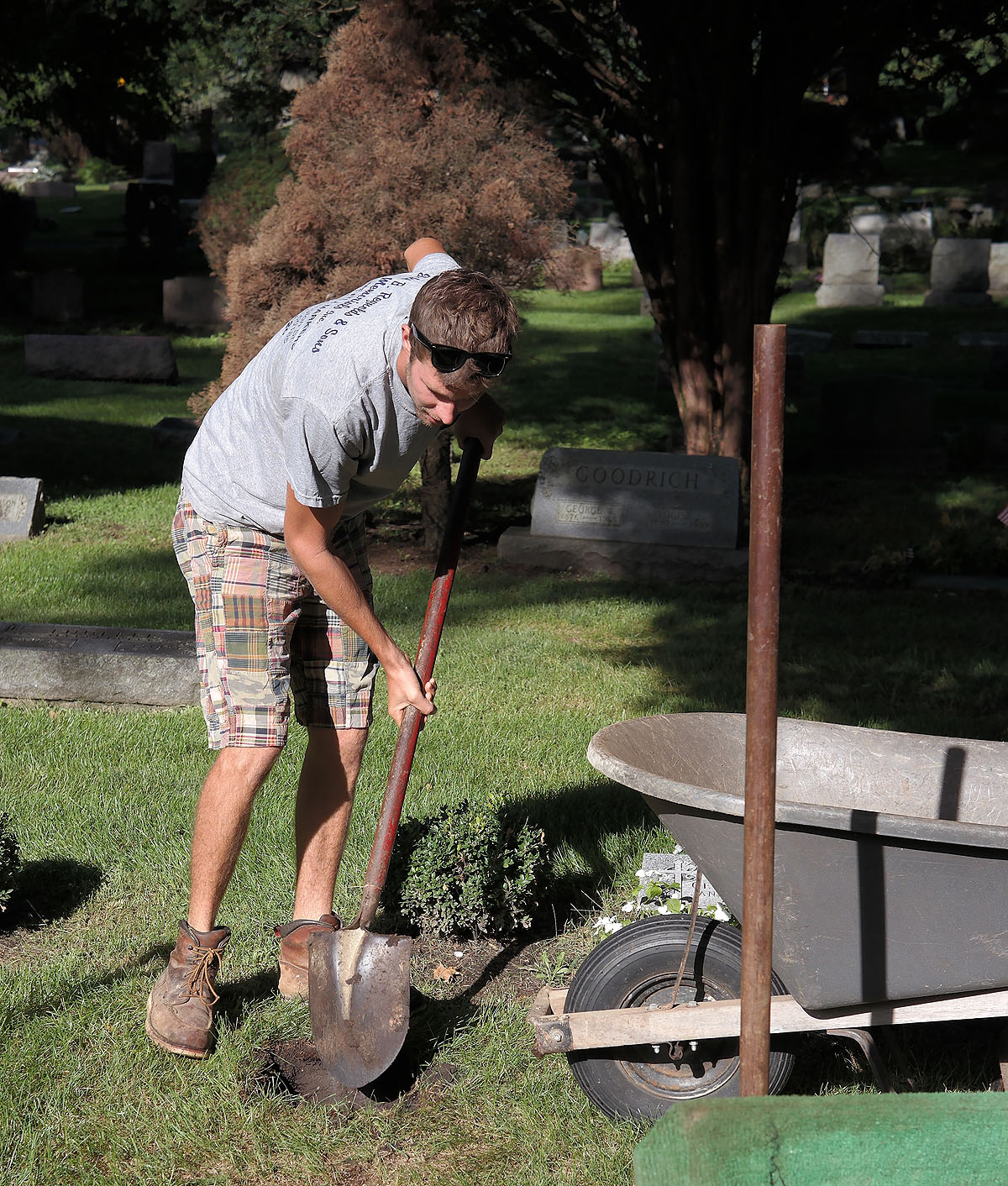 It seems Peter had been cremated two months earlier and they dig the small hole by hand only just before interments. Peter's grave digger was entirely deliberate: He knew exactly where to dig, how wide to dig and how deep to dig. He was not hurried – he knew when the work had to be done and he knew how long it would take him.

Joe arrived. He was dressed in a suit and was wearing a 24th ID cap. Joe met Peter in the army and they had been friend all their lives. Joe's wife died two years ago and was buried next to Peter's location. Joe had placed a stone bench nearby that would serve visitors to both families. The grave digger labored in front of that bench.

He removed a perfect square of grass and then worked on the shaft, placing the soil in his wheel barrow. He also brought a plywood plate that was covered with a grass-colored carpet. When he finished, he placed the plate on his finished hole and his tools on his wheel barrow. Then he and his tools and his load of soil disappeared.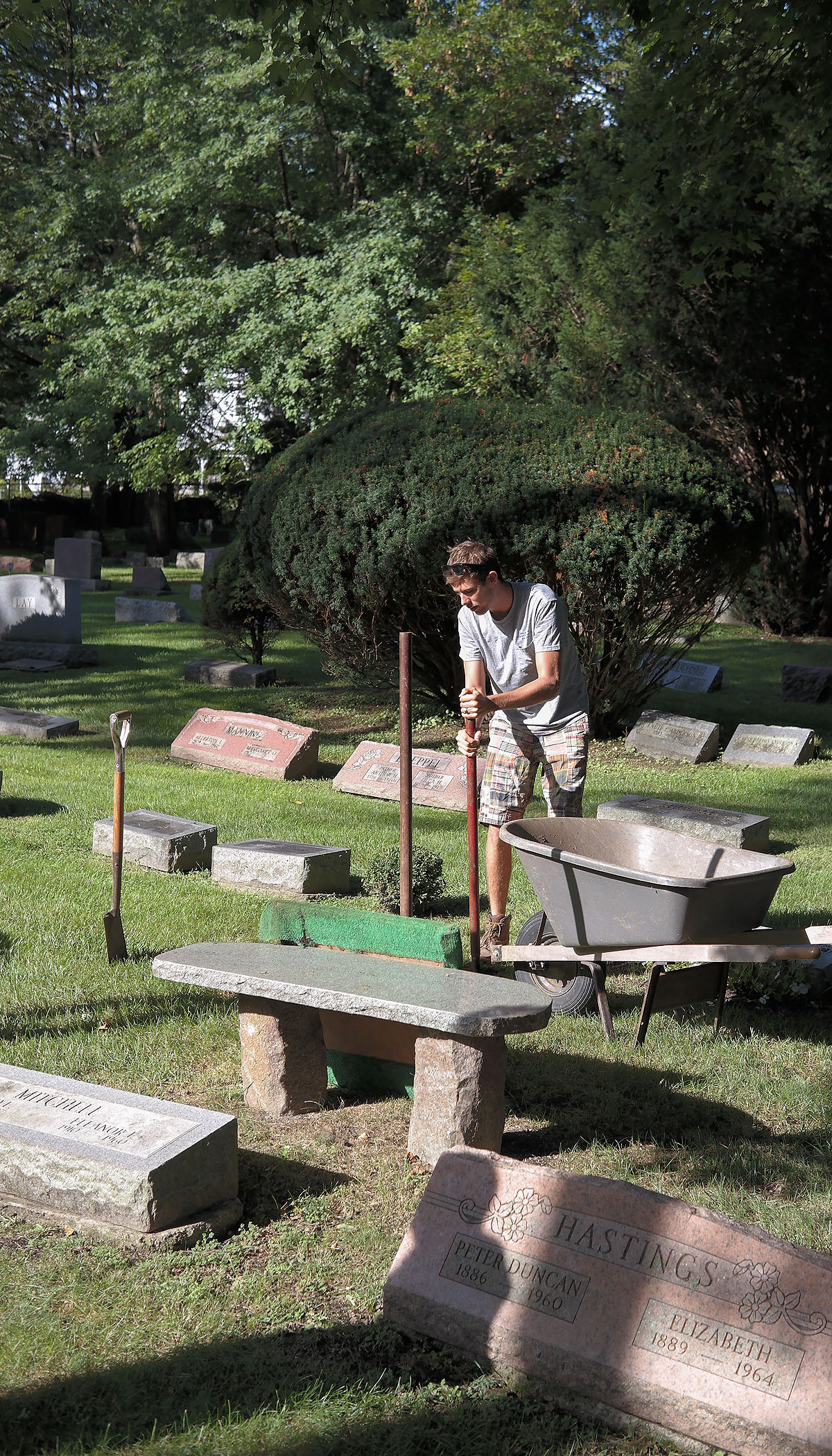 Peter's widow arrived and we formed a semi-circle around the carpeted plate, facing the bench. Joe seated her on the bench. The RC called "Present arms!" Two of Peter's children were also present and one of them carried a simple urn past her mother to the carpeted plate. "Order arms!"

So there we were. Ten Patriot Guard Riders facing east; Peter's widow facing west; Peter between us.

Then she rose and spoke to us most graciously. She began by noting that the violent storms of the previous day had yielded to a beautiful new day. And, of course, that is just what the Greatest Generation experienced. From Casablanca to el Alamein, from the Solomons to Okinawa and from London to Berlin, they pushed through the storm. They saved the world.

The cemetery was full of green grass, green bushes and green trees only because of earlier storms. And then she sat on the bench again.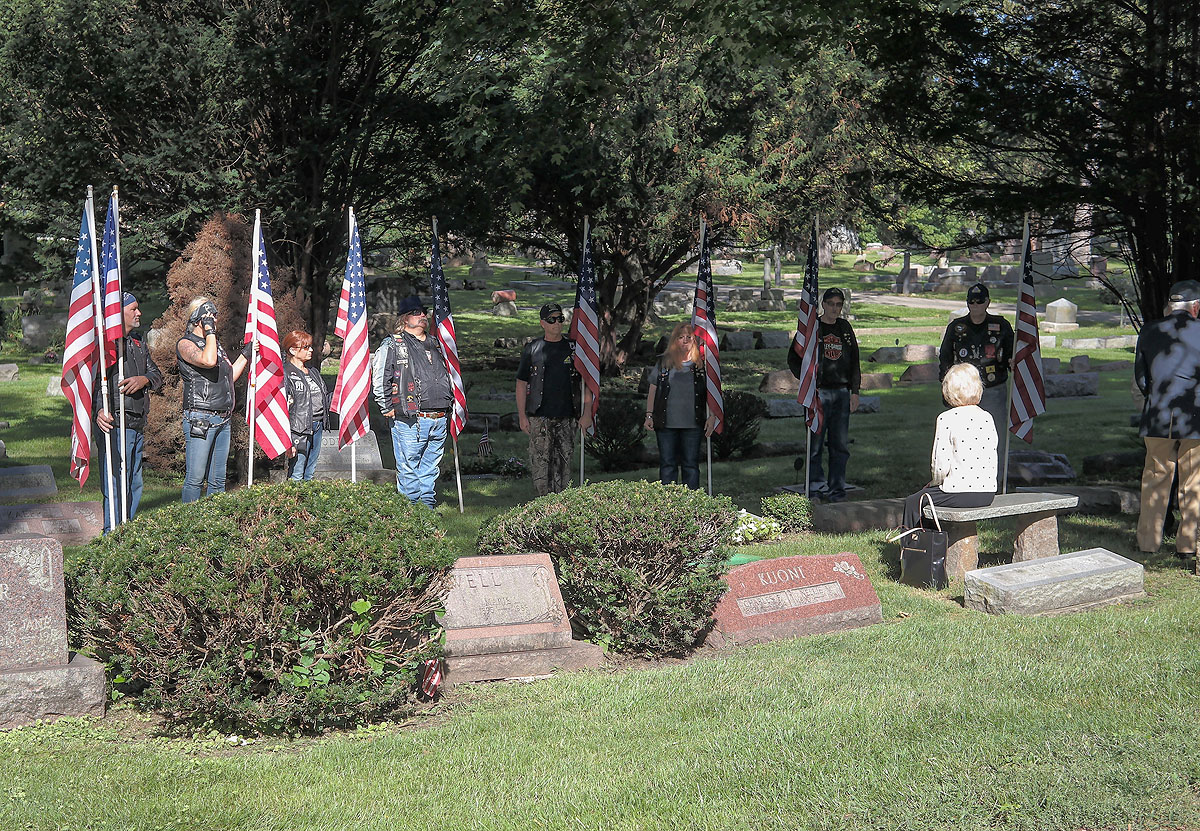 The RC went to her and presented her with a folded flag. He said a few quiet words to her and retreated. The rest of the ceremony had taken place two months earlier. It was time for us to withdraw. Because my place was at the end of our line, the RC had told me to be the first to approach Peter, salute and march past him, away from the grave. I did and the others, one by one, did too.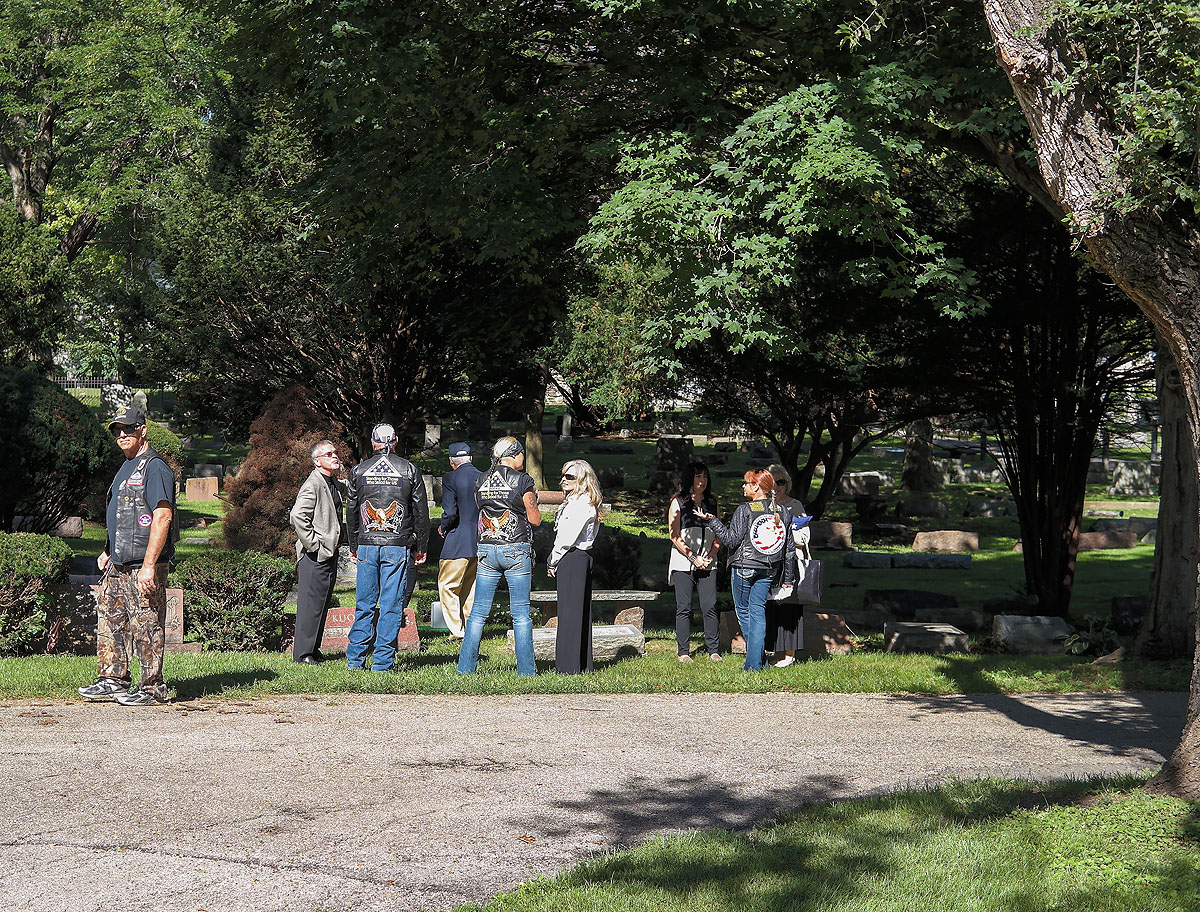 For half a century, since 1964, my father, Korean era First Lieutenant, Medical Corps, has laid in this cemetery next to a tree, twenty feet from Peter's new address. He died 41 years before the PGR was formed in Kansas so there were no PGRiders at his interment.

There were today. Before our small group of patriots would stand in honor of Peter Cortopassi, they posed just beyond the grave of Donald Russ.




back to ALL MISSIONS