SGT Jakob J. Roelli
Darlington, Wisconsin
October 5-8, 2011

Sergeant Jakob J. Roelli, of Darlington, WI, passed away September 21, 2011, in Kandahar Province, Afghanistan, while serving during Operation Enduring Freedom. In 2006, he graduated from high school and continued his education at University of Wisconsin-Oshkosh and in 2007 Jake joined the United States Army. Following basic training Jake went into the Infantry; he later received Special Forces training, and was then deployed as an Infantryman to Afghanistan in 2011.

Jake was assigned to the Company A, 2nd Battalion, 34th Armor Regiment, 1st Heavy Brigade Combat Team, 1st Infantry Division, Fort Riley Kansas and died from injuries suffered when insurgents attacked his unit with small arms fire. His family has invited the Patriot Guard Riders and other similar organizations to join them in remembering Jake.


Return and Escort:
Wednesday, October 5



Private Visitation:
Thursday, October 6


Public Visitation:
Friday, October 7
2:00 p.m. – 9:00 p.m.




Second visitation and Funeral Service
Saturday, October 8, 2011
10:00 a.m.

First Baptist Church
15691 County Road K
Darlington, WI 53530
Staging 9:00 a.m.*

Escort to Cemetery
Union Grove Cemetery
Darlington, WI
*Two routes for Saturday morning: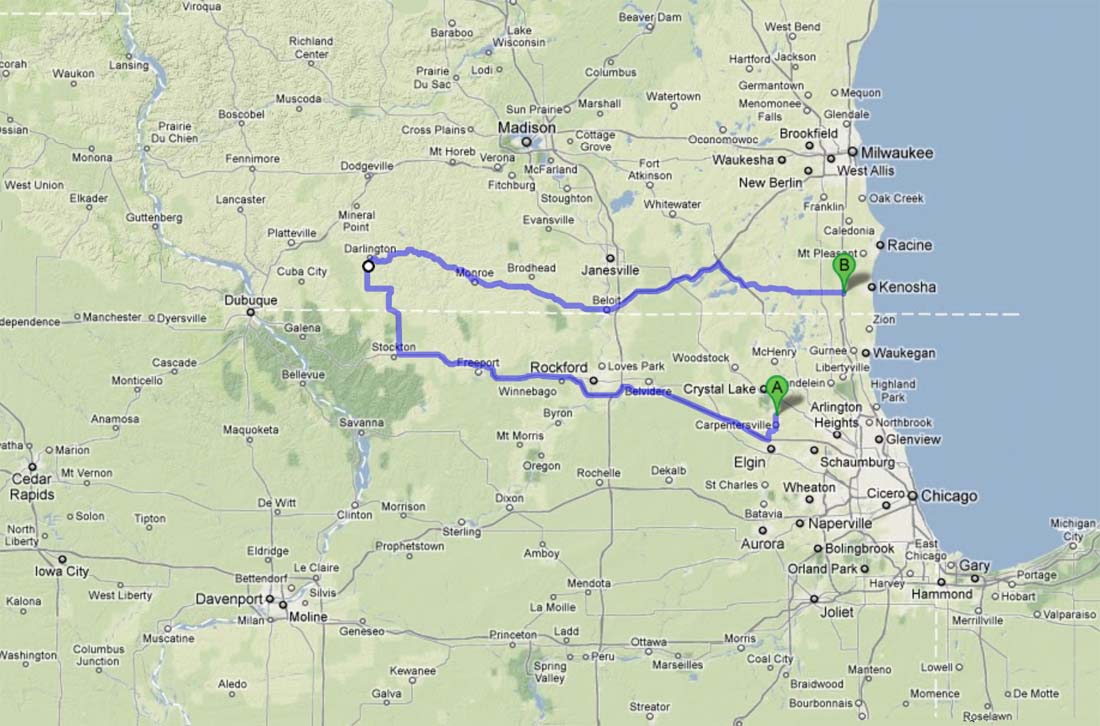 A: Warriors Watch Riders stage Saturday at 0630
B: PGR of SE Wisconsin stage Saturday at 0600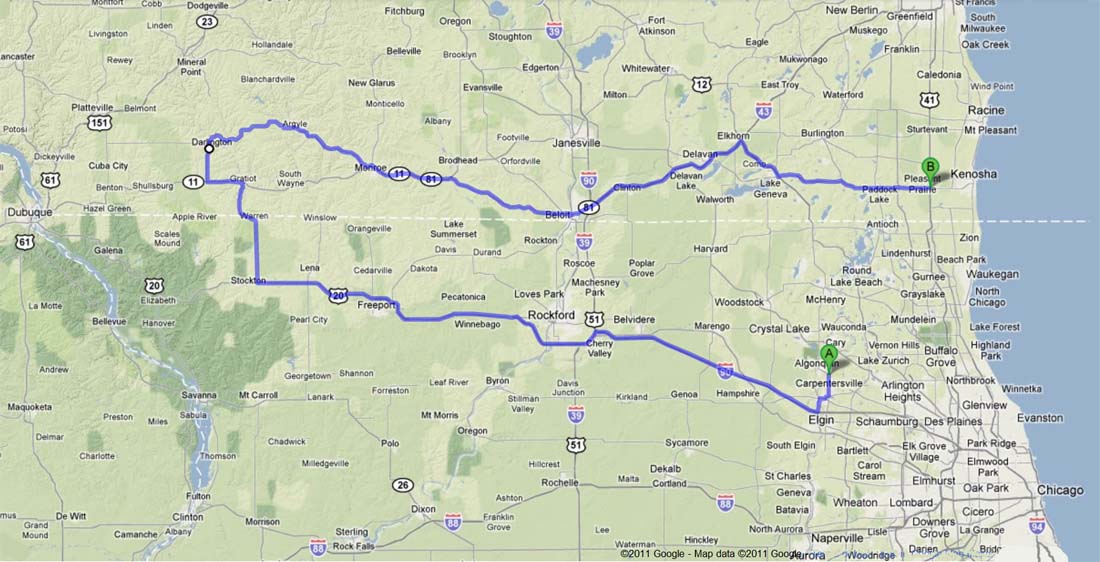 A: Glen DeVries, Phillips "DC" 66, (25 & 62) in Algonquin, Illinois at 6:30am
B: Jim Unruh, Brat Shop, (50, west of I-94) in Kenosha, Wisconsin at 6:00am


This was my third Warriors Watch Riders KIA mission, but the first away from Chicago. I traveled 150 miles to Darlington, Wisconsin. The next day would be the public visitation and the day after that the funeral. This day was to be the private visitation. Just familly.
As I travel my mind wanders and I lose realization. The first indication that I was getting close (not counting the GPS) was a farm on 81 that was 13 miles west of 23. This brought me back: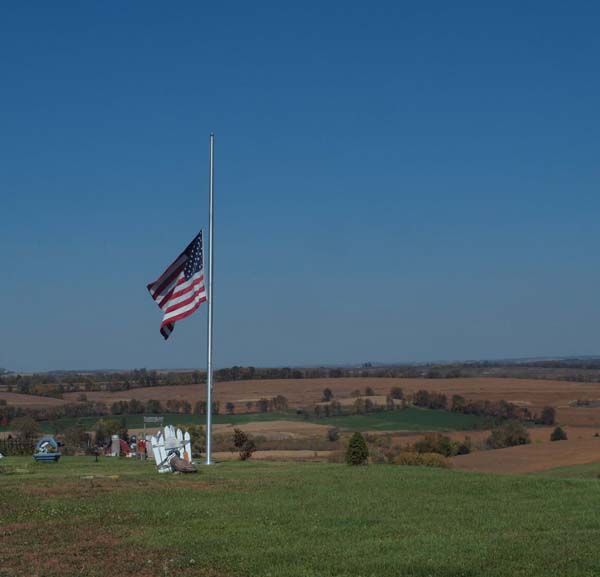 Adolf Roelli came to this area from Switzerland in the 1920s. Among his children were Walter and Edwin. Walter's three sons, Chris, Dave and Gary operate Roelli Cheese Company which converts milk into various cheeses. They also operate trucks to pick up the milk from dairy farms.

Edwin's son Steve operates Roelli Reliable Realty and they can sell you a dairy farm. Edwin's son Rick bought a dairy farm. Rick's son Jakob went to war and returned yesterday. Jakob is the reason we were gathered.

So Jakob was a cheesehead in the truest sense. He comes from a family of cheeseheads. He had a fiancée and given the chance, they might have produced little cheeseheads. So I wanted to support the private visitation.
When I reached the edge of town I was reminded that, even though Darlington is the county seat, it is only 25 hunderd people. All of Lafayette County is only 16 thousand people. The high school is not only the center of the teenagers world, it is the center of all Lafayette society.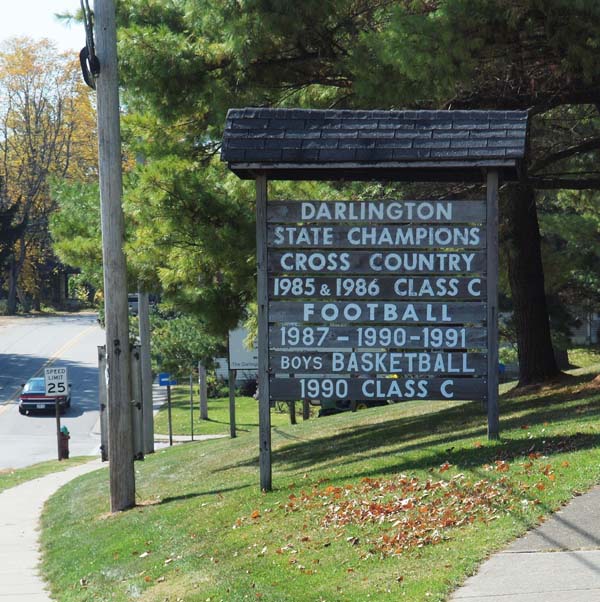 I first went to the Pecatonica River. Most of Darlington lies in the river valley and the river defines three sides of the town. There is a single bridge that allows 23/81 to cross and the high school, church and cemetery are in the hills south of town. The Pecatonica River Trails Park is two blocks from the funeral home and that is where we were told to park.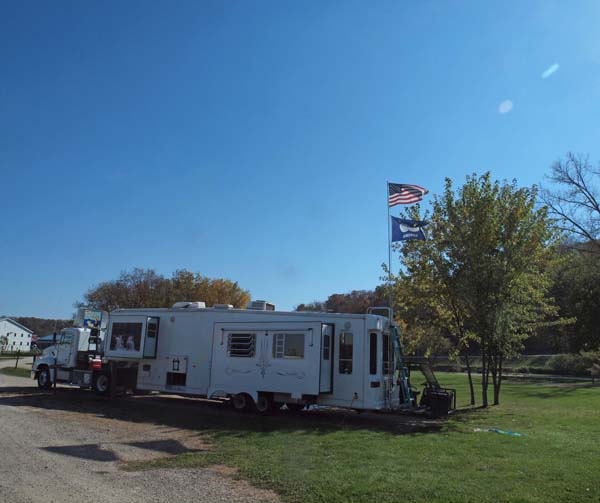 The very comfortable camper I saw there may have come for the funeral.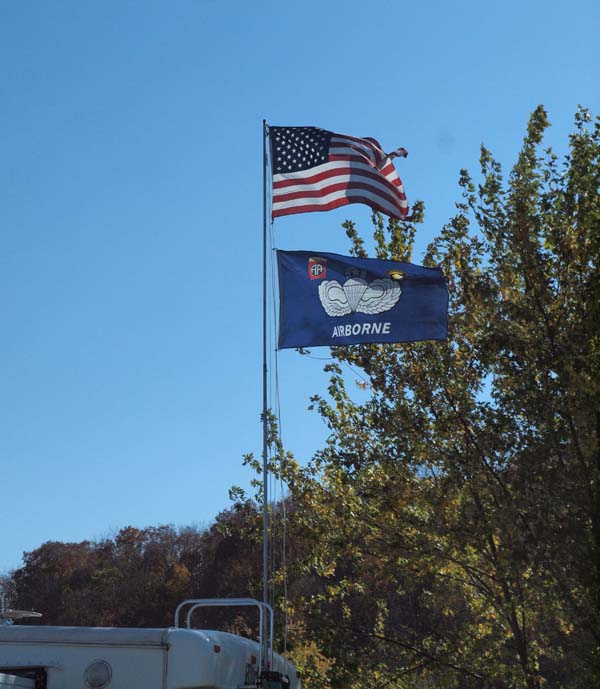 Looking back from the park is could see the county building.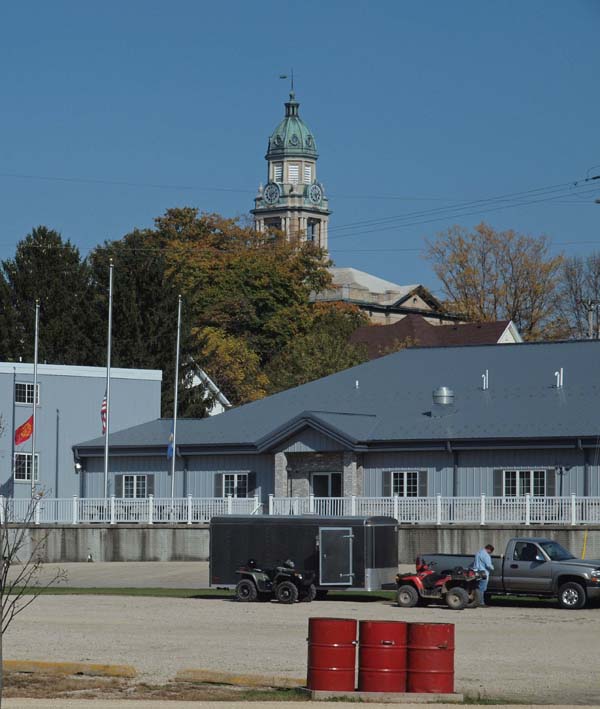 The funeral home is a big white building located on another park, one with many mature trees. The Chief of Police was inside.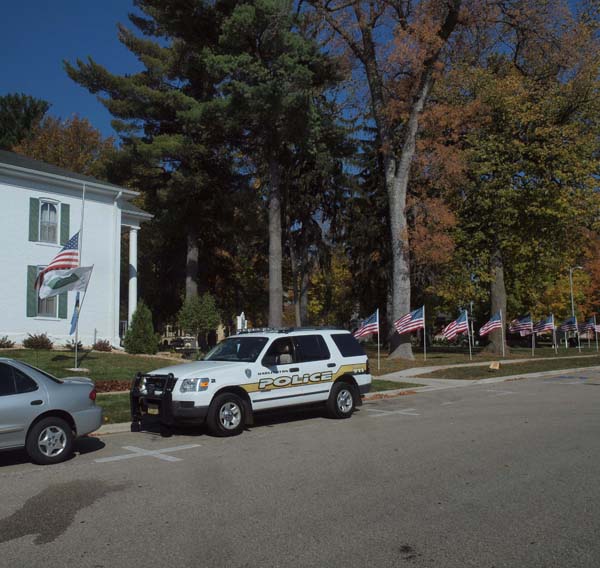 Wisconsin Governor Walker had just left. Five other PGRiders joined me, including the SRC for NW Illinois and the SC for Wisconsin. The SC set us to work.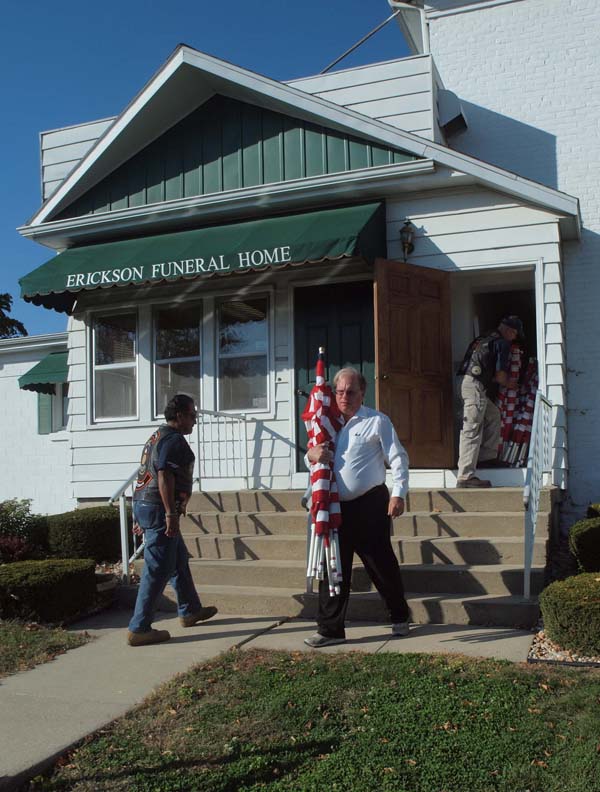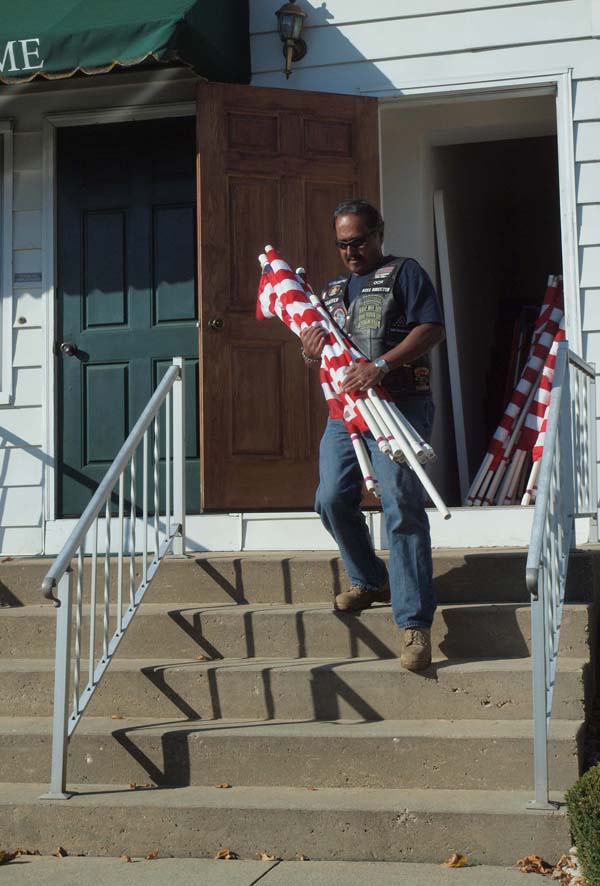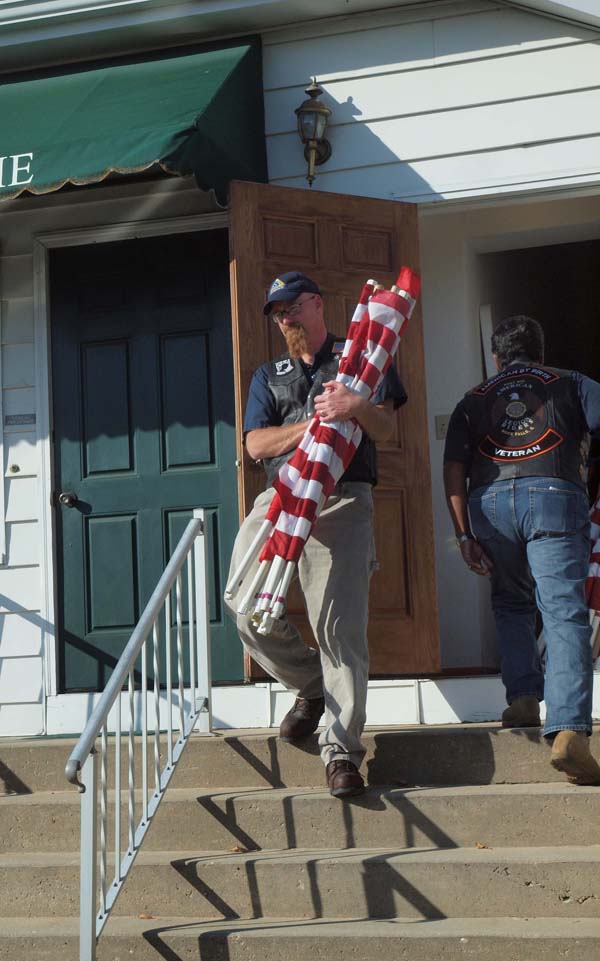 We set up flags around the funeral home and assembled flags for flag-holders.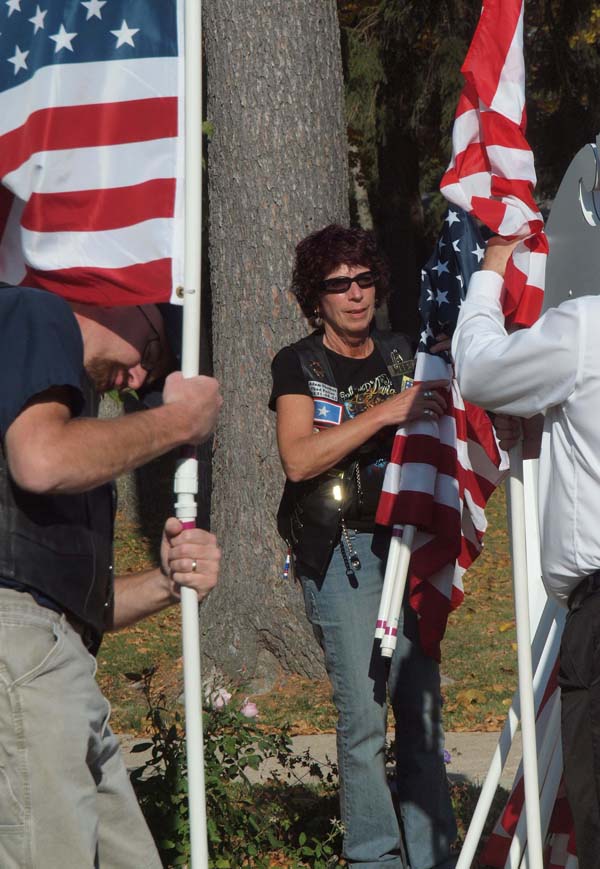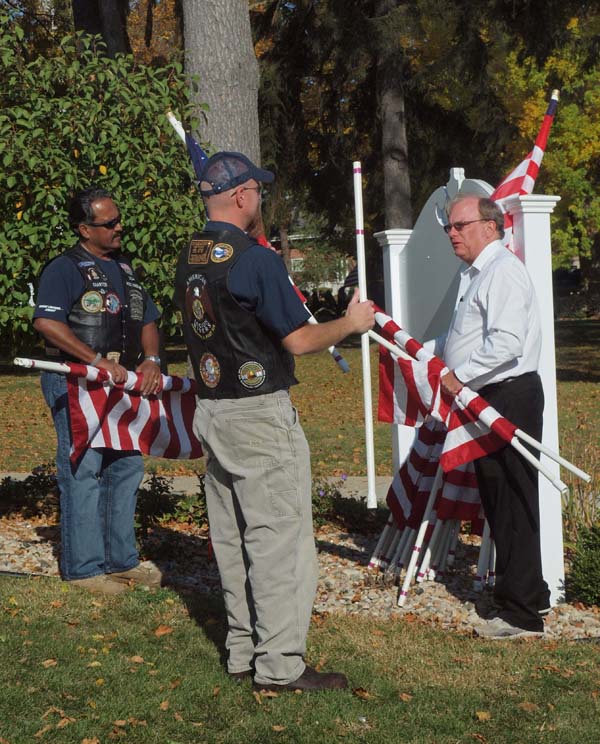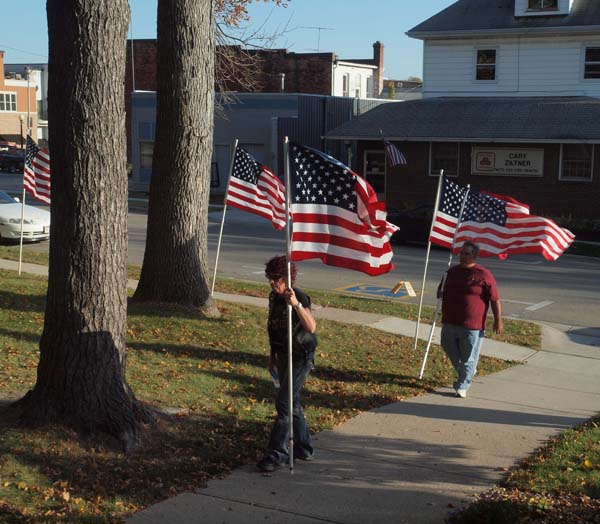 Six Patriot Guard Riders were standing with flags along the walk in front of the funeral home when two Warriors Watch Riders arrived.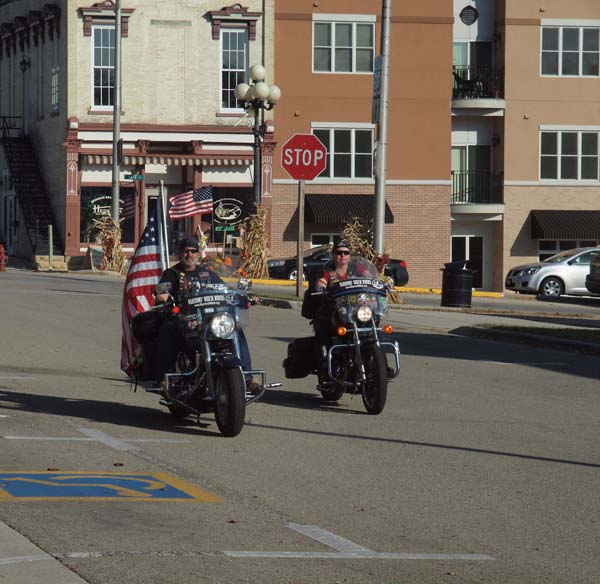 One of the WWRiders was the Northern Illinois State Coordinator and the designated Ride Captain. The other was a Wisconsin Coordinator. There was no briefing and they both left after a short time without joining the flagline, so I didn't get their portraits. These are the five PGRiders: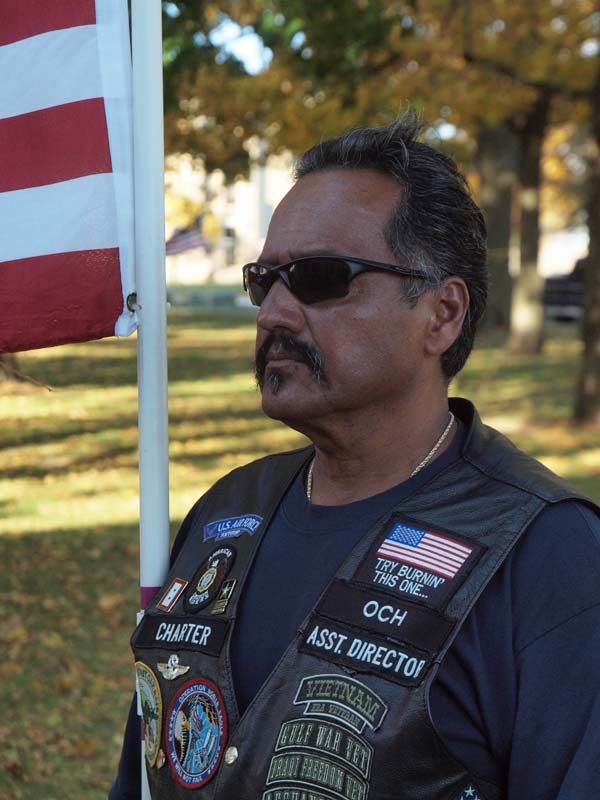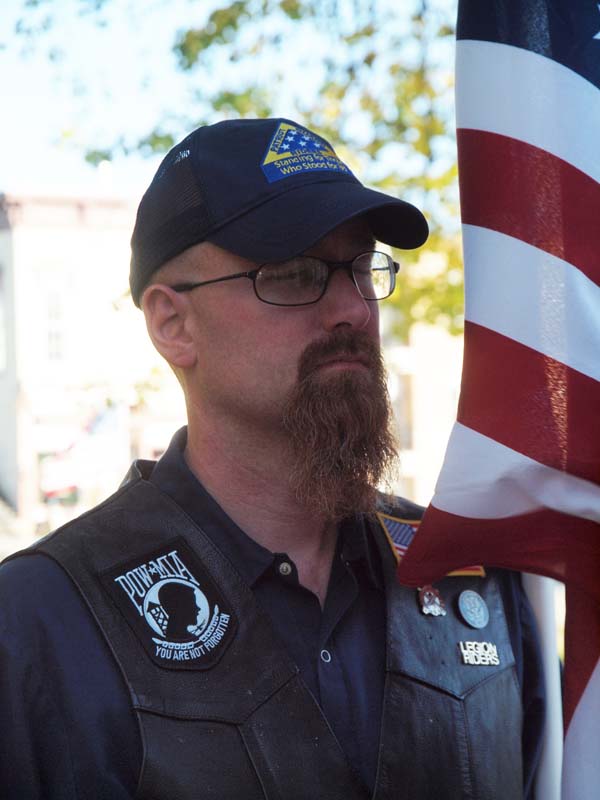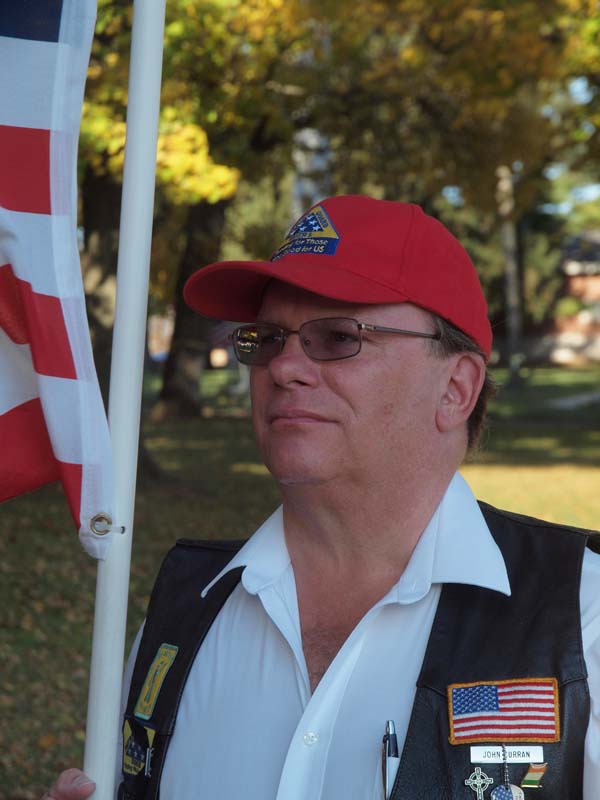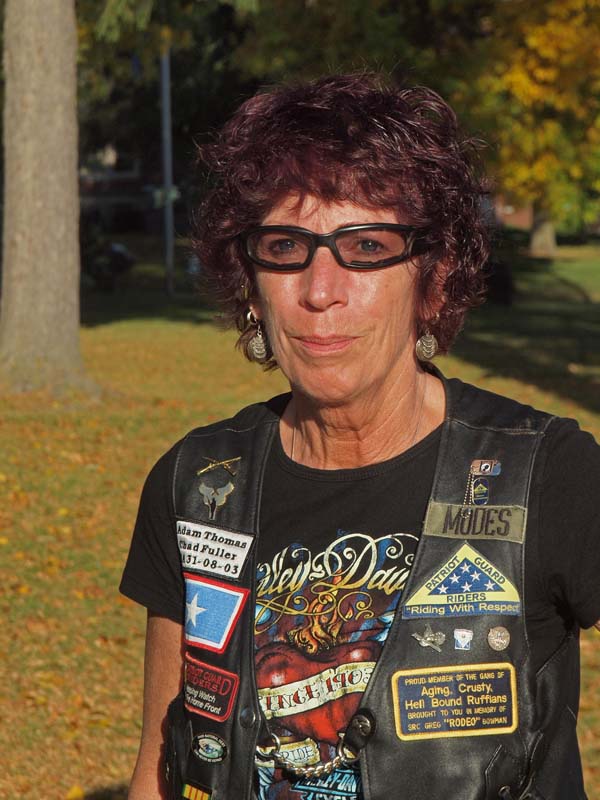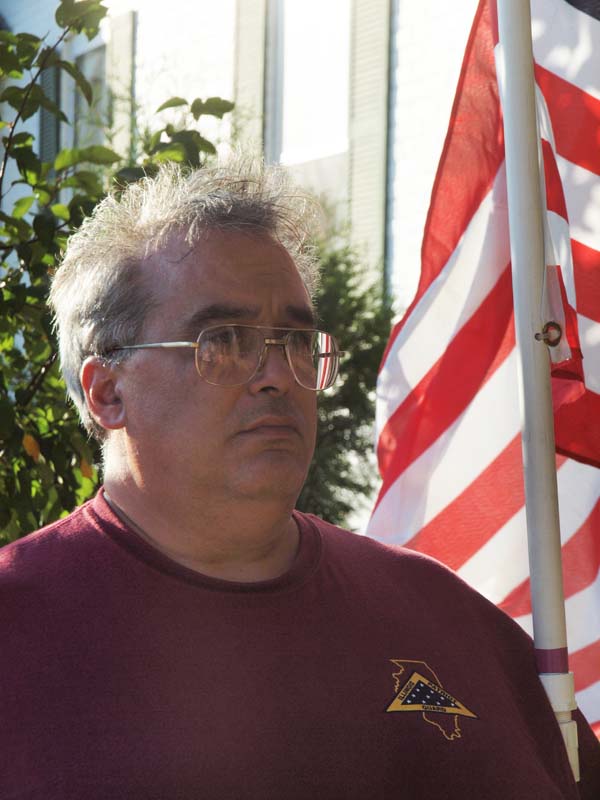 The Warriors Watch RC ostensibly in charge did introduce me to the Casualty Assistance Officer.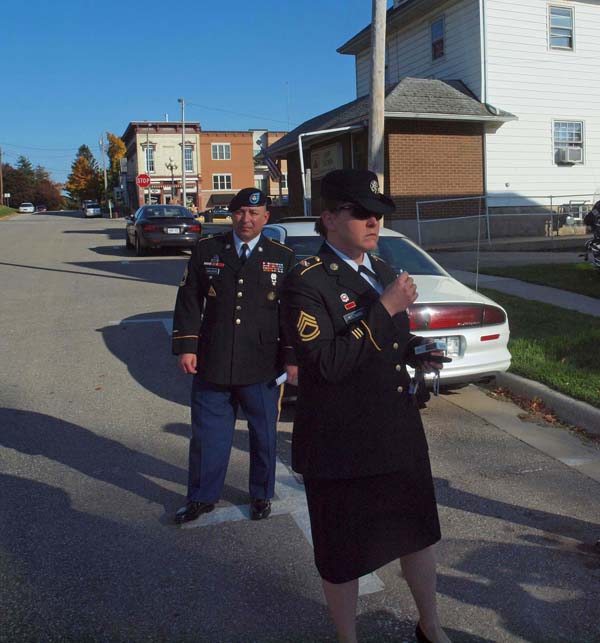 While we were holding flags, she was holding the door.
And so it was: A few PGRiders, a few soldiers and a beautiful setting.
Across the forested park from the funeral home runs Main Street. At the corner of Main and Cornelia is the "some gave all" bench.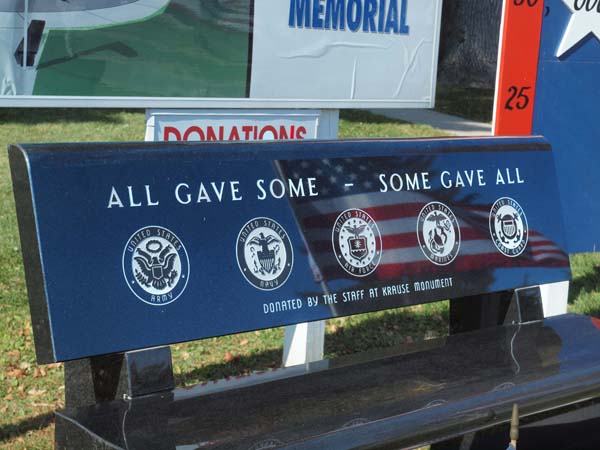 Behind the bench is a rendering of the planned memorial. The city will provide the land and the maintenance, but the taxpayers will not be stuck for construction funding. So far they have received donations for 20 percent of the quarter million dollars they need.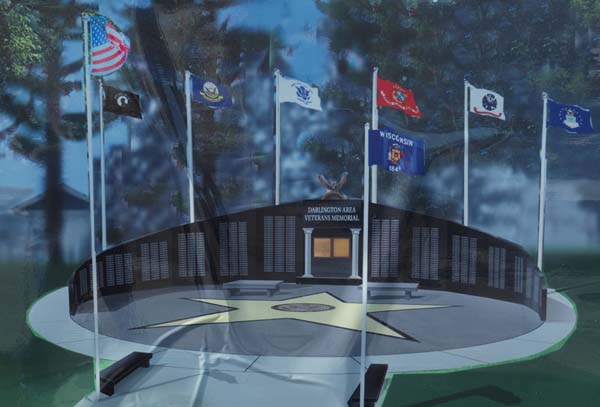 At the bottom of the sign soliciting contributions, an anonymous Lafayette County resident had offered his Purple Heart. It could have been from WWII or Korea or Vietnam or the GWOT...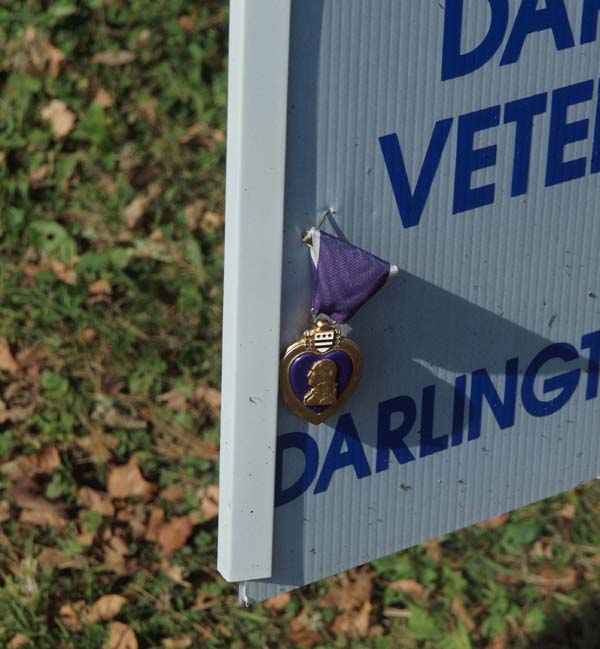 A couple of boys walked by. I took their picture and greted them, but I decided not to engage them. Their parents can be the ones to choose what to tell them. Military service is part of the culture of their town so military death is too. They looked like good boys and I wanted to tell them what Jakob did and why it was heroic, but it wasn't my place.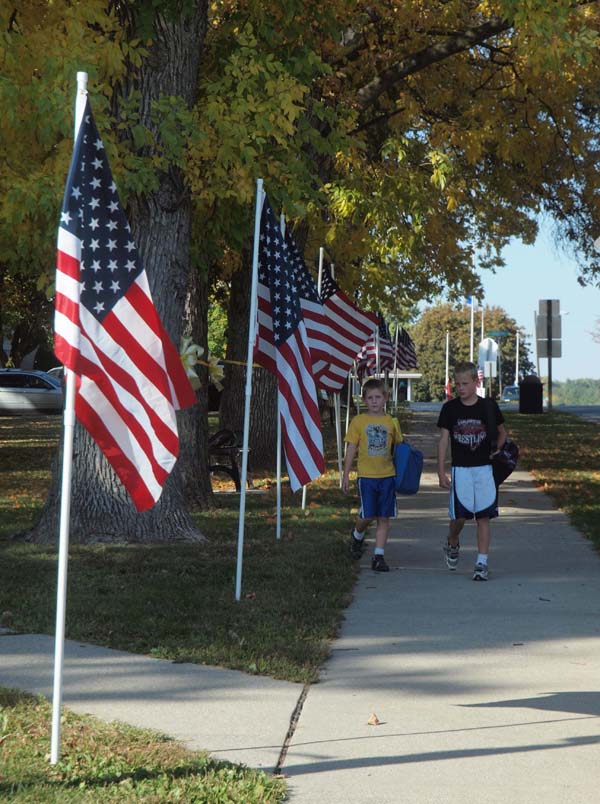 I'm not from this place. Where I come from there are no Amish. Here they fit right in.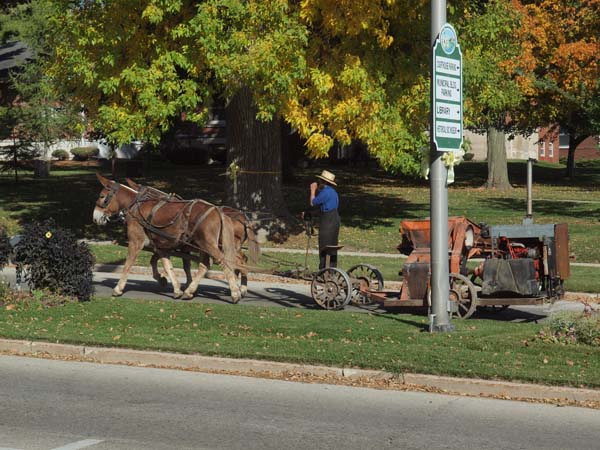 Red, white, blue and yellow. Yellow everywhere.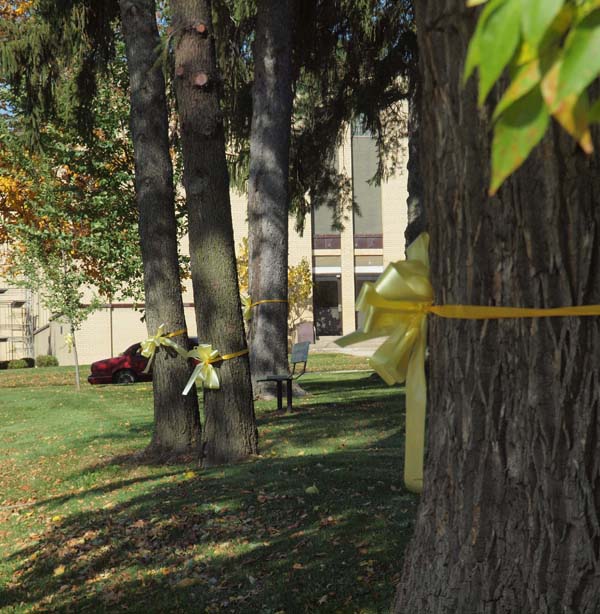 Looking the other way, where Main Street descends to the bridge, lies Jakob's downtown.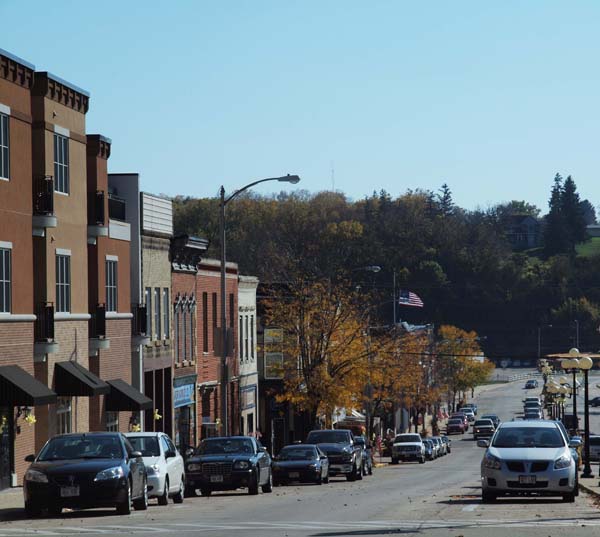 Ice and advice.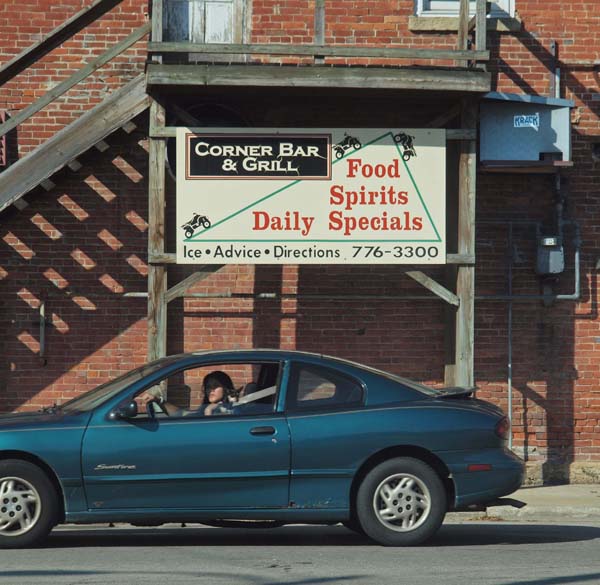 And more yellow.
Even the bugs are yellow.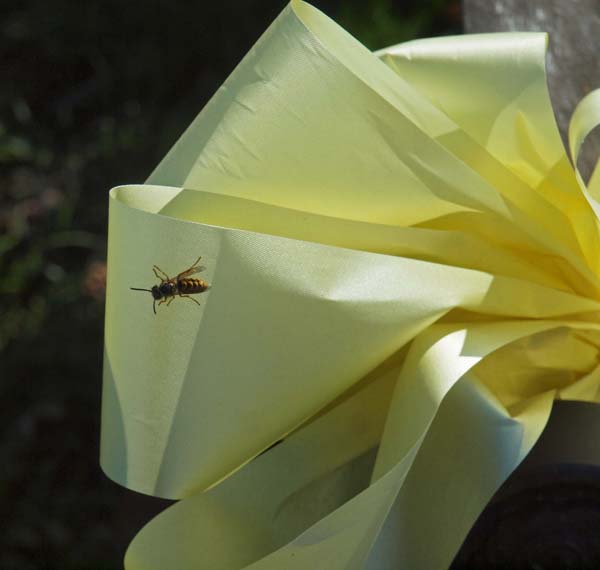 When Jakob died, the trees turned yellow.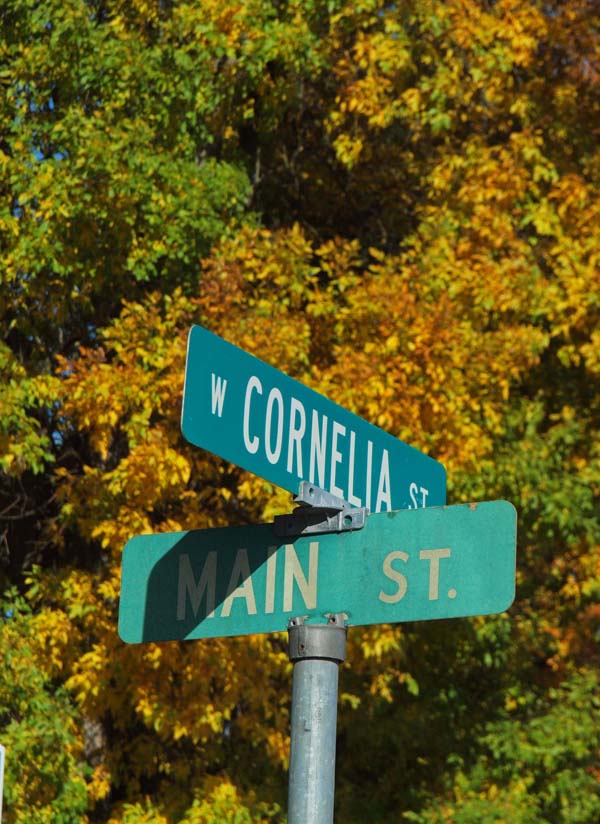 An earlier military monument has a plaque on each of its four sides: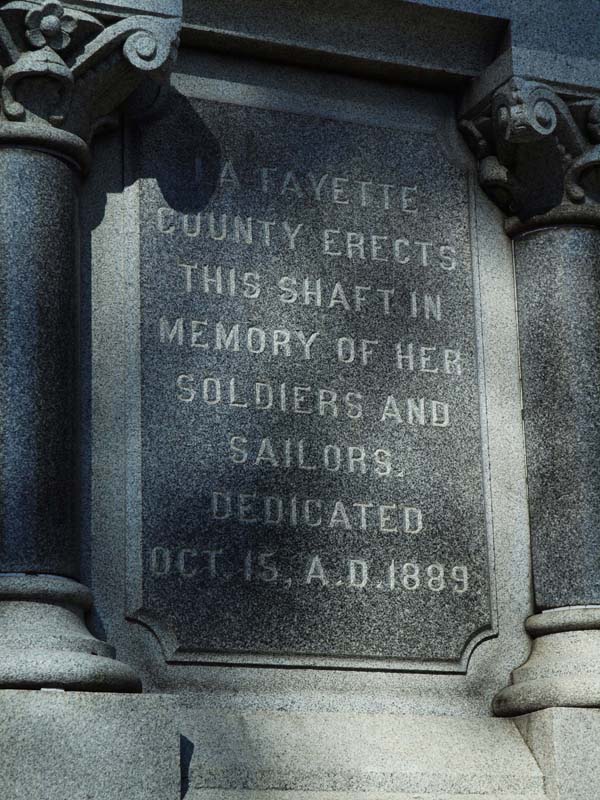 After 122 years, Darlington still produces heroes.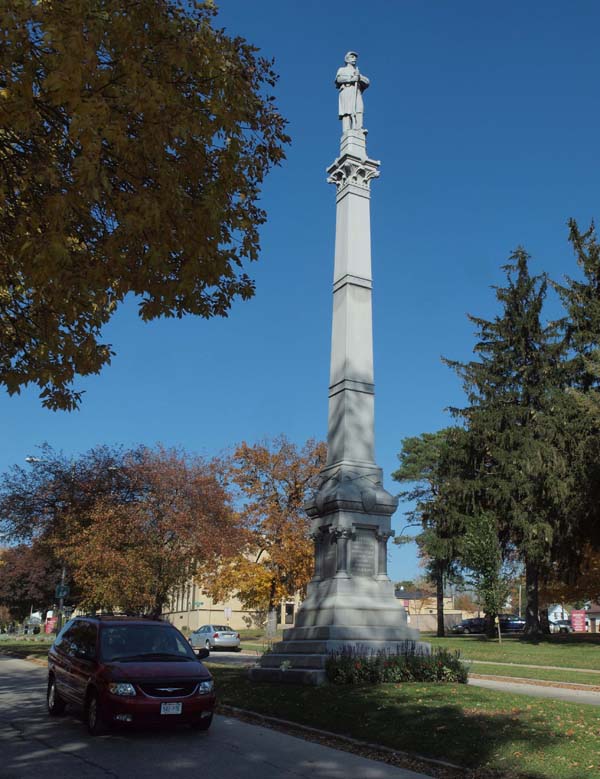 "To honor the living soldiers,
To keep green the memory of the heroic dead,
A greatful people erect this monument."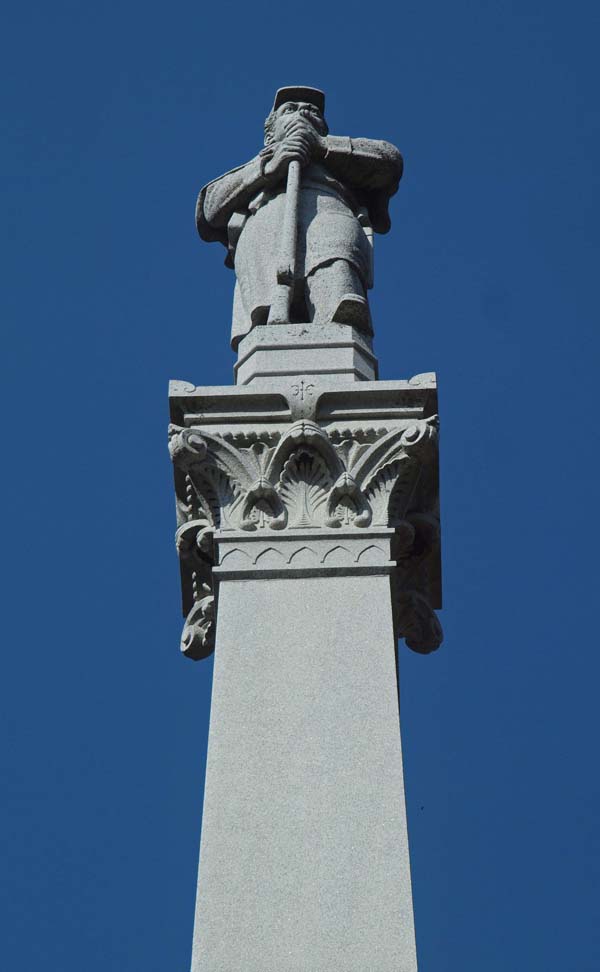 "It shall speak to the young of the honor and dignity of citizenship,
of the priceless cost of country and union."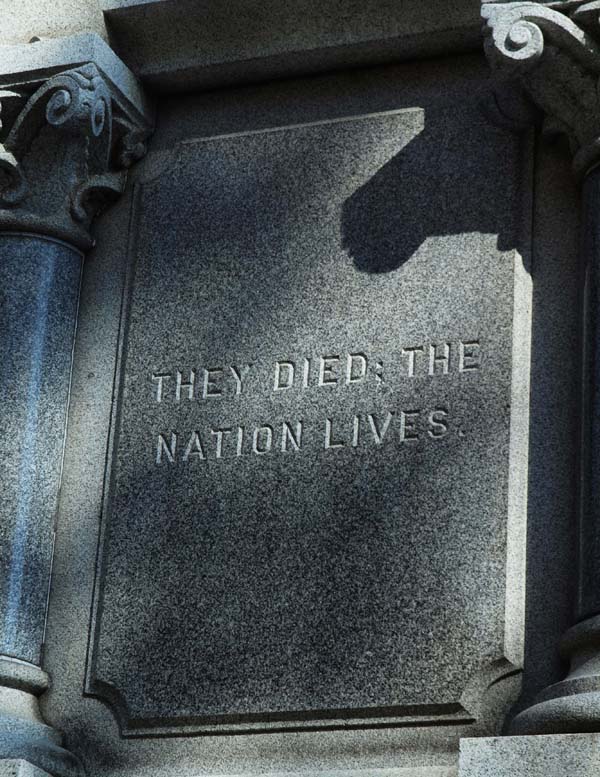 I didn't know Jakob so I can't write about him from my own knowledge. But I spent a day in his town and so I know about that and that is what I write. Patti joined us -- the new treasurer of the Wisconsin PGR. She can really write. But this was a time for standing, so that is what we did. We stood along the sidewalk for a few hours, holding flags.
The family came out to our flagline and took time with us and offered us food. Nearly all the guests made comments to us as they left: "Thanks for being here to honor Jakob", things like that. The private visitation was important. Jakob's family was important. Jakob was important. There should have been a hundred patriots standing shoulder-to-shoulder for him this evening.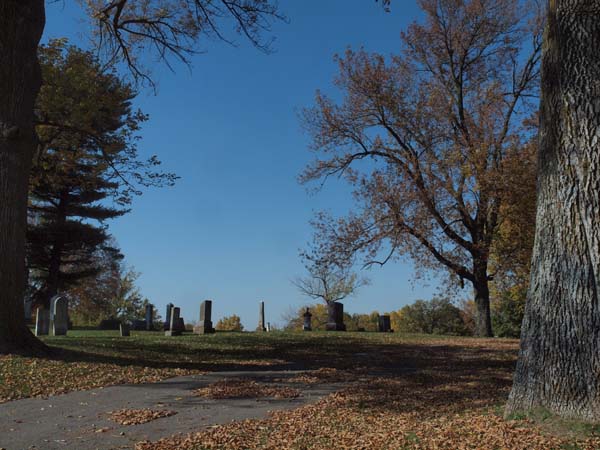 The next day was the public visitation at the church. And the day after that was the funeral, the military ritual and the interment. I would miss it, traveling instead to Indiana for Jim Butz. As I write this, that is all past. This is my monument to Jakob. I hope it will last 122 years.





back to ALL MISSIONS
Postscript, 09 Oct 2011:

I needed some time to collect myself as I close this mission. As I wrote in another place, I am truly blessed. I've been on this mission for 4 days for a "local kid" only a few miles from my home. While certain elements made it difficult to maintain our standards, we stood hour after hour to show our respect and were joined by PGR from Illinois and Iowa and of course from all over Wisconsin!! Seven PGR brothers and Sisters stood watch the first night and most of them were back the next morning after having to go home to Illinois overnight.

The next day, I arrived an hour early and others were already waiting for me. Later that day calls from more in Illinois and Iowa coming in. The third day 88 members from three states stood for someone they'd never met. They echoed my following thoughts over and over - The folks from the town of Darlington and the First Baptist Church are the most loving, supportive group I've ever known - from making sure we were OK and bringing us coffee at night to keep us warm and fresh lemonade in the day to cool us, to the fact that after the service over 100 of them walked the line and thanked each and every PGR member personally. I told them I wanted to bring them all home but don't have the space. May God continue to bless the family and friends of Army Sergeant Jakob John Roelli. He has surely blessed me.

A most humbled and honored State Captain,

John P. Curran
Post-postscript: