John Larimer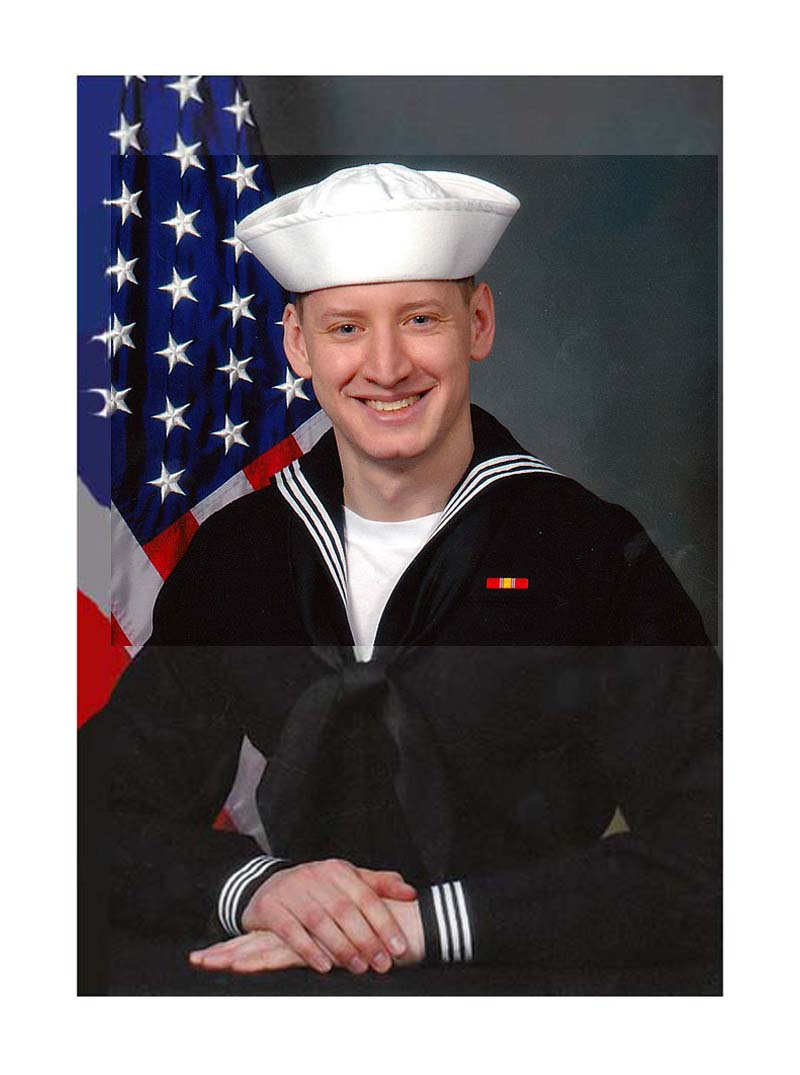 His heroism was instinctive:
Julia Vojtsek was watching "The Dark Knight Rises" with her boyfriend, John Larimer, on Friday at the Century 16 movie theater in Aurora, Colo., when a gunman fired into the audience.
Larimer, a 27-year-old Navy sailor from Crystal Lake, immediately shielded her from the gunfire, Vojtsek told WBBM radio Sunday.
He "held my head, and protected my whole body with his, and saved me," said Vojtsek, who is from Algonquin. "My boyfriend saved my life."
http://www.chicagotribune.com/news/local/ct-met-colorado-local-0723-20120723,0,122887.story
Selfless service his choice:
Adam Kavalauskas…described himself as Larimer's best friend, also released a statement, saying Larimer's sacrifice was not out of character. Kavalauskas said Larimer was "always serving others" and was "never selfish."
"His pride for his country was both endless and fearless," Kavalauskas said, describing his friend as "fun-loving and gracious on the outside, proud and self-sacrificing on the inside. ... He was a gentle soldier."
http://www.chicagotribune.com/news/local/suburbs/algonquin/chi-algonquin-woman-saved-by-boyfriends-ultimate-kindness-in-theater-massacre-20120723,0,7131654.story
www.facebook.com/pages/Remembering-John-Larimer/451728638194208
John was a 2003 graduate of Crystal Lake South High School, where he was active in the speech team, theater, band and academic team. In middle school he was a member of the Future Problem Solvers. He was also active in Boy Scouts. John's first job was at a movie theater and later at Chili's restaurant.

John graduated in 2008 from the University of Wisconsin-Whitewater with a dual degree in political science and history. He was involved with the History Honors Society.

John was 4th generation U.S. Navy. He graduated from basic training at Great Lakes in 2011 and then graduated from Cryptology Service School in Pensacola, FL. He was currently serving as a Crytologist Technician at Buckley Airforce Base in Aurora, CO.

Mission Announcements:
Mission Details:


Arrival:
Thursday July 26, 2012
Staging: O'Hare Airport
New United Cargo Bldg.

610 N. Access Road (Google maps does not work for this address. Enter from Irving Park Road.)
Staging: Time: 12:45pm (1245)

Following the dignified transfer we will precede with a low speed escort to the funeral home.
We plan to depart Ohare at 2:00pm (1400) Route Map Route Description


Visitation:
Davenport Family Funeral Home
419 E. Terra Cotta Avenue
Crystal Lake, Illinois

Staging: Fri July 27, 2:30pm

Visitation will conclude at 9:00 p.m.
Come when you can stay as long as you can.


Final service and burial will be private.


Eric Kuhn 630-450-9382 monmixr@hotmail.com
VUK 847-903-4657 vukF@aol.com

Remember It's not about us or the ride, It's about the Hero!


Thursday afternoon, we assembled at O'Hare airport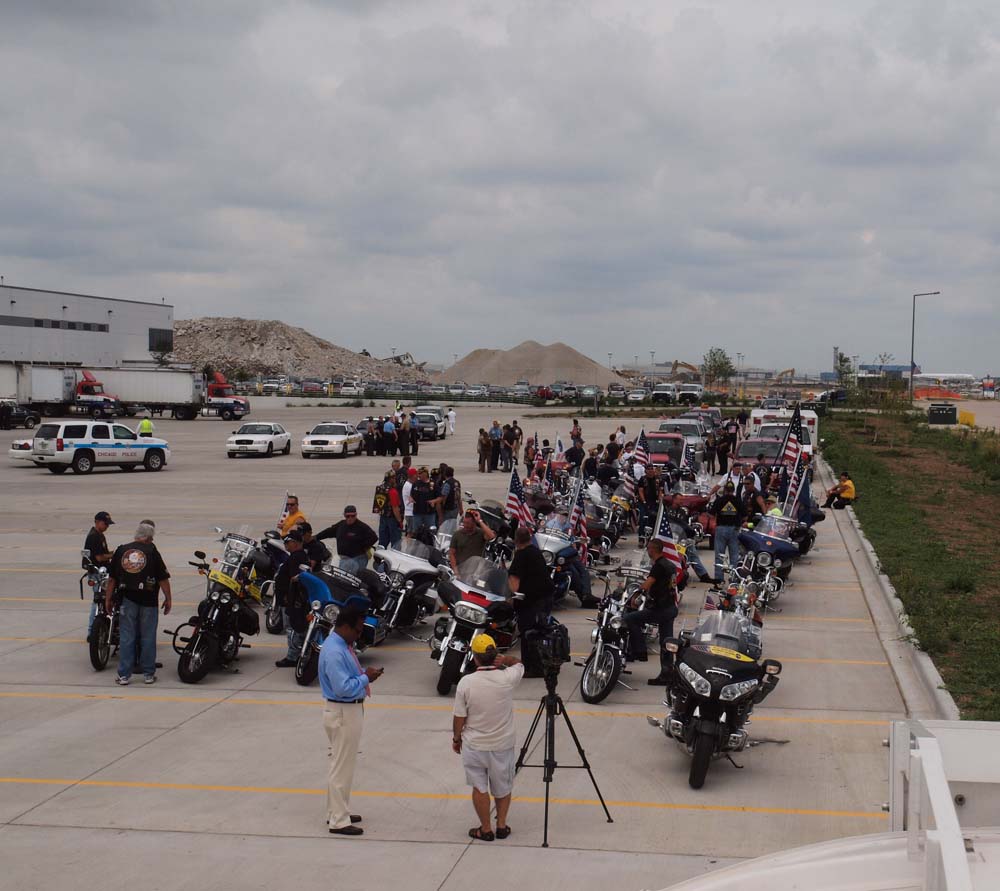 I arrived early enough to capture individual photos of the others arriving.
Supplemental page: Arrivals
Then we assembled to hear about the kind of person that John was,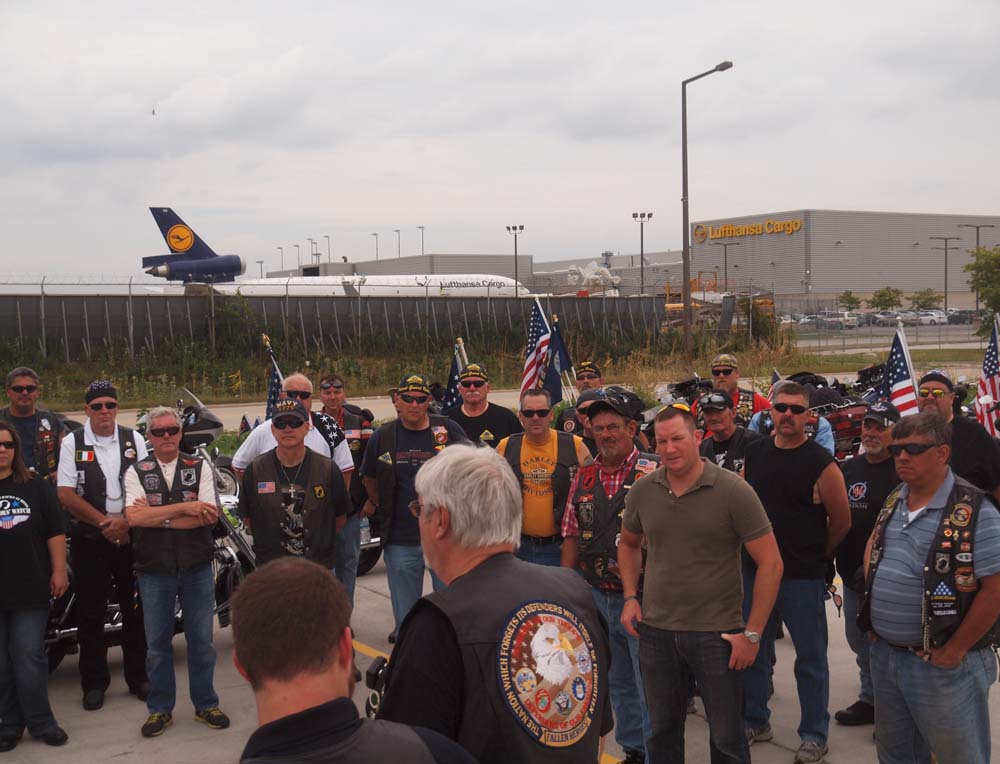 to recognize Deb Pyznarski,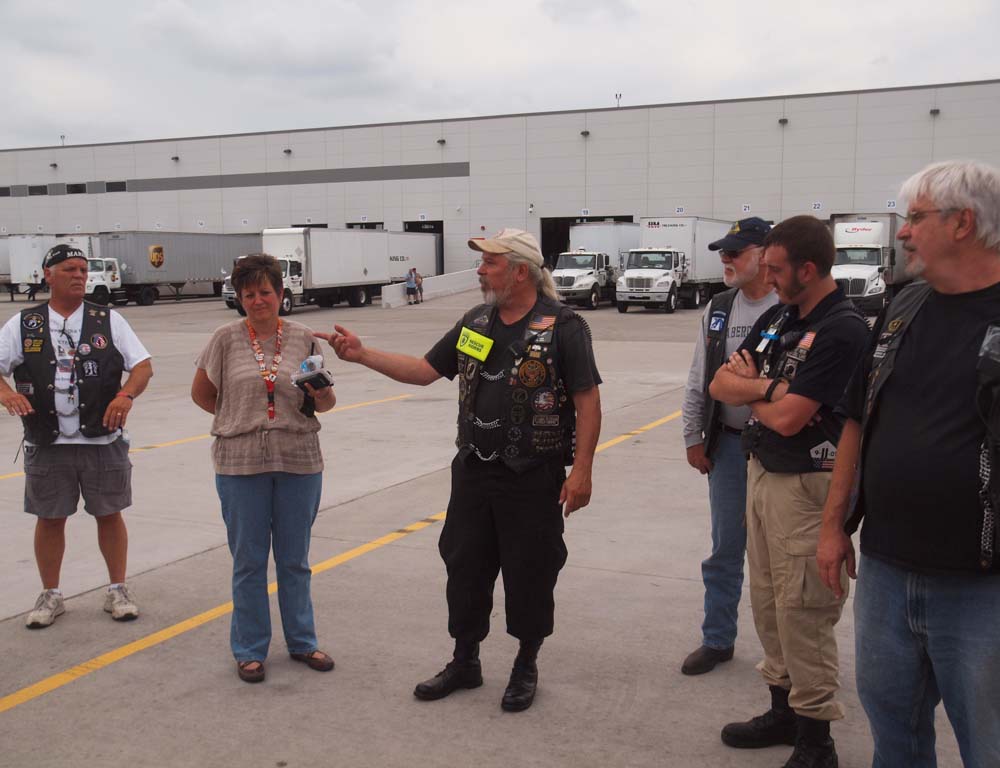 and then to hurry-up and wait.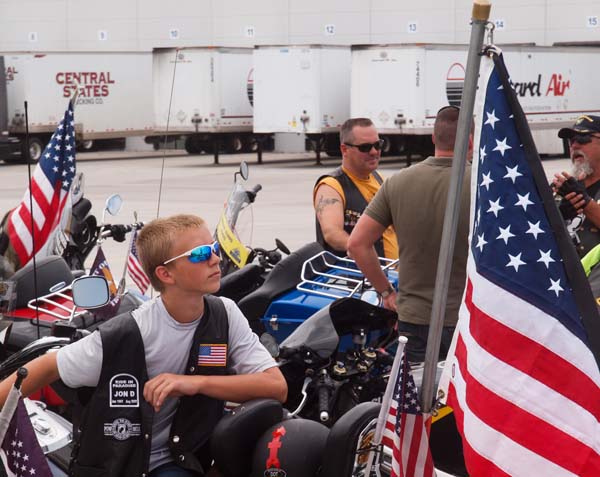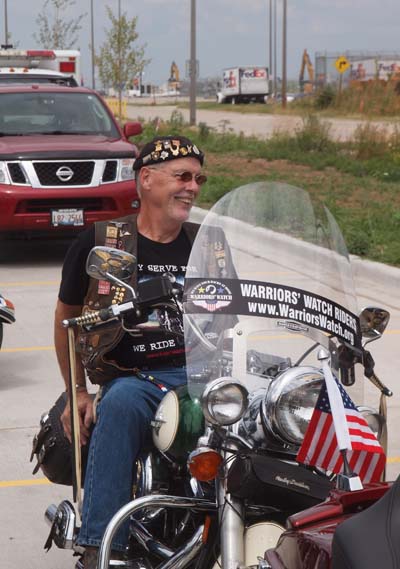 Then interviews with Illinois Old Guard leadership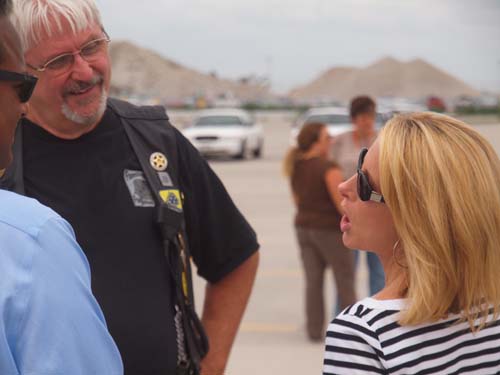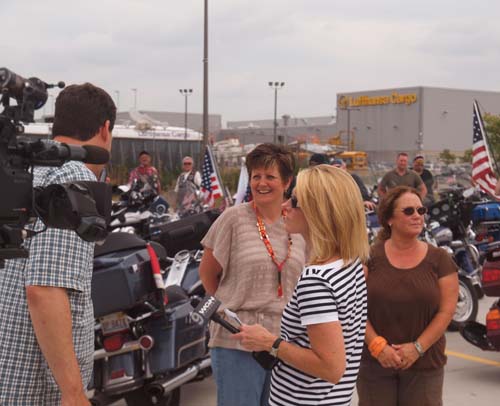 and finally traveling with John from the parking lot at O'Hare to the parking lot at Davenport.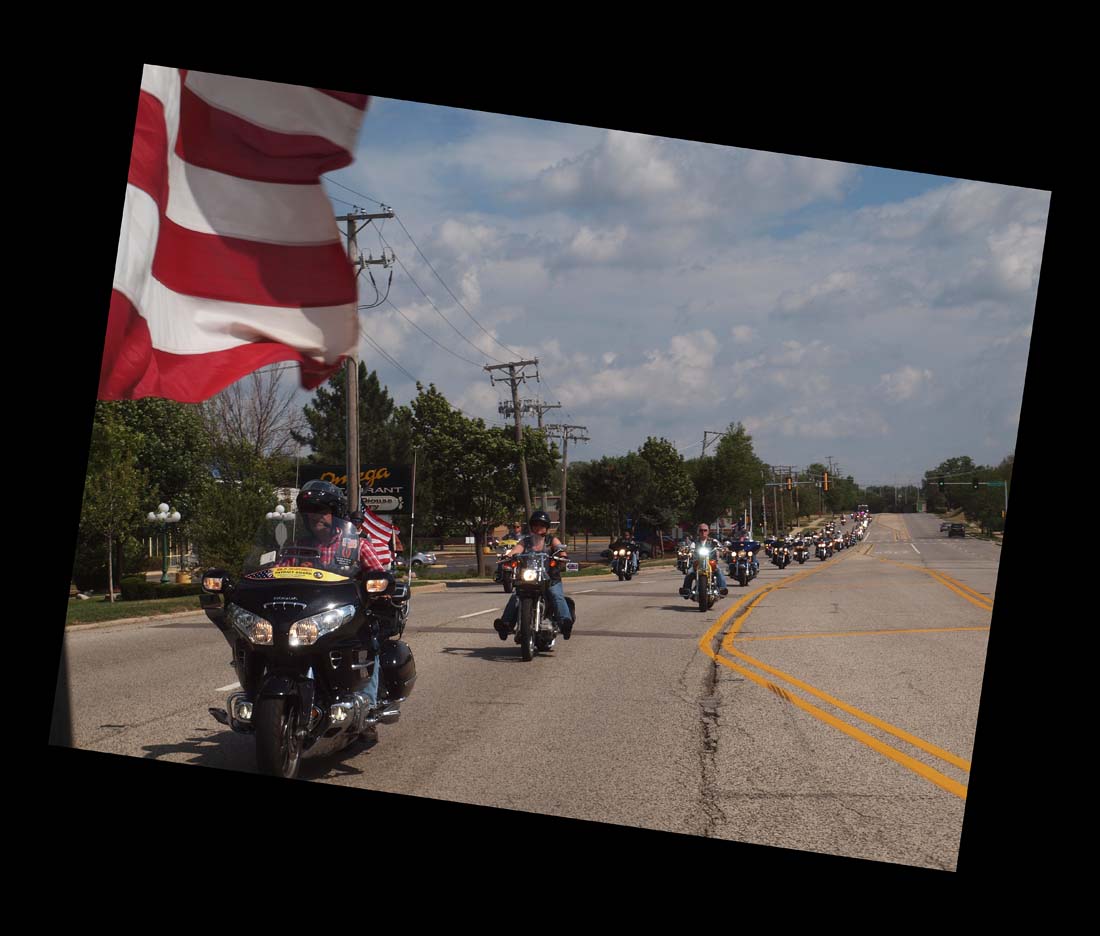 Supplemental page: Travelling
The next day, Friday, was to be our last.
Supplemental page: the Wake Guard
There were from 8 to 18 of us in the flagline at anytime from 2:30 until 9:00. So it was a long visitation but it was a busy one for all but the last of the six and a half hours. Unlike KIA funerals which are essentially local stories, John was a national story. The media was more aggressive than usual and the family was correspondingly more media-averse.
Two hours before the mission was to end, in the well-stocked breakroom, Funeral Director Jack Davenport asked Ride Captain Eric Kuhn if we could participate in the funeral the next morning and be ready to provide a buffer from any media. Apparently, we had done a good job today.
So there would be a third day and that is fine with me. We are there because we want to serve. We don't need to be paid or even thanked. The very best thing we can be given is another day.
Mission Announcements: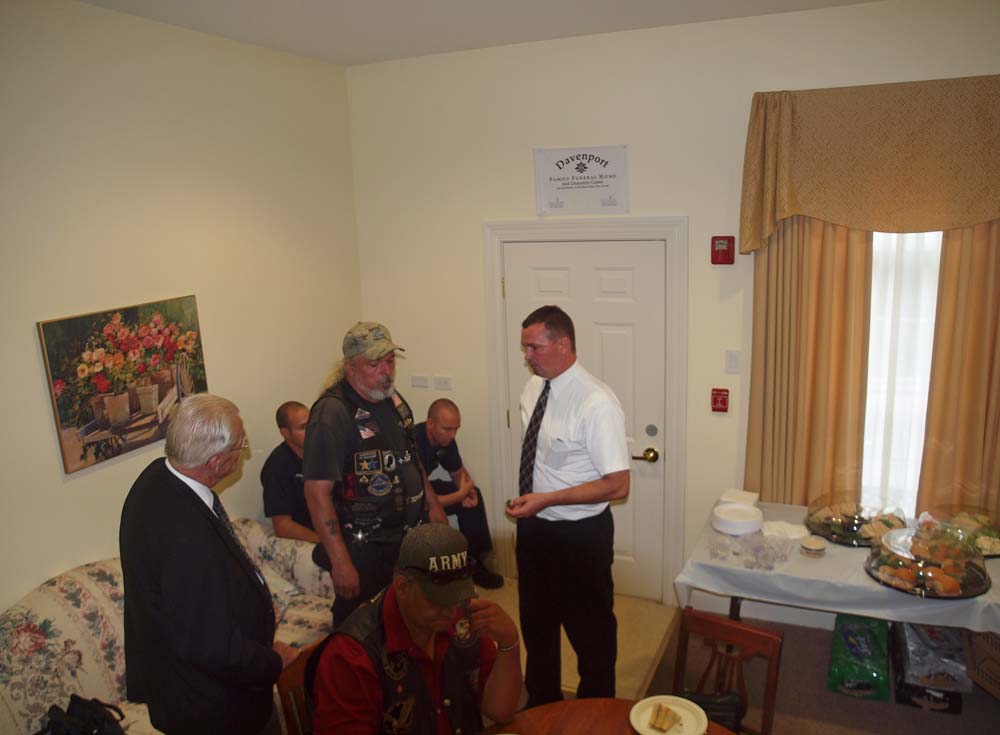 Boy Scouts had been moving past our flags all day. One or two parents, sometimes in uniform, with one or two scouts in uniform, all with Blackhawk Council Troop 168 insignia. So when I overheard a fellow say that he was the Scoutmaster, I asked.
Troop 168 meets Tuesday evenings at 7:00 in the First Congregational Church of Crystal Lake.
John was a scout of Troop 168 and rose to the rank of First Class. Soutmaster Tom Lotito told me that John's father continued to help with the troop even after John graduated from it.
Of course, the current scouts would not have known John. The fact that so very many of them came speaks well of the troop leaders, the scouts' parents, Mr. Larimer and John.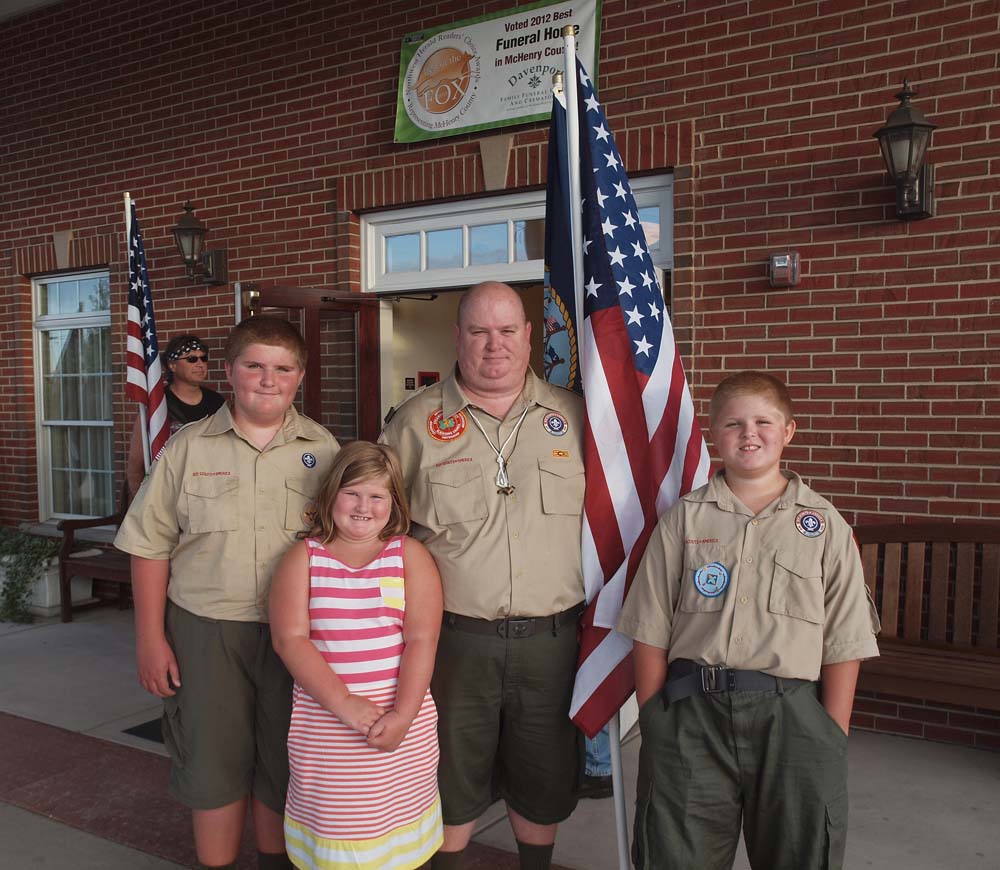 The Governor rolled in shortly before closing time. Except for me, our detail was inside making Illinois Old Guard and Warriors Watch Riders presentations to the family. There are 13 million people in Illinois. Governor Quinn must budget his schedule carefully but he finds time for a certain few among the 13 million of us.
So I took his picture as I have so many times before in front of so many funeral homes. There are some things a governor cannot delegate. My photo is evidence that the Governor of the Great and Sovereign State of Illinois understands that John Thomas Larimer, USN Petty Officer 3, was a very important person.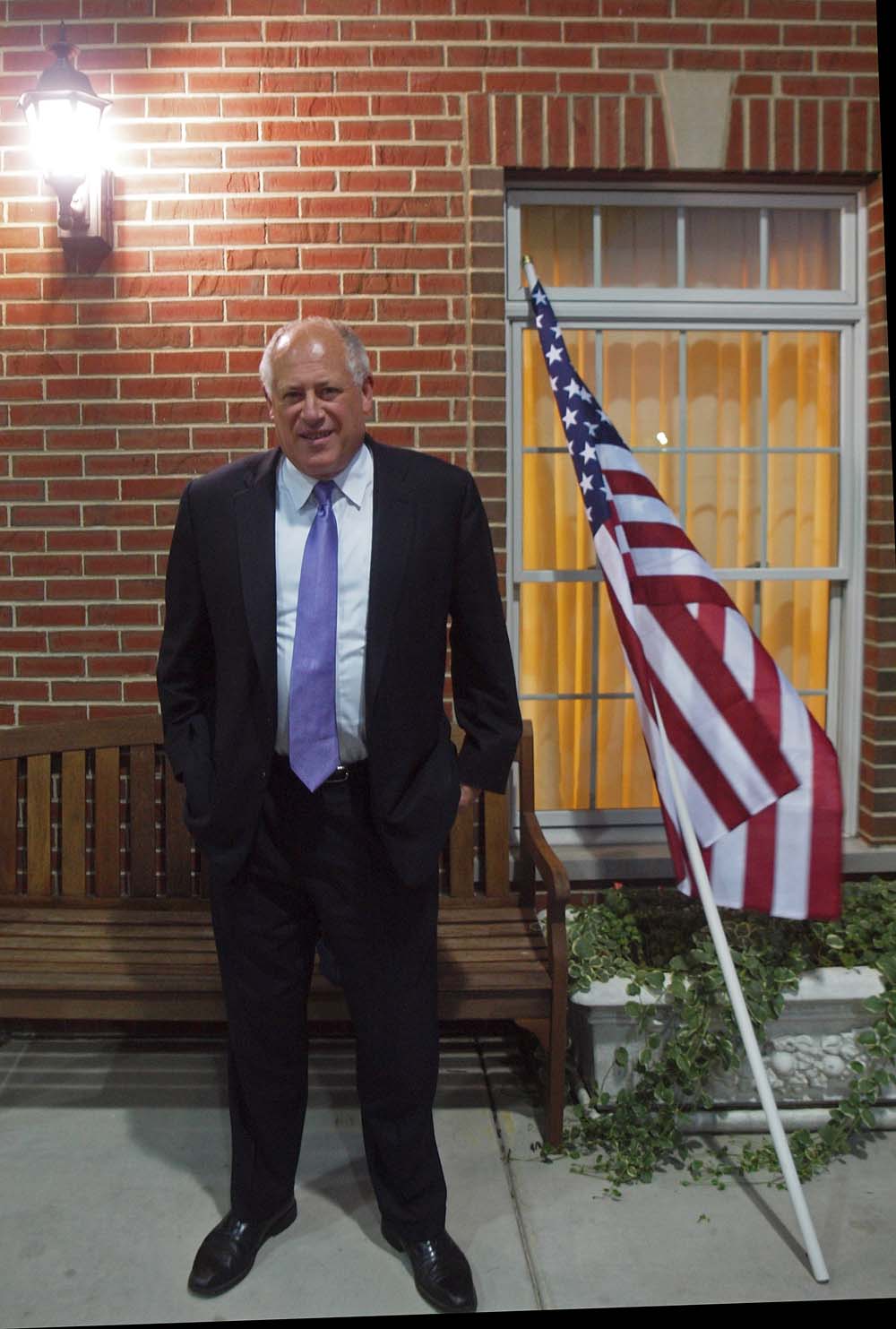 And then I left. I needed time to go home, write this, rest and return. I left behind Tom Negovan who was wrapping-up his story for WGN.
http://www.wgntv.com/news/wgntv-wake-held-for-local-man-killed-in-20120727,0,710570.story
The Final Day
Saturday we took John to the cemetery. 28 bikes. The notifying emails did not go out until late Friday night, but at 0830 there were 28 bikes ready to go. Twenty-eight!
John Larimer's funeral will be private. National media has been pressing on the family and he will be remembered by history simply as one of the twelve victims.
John Blunk had served in the Navy, mostly aboard the Nimitz in the Persian Gulf and had recently filled out papers to reenlist with a goal of becoming a Navy SEAL. He too was shot and killed while shielding his girlfriend from the gunfire.
Jesse Childress was a former soldier and Air Force reservist. He attended the movie with another reservist and when the shooting started, Jesse sheltered her body with his.
John Larimer was a warrior who never went to war; a sailor who never put to sea. But he had a warrior's heart and when the shooting started, he knew who his shipmates were. And when his test came, he faced the deadly threat and died honorably.
Like Blunk and Childress, he attended a midnight showing of a movie with a girl. All three were tried when an incarnation of pure evil lashed-out in that theater. And all three demonstrated courage-by-reflex when they sacrificed themselves in defense of another.
So we stood outside the Davenport Funeral Home holding the American flag that this fourth-generation sailor served. We stood in the sun for anyone to see. We stood to vote with our bodies. Fred found a place at the end of the flagline next to two Troop 90 leaders who came from Wauconda.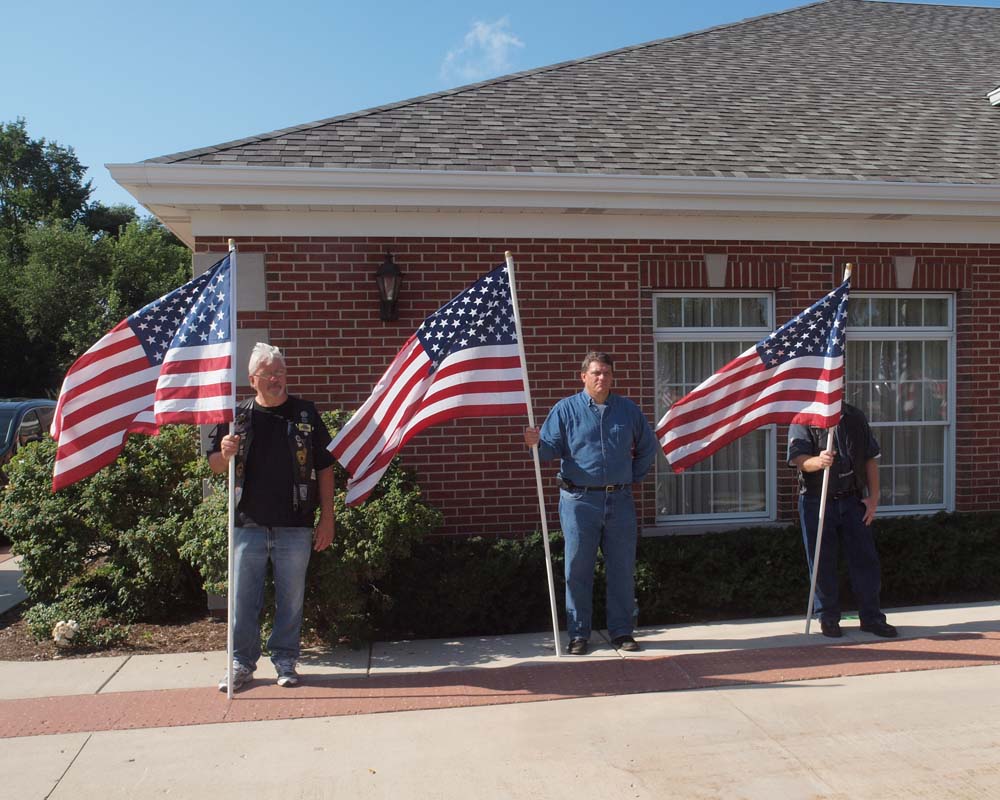 And Fred took my picture. I have not published myself in line like this before -- as we say, its not about us. But I do stand in line as much as anyone and as one Boy Scout for another, I commend John and the family that made him what he was for the hero he became.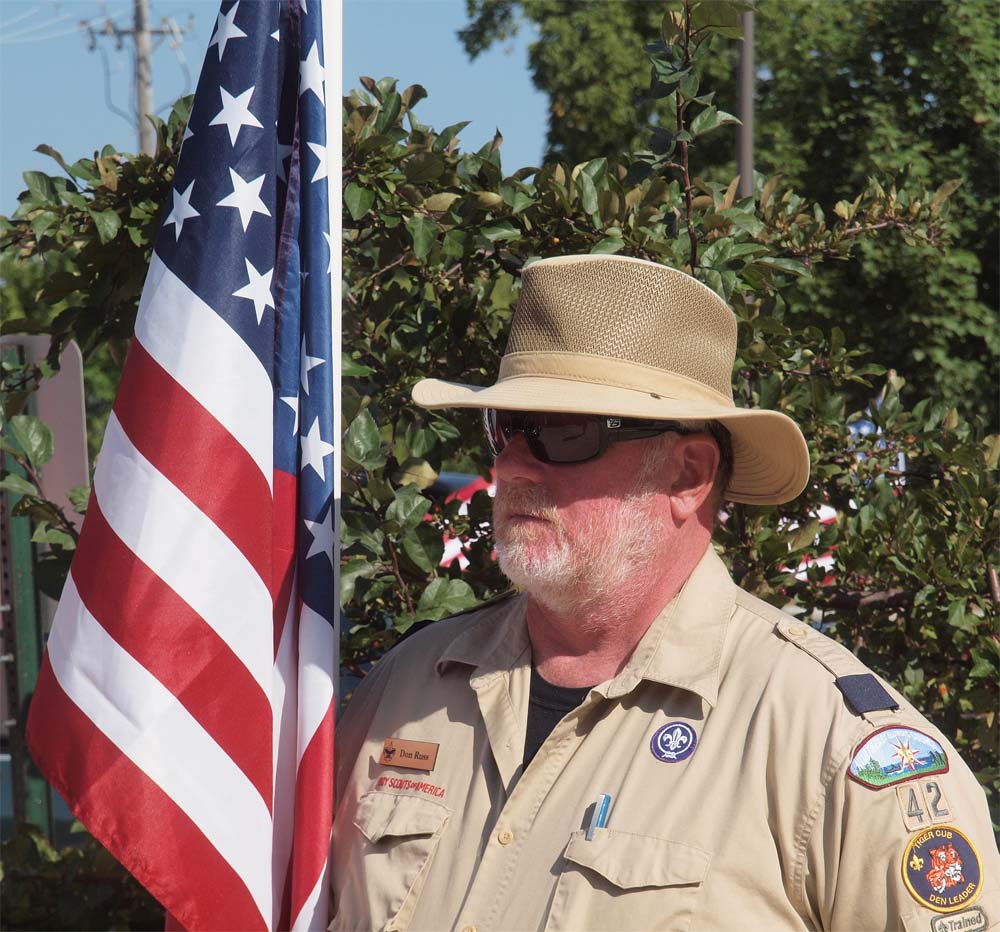 In a short time we would take John to the cemetery where he would join Jonathan Collins and Christopher Antonik. All three young, they will be buried wihin 100 feet of each other. Three warriors. Three good Crystal Lake boys.
by John's Aunt Karen M. Lavin
:
John Thomas Larimer was a smart, funny young man with so much to offer the world. He had a droll, witty sense of humor that gave him the ability to deal with life's adversities, and to find something positive to take away from every experience. He was cute and charming and always a pleasure to be around. He had a smile that was totally contagious and lit up the room. He made friends everywhere he went.
The media continuously describes John as a sailor. That always throws me. Even though he was in the Navy, I'm not sure he ever set foot on a ship. He was in Navy Intelligence, stationed about as far away from water as possible in our country. I was so relieved when he was accepted to the Naval Intelligence training, because I knew he would be stationed somewhere safe like Washington D.C. or Colorado. He wouldn't be overseas with religious fanatics trying to shoot him or blow him up.
John was enjoying his work with the Navy. He had high security clearance and his work was classified. Talking to him about his job was like playing 20 questions. Naturally, we were curious about his work. So, we would ask questions and John would always reply with an amusing non-answer. Despite our efforts, we still have no idea just what it was he was doing for the Navy. He took "classified" very seriously, but always deflected our questions in good humor.
John was so much more than a sailor serving his country. He was a natural on stage with his high school theater group. He was an accomplished musician with the South High School Marching Band. He was an asset to the school's Academic Team. He was a caring friend and brother that would always make time to talk to someone who needed a shoulder to cry on. He was a loving son, who was considerate of his worrying mother, so that even in his twenties when he was at his parent's house, he would take the time to check himself in on the chalkboard when he got home in the wee hours, so my sister could, with a quick glance at the board at the top of the stairs, know he was home safely.
This time, there was no check on the board, just a grim Navy Notification Team knocking on her front door after hours and hours of agonizing waiting.
Ironically, John's first job was at a movie theater. His sisters say he was a popcorn junkie. He was an avid reader and would always have the book read before the movie came out. He was first in line at the midnight showings of Harry Potter, Spiderman and other super hero movies.
I remember one year he asked for Spiderman pajamas for Christmas. I searched high and low and was not able to find them in his size. This wasn't when he was 5 or 6, mind you, but I'm thinking more like 13 or 14. Imagine that, no Spiderman pajamas for teenagers! If memory serves, he had to settle for a large T-shirt.
John 's core values were rock solid, due to his two loving, dedicated parents, and his four older siblings. They are a very close family. Even when circumstances moved them hundreds of miles away from each other, they were in frequent contact by texting, email and the old-fashioned phone call.
Those values served his friends well in John's last moments on this earth. He pushed his friend down to safety and took the bullets she believed were meant for her.
John was able to get leave time to join his family in June at a lake house they rented in the Lake of the Ozarks. He was able to spend a great week with the people who loved him most in this world, including his nieces and nephews, ranging in age from 8 months to 6 years. He was always able to get in touch with his "inner Kid" and get on the floor to play with the little ones.
I was able to have dinner with him upon their return, the evening before he flew back to Colorado. I got one last hug from the nephew I loved so dearly. While we are overwhelmed by pain by this terrible loss, we are mindful of the other 11 families mourning the loss of another promising, wonderful young person, and the dozens of other families at the bedside of their injured loved one, hoping, praying they recover fully. None of will ever fully recover from such a terrible loss, the senseless, brutal actions that in just seconds took so many, so much away from us.
One day, we'll be able to think of John, without this terrible piercing pain that we have now, we'll learn to laugh again and share our memories without the tears we can't keep back now. We will do that because we are a very strong family who will see each other through this terrible tragedy. But, most of all, we will do this because John would have wanted it that way.
And then it was time.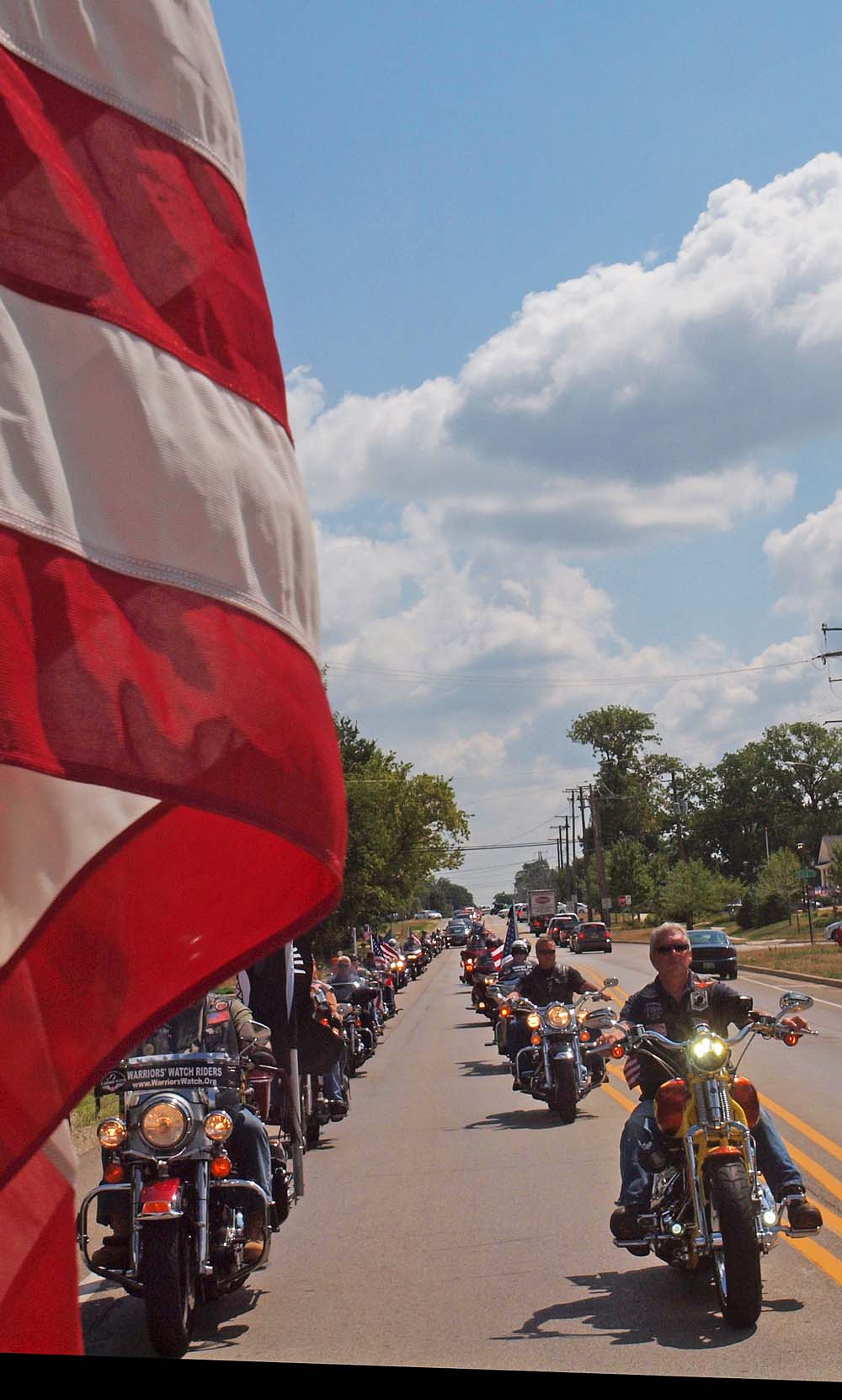 Supplemental page: the Final Escort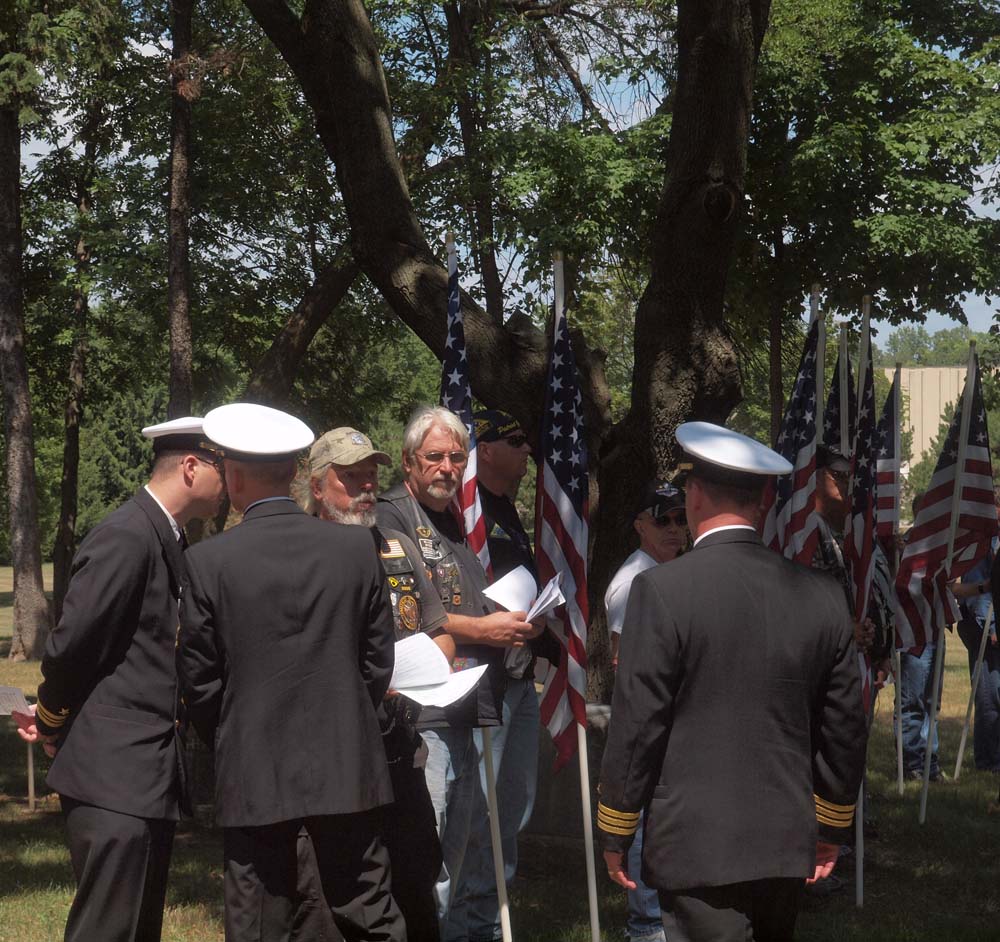 It seems that John's killer was inspired by movie violence. Some people cannot distinguish between reality and fiction. And that is why most Americans misunderstand the true nature of their military.
From all wars, veterans are now 22 million. Of our population of 312 million that is 7 percent. Which means that 93 percent of us know only what we see in war movies and from other second-hand sources. Many Americans believe that our warriors are raging and bloodthirsty and that those qualities are virtues.
Real warriors talk about "lethality" the way a pharmacist talks about "efficacy". Weapons are just tools and getting shot is simply an occupational hazard. And the enemy is always beyond our borders.
John was prepared to face our nation's enemies afield, not for the random fury in that Colorado theater. But we're not funeral junkies – like a traffic fatality, we would not have been honoring John in our special way were he not a sailor.
And he died like a sailor. He kept his head and reacted quickly, and without regard for himself. He was not Rambo. He was a real warrior.
There are many qualities required of those who "provide for the common defense" but most evident in casual acquaintance are discipline and humility. Aaron Ludwigsen is a sergeant of light infantry trained for air assault. He attended John's funeral and burial.
Most people who walk past our flagline do not look around very much. Sometimes they will make an effort to maintain eye contact long enough to offer a quiet expression of gratitude, and that's fine but that's all.
So it was unusual when Aaron stopped and addressed us as a group saying among other things, "You are an inspiration for us."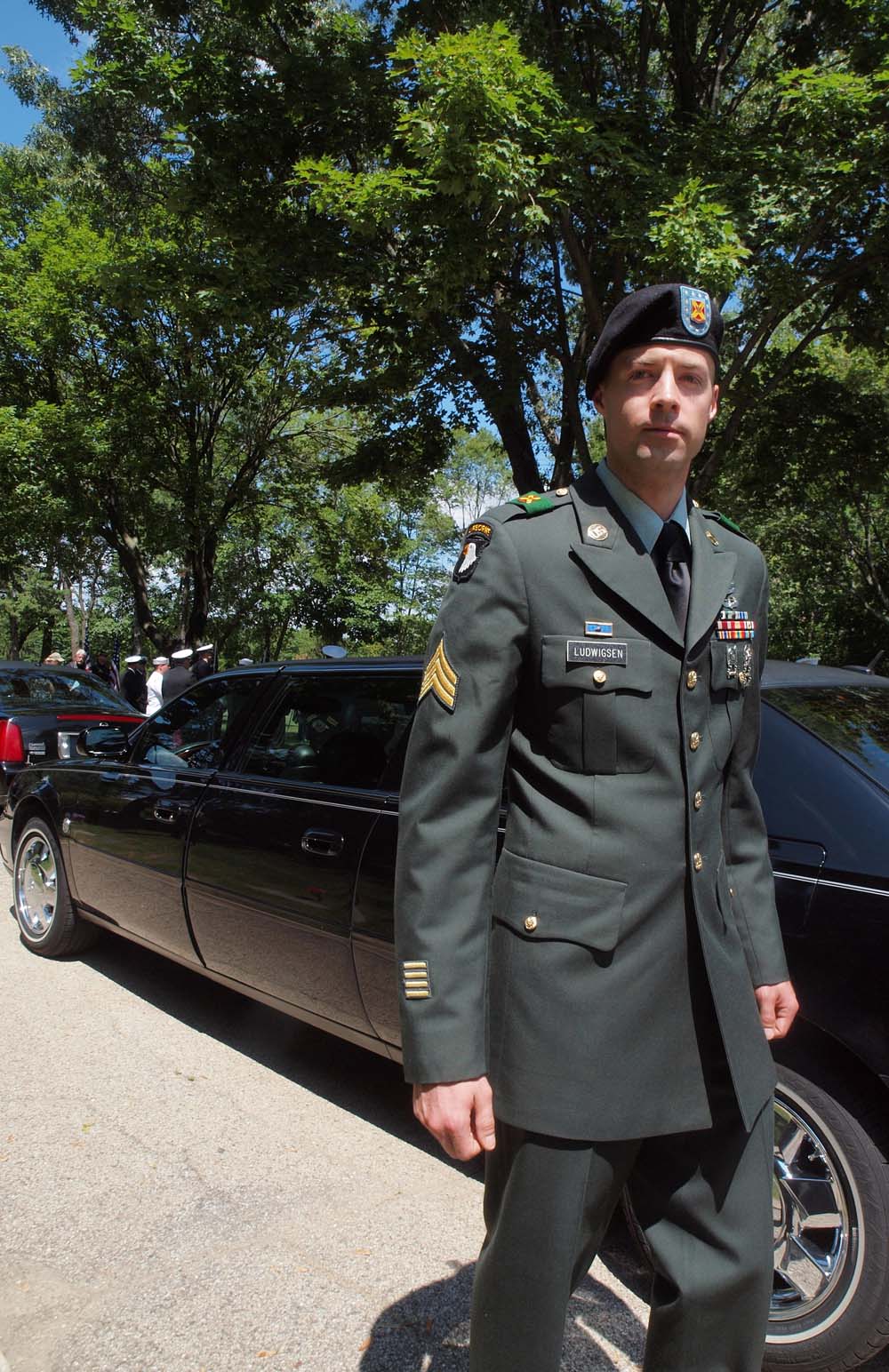 That from a guy with four combat bars on his sleeve.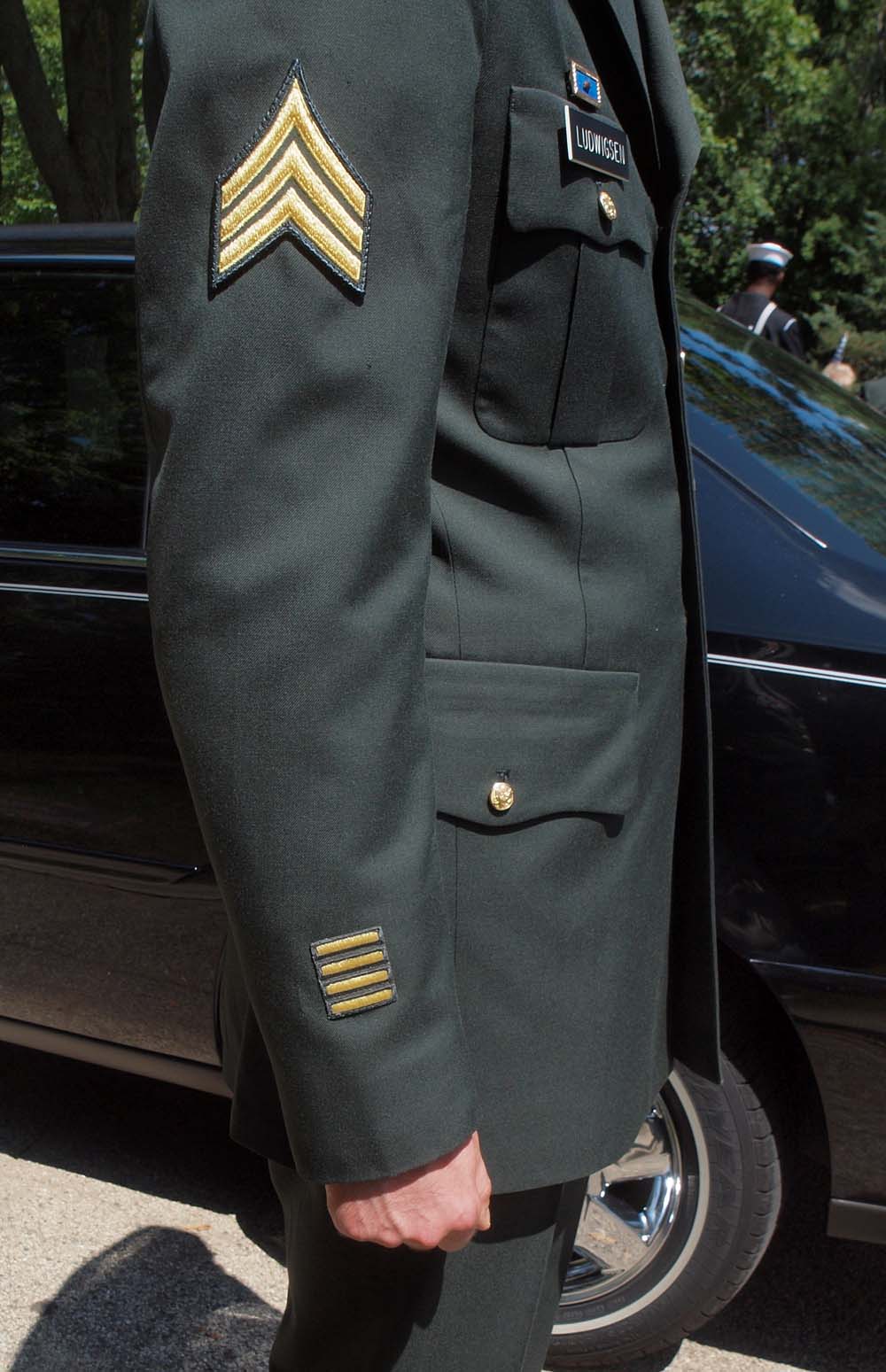 We were there because John was a sailor. Because he was a sailor, we would have known he was a hero even if he had not proven it.
back to ALL MISSIONS