Thomas Wortham was a First Lieutenant in the Wisconsin National Guard.  He had just returned from his second tour in Iraq and was still on furlough from the Chicago Police Department.  He was a neighborhood leader.
<![if !vml]>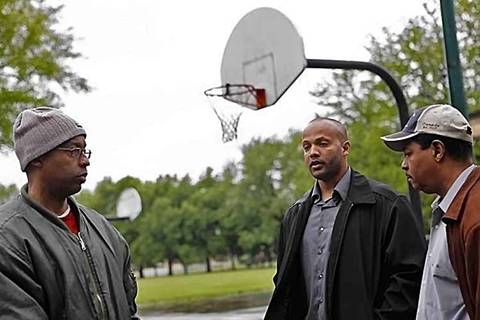 <![endif]>
José M. Osorio, Chicago Tribune
His father, also named Thomas Wortham, was also a Chicago Police officer, a sergeant.  He still lived in the house his father-in-law had built and in which he had raised his son.  (The son was Brother Rice Class of 1998; Jared Stanker was Class of 2006.)  The son had just purchased a Yammy R1 and returned to his father's home to show him.
<![if !vml]>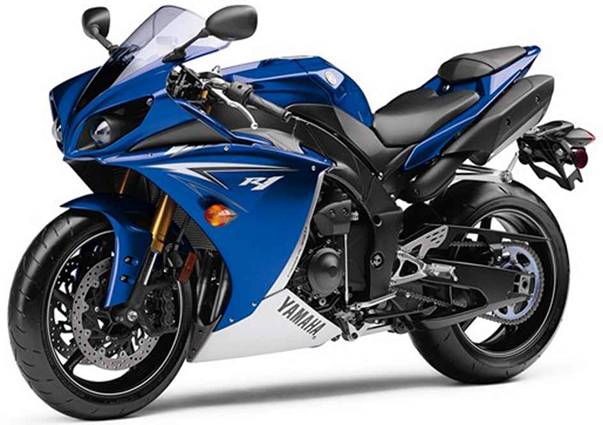 <![endif]>
They had dinner.  The father stood on his porch to watch his son leave when a red Pontiac Grand Prix (first said to be Nissan Maxima) stopped and four men jumped out.  They wanted to take that new bike.  The father heard his son loudly identify himself as a police officer.  Then the father saw his son shot.
The father ran inside and came out shooting.  He had a semi-auto in one hand and a revolver in the other.  He killed one of his son's murderers and wounded another.  The last two sped off, driving over and dragging the son under the car.  They circled the block, looked back from the corner, and then wheeled away.
Within 24 hours, all four were accounted for:
1) Brian Floyd, 20, of the 3700 block of South Wentworth Avenue, was shot dead on the scene.
Inside her Wentworth Gardens neighborhood apartment Thursday evening, Floyd's mother, Lucille, tried to make sense of the death of her only son. Her son's cousin was on a hospital ventilator in very critical condition with perhaps only days to live, she said.  The two cousins, the only boys in their family, were as close as brothers, she said.
Floyd said the cousins went out Wednesday for a night of drinking with two friends. She said it somehow changed into a game of dare over who would rob someone at gunpoint.
2) Another suspect who was shot multiple times remained hospitalized as of 3:45 a.m. Friday in critical condition and under police guard at Advocate Christ Medical Center in Oak Lawn.
A second suspect, Floyd's cousin Marcus, was critically injured.
3) A 20-year-old West Side man (Marquette Park) with a criminal record for a gun charge, turned himself in with his attorney Thursday afternoon at the Harrison District police station.
On McGee's Facebook page, police sources confirmed, he identifies himself by the nickname "Payroll" and says, "I hav no promlem wit pullin da trigger!!!!" He lists his interests as basketball, dice and "robbin."
4) The fourth suspect, 29, was arrested about 9 p.m. Thursday after police conducted a traffic stop near the intersection of Jackson and Western avenues and he was found inside the curbed vehicle, ducking or hiding inside of it, police said.
That suspect was a passenger in a vehicle that went through a red light and was picked up in a traffic stop near Jackson and South Oakley boulevards at 9 p.m. Police said they were suspicious when the man tried hiding in the car.
A police source said the driver purposely drove through the light in order to attract police attention.
Since both father and son were Chicago policemen, the Independent Police Review Authority will pass judgment on this matter.  The son's slaying is considered a death in the line of duty because he announced his office and took police action. He will receive an honors funeral and his police star, number 6181, will be retired, authorities said.
Within 48 hours, Paris McGee and Toyious Taylor were charged with First-Degree Murder.  Marcus has a choice:  He can die soon or he can be charged too.  If it were up to me, Paris and Toyious would also be given that choice.
But before Thomas was buried, history repeats…
Thomas Wortham IV:  Thank you for your service as a soldier, as a cop and as a community organizer.
<![if !vml]>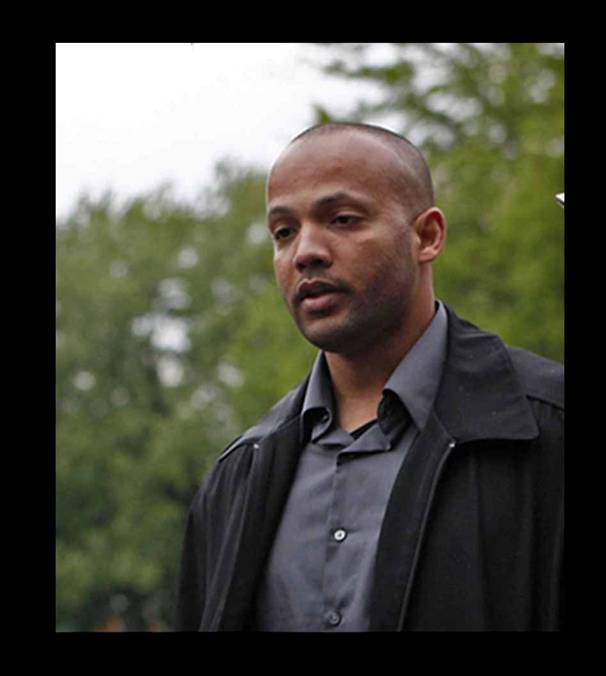 <![endif]>
Thomas Wortham III:  Thank you for your service as a sailor, as a cop and as a good father.  And thank God you had your guns.
"WHEREAS, on Wednesday, May 19, Chicago Police Department Officer Thomas Wortham IV was the victim of an attempted robbery, during which he announced his office, exchanged gunfire with the offenders, and was subsequently mortally wounded. He was 30; and

"WHEREAS, Officer Wortham is the second officer from the Englewood District killed in the last year; and

"WHEREAS, Officer Wortham had been on the force for three years, and had recently returned from a second tour of duty in Iraq; and

"WHEREAS, Officer Wortham followed in the footsteps of his father, who is also a military veteran and a retired Chicago police Sergeant; and

"WHEREAS, Officer Wortham, a graduate of Brother Rice High School, worked to fight crime in the neighborhood he grew up in, both as a Police Officer and as president of the Cole Park advisory council; and

"WHEREAS, Officer Wortham was a conscientious and professional officer who will be remembered for the dedication and commitment to duty that he showed throughout his career; and

"WHEREAS, funeral services for Officer Wortham, who is survived by his parents, will be held on Friday, May 28:

"THEREFORE, I, Pat Quinn, Governor of the State of Illinois, do hereby order all persons or entities governed by the Illinois Flag Display Act to fly their flags at half-staff from sunrise on May 26, 2010 until sunset on May 28, 2010 in honor and remembrance of Officer Wortham, whose selfless service and sacrifice is an inspiration."
From the Trib, describing the visitation Thursday:
Wortham's casket was surrounded by flowers sent from police departments as far as New York City. The officer wore his dress police uniform, his cap sitting on top of the coffin. Inscribed in gold letters on his coffin's inner lid were words that close friends and family members said the young patrolman lived by: "May the work that I've done speak for itself."
Army National Guard Spc. David Capps said his fear of ranking Army officers quickly melted under Wortham's warm, joking personality and willingness to spend time with soldiers.
"He'd sit down and hang out with the enlisted (soldiers)," Capps said with tears streaming down his face outside of the Leak & Sons Funeral Home on Chicago's South Side. "Most officers don't hang out with enlisted. He hung out and talked with us and showed us the ways to be a good soldier. That's just the way he was."
The Friday funeral:
I stopped by the burial site on my way to the PGR staging location.  The United States Army sent a detail of rifles to honor First Lieutenant Wortham.  Except for a handful of cops, Beverly Cemetery was empty.  The funeral procession would not arrive for hours.
And yet, there they were.
<![if !vml]>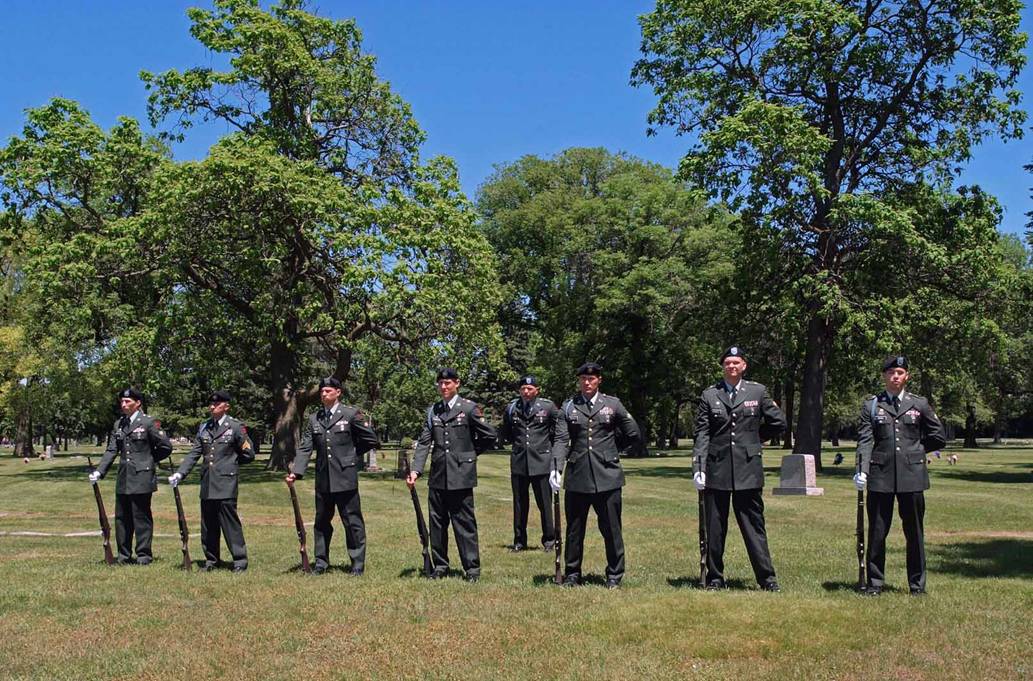 <![endif]> 
They had been practicing and they were ready.
<![if !vml]>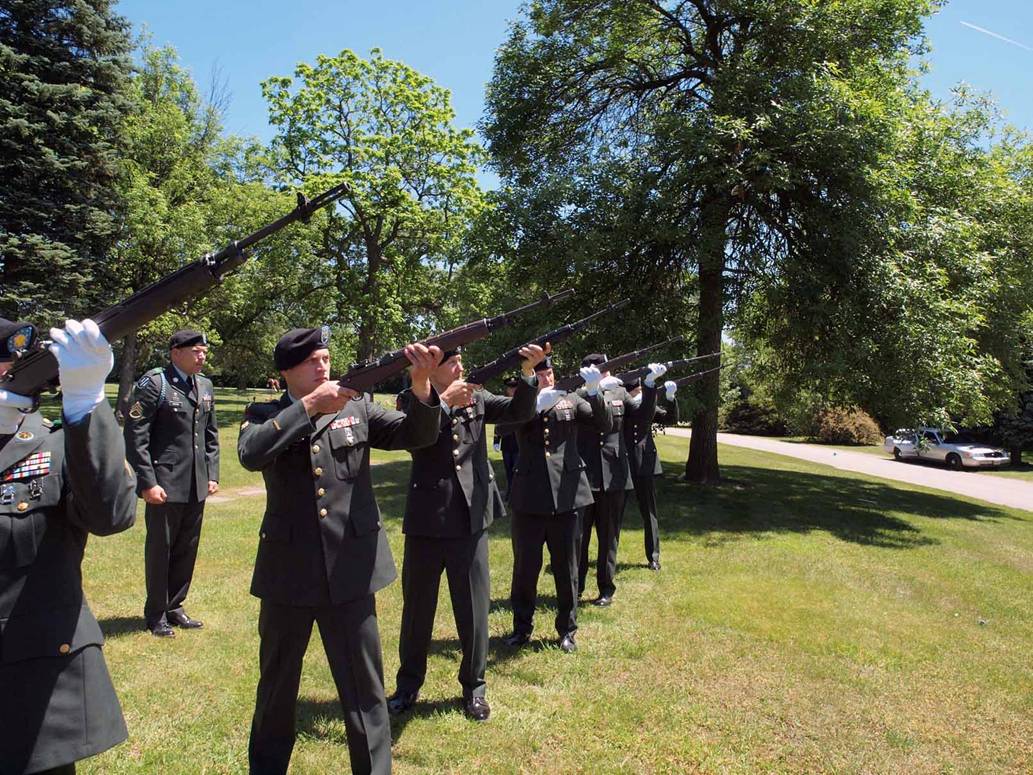 <![endif]>
I went on to our staging area a few blocks away.  I was early, but so were others.
<![if !vml]>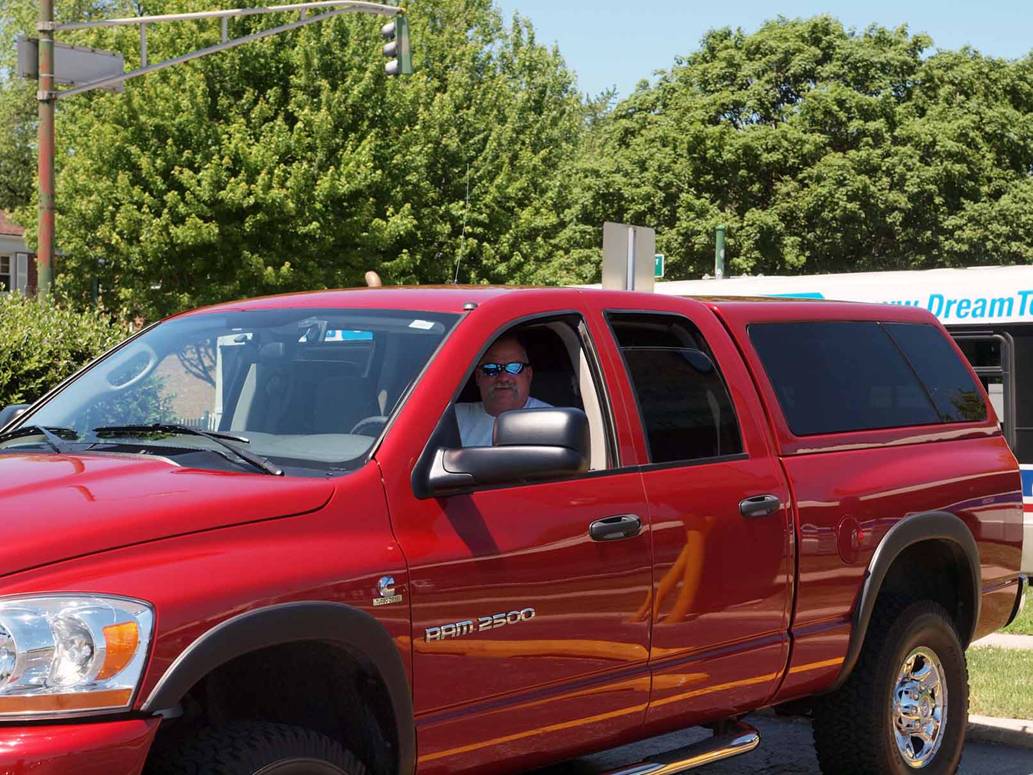 <![endif]>
115 Bourbon Street is the name of the restaurant, not the address.
<![if !vml]>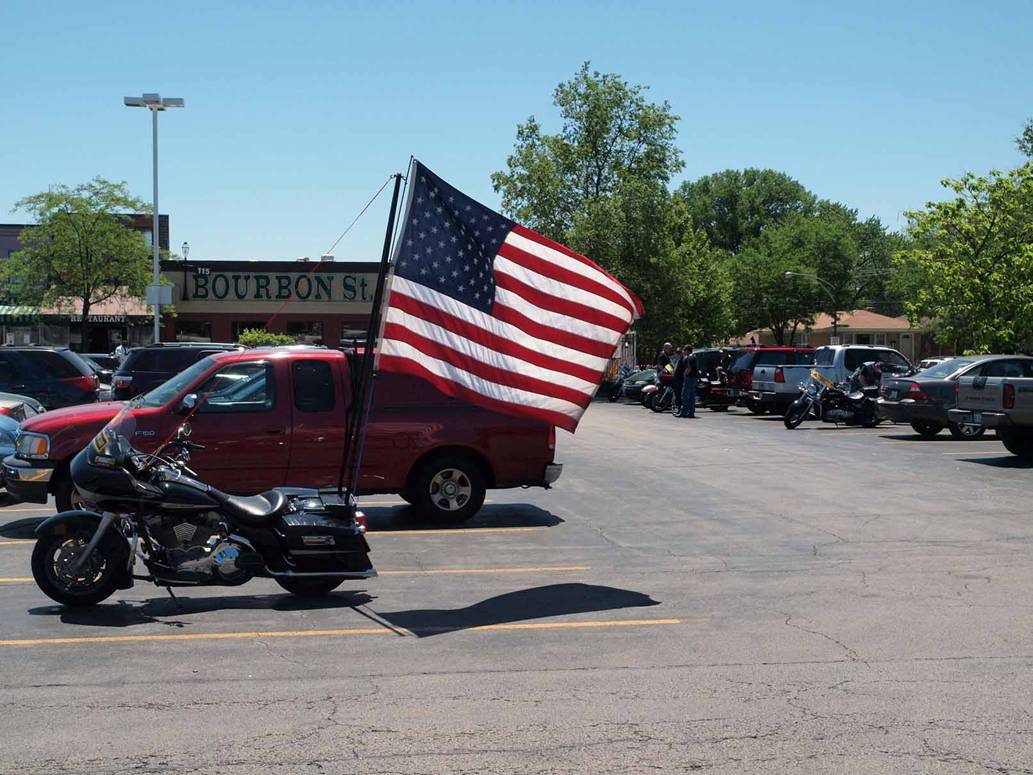 <![endif]>
It is a cavernous place and caters to policemen and firemen.
This Marine is a police cadet.
<![if !vml]>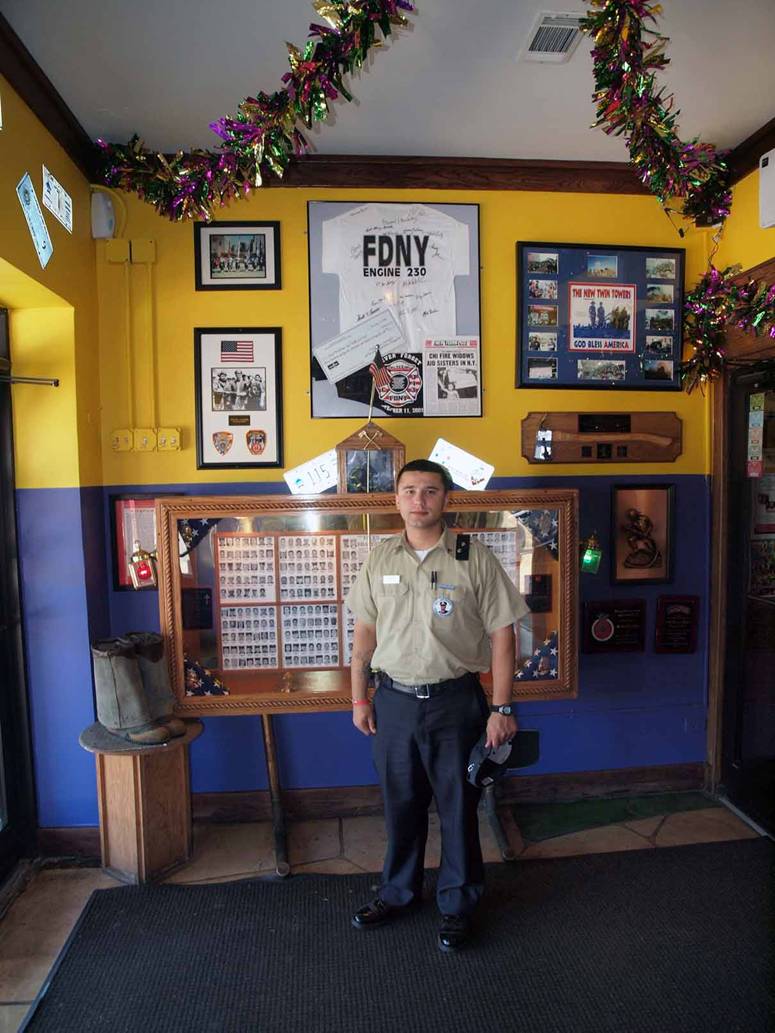 <![endif]>
He and others were waiting outside the restaurant.
<![if !vml]>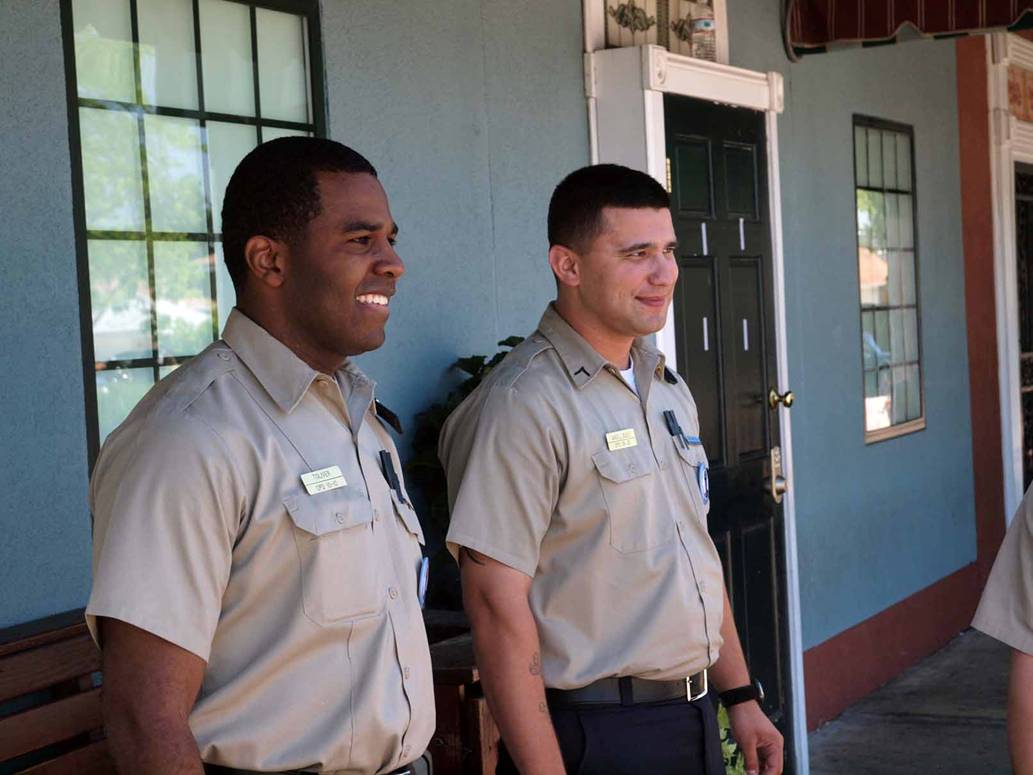 <![endif]>
<![if !vml]>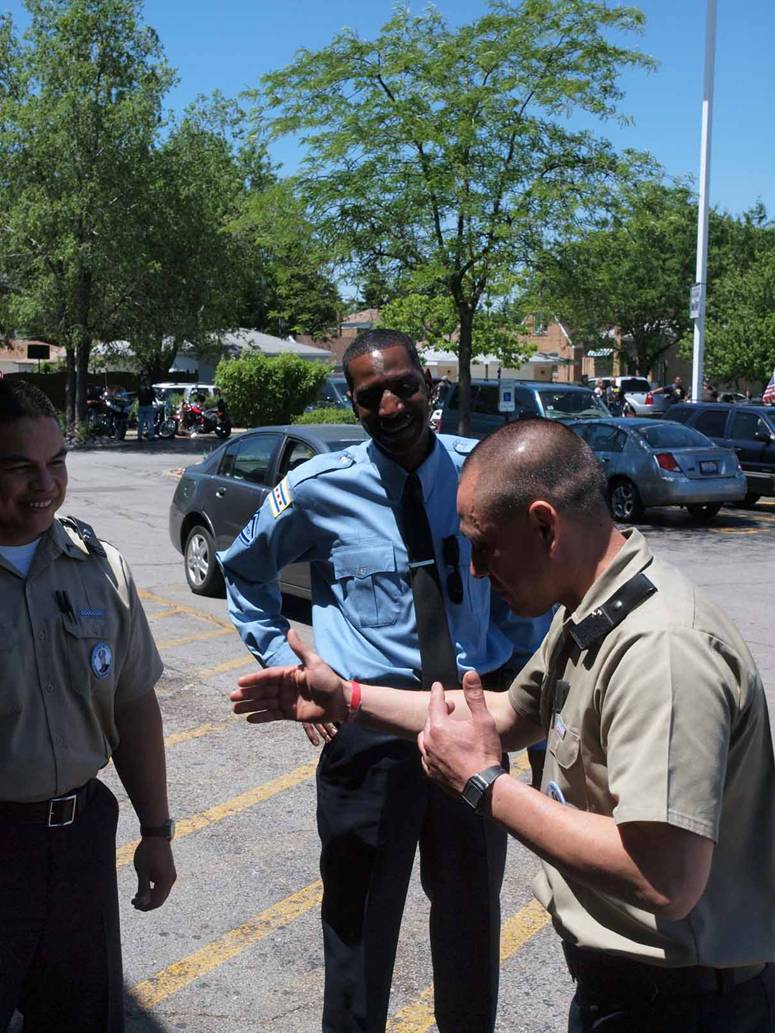 <![endif]>
Four busses would carry the Chicago Police trainees from the restaurant to the funeral.
These cops have not made their first patrol yet, but they are already attending a line-of-duty funeral.  Like soldiers, they know what they are getting into.
And yet they go forward anyway.
<![if !vml]>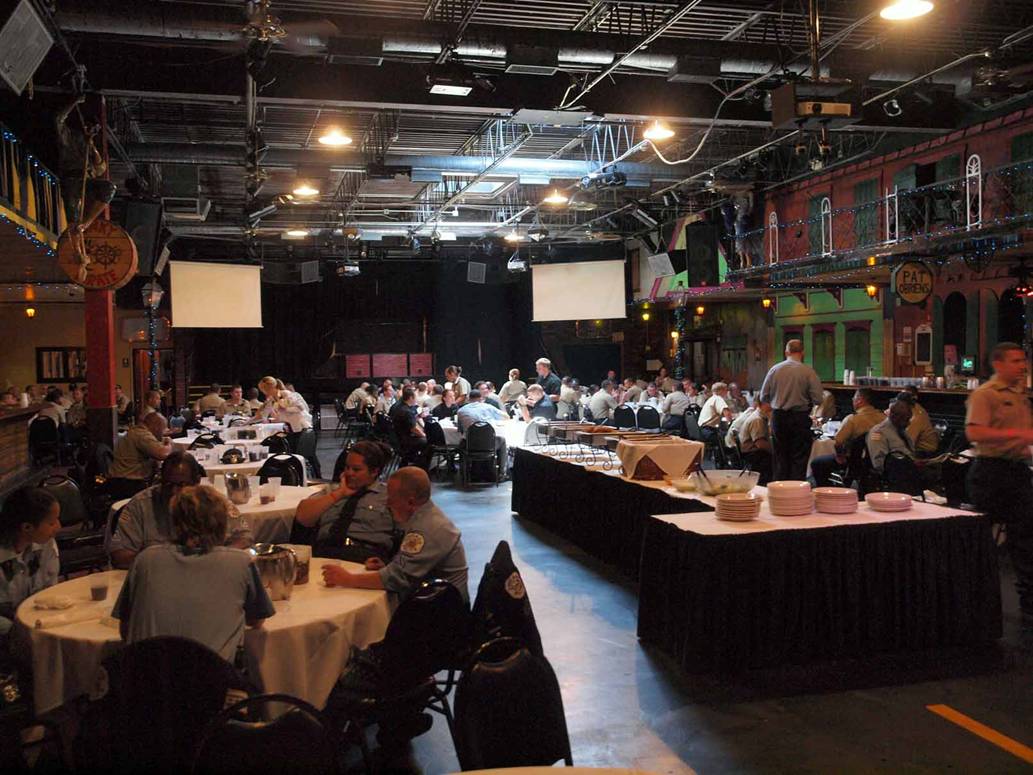 <![endif]>
Same for firemen.  The 343 firefighter and paramedics who died on 9/11 ran into those buildings after the planes had struck them.
<![if !vml]>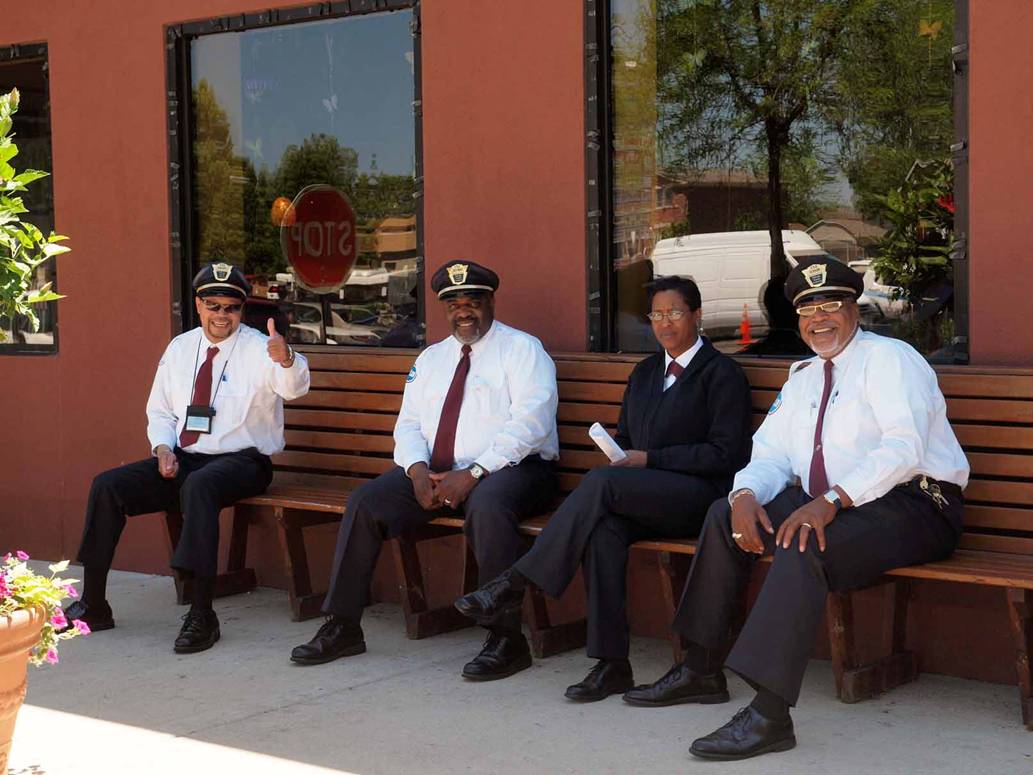 <![endif]>
Many of our police, fire and paramedics came from our military.  Many work their civilian jobs while maintaining military readiness.  Thomas was a Chicago cop for three years, but he was still a member of the Wisconsin Army National Guard.  Like the regular army reservists, guardsmen are "Twice the Citizen" which is reflected in the reservist's insignia:
<![if !vml]>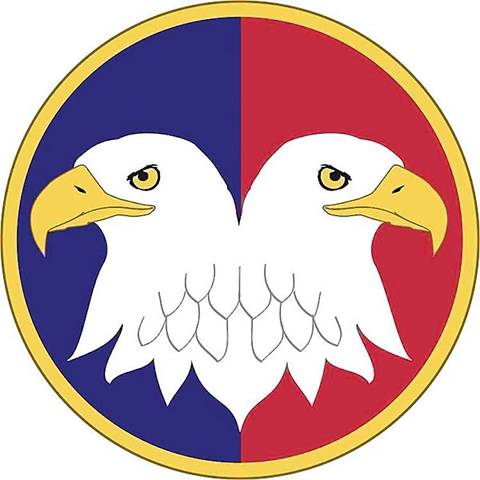 <![endif]>
So we were there.
<![if !vml]>
<![endif]>
<![if !vml]>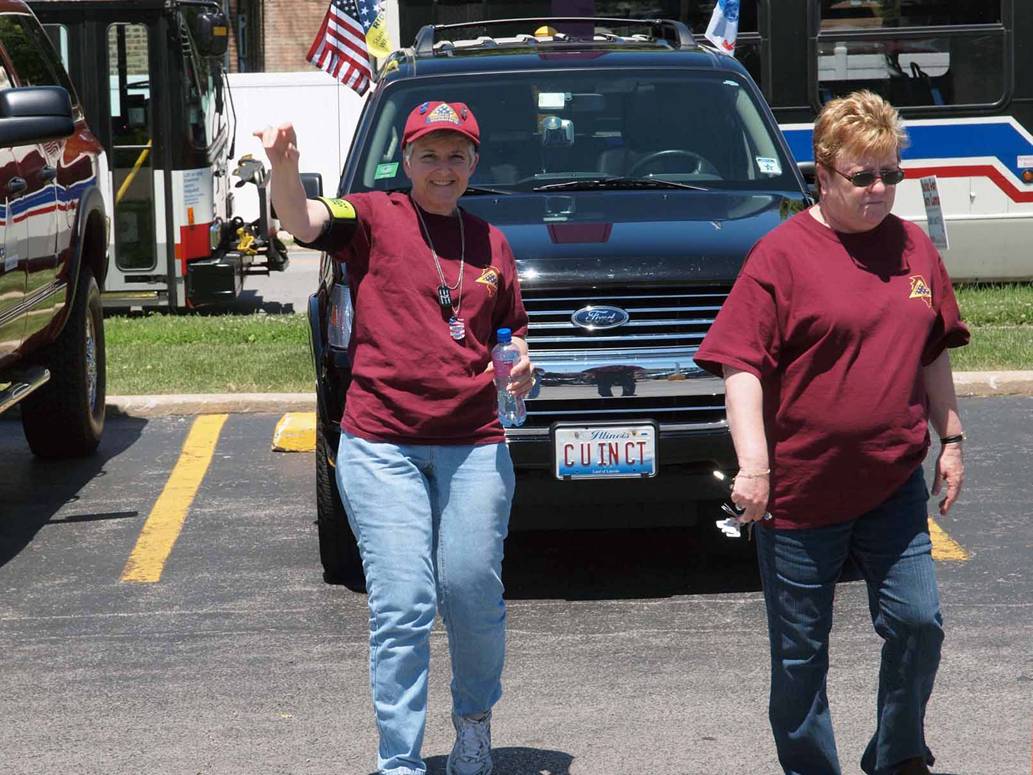 <![endif]>
<![if !vml]>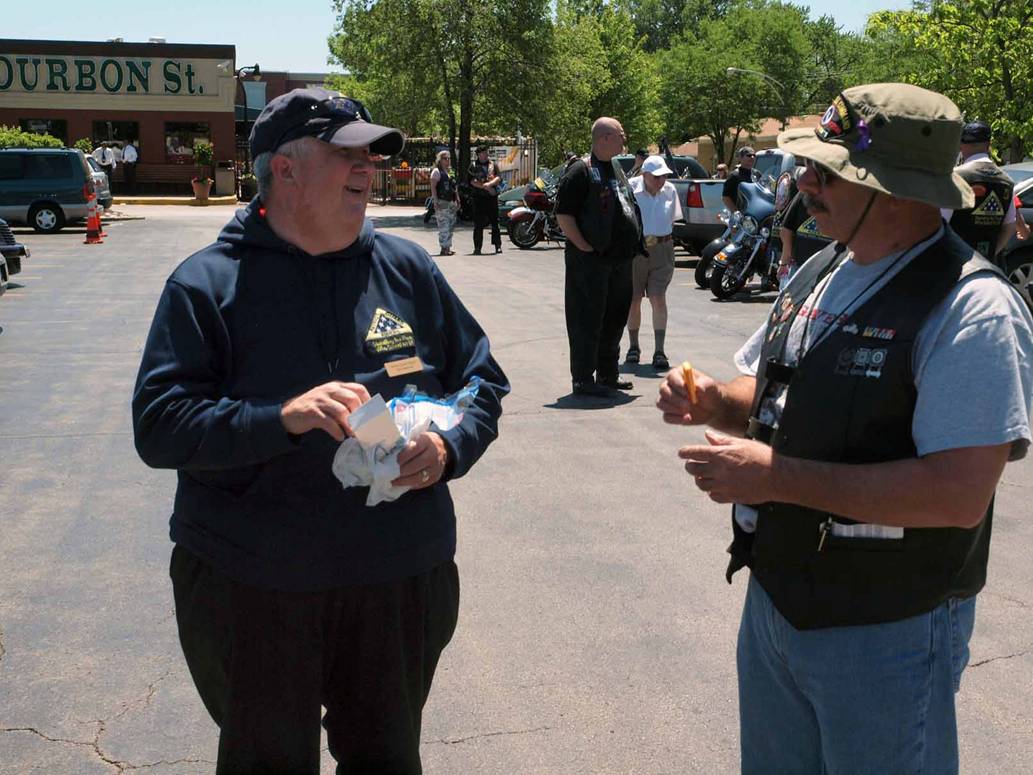 <![endif]>
The Police Cadets came out of the restaurant and walked toward the busses.
<![if !vml]>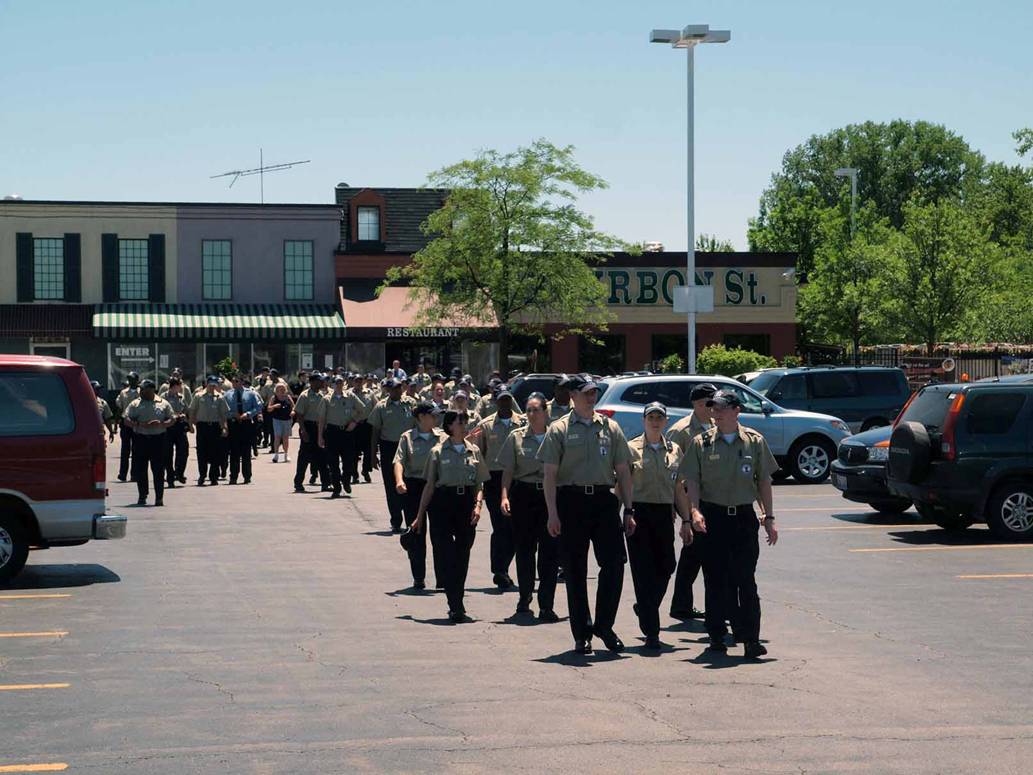 <![endif]>
<![if !vml]>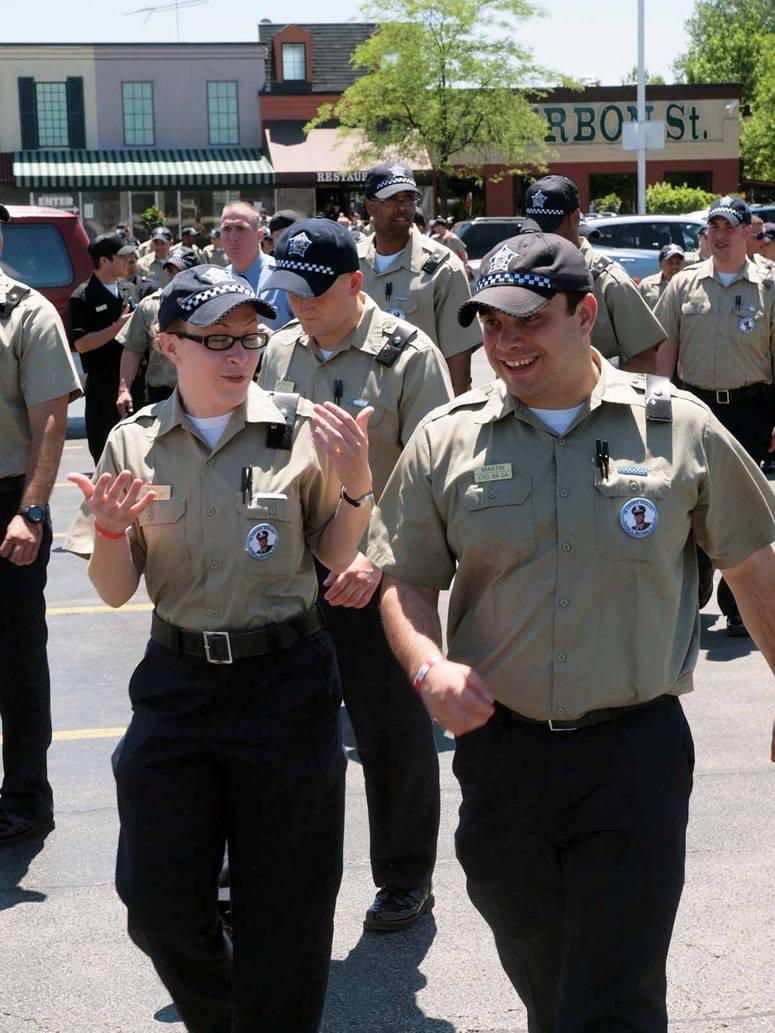 <![endif]>
The PGRiders assembled and were ready to move too.
<![if !vml]>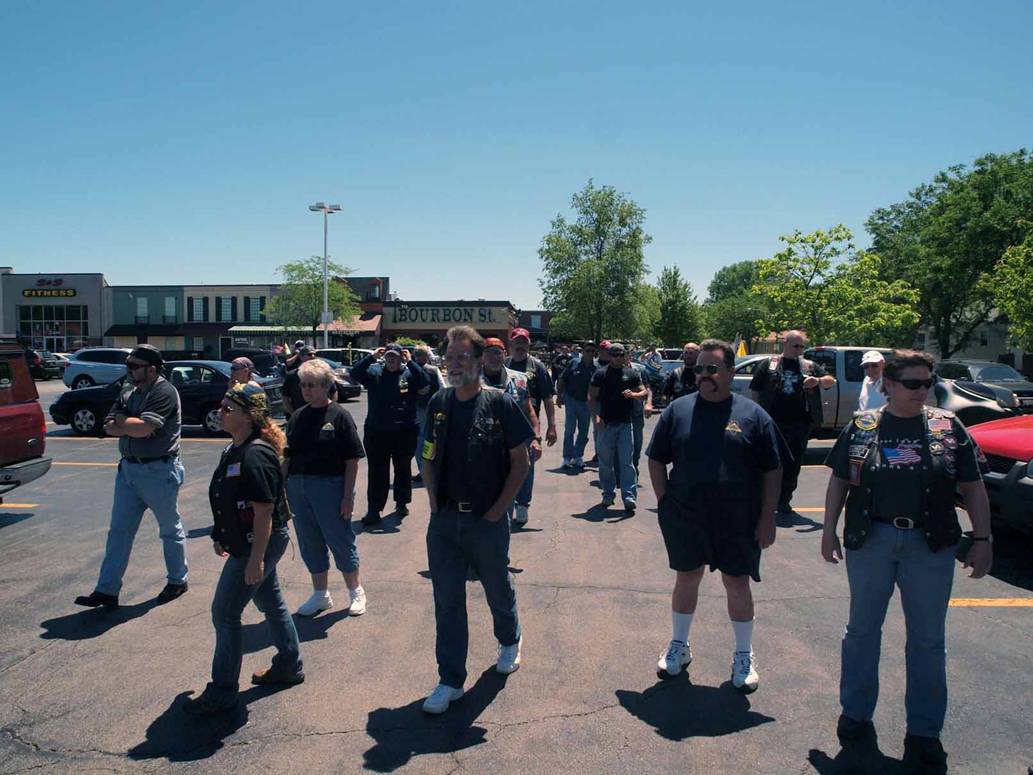 <![endif]>
<![if !vml]>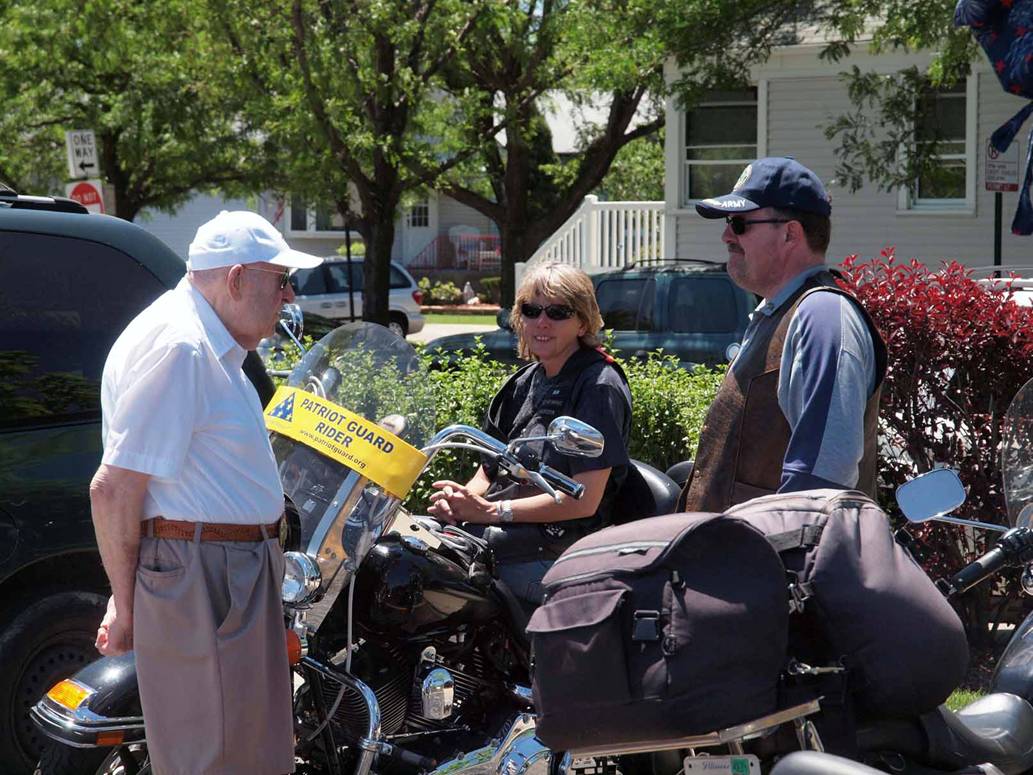 <![endif]>
Brenda used Fred's truck to address us.
<![if !vml]>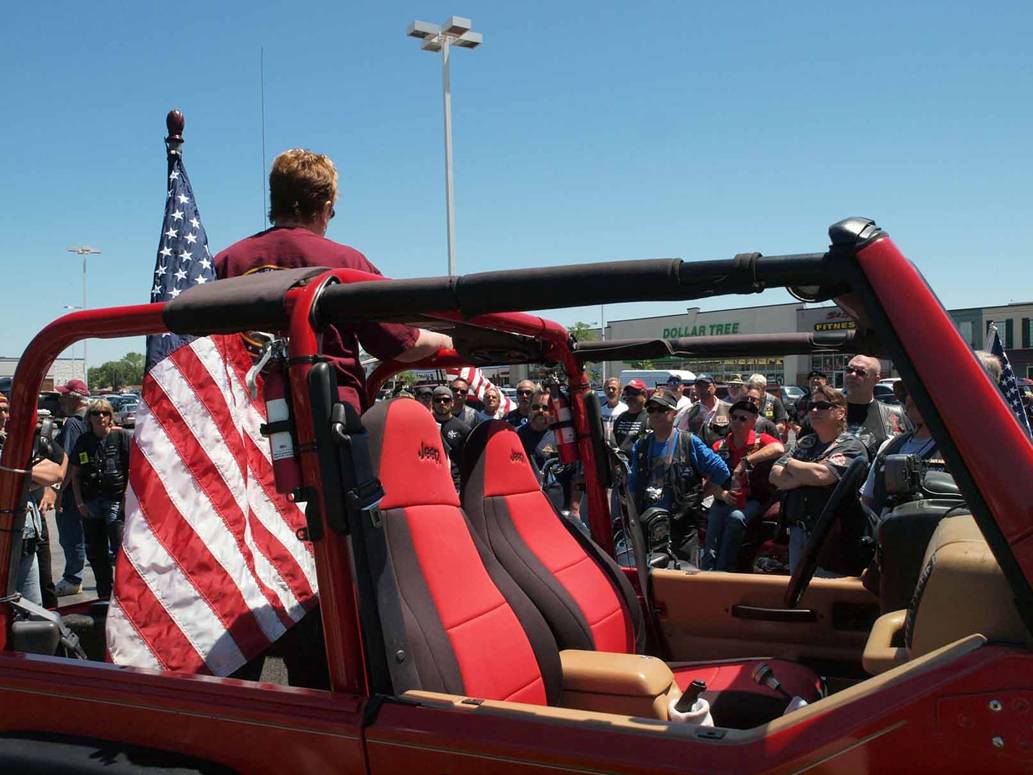 <![endif]>
<![if !vml]>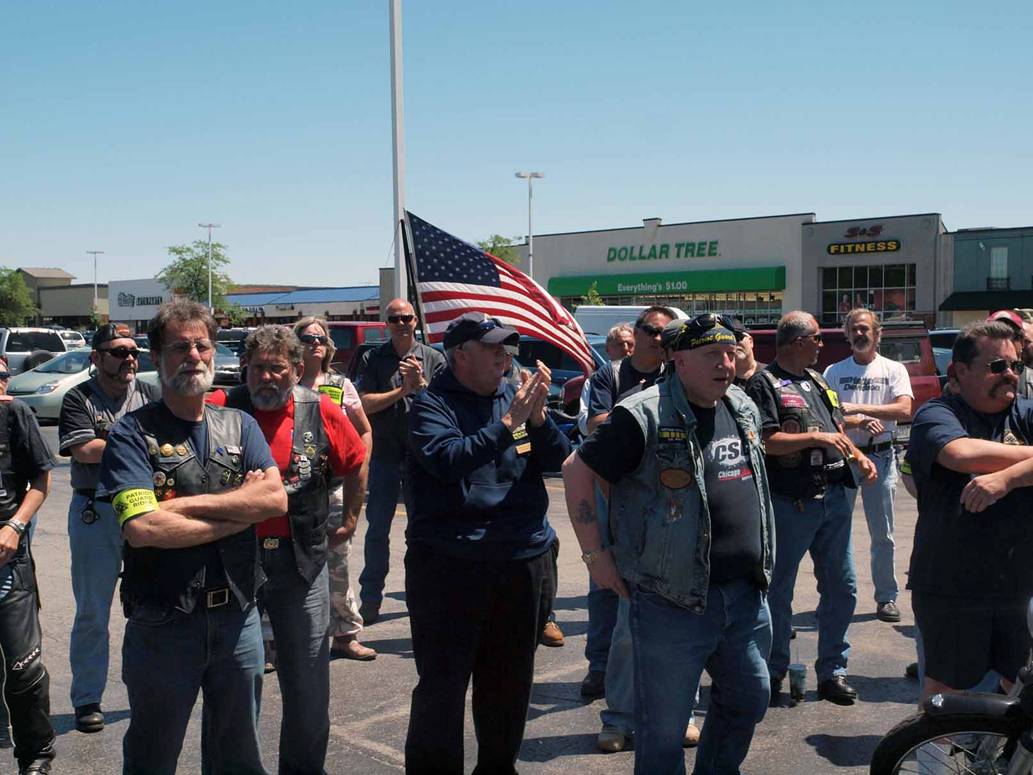 <![endif]>
<![if !vml]>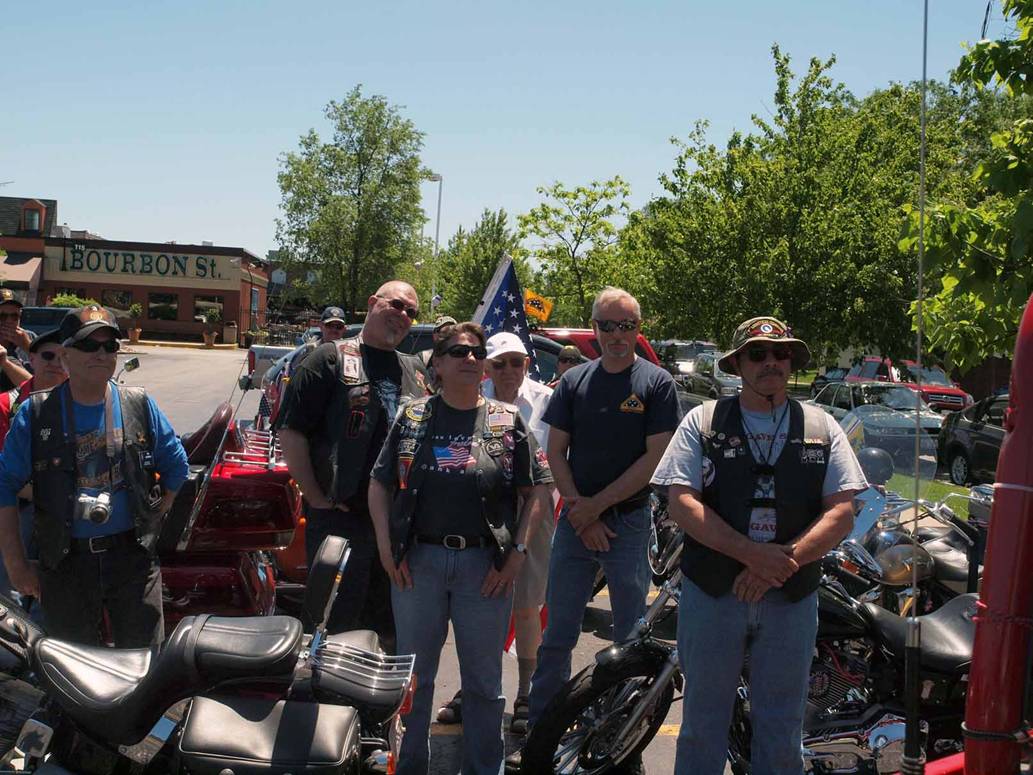 <![endif]>
<![if !vml]>
<![endif]>
<![if !vml]>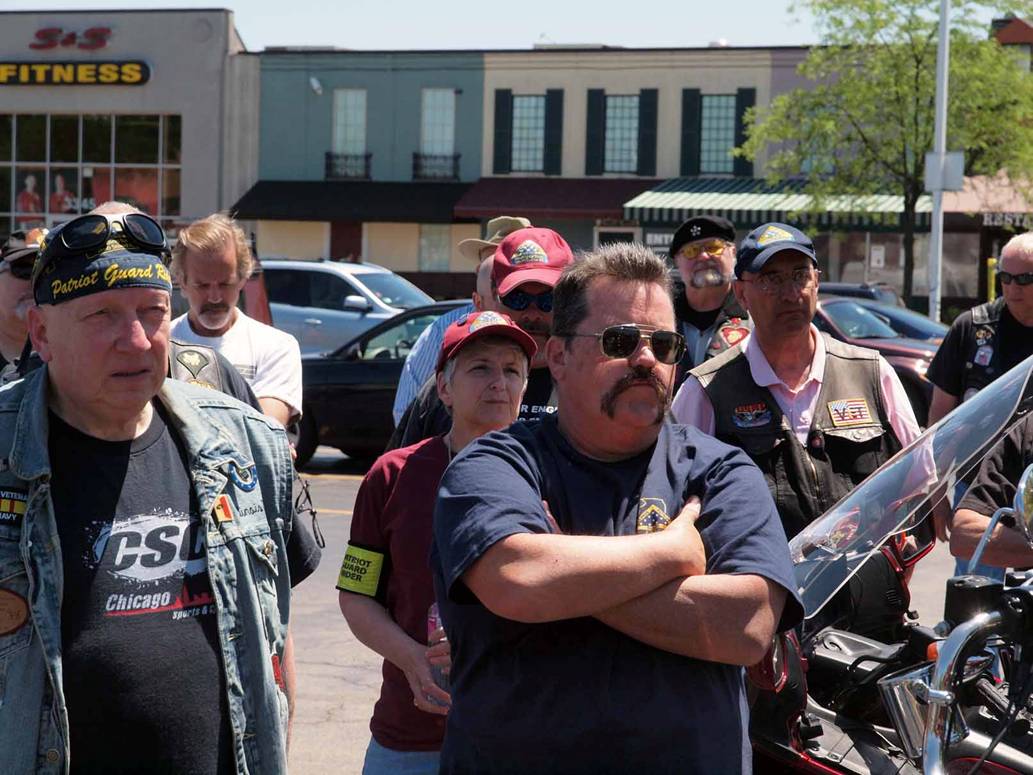 <![endif]>
<![if !vml]>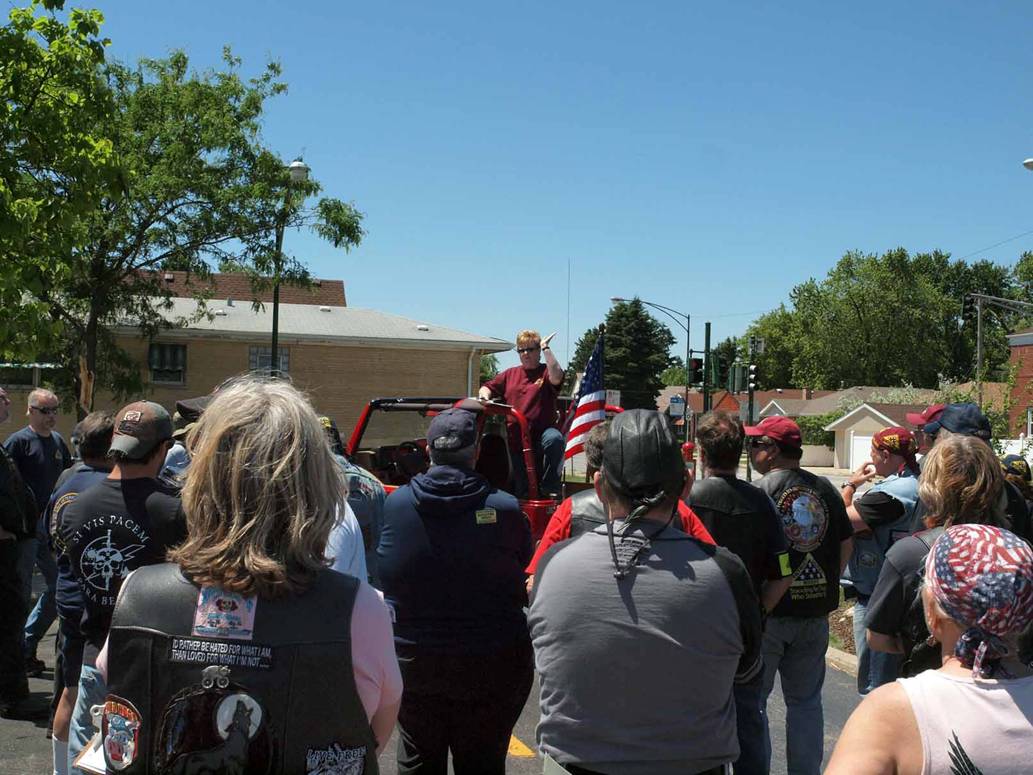 <![endif]>
<![if !vml]>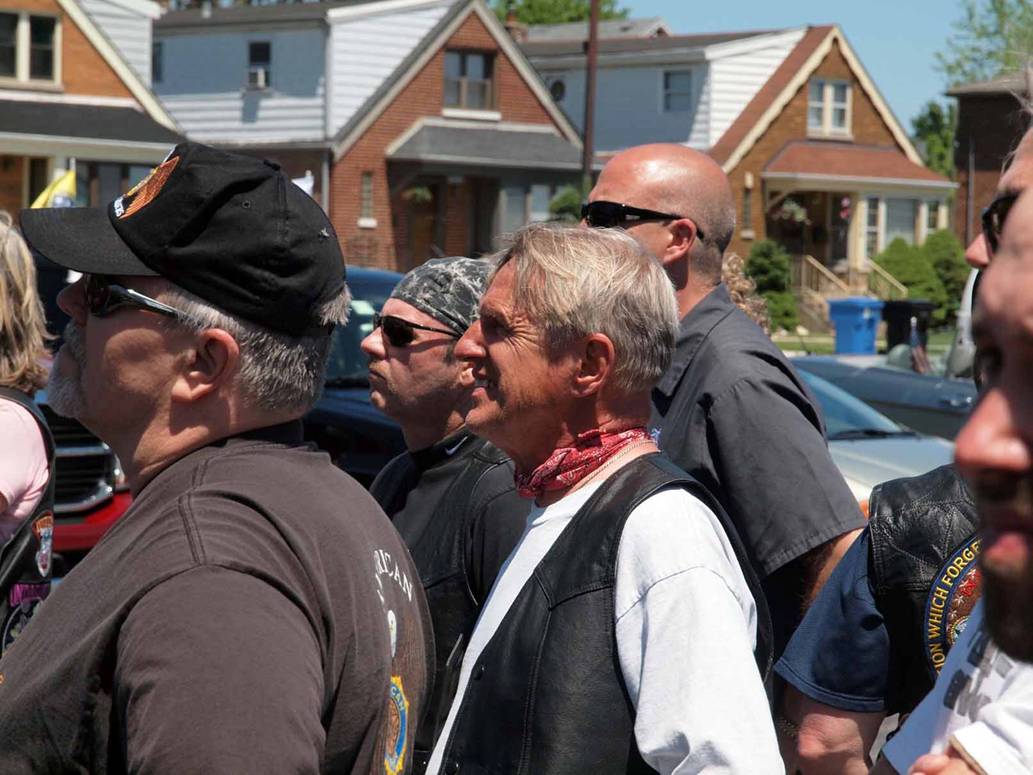 <![endif]>
About 390 AD the Roman Publius Flavius Vegetius Renatus wrote, "Therefore, he who wishes peace, should prepare war; he who desires victory, should carefully train his soldiers; he who wants favorable results, should fight relying on skill, not on chance."
This 24-year old, 2nd Battalion Ranger has had five deployments and wears that thought on his shirt.
<![if !vml]>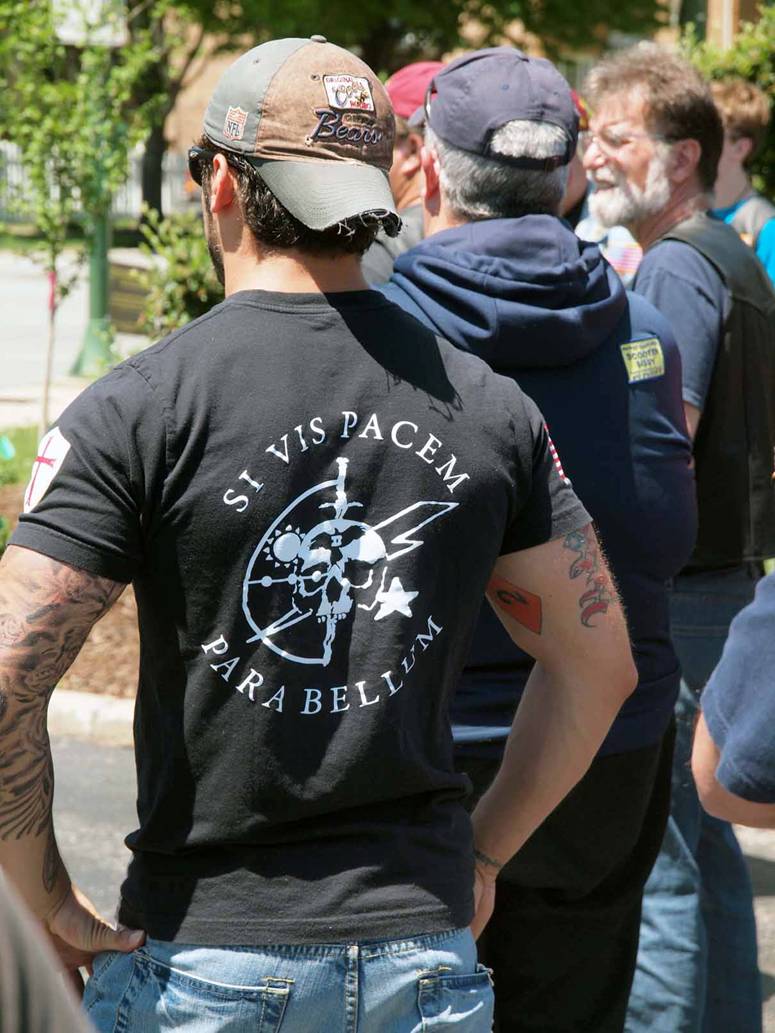 <![endif]>
The modern French historian de Bourrienne writes that Napoleon Bonaparte cynically recommended that "if you desire war, prepare for peace".
<![if !vml]>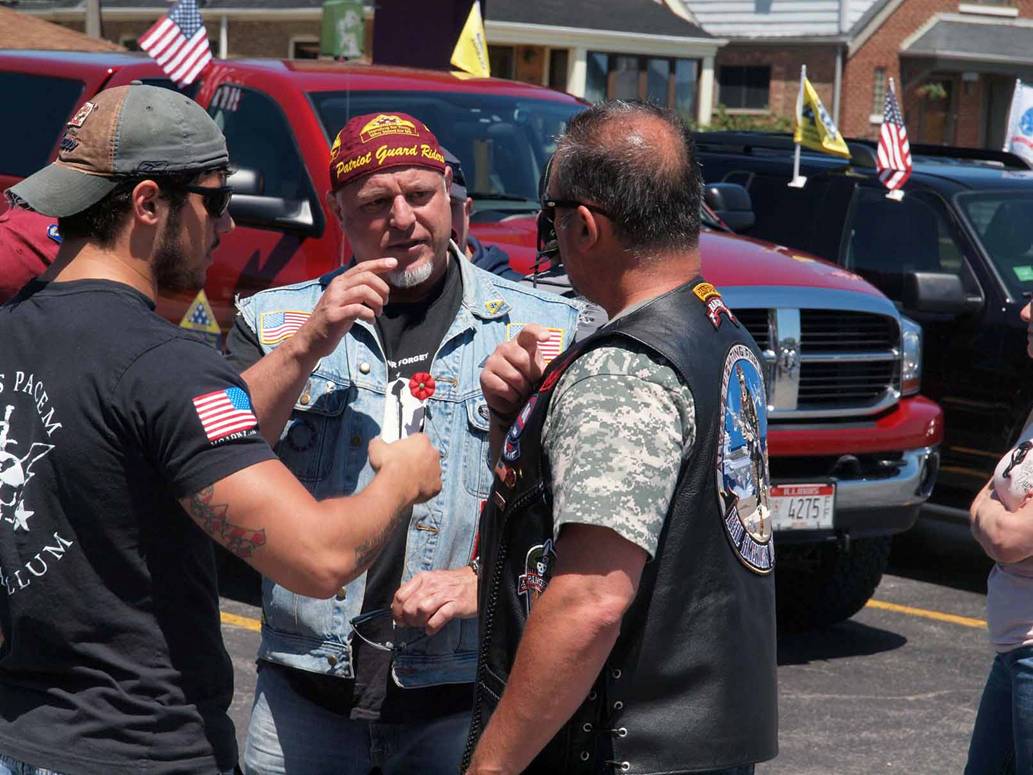 <![endif]>
<![if !vml]>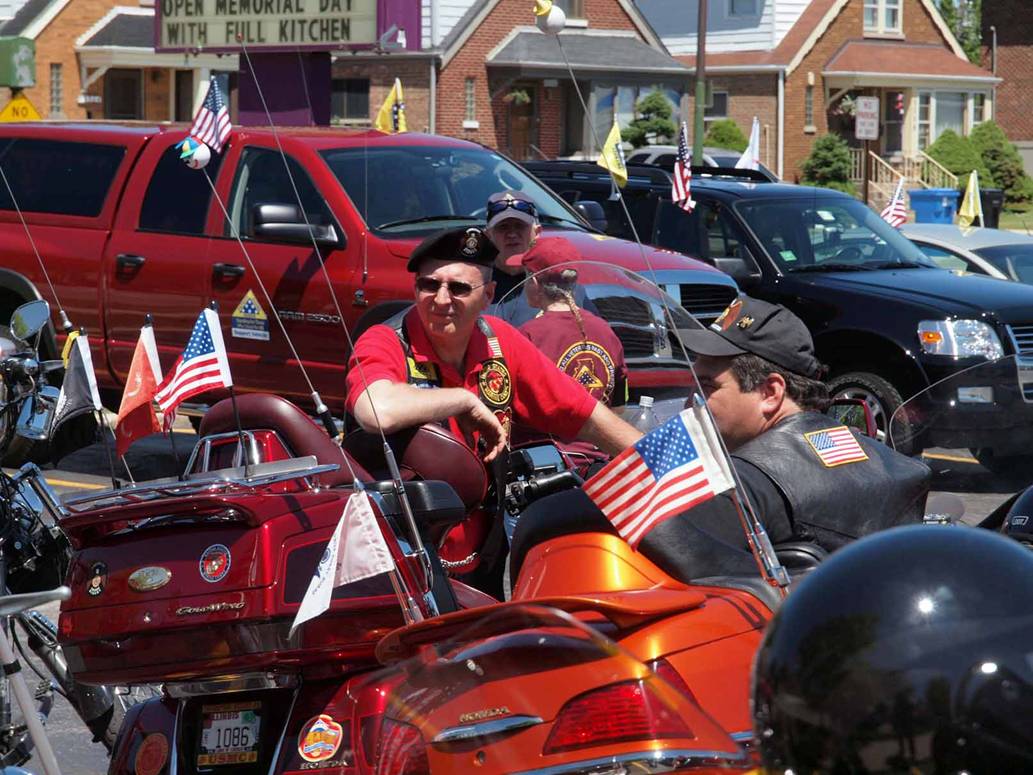 <![endif]>
<![if !vml]>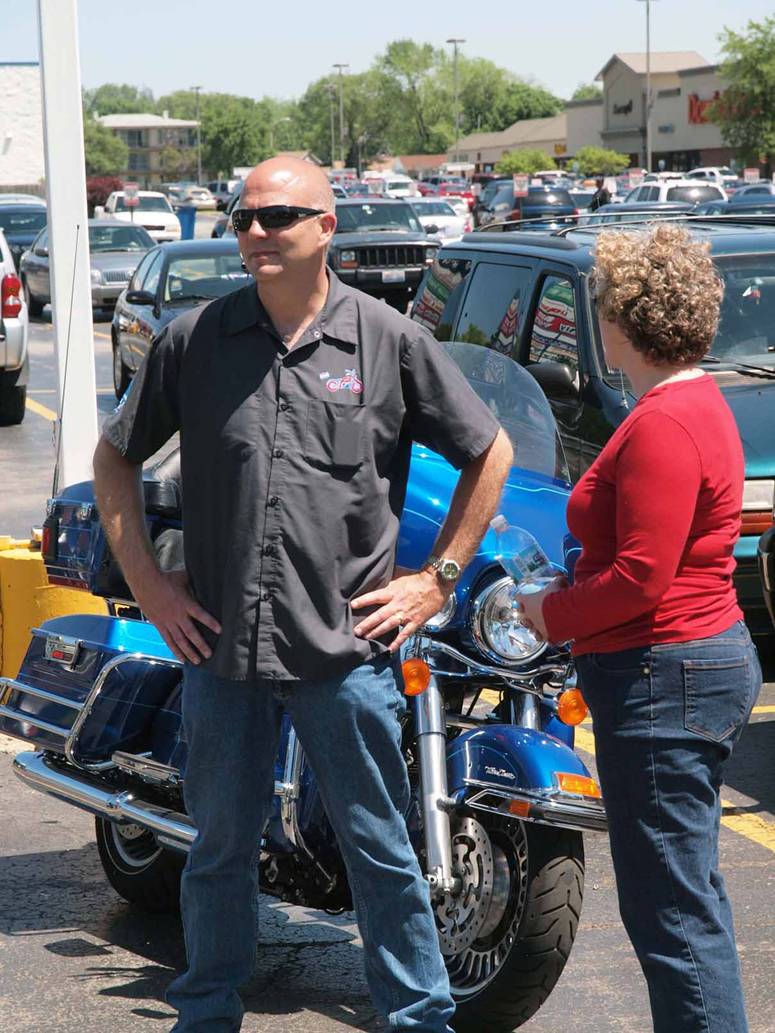 <![endif]>
<![if !vml]>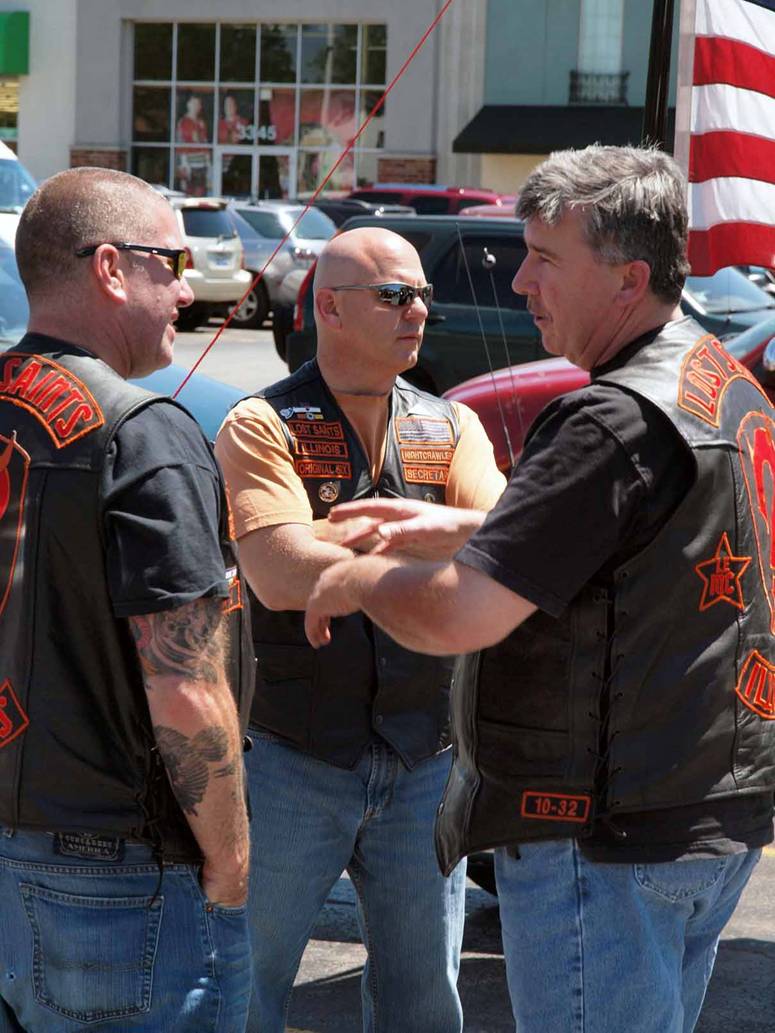 <![endif]>
Then we moved.
<![if !vml]>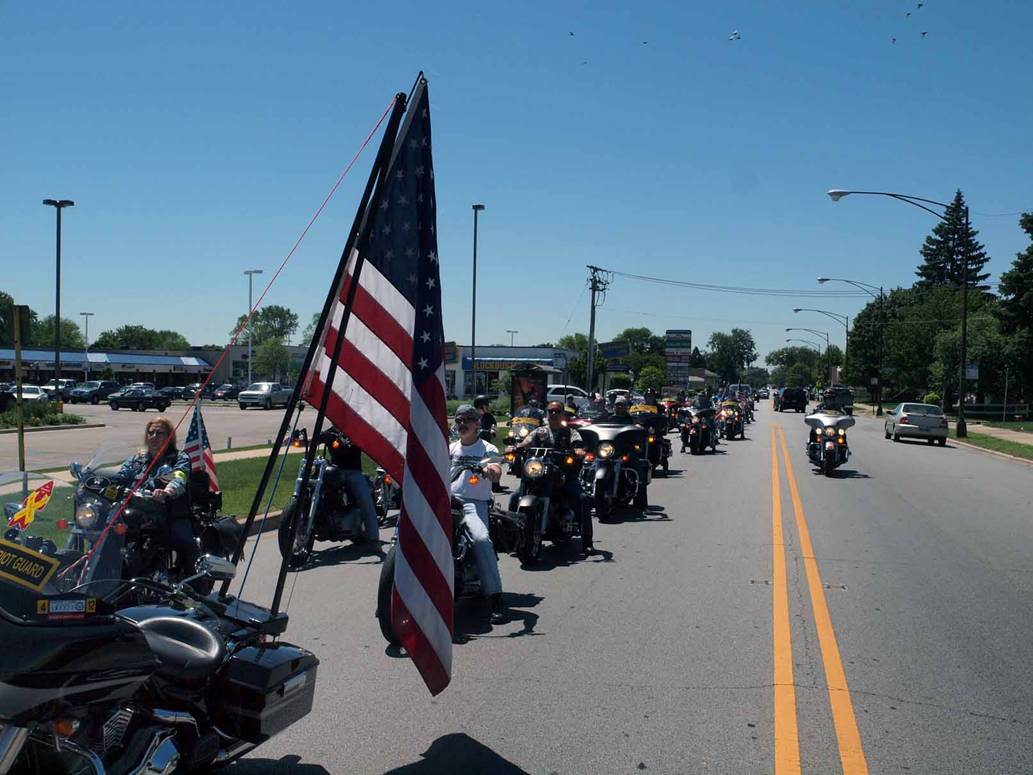 <![endif]>
Both the United States Army and the Chicago Police Department brought many traditions to the funeral – we would simply stand by our bikes with our flags near the entrance to the cemetery.  That was all.
And that was fine.  We don't go to make the family indebted to us and we don't need to be thanked.
<![if !vml]>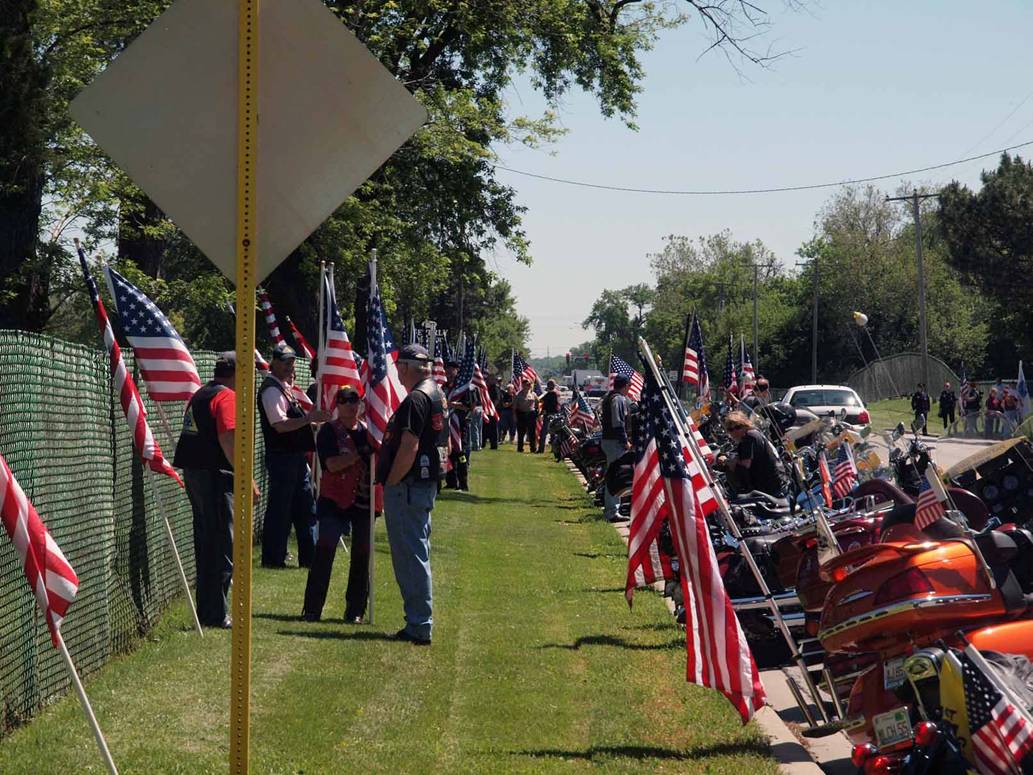 <![endif]>
It is we who wish to do the thanking.
<![if !vml]>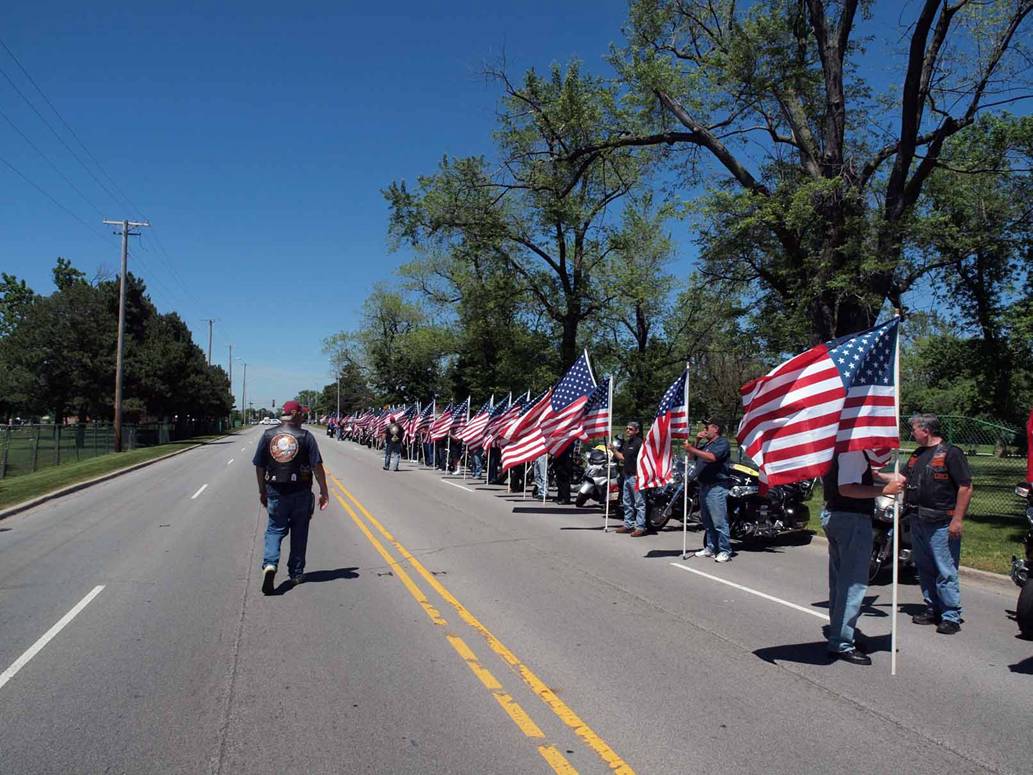 <![endif]>
This mission included two pairs of father-and-son PGRiders.
<![if !vml]>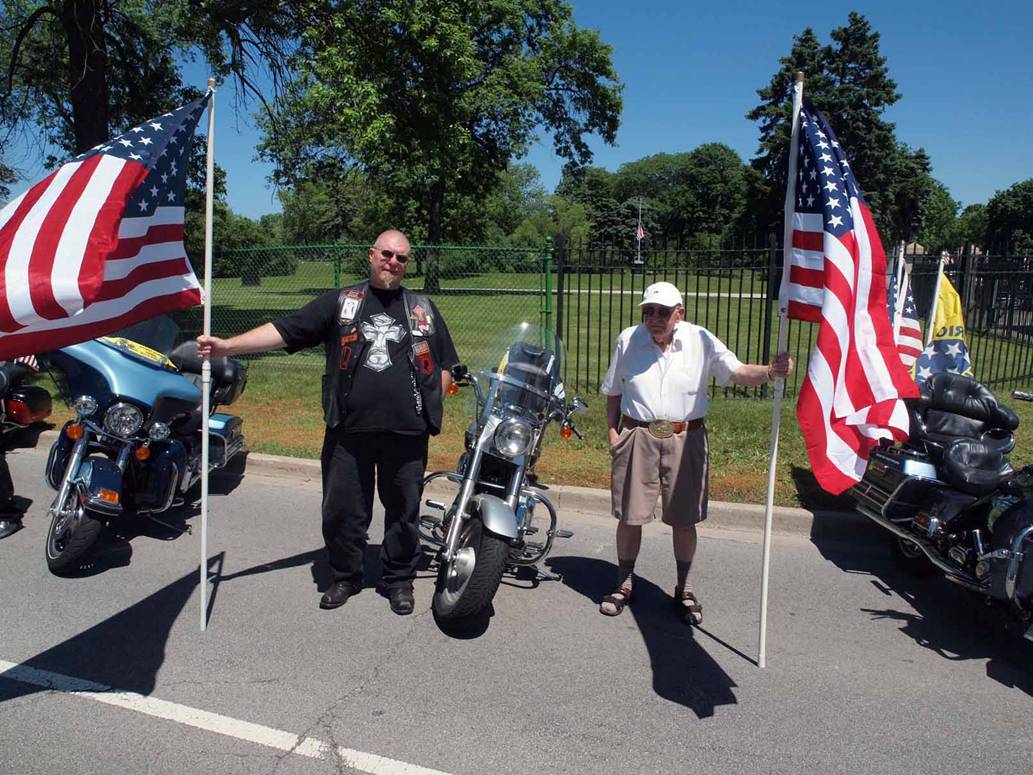 <![endif]>
<![if !vml]>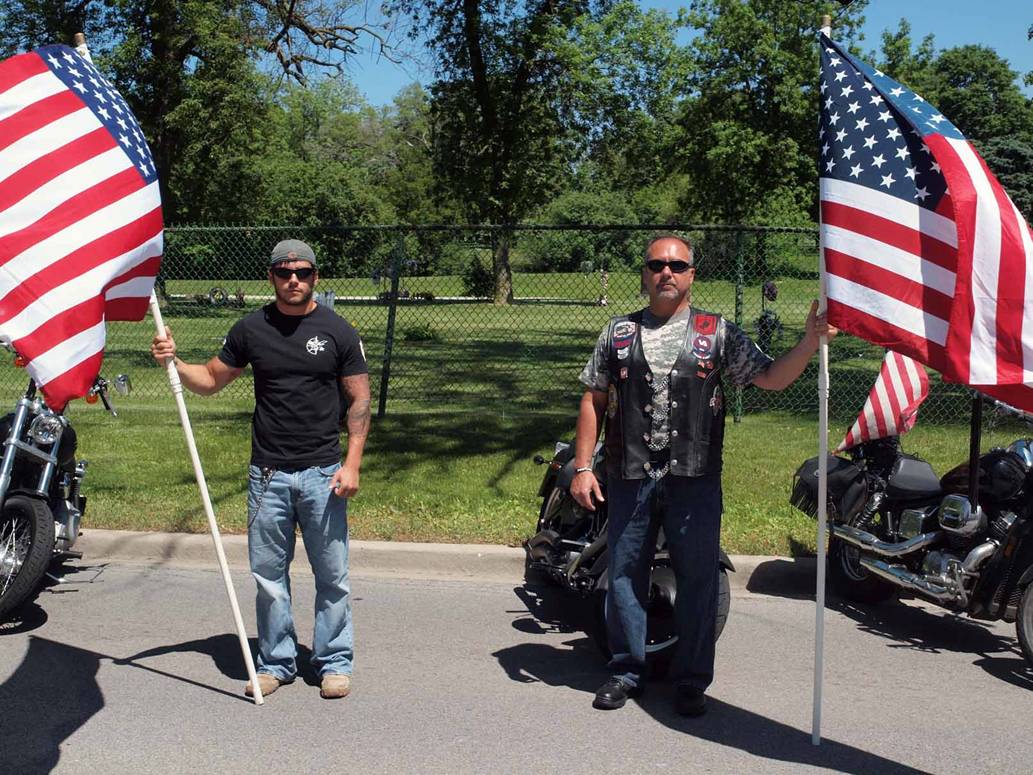 <![endif]>
The 9/11 memorial across the street from us was half-staffed.
<![if !vml]>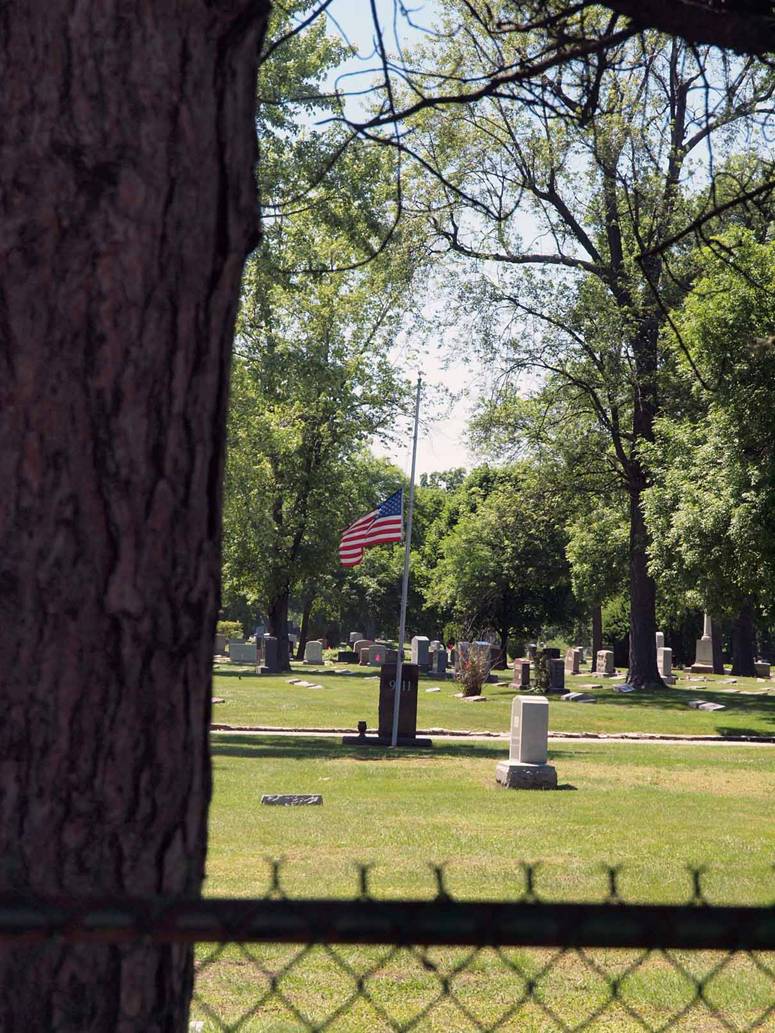 <![endif]>
A "Turntable Ladder" truck prepared.
<![if !vml]>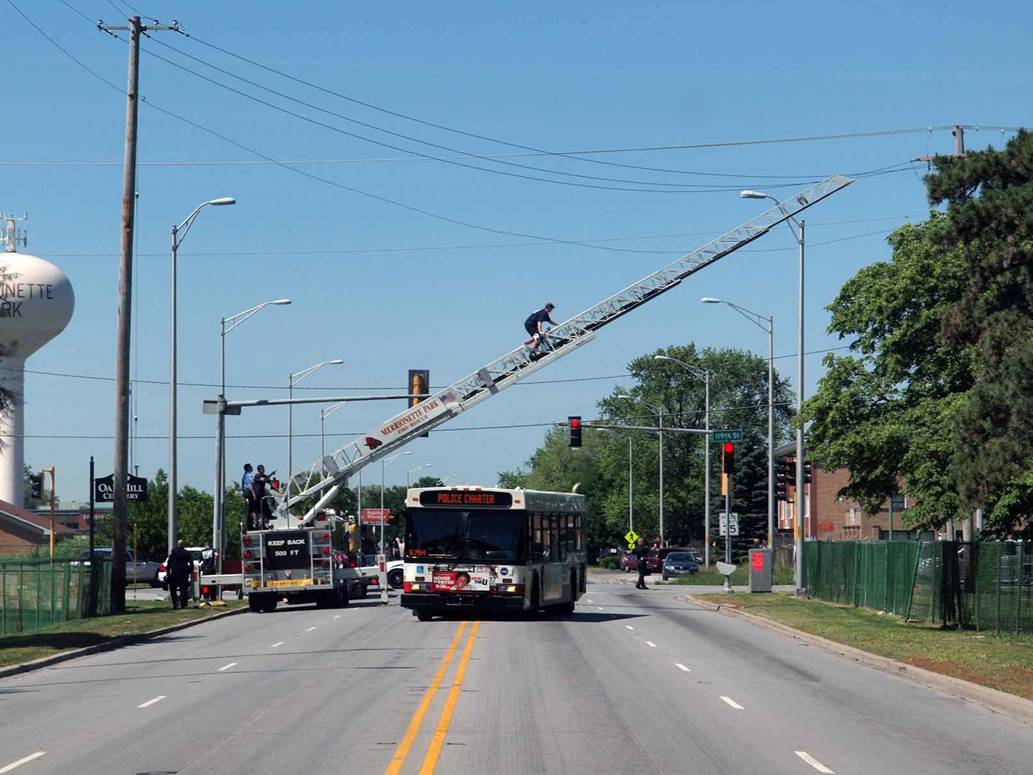 <![endif]>
Policeman and PGRider signaled "five minutes".
<![if !vml]>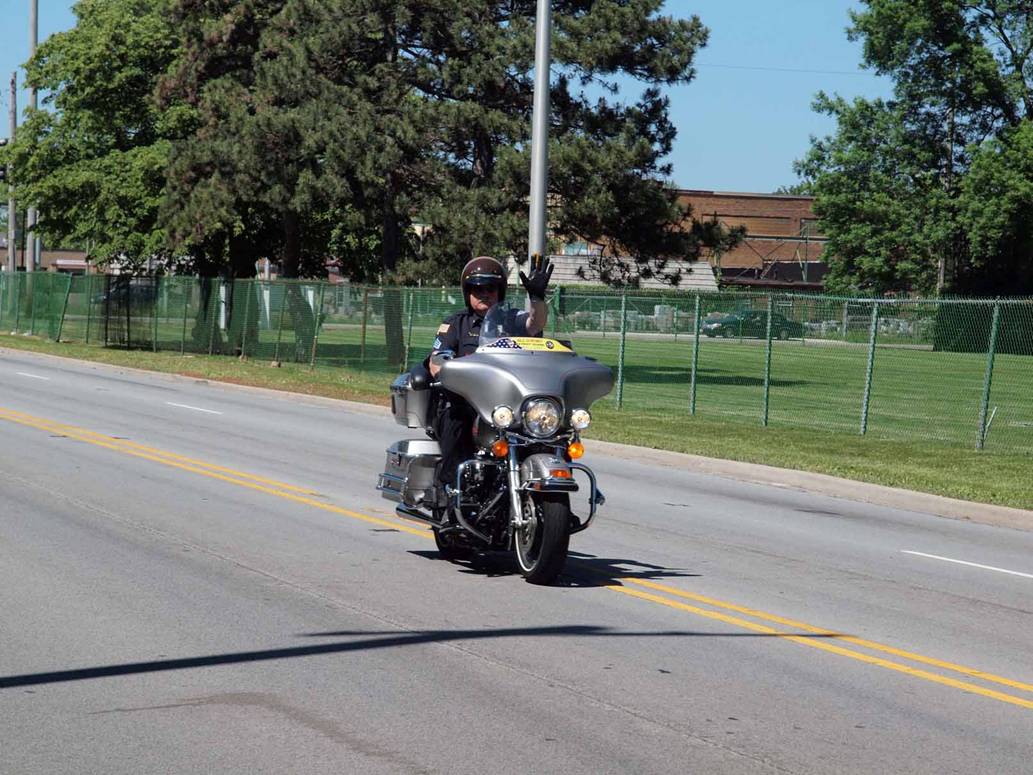 <![endif]>
And then they started to pass in front of us.  First, the police motorcycle escort.  This was the last photo I took for a while.
<![if !vml]>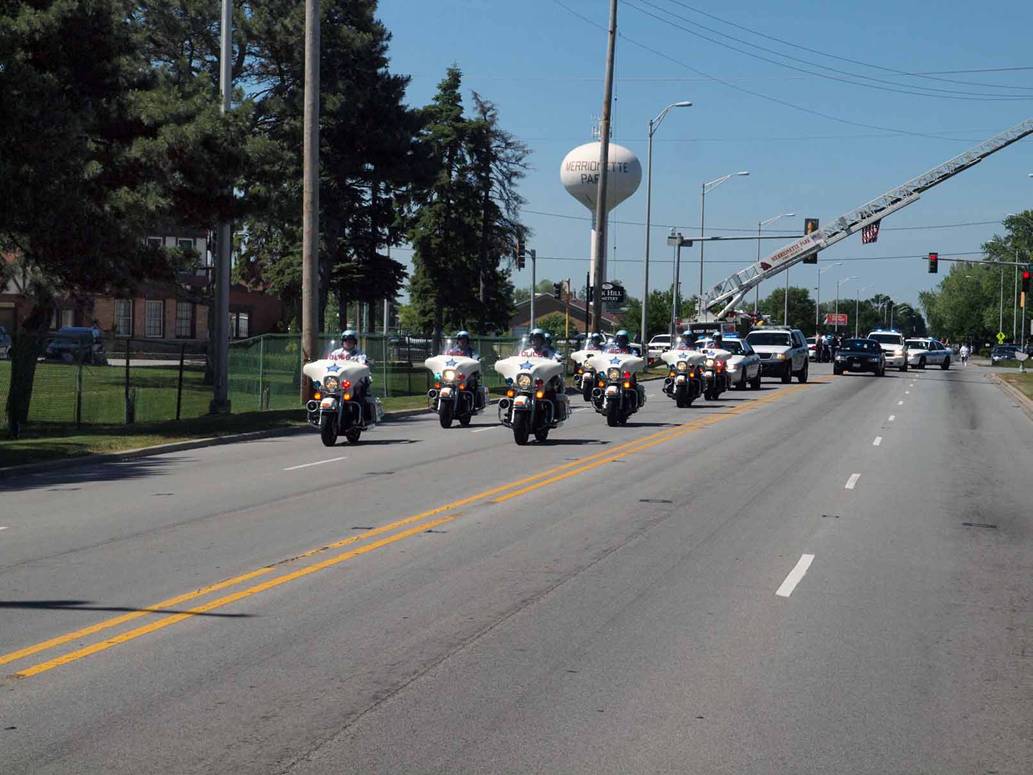 <![endif]>
And it was quite a while.  The interment was "private" but the procession went on and on.  Police from Wisconsin, Indiana and Michigan.  Police from all over Illinois.  Some soldiers and some civilians and some hundreds of senior Chicago Police officers.
They saw us.  Some saluted; most smiled.  Then we began to leave.
<![if !vml]>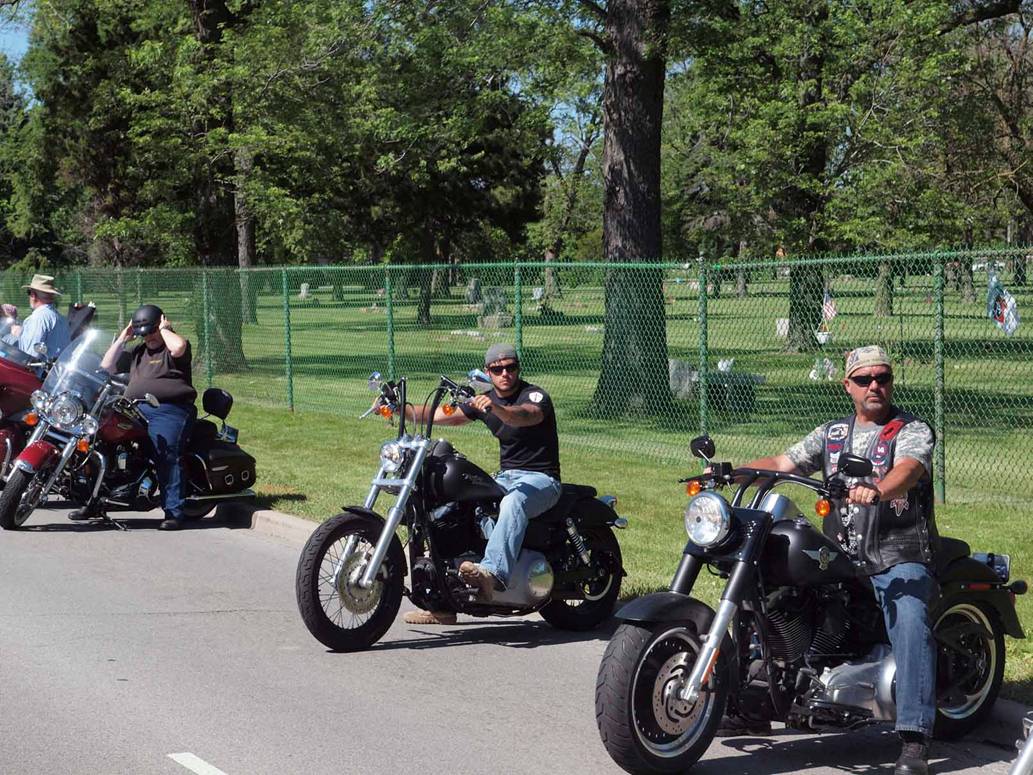 <![endif]>
<![if !vml]>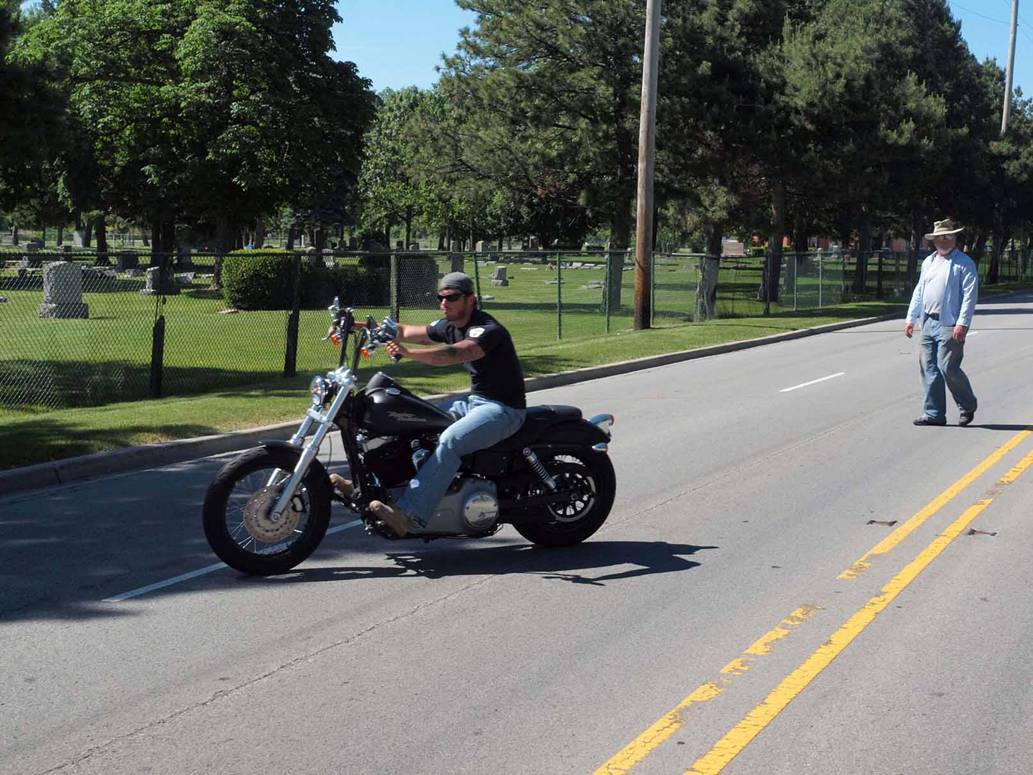 <![endif]>
<![if !vml]>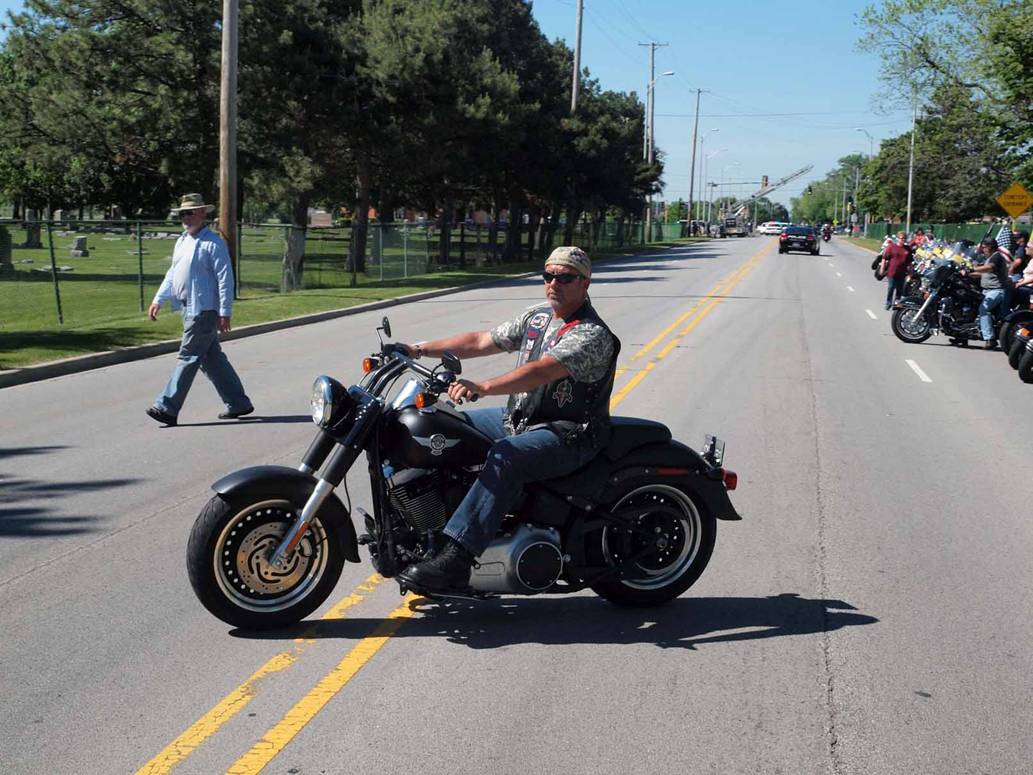 <![endif]>
<![if !vml]>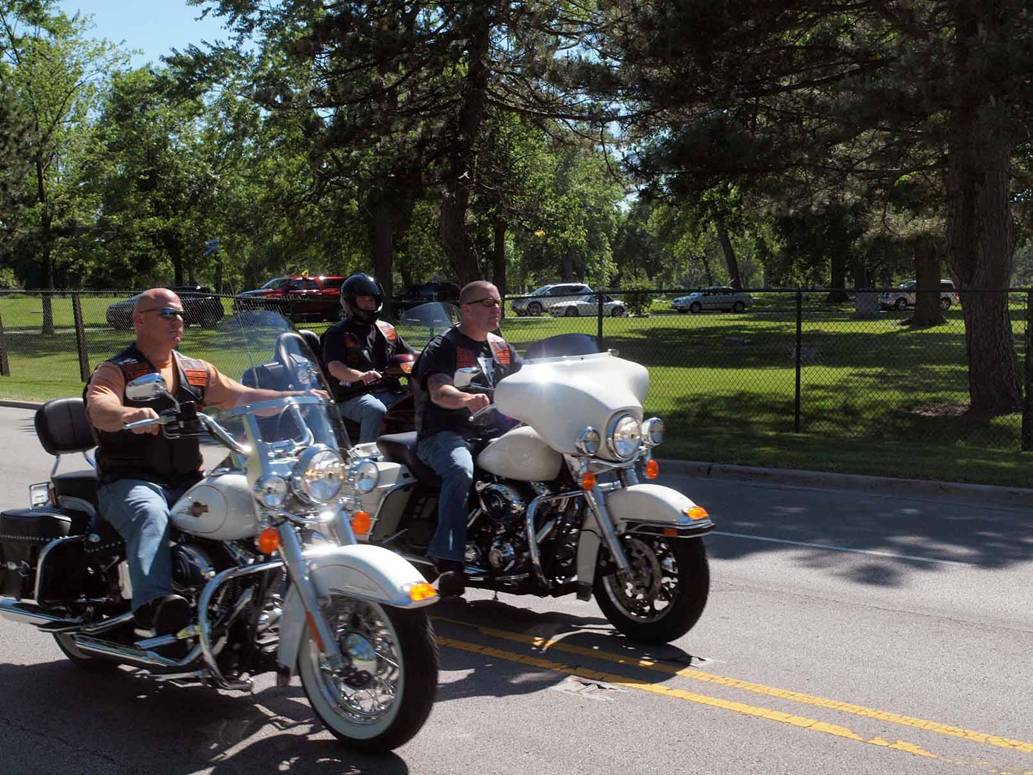 <![endif]>
Another TL truck had served as a flagpole at the cemetery entrance.
<![if !vml]>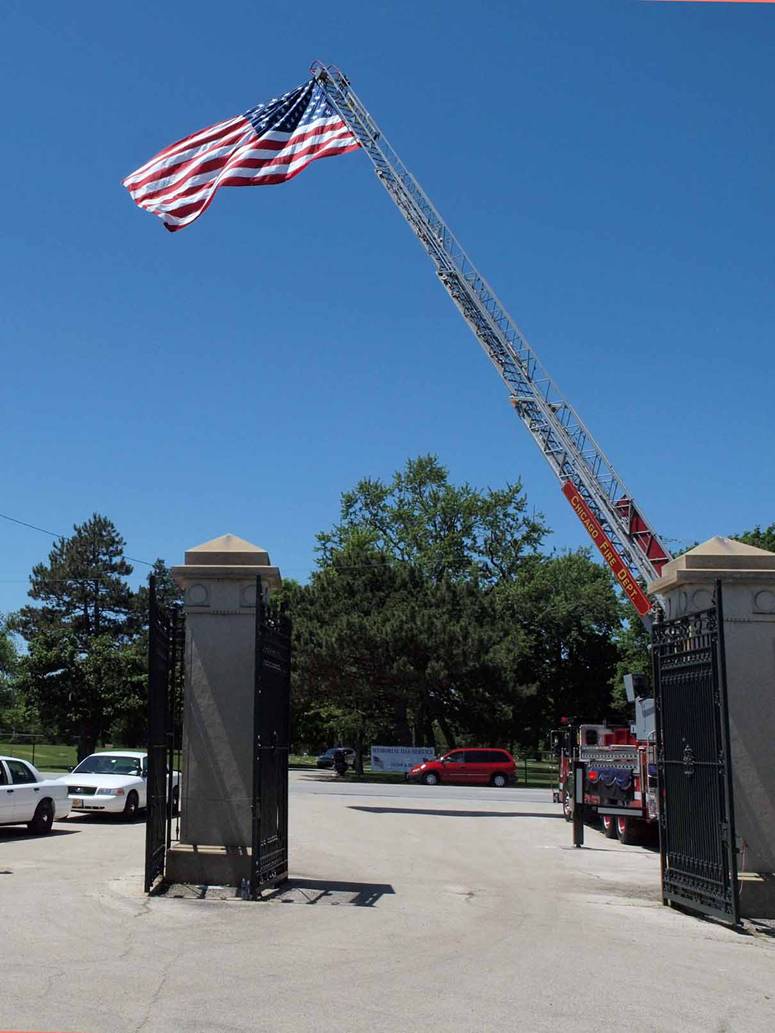 <![endif]>
Now we lowered the last flag and folded it.
<![if !vml]>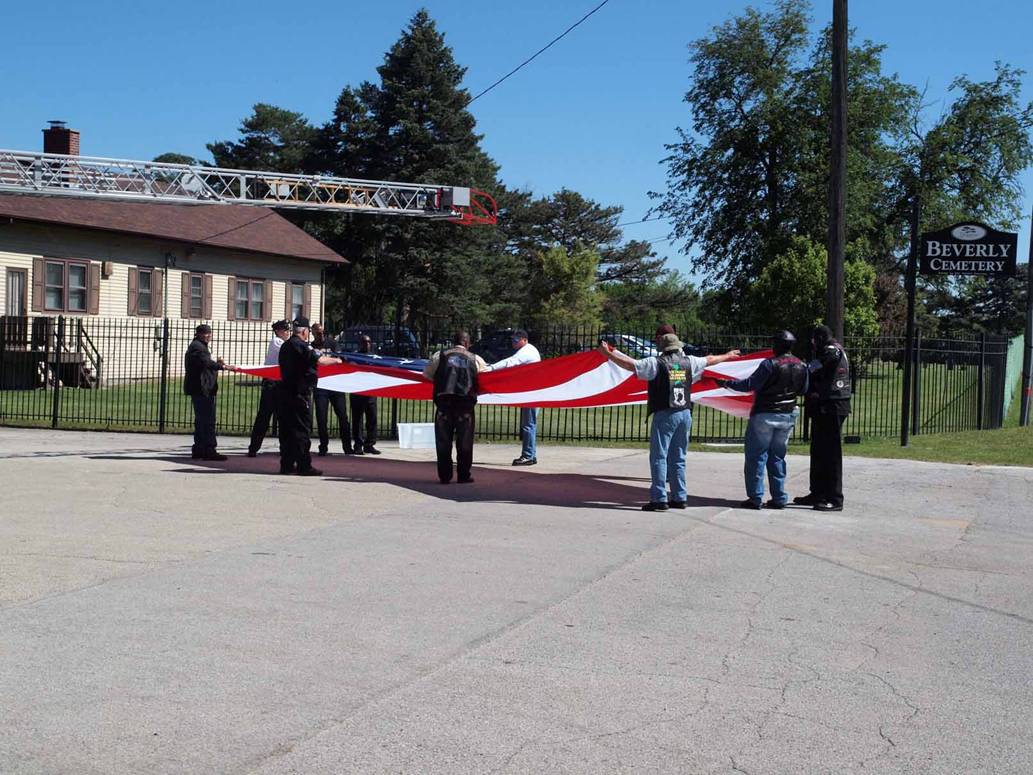 <![endif]>
<![if !vml]>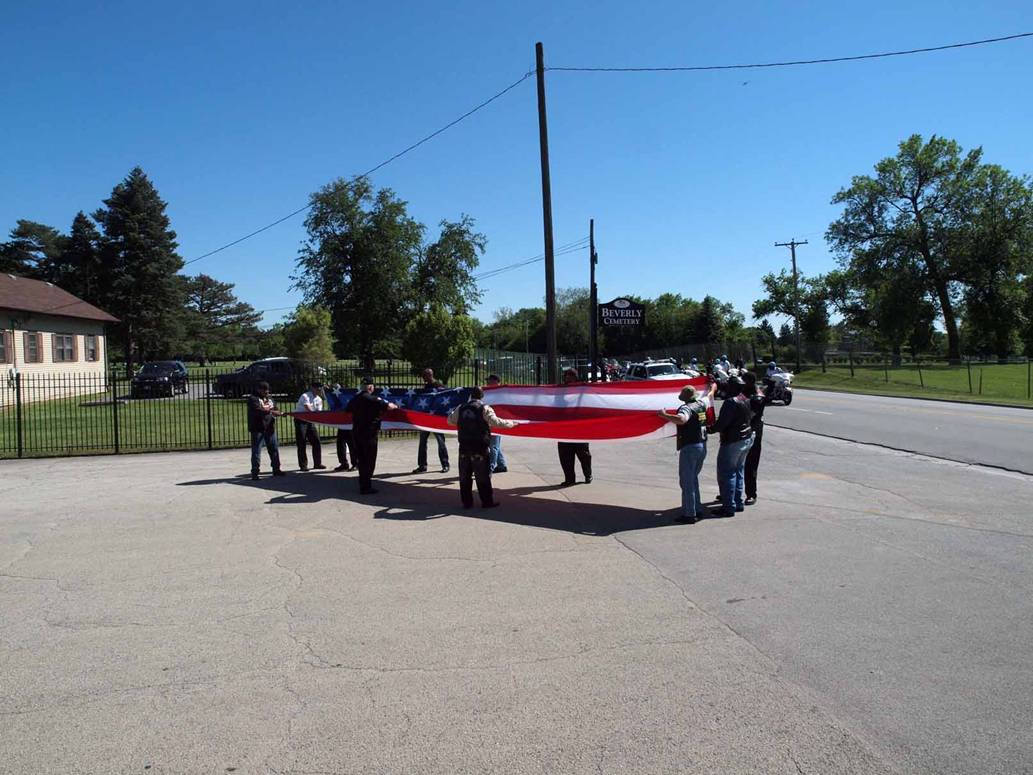 <![endif]>
<![if !vml]>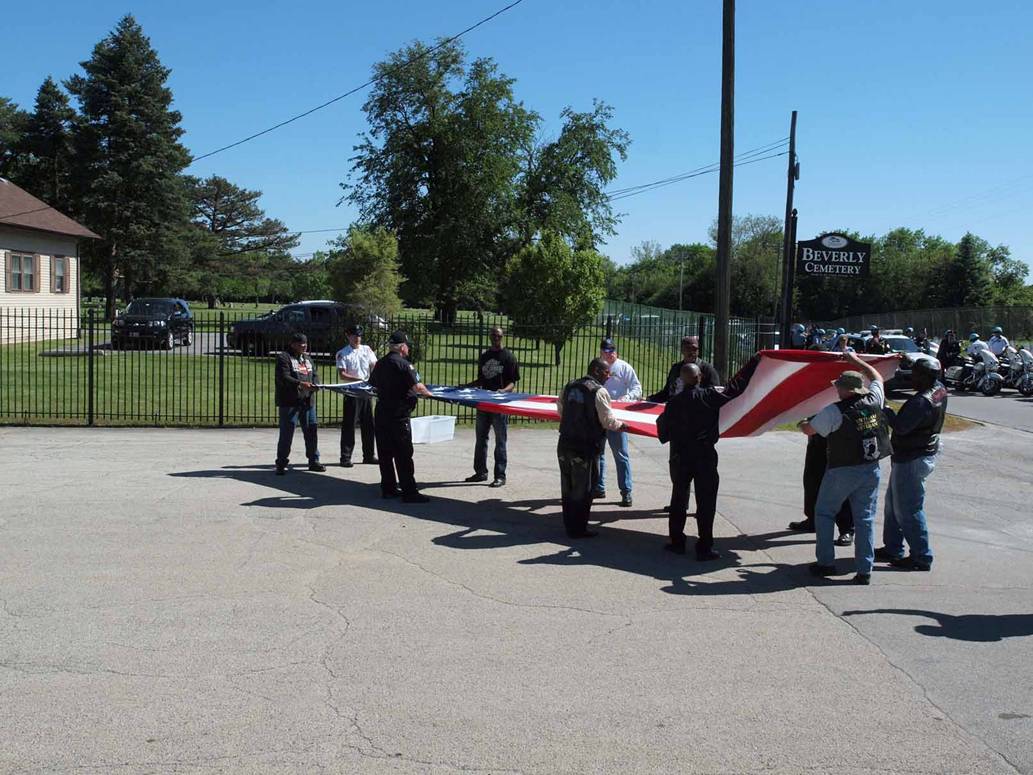 <![endif]>
<![if !vml]>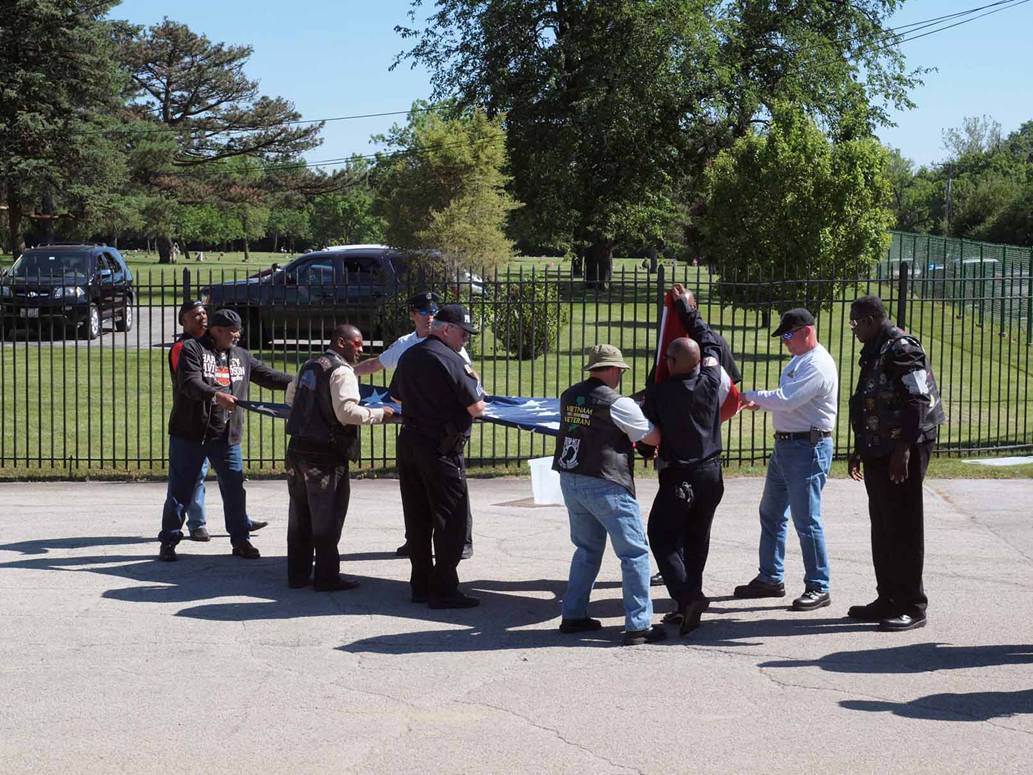 <![endif]>
<![if !vml]>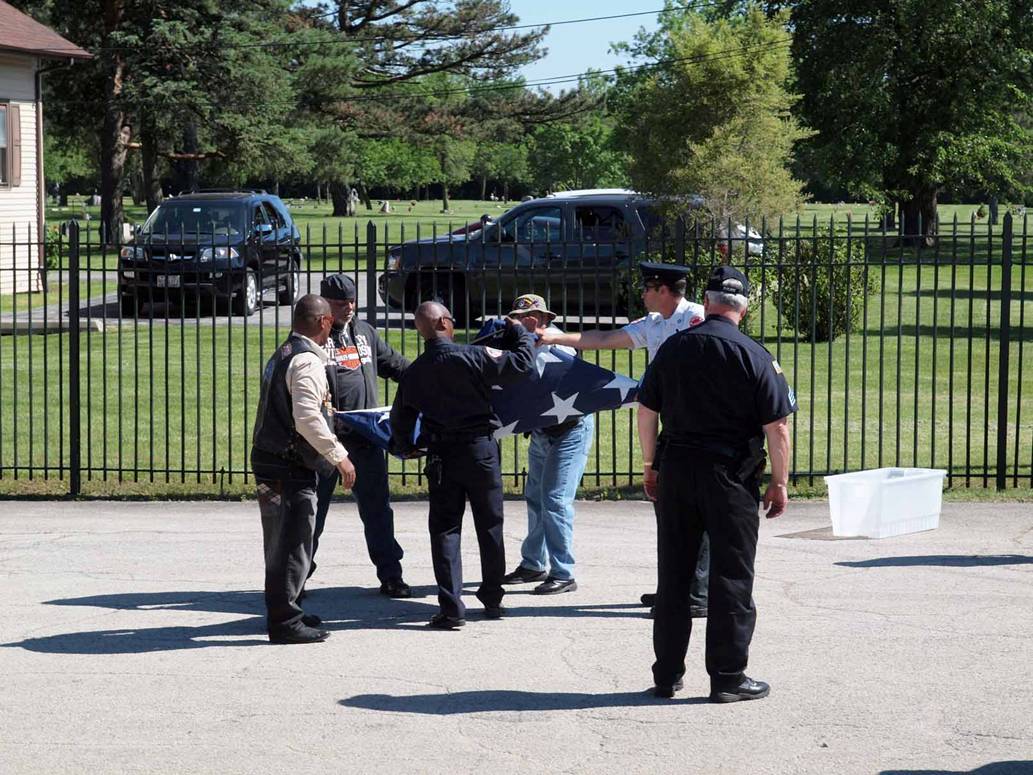 <![endif]>
<![if !vml]>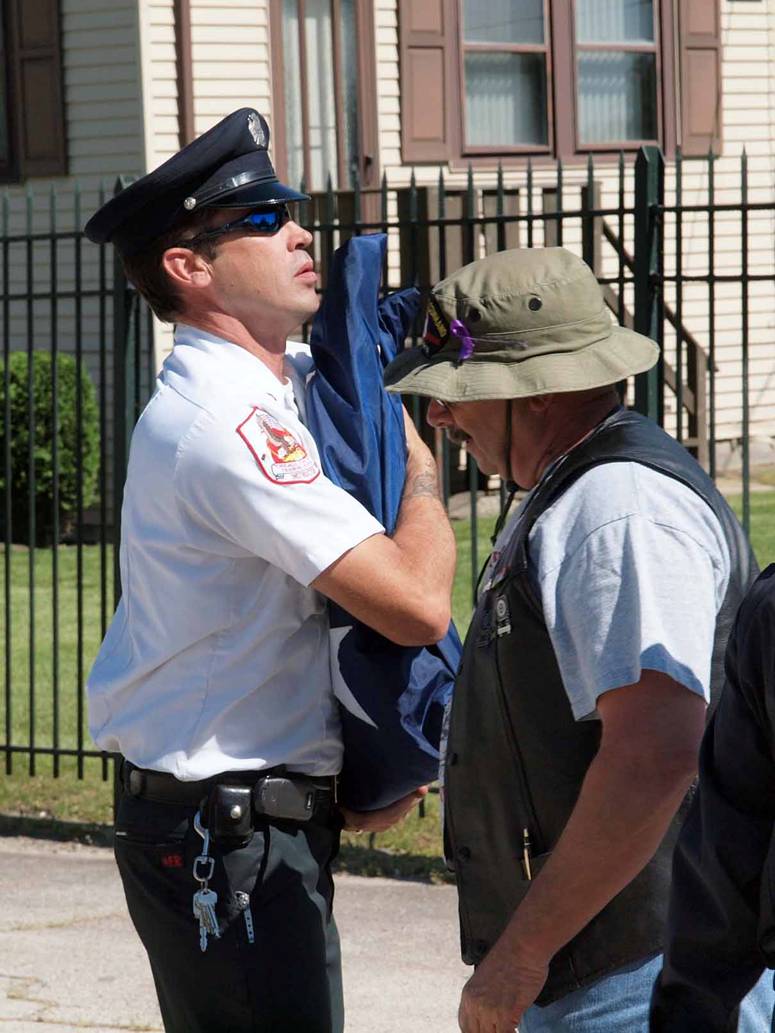 <![endif]>
And we left Thomas to the company of at least one other hero at Beverly Cemetery.
<![if !vml]>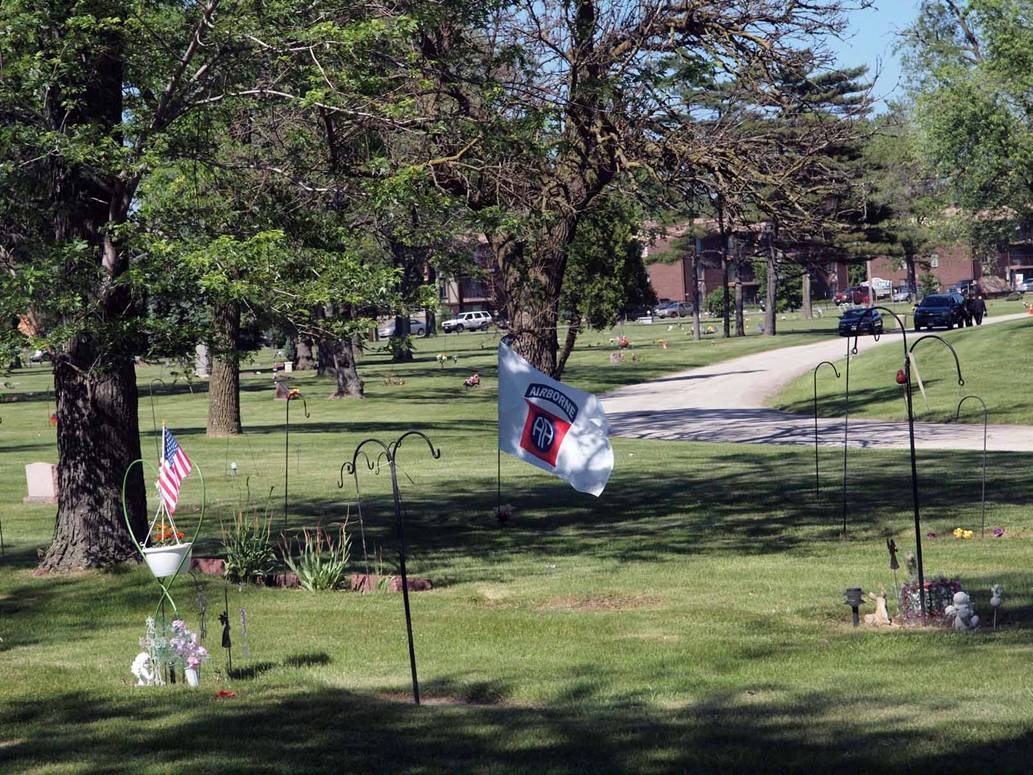 <![endif]>
back to ALL MISSIONS