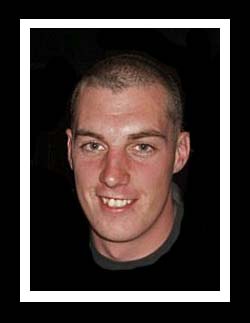 Conner Lowry died in Afghanistan two days ago and he will arrive in Dover today. For those of us who have experienced this before, from the small jet landing at Midway to the squad of Marines that will fire rifles and fold a flag in a cemetery. We've seen it before.
Typically the families of the fallen are experiencing this process for the first time which must add to the impact of the great emotional event through which they must move. I think the religious and military ritual must be tremendously helpful to them.
Most warriors come from military families. Not so, Conner's family. With that in mind, I deviate somewhat from the protocol of this website and present the following:
Lowry's body is to arrive at 8 a.m. Friday at Midway Airport. A procession will follow, from Midway Airport south on Cicero Avenue to 103rd Street, east on 103rd Street to Pulaski Road, then north past Brother Rice High School, east on 99th Street past Mother McAuley High School, south on Central Park Avenue past Queen of Martyrs School and then east on 103rd Street toward St. John Fisher School and Church.

Students and staff at the schools will line the streets for Lowry's procession home, and the community can do the same, Marine Staff Sgt. Chad Falkos said. Organizers suggest people be present along the route with American flags by 8:45 a.m.

http://southtownstar.suntimes.com/11100140-522/community-invited-to-procession-for-beverly-marine.html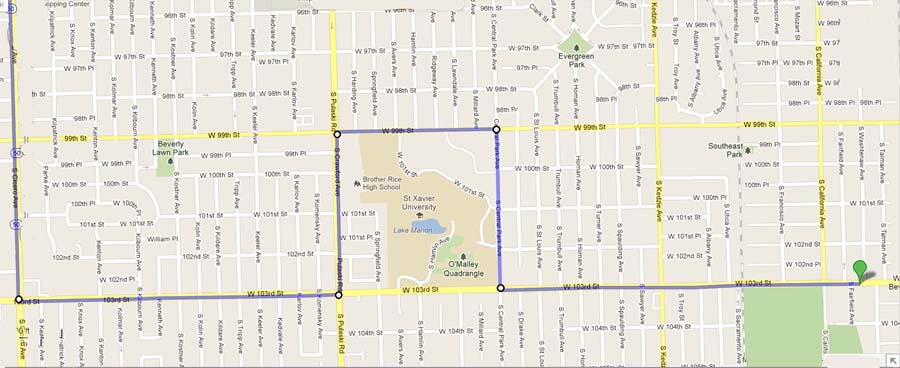 100 motorcycles:
UPDATED MISSION DETAILS as of Tuesday evening:


Arrival:
09 March 2012
0800 hrs
Midway Airport Chicago
National Guard Armory
5400 W 63rd St.
Chicago, Ill.

Staging: 0715 hrs
Brief: 0730 hrs
ETA: 0800 hrs


Visitation:
1400-2100 hrs
Brief: 1330 hrs
Flag line to follow.

St. John Fisher Catholic Church
10234 South Washtenaw Ave.
Chicago, Ill. 60655


Funeral services:
10 March 2012
St. John Fisher Catholic Church
10234 South Washtenaw Ave.
Chicago, Ill. 60655

Time:1000 hrs
Staging: 0915
Brief: 0930
Flag line to follow.

From Church there will be a short escort to the cemetery.


Lead RC:
Rob (shutefght) Curcio RobCurcio@yahoo.com 312-972-6695
Assist: Stan Borys

RC Team:
Dave (BigDave) Gier DavidbGier@sbcglobal.net (312) 405-2692
Assist: Tim (Timmer) Redmon
David (recon) Hume DavidgHume@live.com (708) 431-6601
Assist: Judy (Grinch)
It begins. Tomorrow morning when we turn from Cicero onto 103rd we will pass by this sign: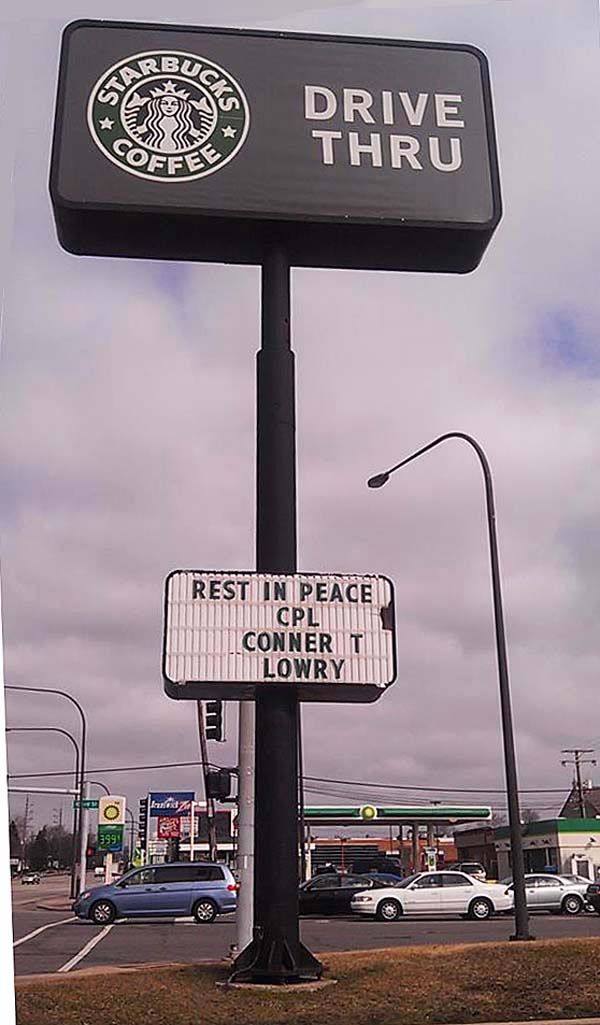 by Carla McPhee
It will be in the 30s but the day will be clear and the roads will be dry. As John Kopeck wrote in July 2006:
The planning is done, the stage is set,
we travel now to honor the Best.

With sincere humility, respect and pride,
LIGHT 'EM UP, PGR, IT'S TIME TO RIDE!!
http://oaklawn.patch.com/articles/friday-s-final-motorcade-route-set-for-fallen-local-marine published 6:36 pm Thursday
He is home.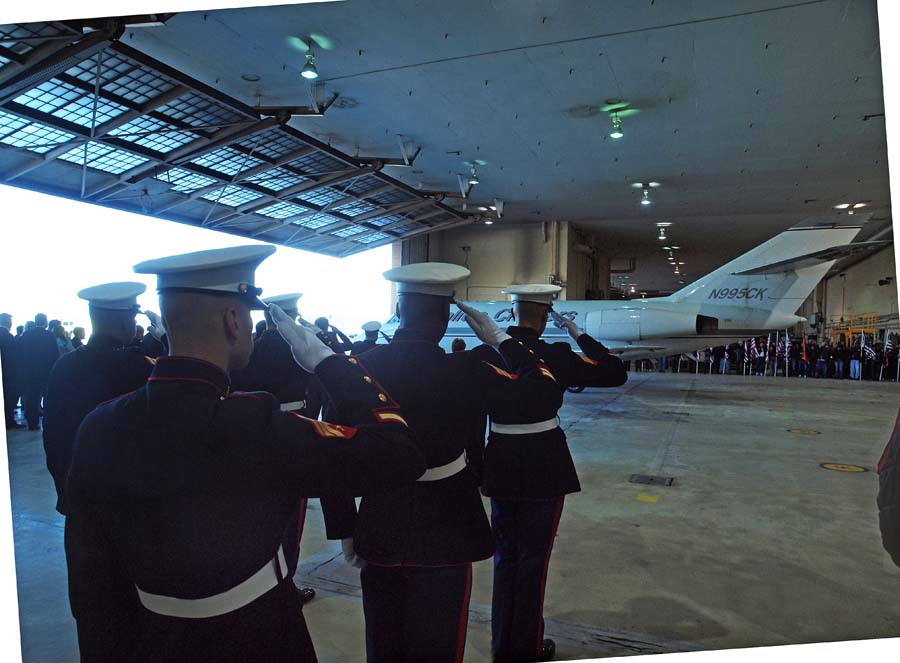 We met Conner at Midway, formed along the entire perimeter of the hanger and witnessed his transfer to the hearse.
There were many of us. There were several different biker groups and many from each. It was a huge procession.
It would be only eight miles, but there were people all along the route. Eight miles of people is a lot of people.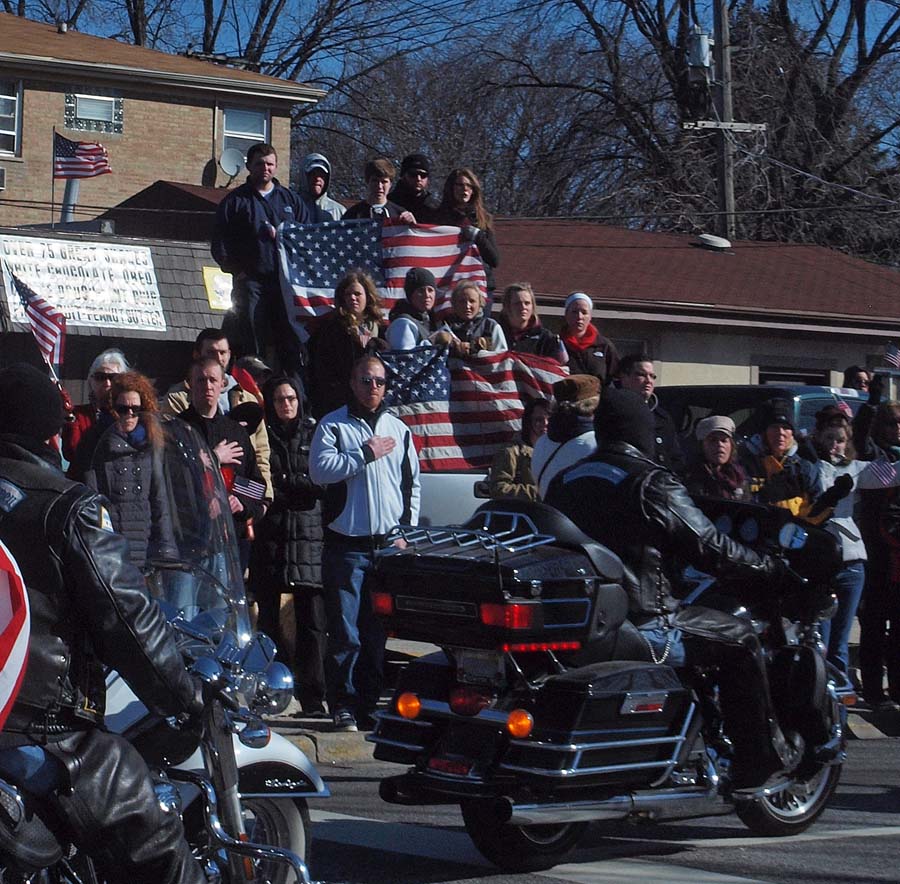 But the whole, huge parade came to a halt before Brother Rice.
Taps were played.
And then we moved on to his home where we halted again.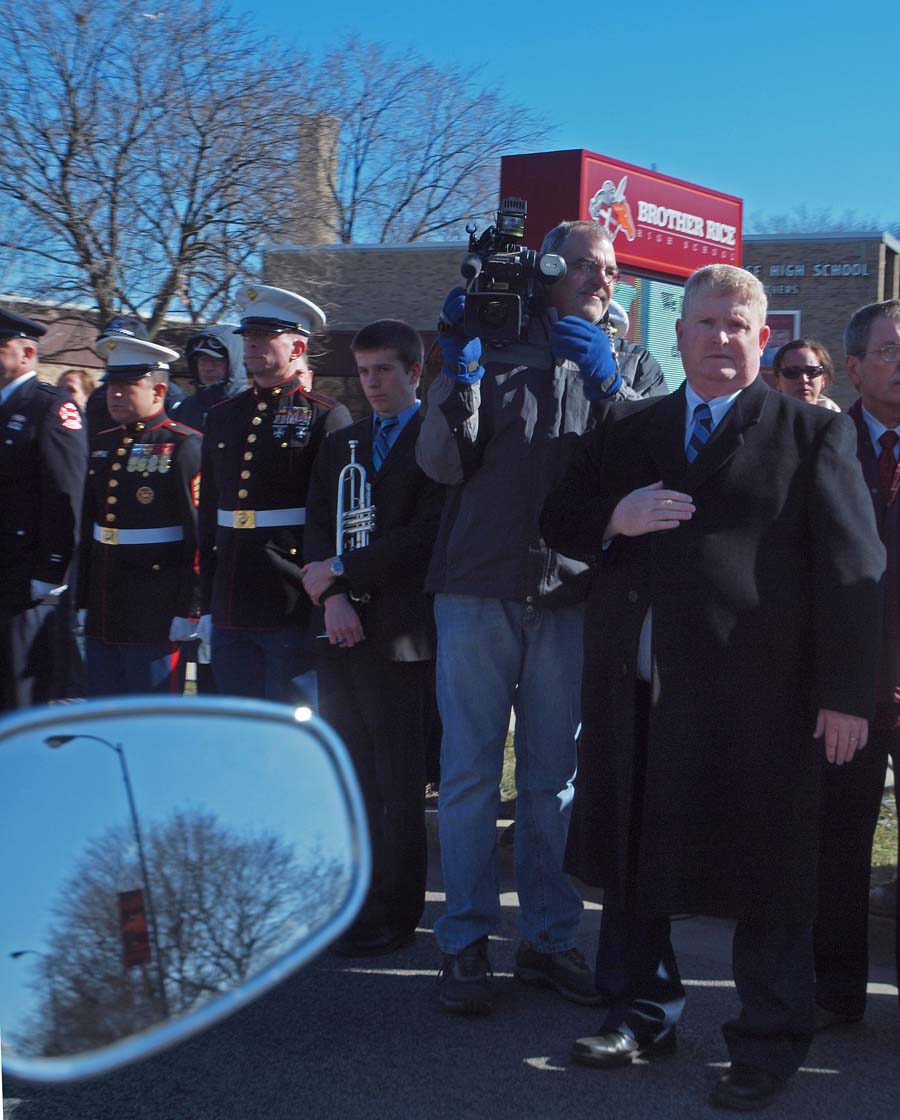 I was an hour away from home. I have visited this neighborhood before but I don't know these people. All I know is what I have seen.
These are good people. They know right from wrong, they understand good and evil and distinguish important from trivial.
That is why they came out on a cold Friday morning.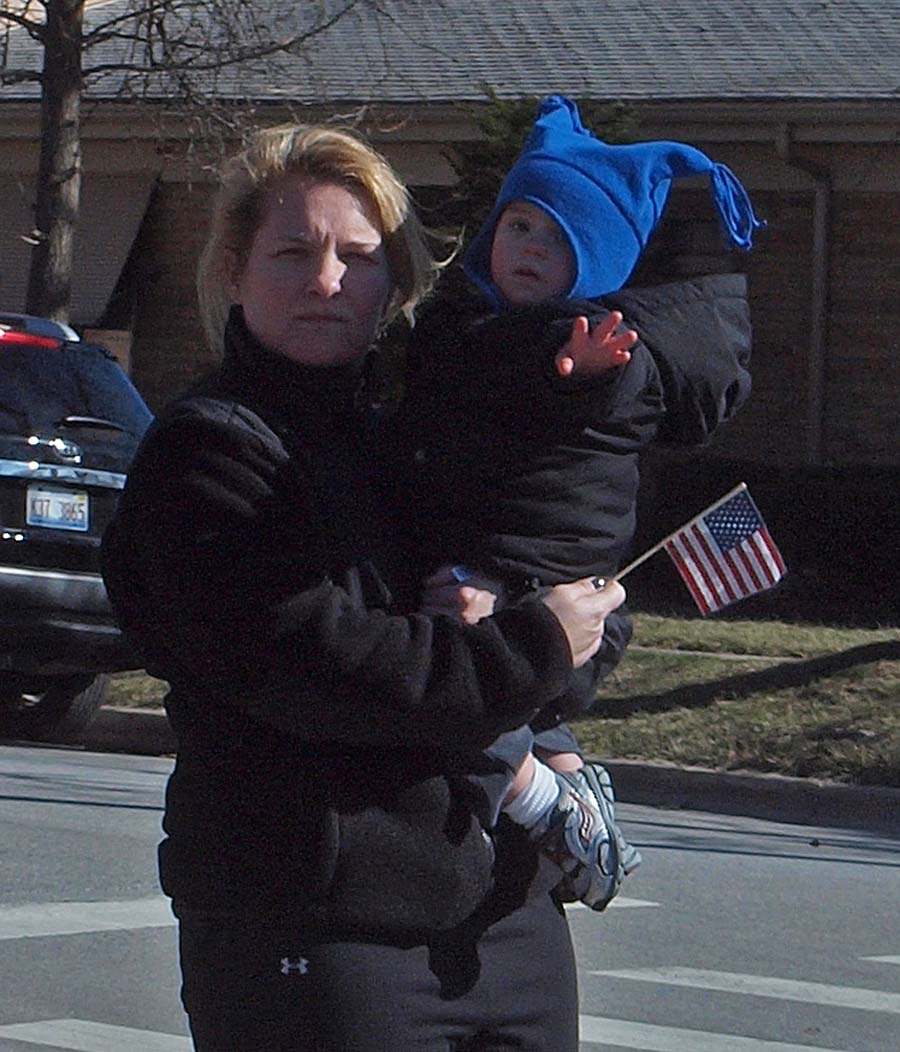 (more escort photos will be posted soon)
~~~
Kevin and I returned for Conner's funeral. Conners home and the Saint John Fisher School are both located on Washtenow Avenue. The school is a little more than two blocks from Conner's home. About a quarter mile. The students there range from pre-school to 8th grade, from ages 4 to 14. He was 24 when he died.
So Conner must have walked those two blocks many times. We walked one block from our car. Judy immediately assigned Kevin to the door.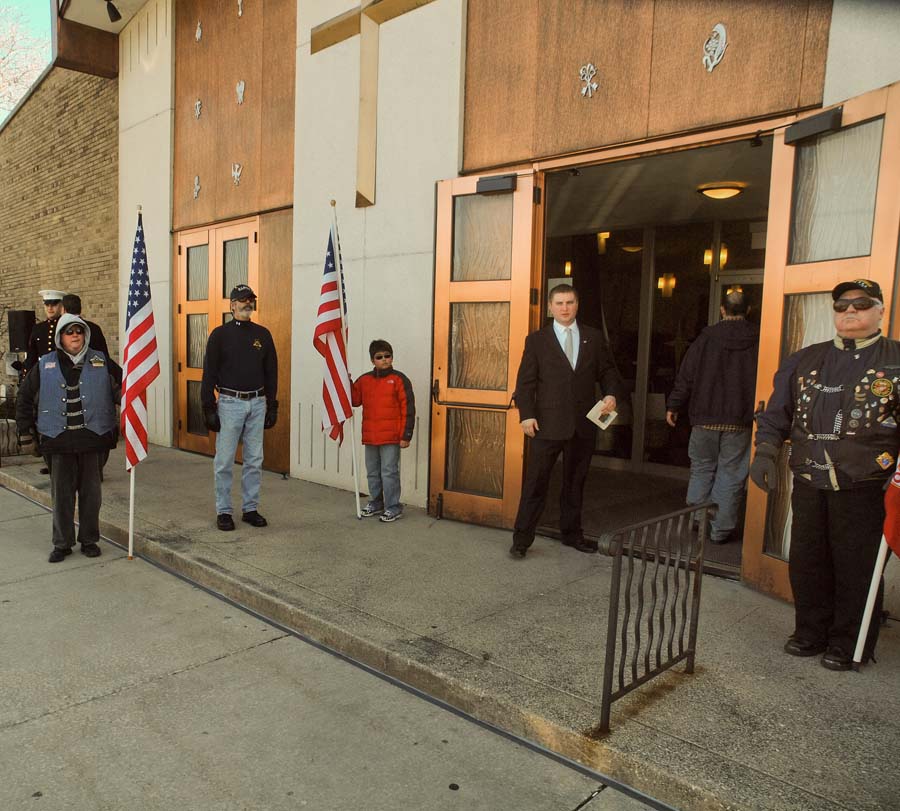 The Governor of Illinois understands that some things cannot be delegated. He attends nearly every KIA funeral in his state. And when he does, he goes down our flagline shaking hands.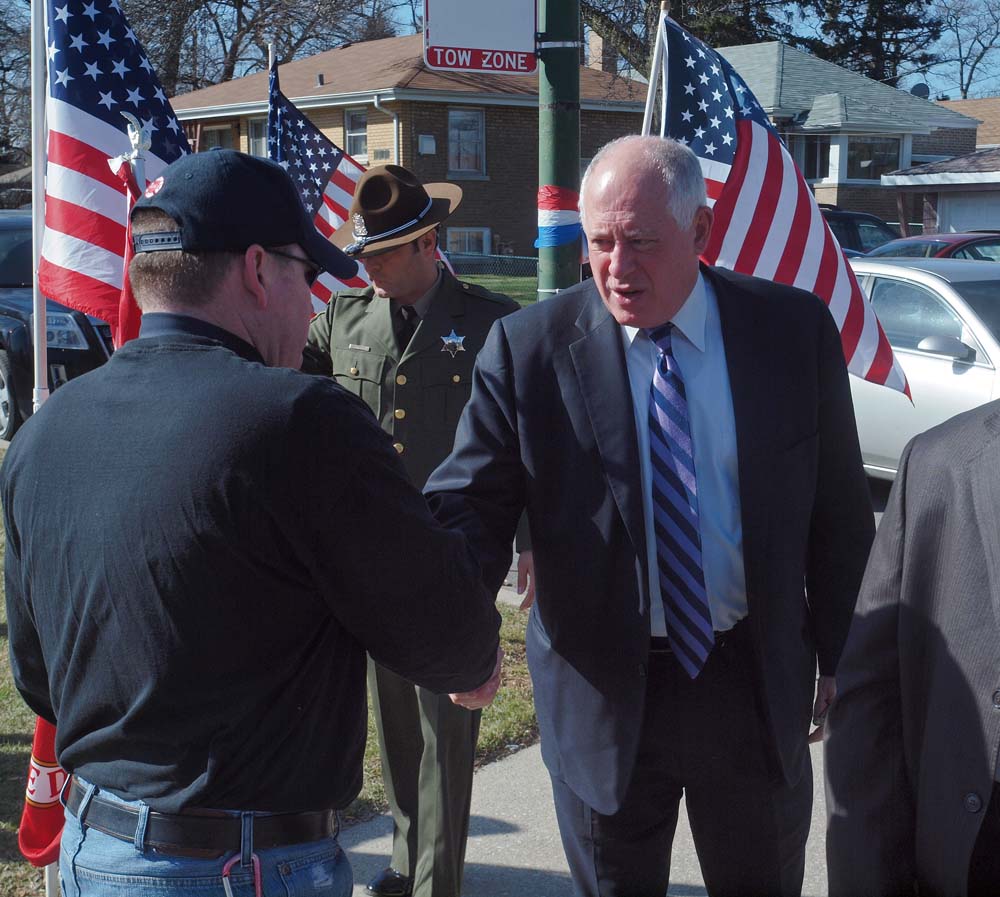 Governor Quinn has congratulated Kevin several times before.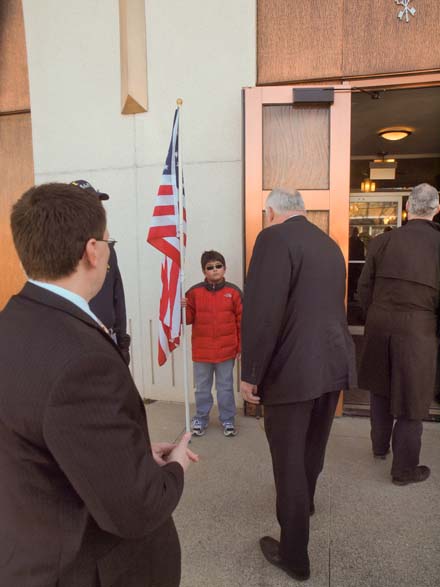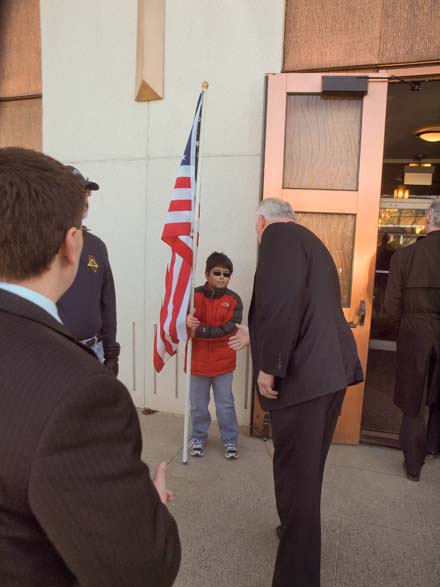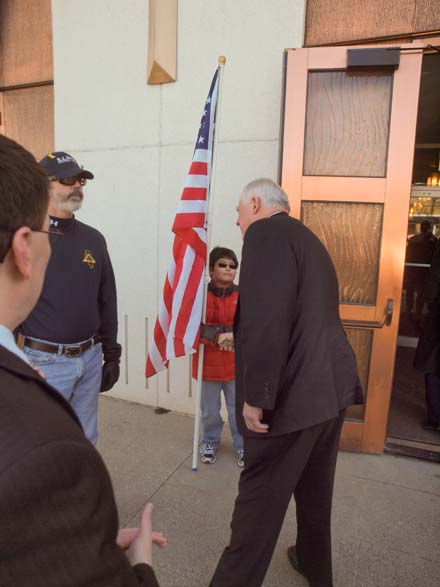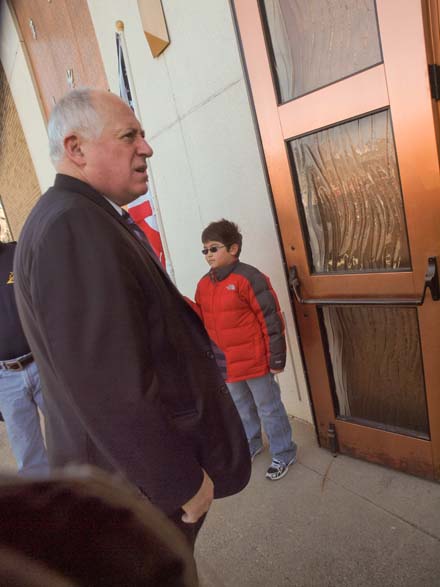 So the Governor when inside to honor Conner as only he can, we remained outside to honor Conner in our way. Once the service began we were gathered for a breifing on the post-service plan.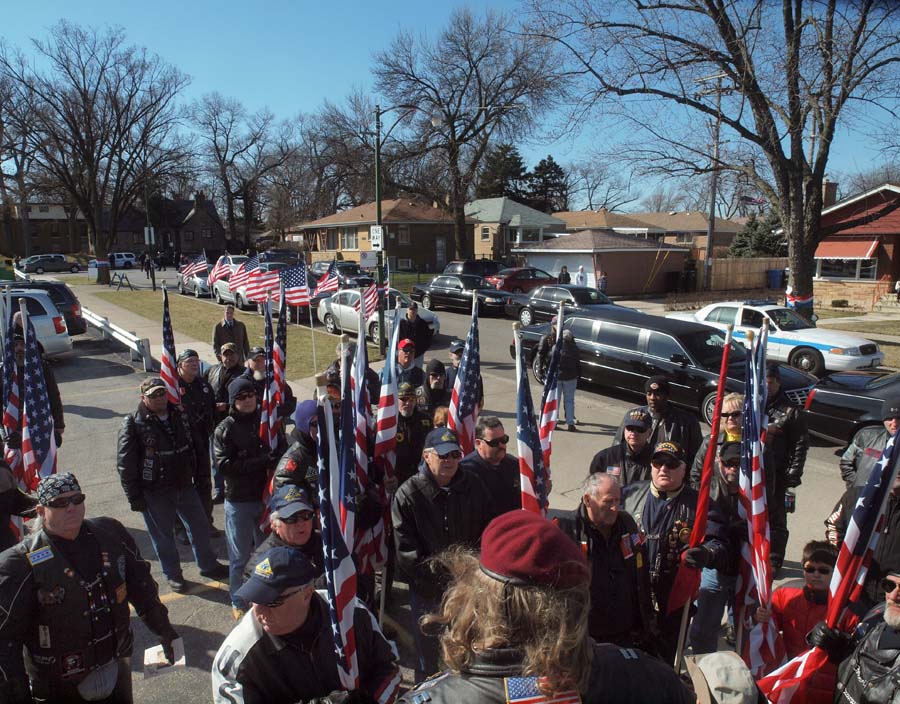 It is always impressive to me to see these strong, capable guys who could be doing so many other things decide instead to give their Saturday and the whole of their thoughts to a warrior they never met in life.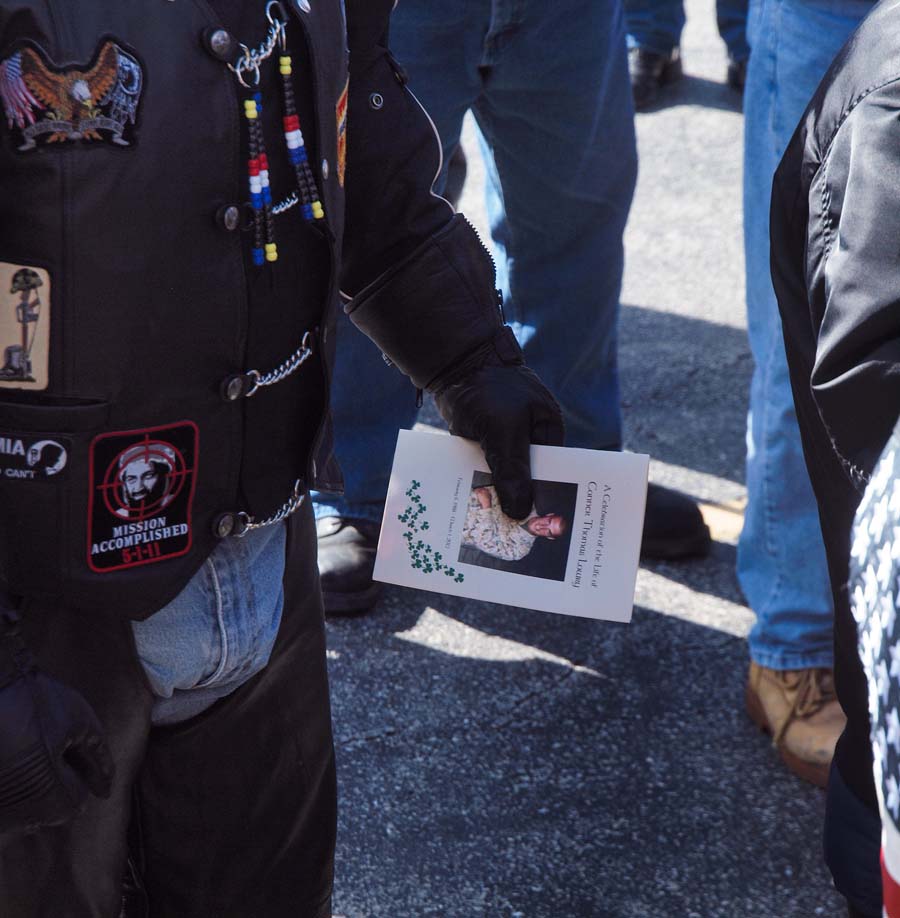 I called Kevin over to meet John Looney. His wife's cousin is PGRider Paul Clarke of Tinley Park.
Paul's son Kevin was a 1/7 Marine. He died in Iraq on February 19, 2005 which sadly was eight months before the PGR was born.
Just across the street, Becky and Ryan sat pensively. That's Jack between Ryan's feet.
They are triplets. No, not with Jack. With Bob.
Bob is a Marine. He was inside Saint John Fisher attending to Conner.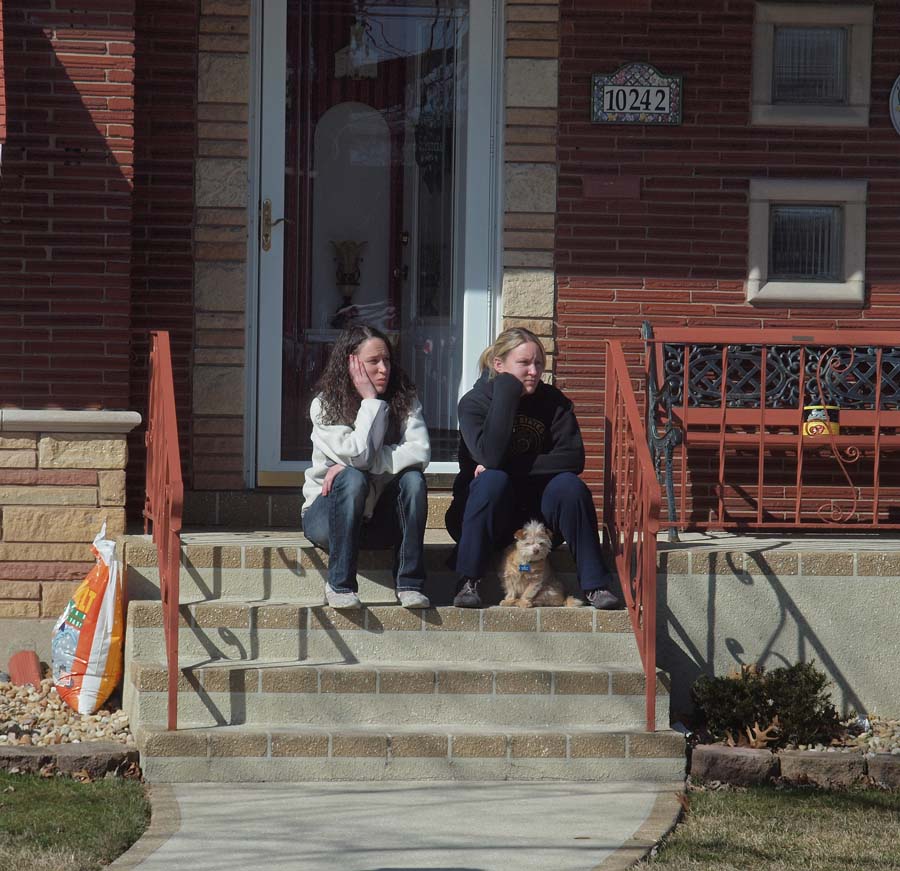 All during the service, there was a gentle cooing from the sky. It was a pleasant sound.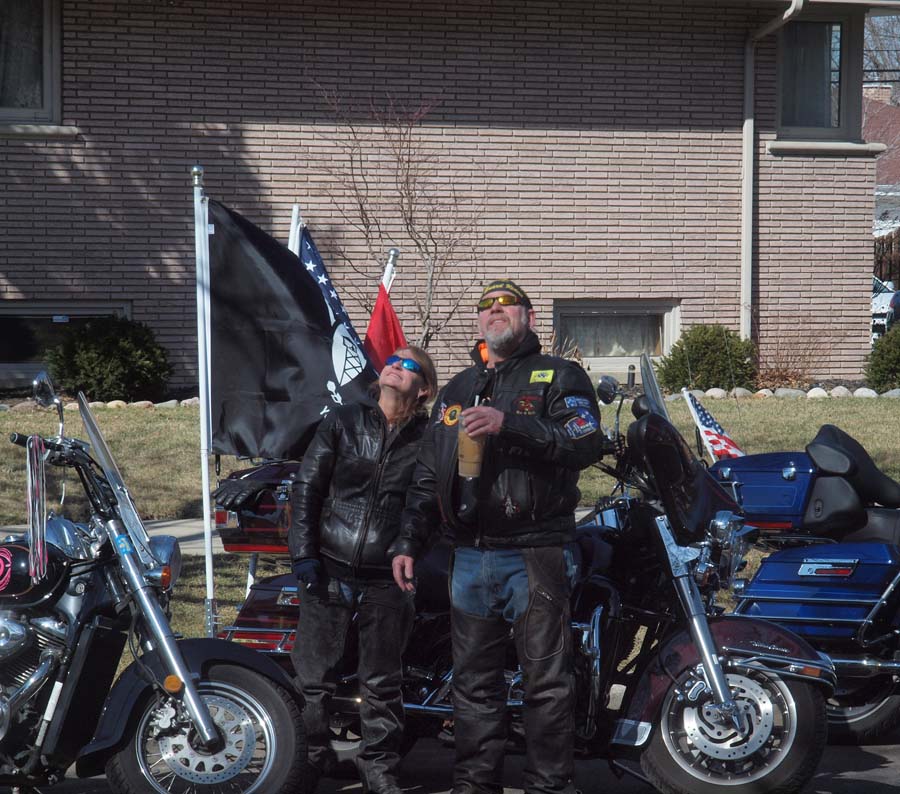 God had sent an escort.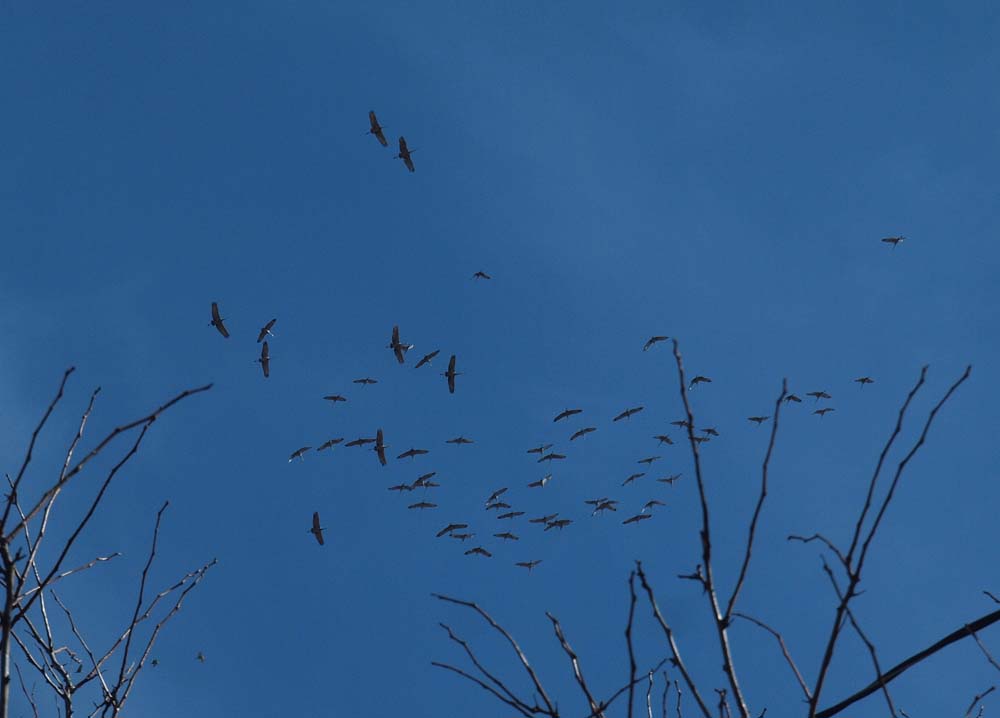 1/7 Clarke, Kevin and 2/11 Lowry, Conner have been summoned to guard the streets of Heaven.
(this page will be further updated)
back to ALL MISSIONS