Imagine that you have just learned that your son is dead.  What would you do?
What could you do?
Some people, like Colonel Mike Rudzinski, turn their thoughts to the suffering of their son's friends.  He set aside his own pain and instead consoled others by writing to them.  In fact, my page for the Chris Rudzinski mission is largely his father's words.  Clearly, Chris learned selfless service from Mike.
It is just a clear that Gunnar learned likewise from his parents.  "Our pain is indescribable, just as our pride is immeasurable. He belongs to all of us now and honor covers him like his flag."
Our soldiers are our very best Americans.  That is no accident.  They come from the very best American families.
My Dear Friends,
If you have tried to contact me, and I have not responded, it is because we have been kept very busy. We thank you so much for the offers of help.
On Friday I traveled with my daughter-in-law Erin, in the company of an army colonel, to Dover Air Force Base. We watched the dignified transfer of our son Gunnar home from Afghanistan in a flag draped box. This was by many degrees the hardest thing I have ever done, or ever will do. I want to tell you about Gunnar now, because he is a true American hero, and I want everyone to know about him and others like him, and to know the terrible sacrifice these soldiers and marines and families like ours are making in a war that no one pays much attention to, and that we must end as soon as we can. Gunnar's mission in Afghanistan was route clearance. This means he rode in heavily armored vehicles at the head of convoys of other troops, looking for IED's and then disarming them. They had found many, and for each one found, it is likely that lives were saved. On Wednesday, June 16, on a dangerous mission to an area with many insurgents, a roadside IED found him and flipped his vehicle, killing him and one other soldier in his unit. This is all we know right now.
Gunnar's family has been wrapped in the arms of the U.S. Army, both figuratively and literally. They are taking very good care of us. We must wait for direction from the army before we can be 100% definite, but we are planning to have a visitation at Gibbons-Elliston Funeral Home in Hinsdale on Thursday, June 24, probably starting at 2:00. We are planning a memorial service to be held at Union Church in Hinsdale at 10:00 Friday morning, followed by a military burial, we hope at Lincoln National Cemetery in Joliet. We will have a reception at the Community House in Hinsdale Friday afternoon, starting about 2:00 and we invite everyone to attend whether you were able to attend the service or not, and we will invite you to stay as long as you wish, to remember and celebrate this fun-loving man. Since this is an event organized by the Hotchkin family, drinks will definitely be involved.
If you are interested, I invite you to go to Gunnar Hotchkin's Facebook page. I think his wife Erin is going to open it up to friends of friends. Erin will also accept all friend requests for Gunnar. There you will see numerous postings by his fellow soldiers who testify to the fine, strong man our son ultimately became. Our pain is indescribable, just as our pride is immeasurable. He belongs to all of us now and honor covers him like his flag.
We are going through this as best we can, moment by moment. As I write this I am watching over my grandson Ethan sleeping on my couch. He will get me through this. We need and welcome your love and support-email messages or cards will do just fine, and we welcome you who are able to pay tribute to our fallen hero with us on Thursday and/or Friday.
Chris & Randy Hotchkin
http://napervilledemocrats.org/blog/InHonorofArmyPFCGunnarHotchkin
See also THIS facebook page.
Obit:  Pfc. Gunnar Randall Hotchkin, was killed in action June 16, 2010, in northern Afghanistan. Mr. Hotchkin, 31, was born Dec. 23, 1978, in Hinsdale. He is survived by his wife, Erin; his three children, Taylor, Ethan and Tristan; his brother, Kurt; his parents, Christine and Randall; his niece and nephew; and his grandmother, Ly Hotchkin.
Visitation Thursday, June 24, 2 to 8 p.m. at Gibbons Elliston Funeral Home, First and Grant Streets, Hinsdale, IL 60521.
Friends will meet Friday, June 25, at Union Church of Hinsdale, 137 S. Garfield Ave., Hinsdale, IL 60521, for 10 a.m. funeral service. Interment Fairmount Willow Hills Memorial Park, Willow Springs, IL. In lieu of flowers, memorials appreciated to Gunnar Hotchkin Memorial Fund, c/o Harris Bank of Hinsdale, 50 S. Lincoln St., Hinsdale, IL 60521, which will go directly to the support of his children.
Three days after Gunnar was killed, the NATO ISAF reports:  An Afghan-international security force killed a Taliban sub-commander along with a number of insurgents at a compound in Chahar Darah district, Kunduz Province last night.
<![if !supportLineBreakNewLine]>
<![endif]>
Mullah Abdul Razaq was responsible for moving suicide operatives throughout the eastern part of Kunduz province and was the Taliban military commander in Talaqwa Village. Afghanistan National Police in Kunduz confirmed the death. According to multiple intelligence reports, Razaq is suspected of being involved in an improvised explosive device (IED) attack that killed two American soldiers in the vicinity of Isa Khan, Kunduz Province, June 16.

The security force searched a compound east of Chahar Darrehchi, Chahar Darah district, where they were fired upon by individuals armed with automatic weapons and grenades. The combined force returned fire and secured the compound.

During the search a civilian man came out of his home and told Afghan and coalition forces that the Taliban use the road near the compound daily and that they frequently stay in the mosque behind his home. The Taliban continue to use mosques as safe havens and weapons storage sites, knowing that international forces are not allowed to enter. A significant amount of automatic weapons, magazines full of ammunition, grenades and an RPG launcher with rounds were found on site. Women and children present were protected by the combined force during the search.

"IED attacks continue to be the insurgents' main tactic against Afghan National Security Forces and coalition elements," said Col. William Maxwell of the ISAF Joint Command. "This puts Afghan civilian lives at risk and yesterday's operation helped take those responsible for these acts out of the Chahar Darah community," he added.
Interestingly, ADN Kronos International reports:  Mullah Abdul Razaq, a resident of the Pakistani town of Chaman and former minister of interior affairs in the deposed Taliban regime, is considered a key player in the suspected money trail from the region to the Middle East.
<![if !supportLineBreakNewLine]>
<![endif]>
After the fall of the Taliban in December 2001, Mullah Abdul Razaq was arrested by the Americans. Insiders say he was given conditional immunity when he agreed to play a role in talks between the CIA, Pakistan's ISI intelligence service and the Taliban.

The talks were reportedly over a truce and a proposal for the Taliban's participation in the political process in Afghanistan. The Taliban, however, rejected the US offer which aimed to remove Mullah Omar from the Taliban leadership and Al-Qaeda from Afghanistan.
… When Mullah Abdul Razaq returned to the Taliban's fold in 2005, he convinced businesses in Chaman to support the Taliban financially in order to spare their businesses from attacks when they transported goods through Afghanistan. Over 3,500 importers and exporters in the Chaman market who transport their goods to the UAE were threatened with a wave of violence. The Chaman businesses had faced the same problem from warlords in the mid-1990s and supported the Taliban to drive them out.

After 2005, the stakes were higher as the Noorzai and Ackzai tribes became involved in the construction of expensive hotels in Kandahar and needed protection from the Taliban. The Taliban had struck a similar deal in 1993 when the student militia emerged from Kandahar's Islamic school as a reformist movement against the warlords and vandalism in Afghan society. Chaman businessmen financed the Taliban at that time in exchange for protection.

Mullah Abdul Razaq, once again convinced the businessmen of Chaman to support the Taliban financially so that their transport and hotel businesses would be spared from attacks.
This is the nature of counter-insurgency.  World War II was the last time we asserted our full weight.  Ever since, we have pulled our punches for valid strategic reasons.  In the case of Afghanistan, our aim was to punish al Queda and the Islamist regime that provided those terrorists with refuge.  We accomplished that within months.
And then we spent eight years (so far) in an effort to make an Afghanistan that will be inhospitable to terrorists after we leave.  That process entails mutual trust.  Razaq exploited that trust and Gunnar paid the price.  It would be easier to just kill everyone and let God sort it out, but we are Americans.  We don't do that.  They do but we don't.
The first day:
We assembled at the armory adjacent to Midway Airport.
<![if !vml]>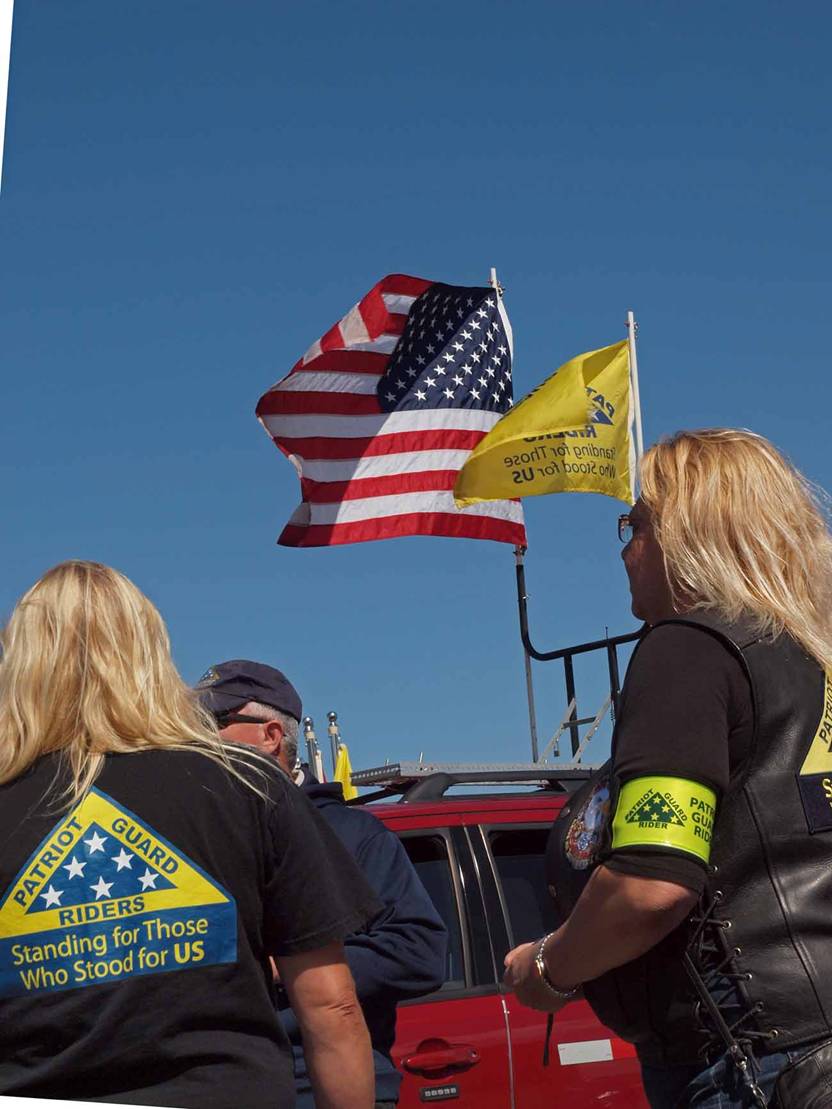 <![endif]>
Many of the reliables and a few new guys.
<![if !vml]>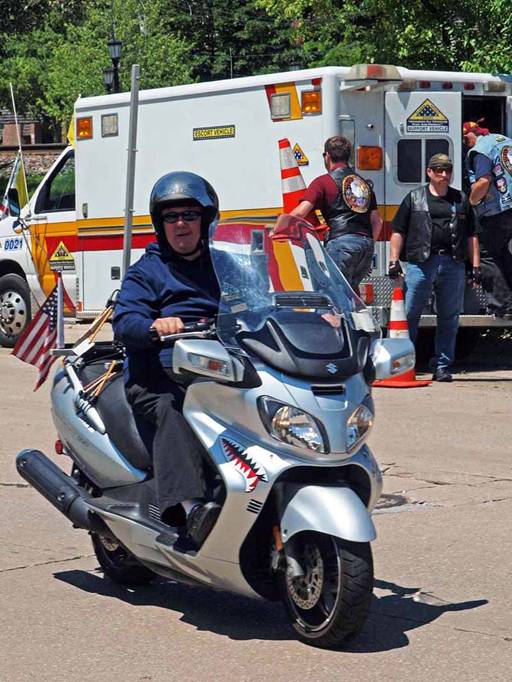 <![endif]><![if !vml]>
<![endif]>
Brenda got us started.
<![if !vml]>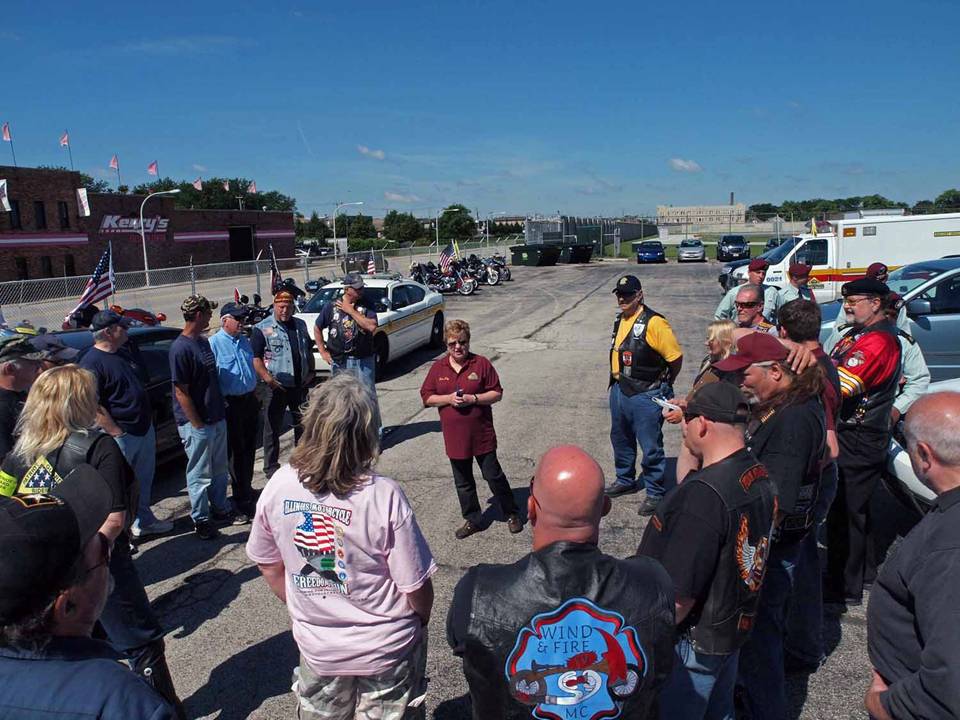 <![endif]>
We first formed a corridor through which the hearse and family would pass when they arrived.
<![if !vml]>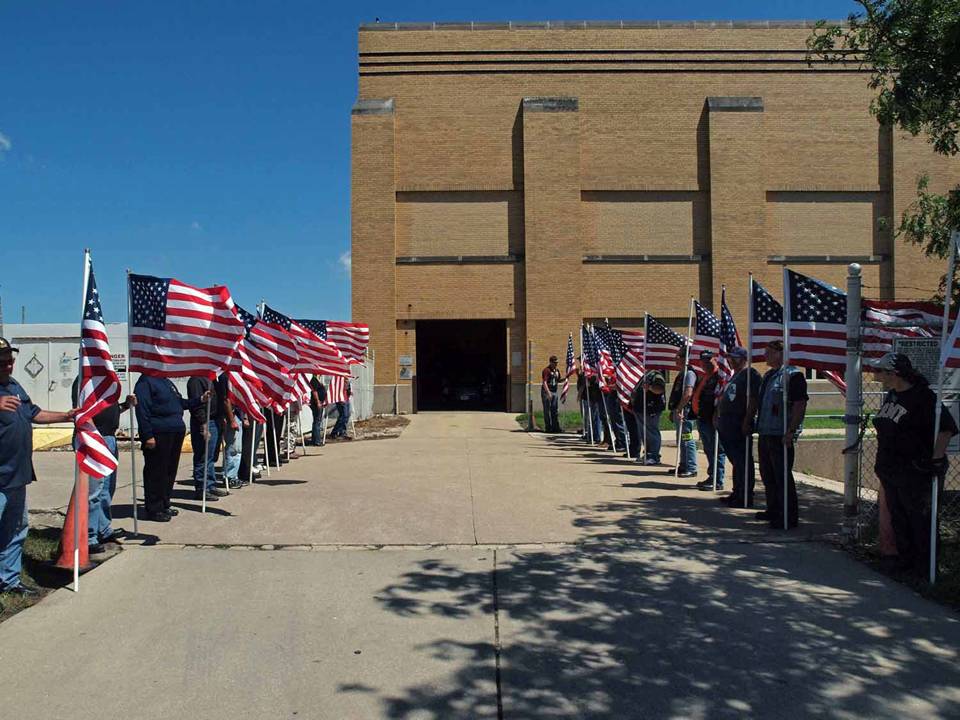 <![endif]>
(I got that photo by handing-off my flag to Carmen.)
<![if !vml]>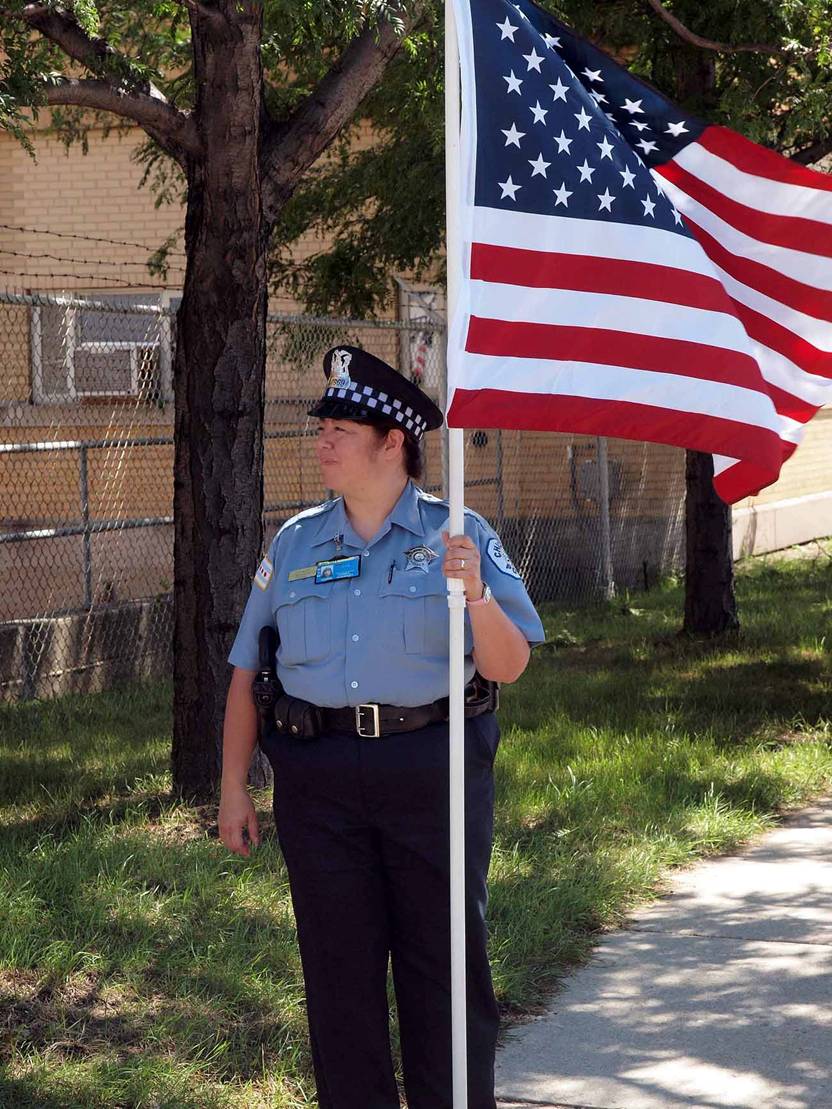 <![endif]>
Then we re-formed in the cavernous armory hanger.
<![if !vml]>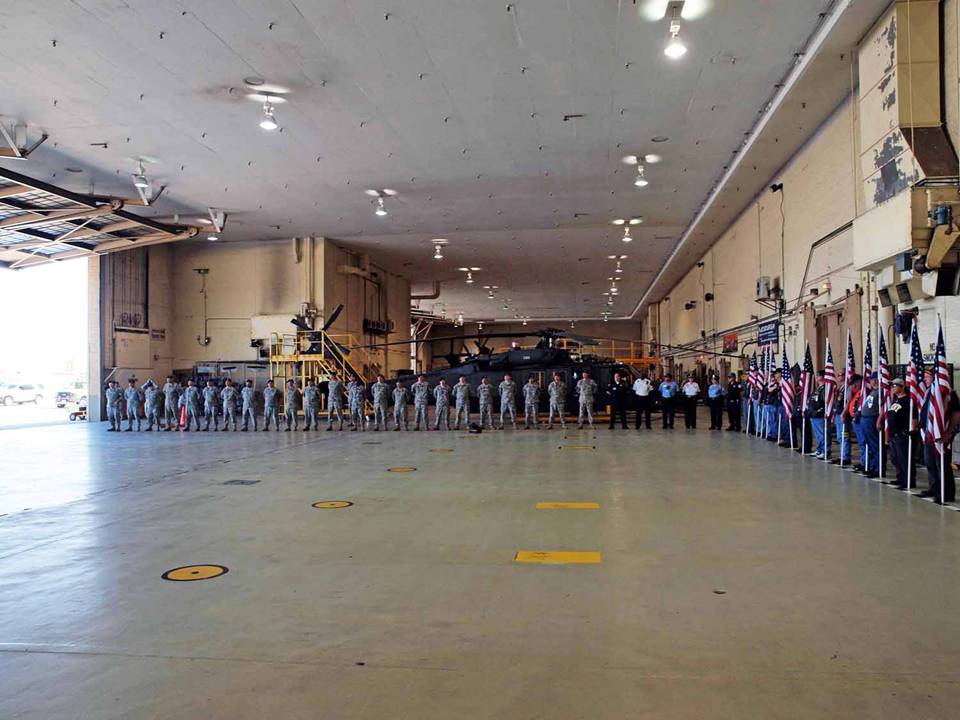 <![endif]>
The small jet passed under the arc of the airport firefighter's water cannon.  It was parked in the hanger.  A ramp was removed from the jet and used to unload an electric lift.  The lift was used to unload the casket.
Soldiers moved the casket from the lift to the hearse.
Then we mounted and staged in the street in front of the armory.
<![if !vml]>
<![endif]>
The State Police would take us down I-55.
<![if !vml]>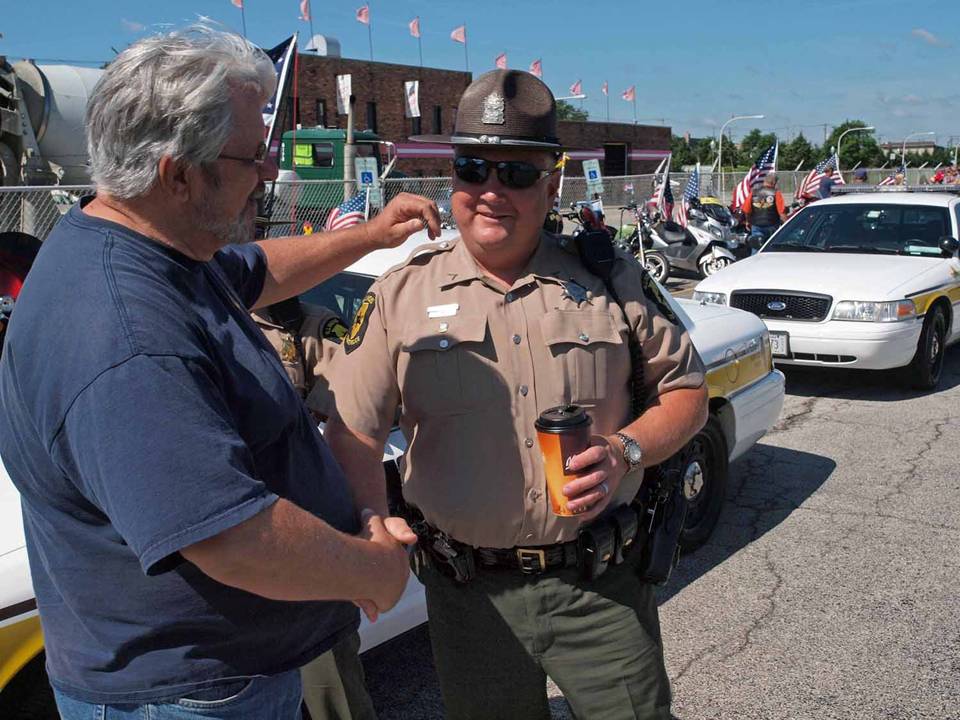 <![endif]>
I was flying the 5 by 8 so I tried to use slip-knots to keep it furled until we left the Interstate when I would release it while riding.  It didn't work.  The wind pulled it loose and I was lucky to retrieve the dragging rope ends before they fouled.
<![if !vml]>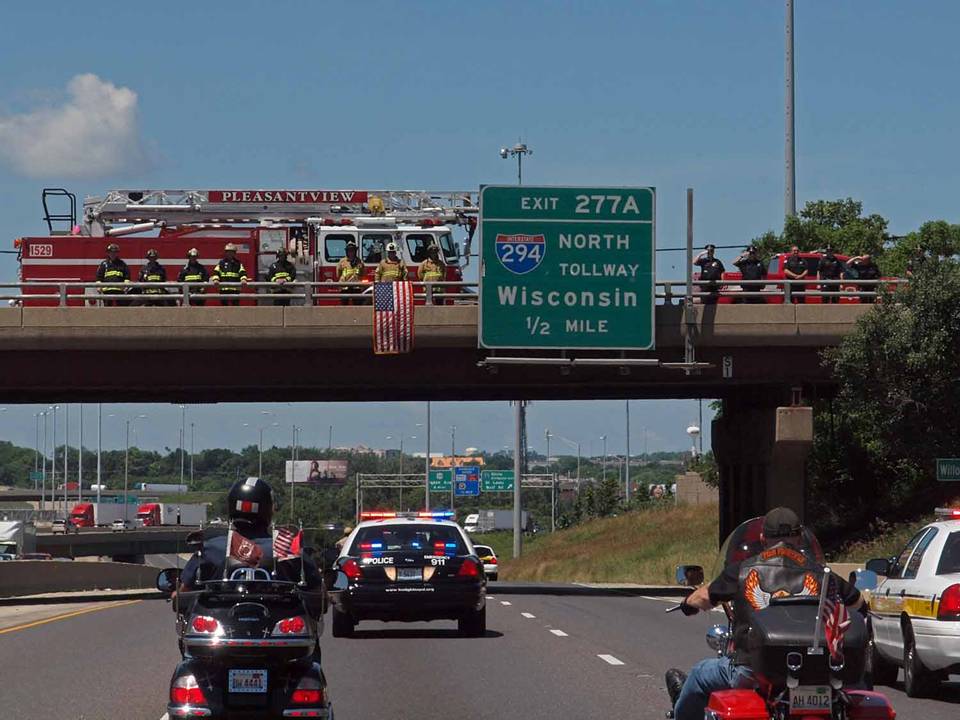 <![endif]>
Everything stopped except our procession.
<![if !vml]>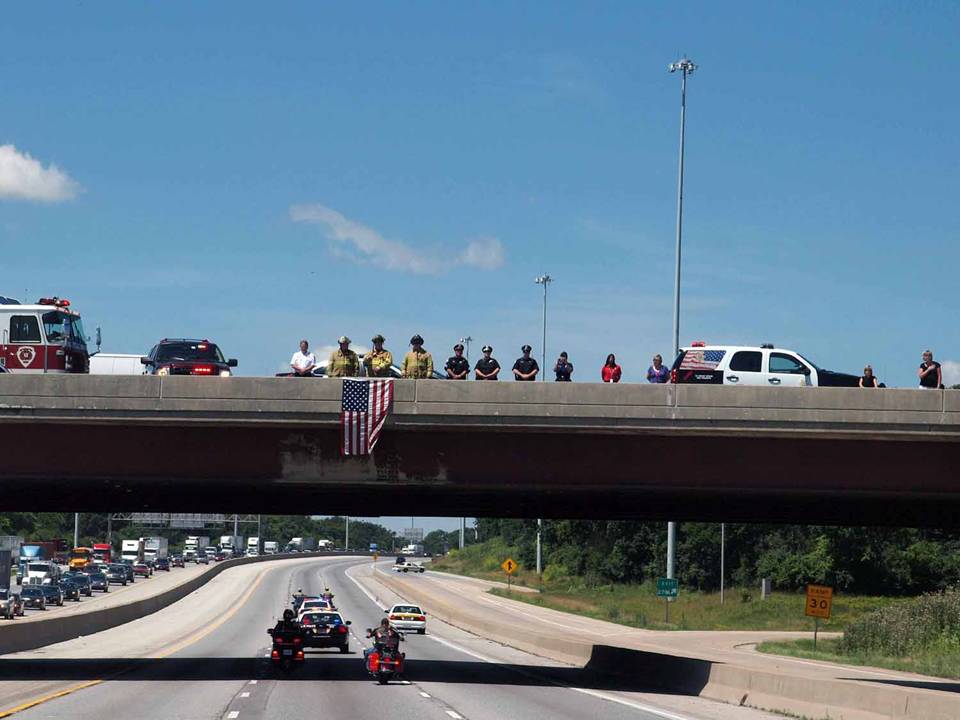 <![endif]>
Gunnar's widow is Erin.  Erin's brother-in-law is Larry Munch, a firefighter.  Many of his brother firefighters lined our route.
<![if !vml]>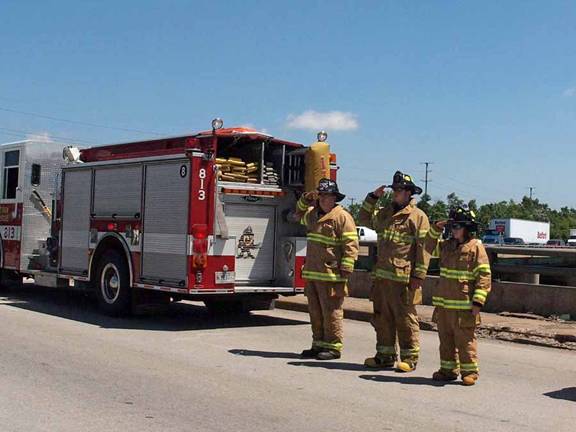 <![endif]><![if !vml]>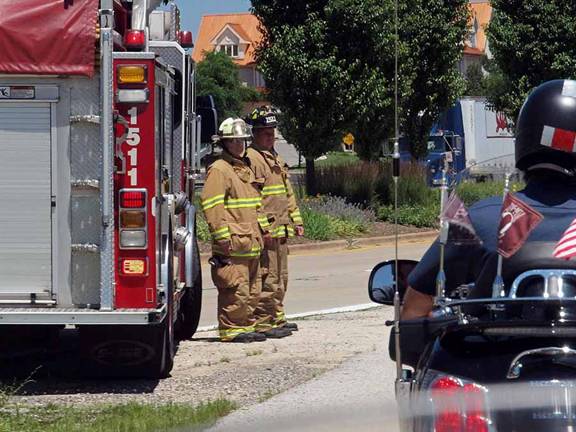 <![endif]><![if !vml]>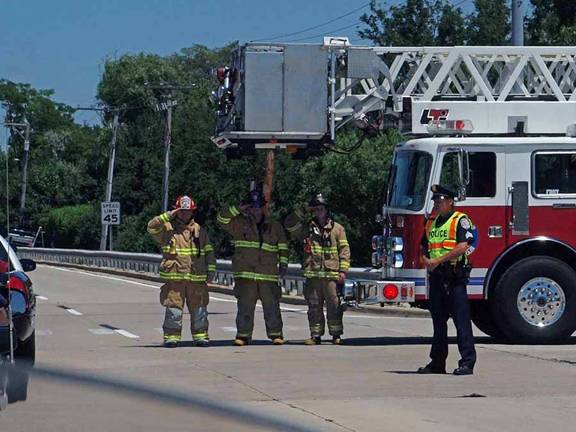 <![endif]><![if !vml]>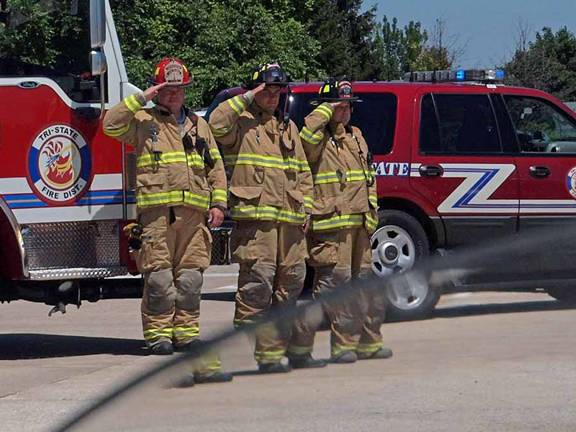 <![endif]><![if !vml]>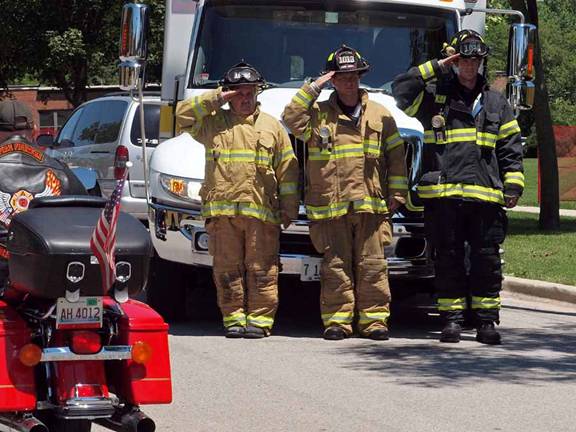 <![endif]><![if !vml]>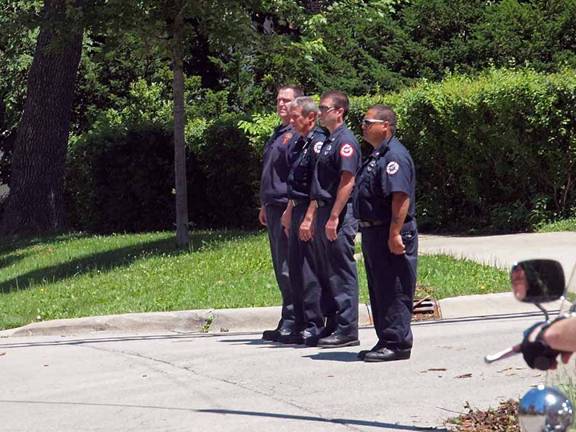 <![endif]>
As we approached our destination, the firefighters raised the salute that only they can do.
<![if !vml]>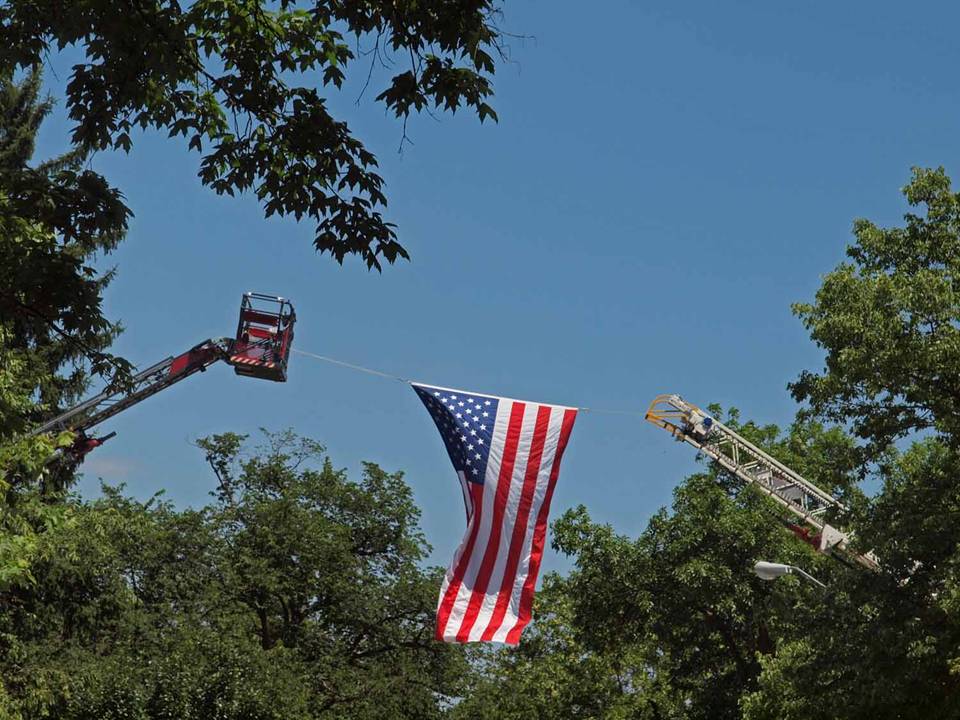 <![endif]>
We dismounted at the funeral home and stood in respectful silence as the hearse passed.  Then we pulled our flags from Eric's new truck and took our positions at the front door of the building.
From my place in line, I noticed these two across the street from us.
<![if !vml]>
<![endif]>
The scouts have holders mounted on the street lampposts.  When it is useful, they post their flags.
<![if !vml]>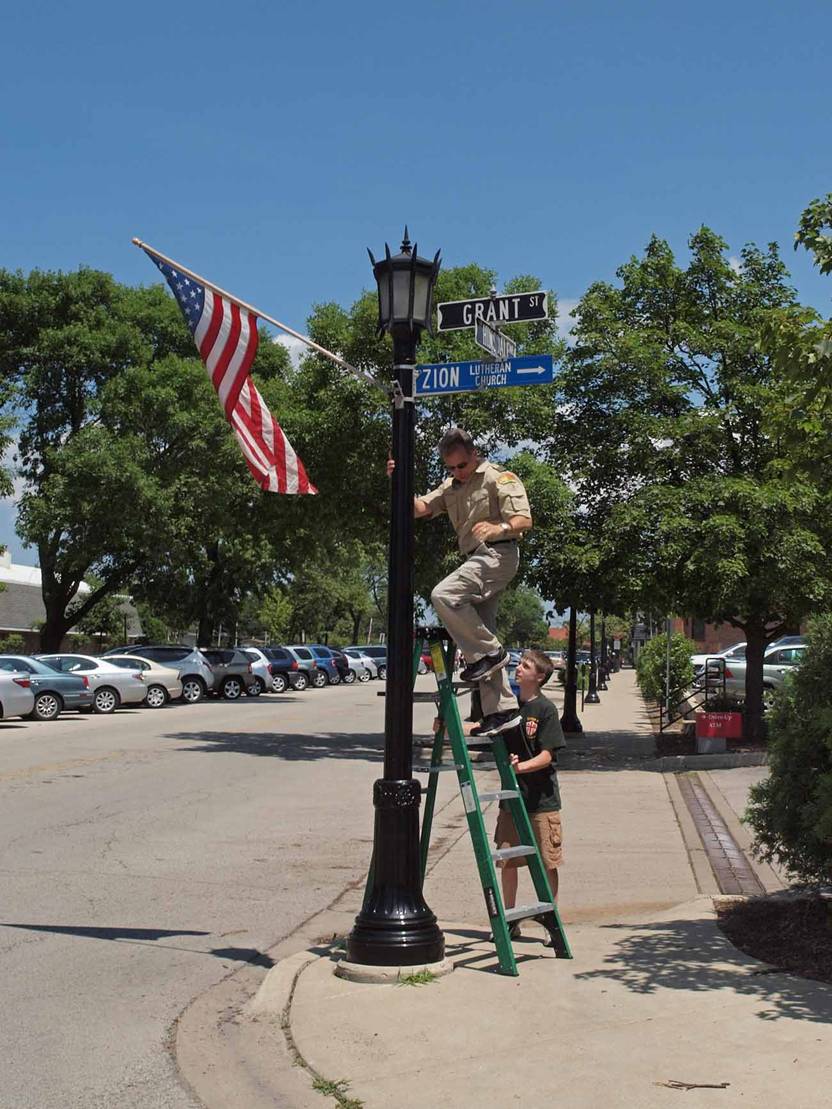 <![endif]>
They were John and Jonathan, scout leader and Eagle Scout prospect, father and son.  It was a father showing his son how to do the right thing.  A son needs his father for that.
Gunnar's oldest son is Ethan who is eight – the same age as Kevin, my grandson.
Ethan and I skipped-out of Gunnar's wake at 1400 for a motorcycle ride.  He wants a blue motorcycle – same as Kevin.  He told me about several boyfriends and a girlfriend named Sondra.  Then he went back inside and I did some more flag-holding.
Ethan and I took a second ride at 1600 and ended-up at Pierce Park where we watched a Little League baseball team practice.  The moms gave us lemonade and cookies.  He told me he is good at catching and throwing, and I bet he is.
Ethan is full of potential – he could be anything.  He will grow to be happy and strong like his father.  Part of the price that Gunnar paid is that he will not see it happen.
All eight year-old boys think of their fathers as heroes.  In Ethan's case, it is true.  I hope he knows it.
The next day:
The Korean War began when the North invaded the South on a June 25th.  In Korean, "June Two Five" is pronounced U-KEE-O and no mention of the year is necessary.  Everyone in South Korea knows what U-KEE-O means.  Today is U-KEE-O and it is time to bury a soldier.
Traffic was lighter than I anticipated and I arrived early.  The Deputy Chief of Police told me he wanted our bikes to stage in the school bus loading area, near the church.  So I was in place to get this photo of the second biker to arrive.
<![if !vml]>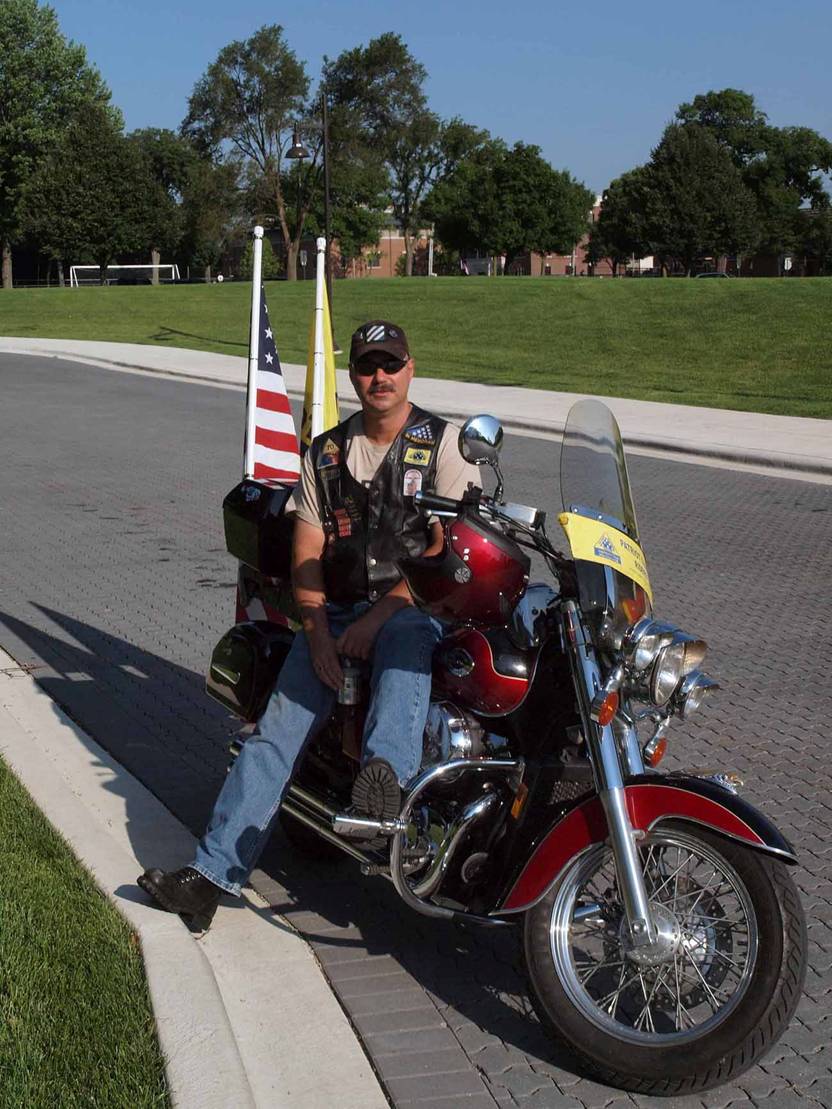 <![endif]>
The principal opened his school (and restrooms) to us.
<![if !vml]>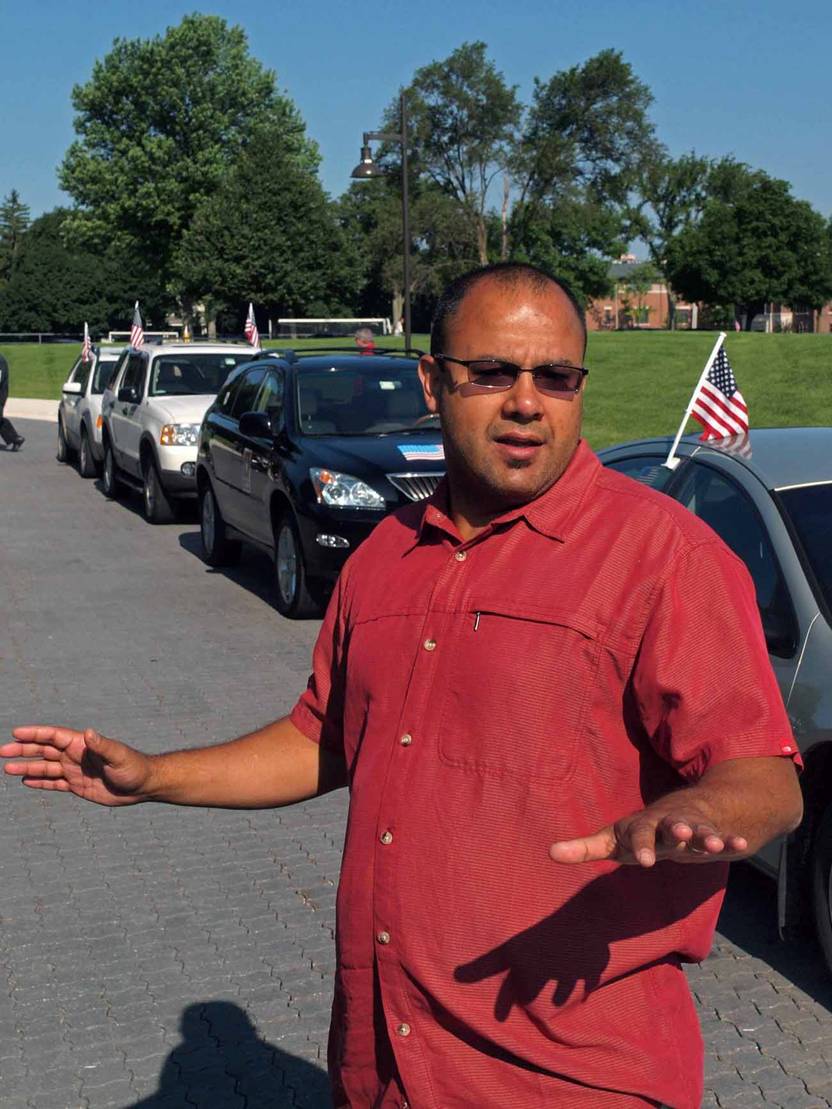 <![endif]>
Donna provided the flags.  She is the founder of welcomeyouhome.org
<![if !vml]>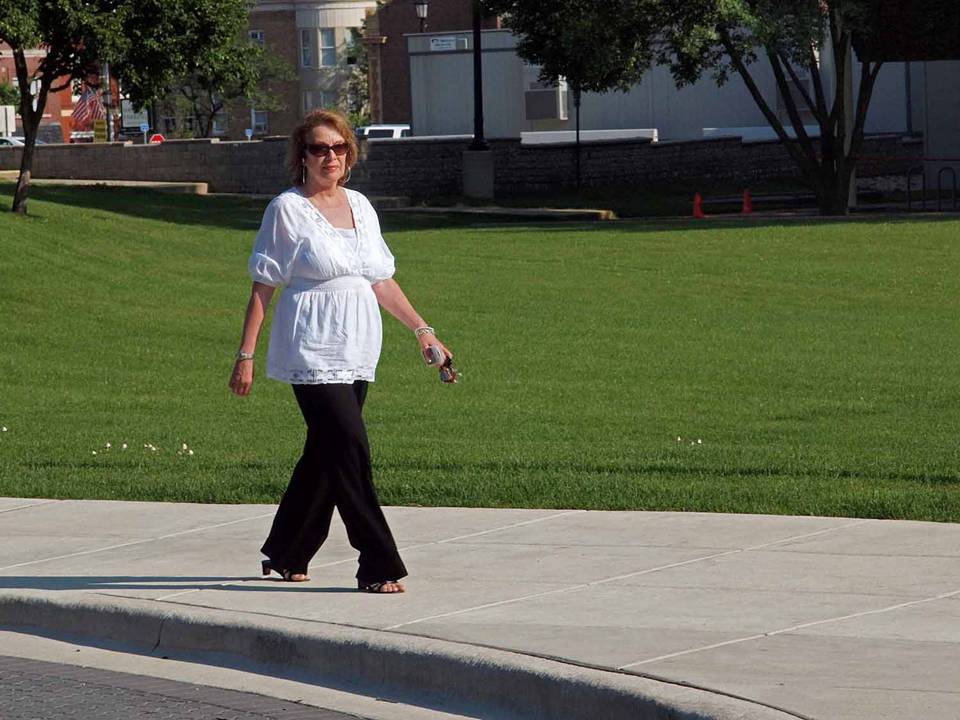 <![endif]>
An American soldier had died on the other side of the planet.
As the hearse passed our staging area we stood in silence and saluted.
We all came for Gunnar.  We are all on his side.
<![if !vml]>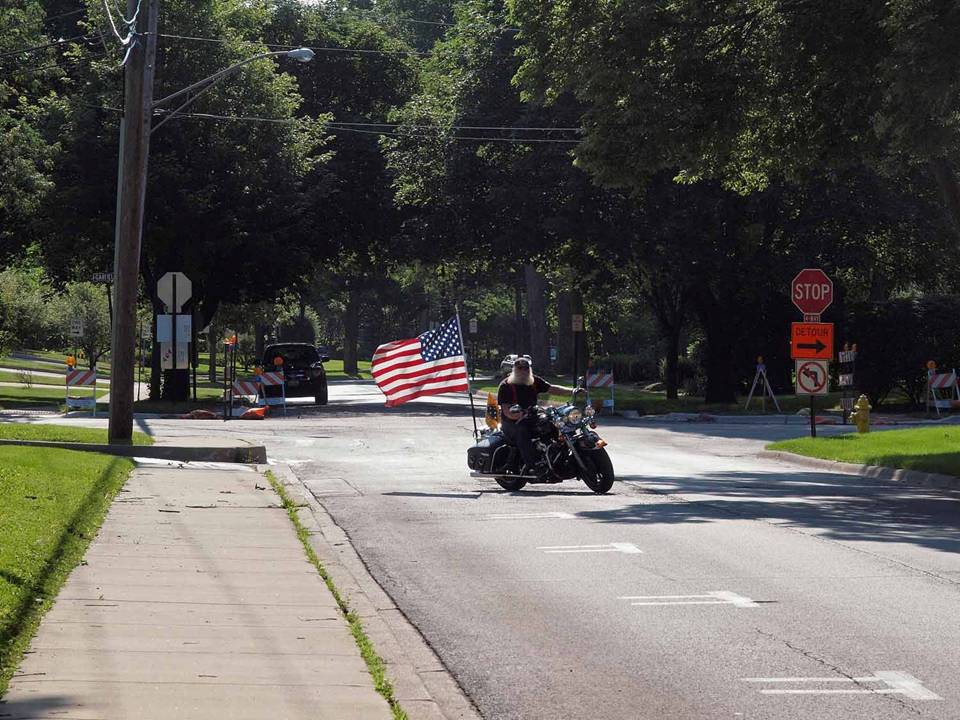 <![endif]>
History records that America was attacked on September 11th.
History records that the most powerful nation on Earth fought its longest war in the mountains and villages of one of the most impoverished and backward countries on Earth.
And now history can record that the youngest PGRider attending Gunnar's funeral was also named Gunnar.
<![if !vml]>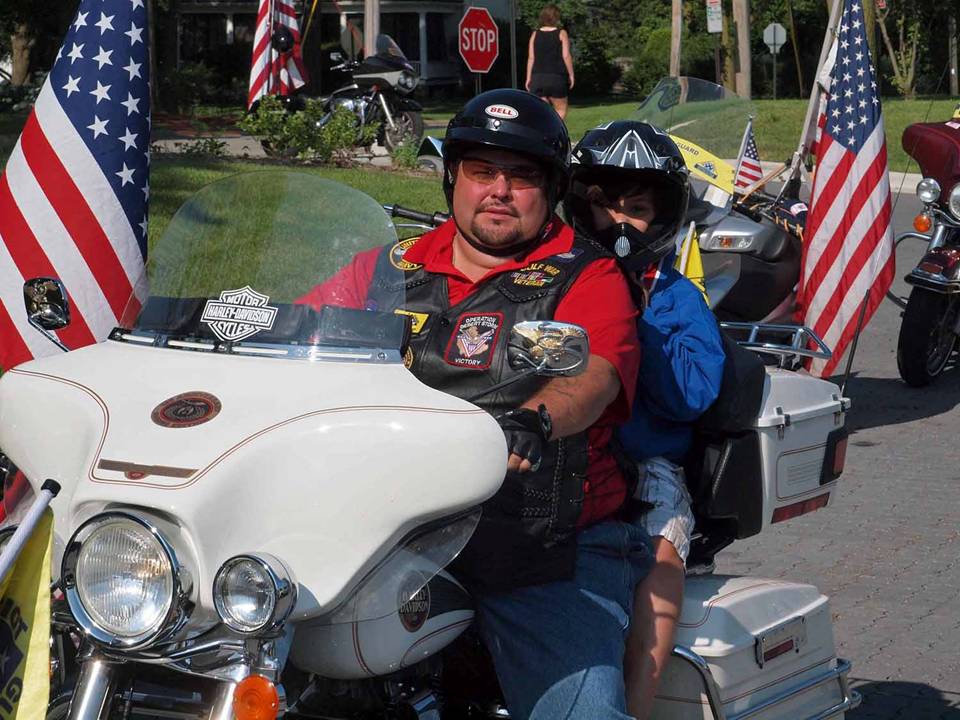 <![endif]>
Here, young Gunnar stands with his father as they prepare for the funeral of another father.
<![if !vml]>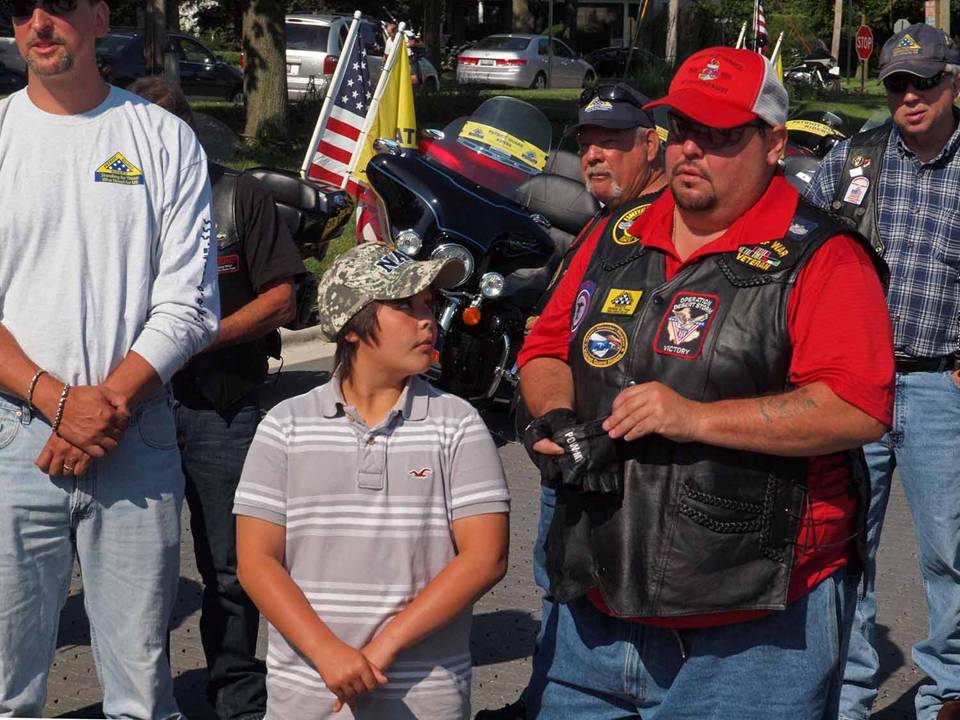 <![endif]>
So we formed another corridor, this time at the entrance of a beautiful church.
<![if !vml]>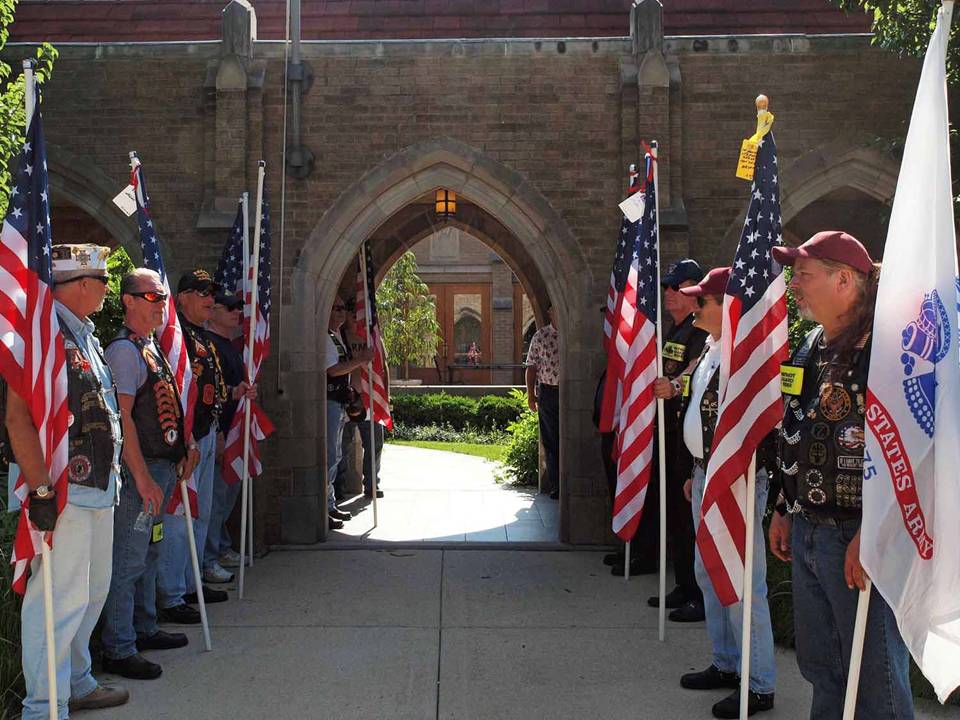 <![endif]>
The Mayor of Naperville.
<![if !vml]>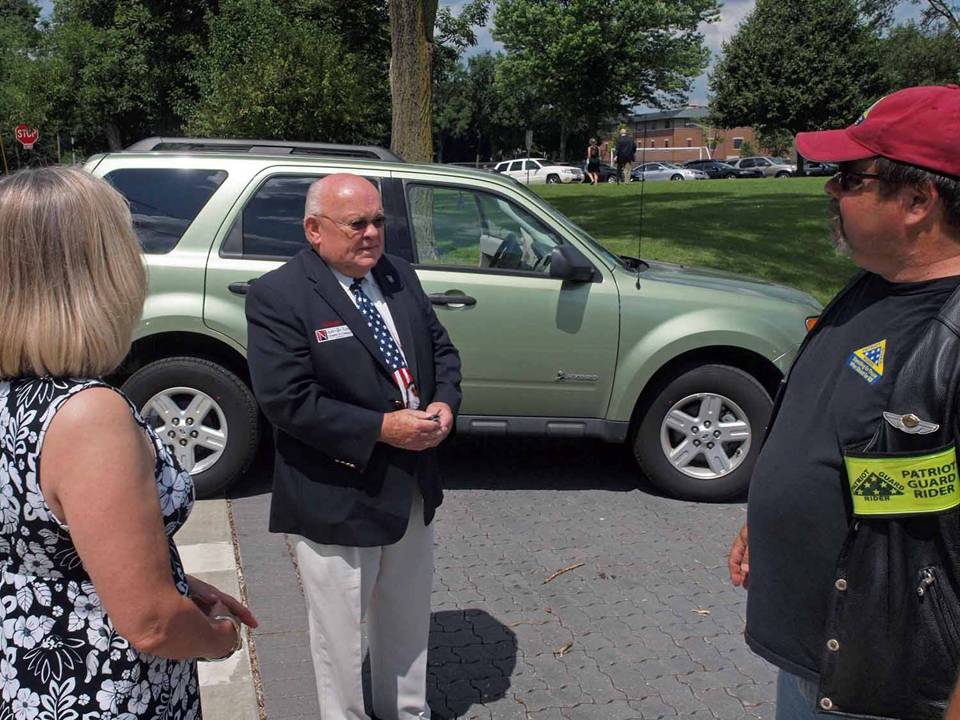 <![endif]>
The Governor of Illinois.
<![if !vml]>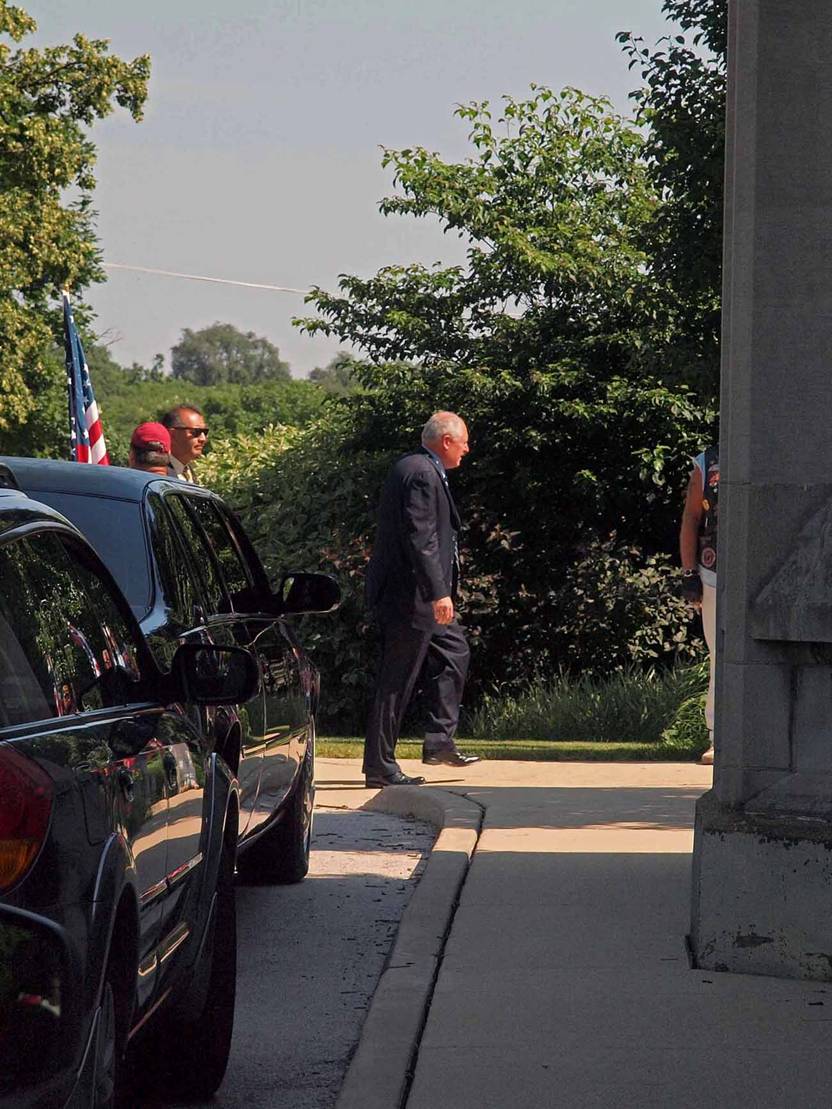 <![endif]>
Also attending were U.S. Rep. Judy Biggert, R-Hinsdale, state Sen. Kirk Dillard, R-Hinsdale, and U.S. Sen. Richard Durbin.
And once the guests were all inside, we waited.
<![if !vml]>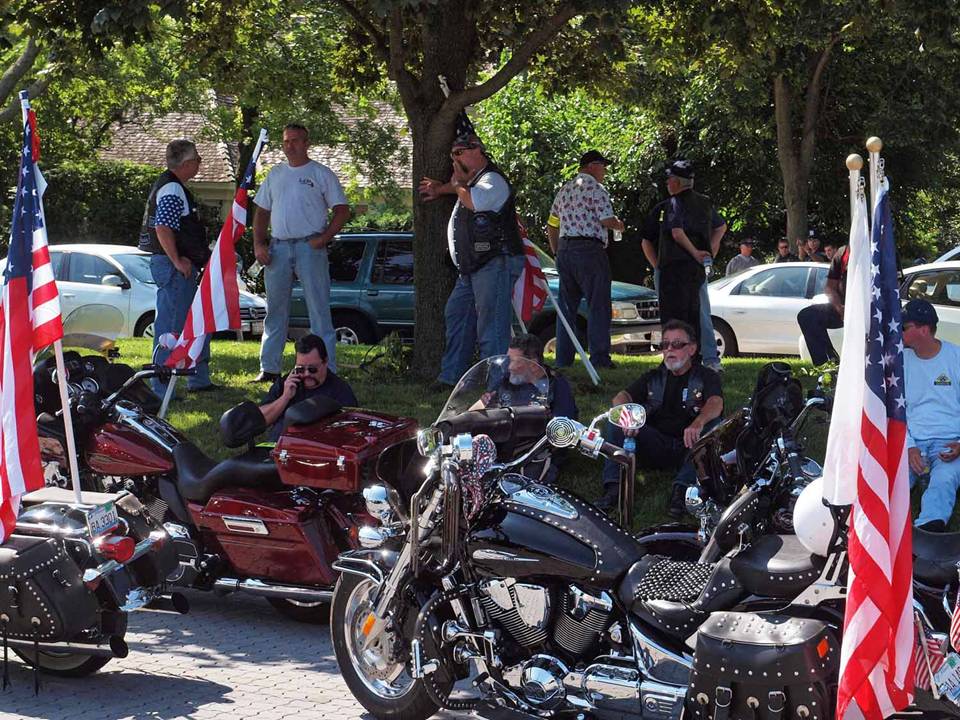 <![endif]>
When the guests were to come back outside, we returned.
<![if !vml]>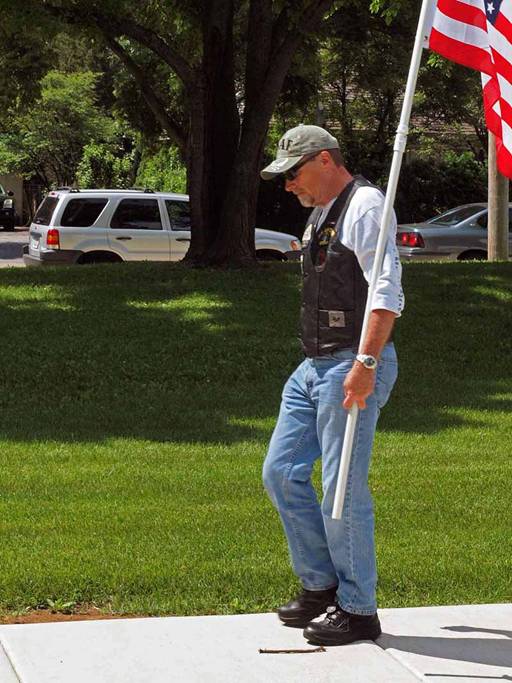 <![endif]><![if !vml]>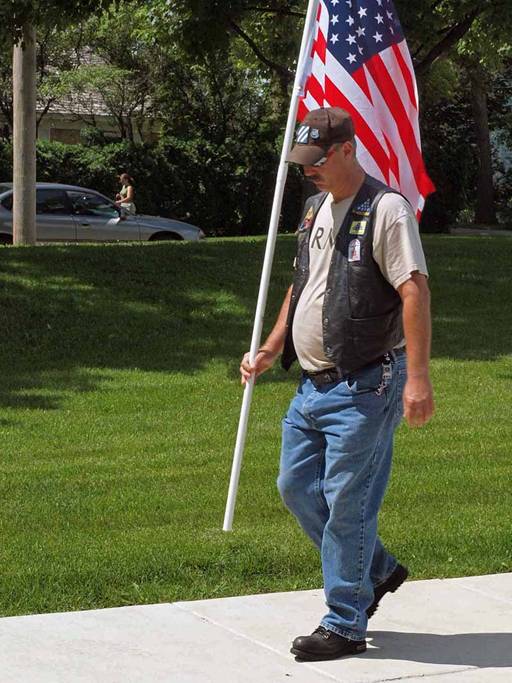 <![endif]><![if !vml]>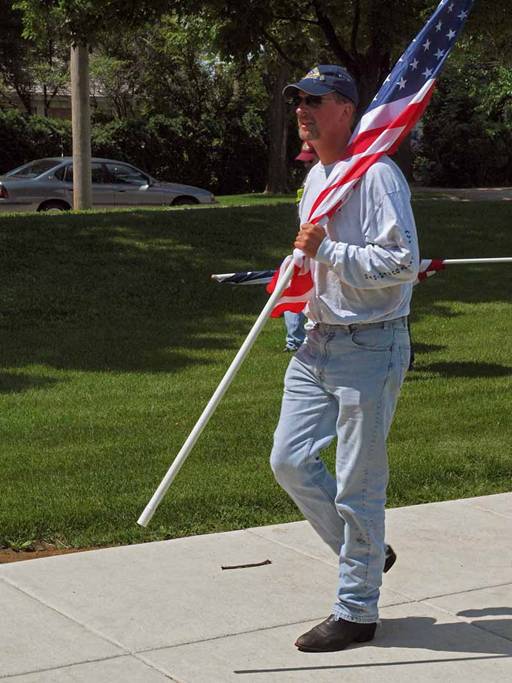 <![endif]><![if !vml]>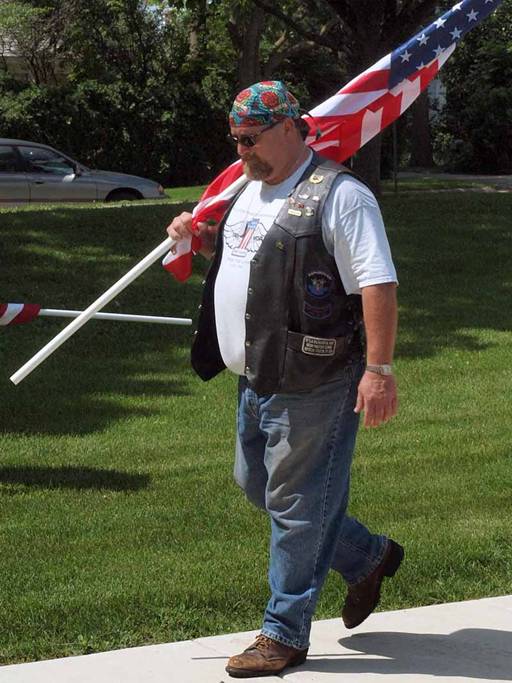 <![endif]><![if !vml]>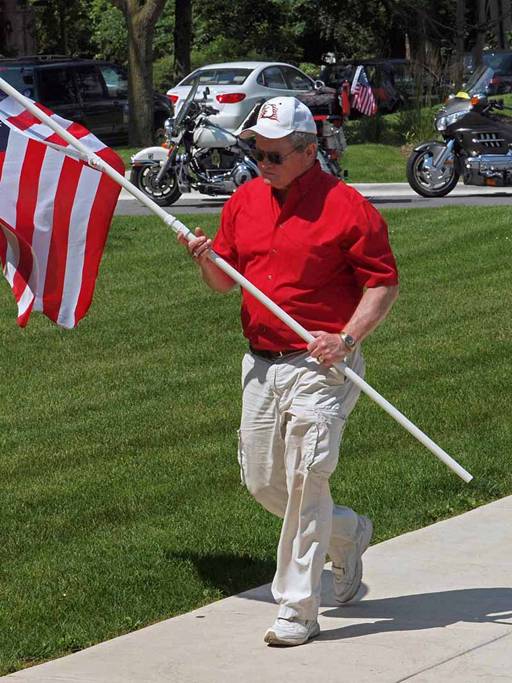 <![endif]><![if !vml]>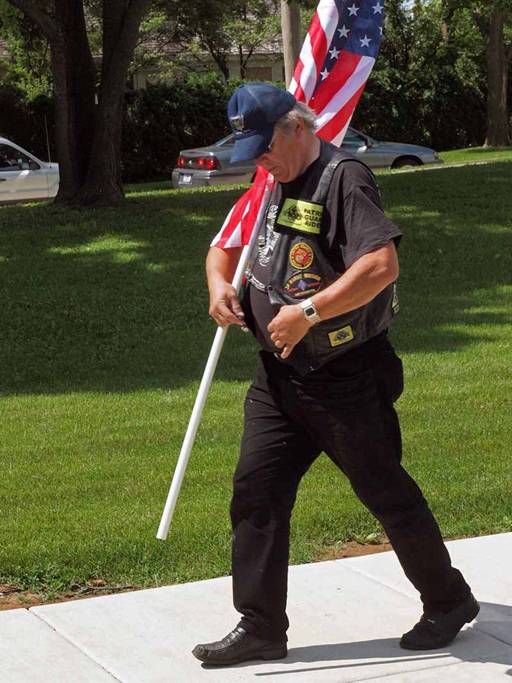 <![endif]><![if !vml]>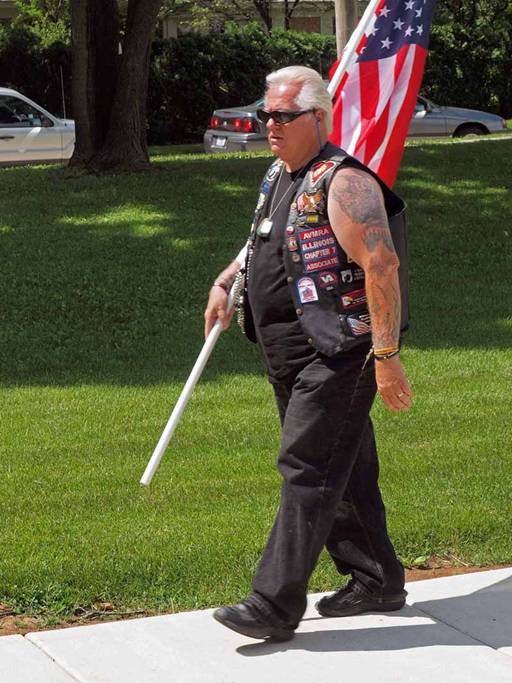 <![endif]><![if !vml]>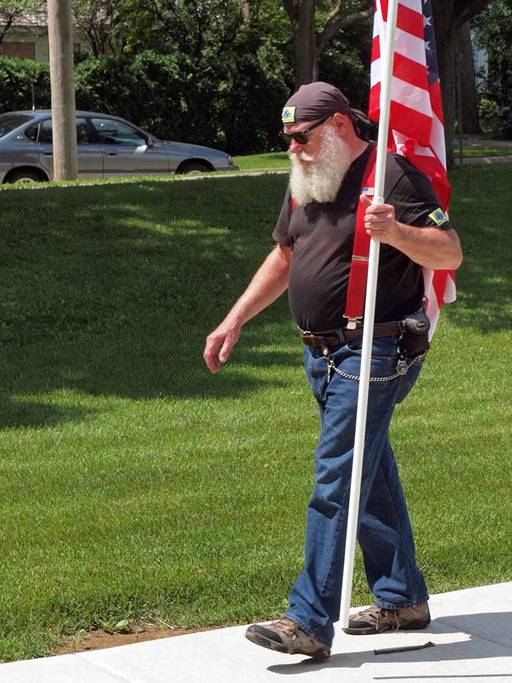 <![endif]><![if !vml]>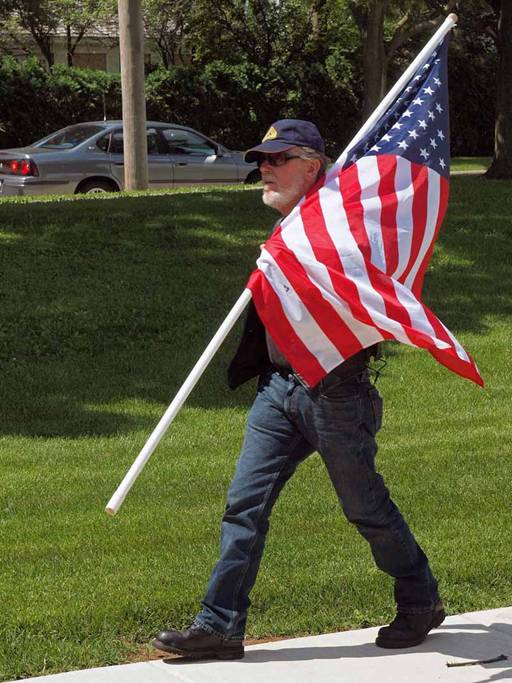 <![endif]><![if !vml]>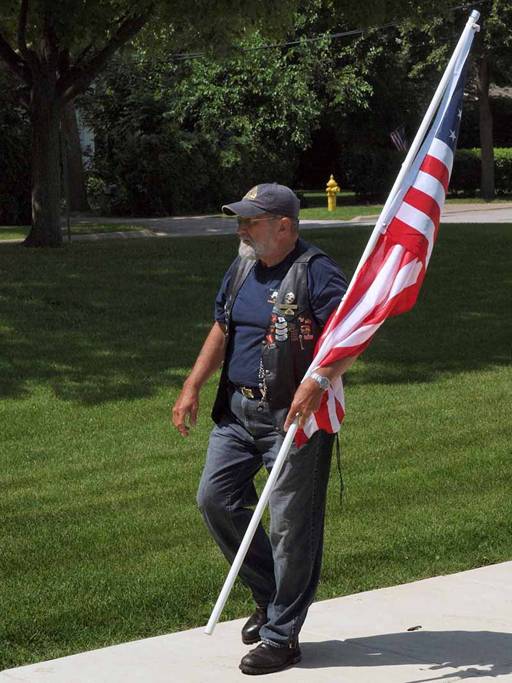 <![endif]>
Including young Gunnar and father.
<![if !vml]>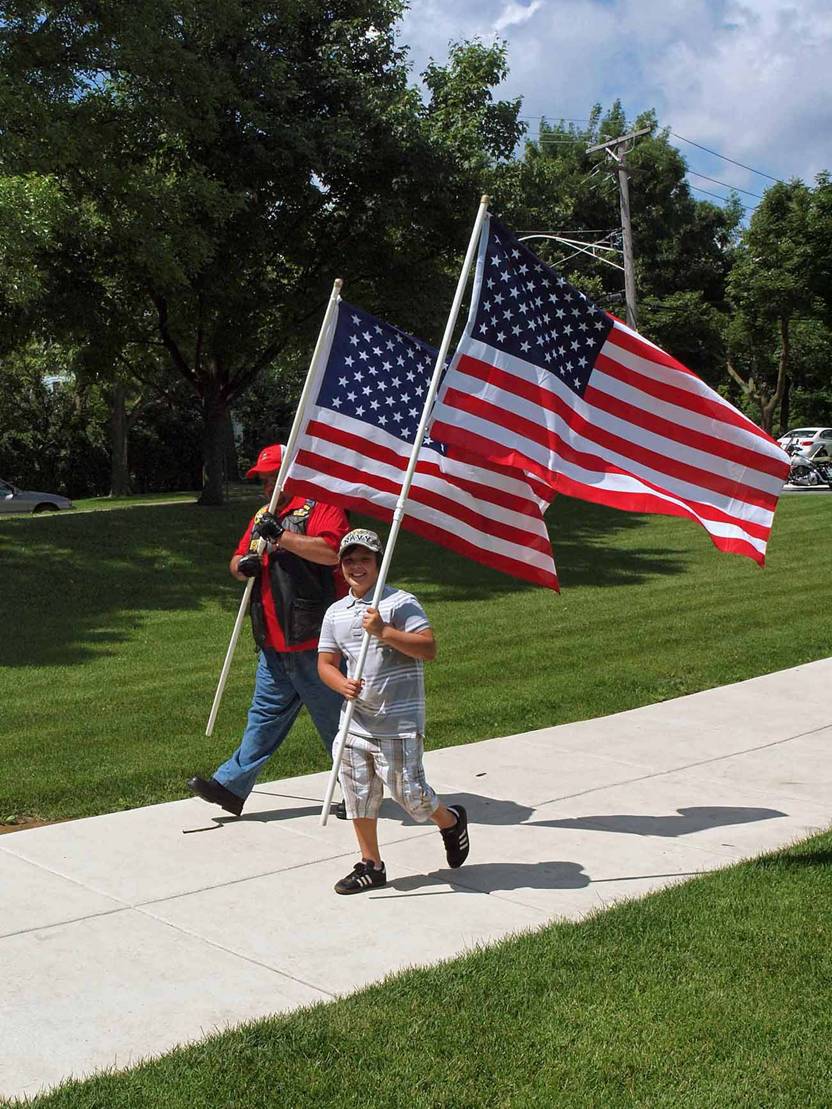 <![endif]>
<![if !vml]>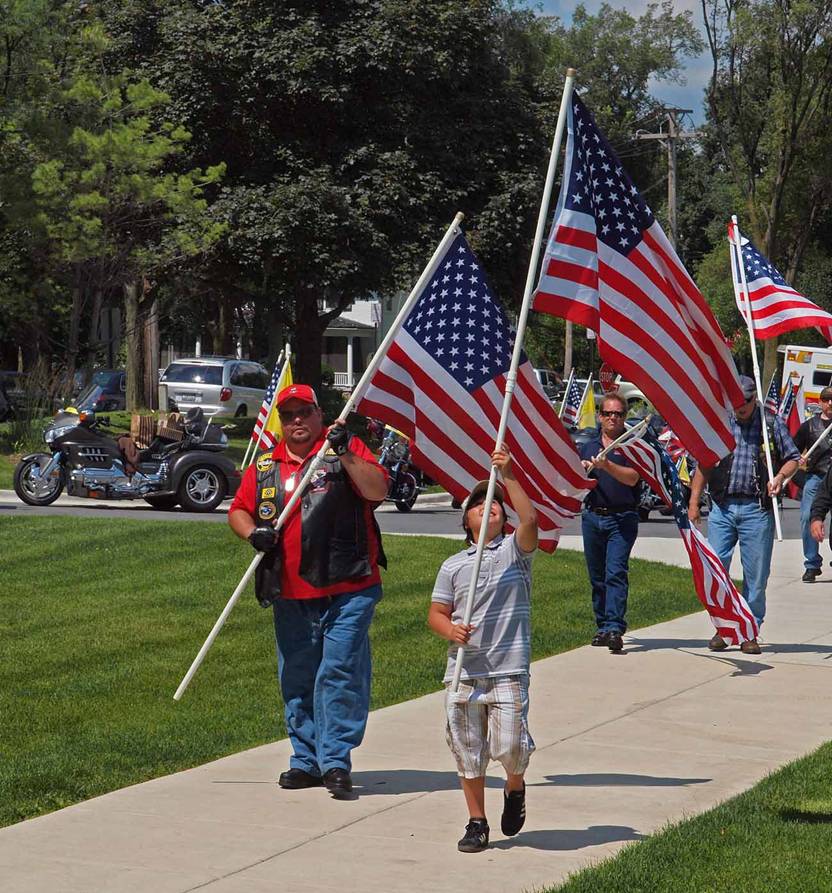 <![endif]>
<![if !vml]>

<![endif]>
Mrs. Maureen Greene did not attend the service either.  Also like us, she brought a flag to hold.  She was part of the community and simply wanted to show support for the brave soldier and gratitude for his sacrifice.  That is what she said when NBC interviewed her.
<![if !vml]>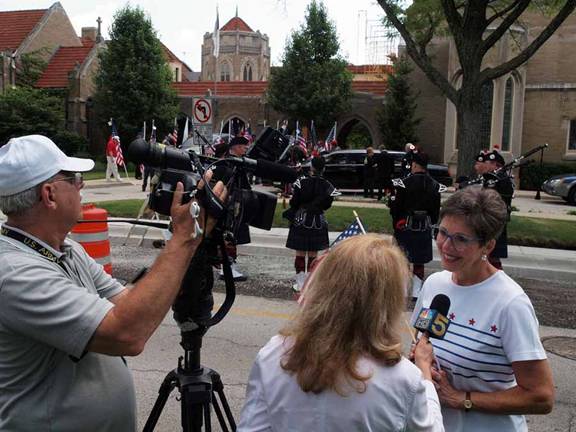 <![endif]>
She smiled as she reflected on the great service of a fine soldier.
<![if !vml]>
<![endif]>
Then she (and channel 5's Zoraida Sambolin) were filled with pensive anticipation as the soldier was to be carried from the church.
<![if !vml]>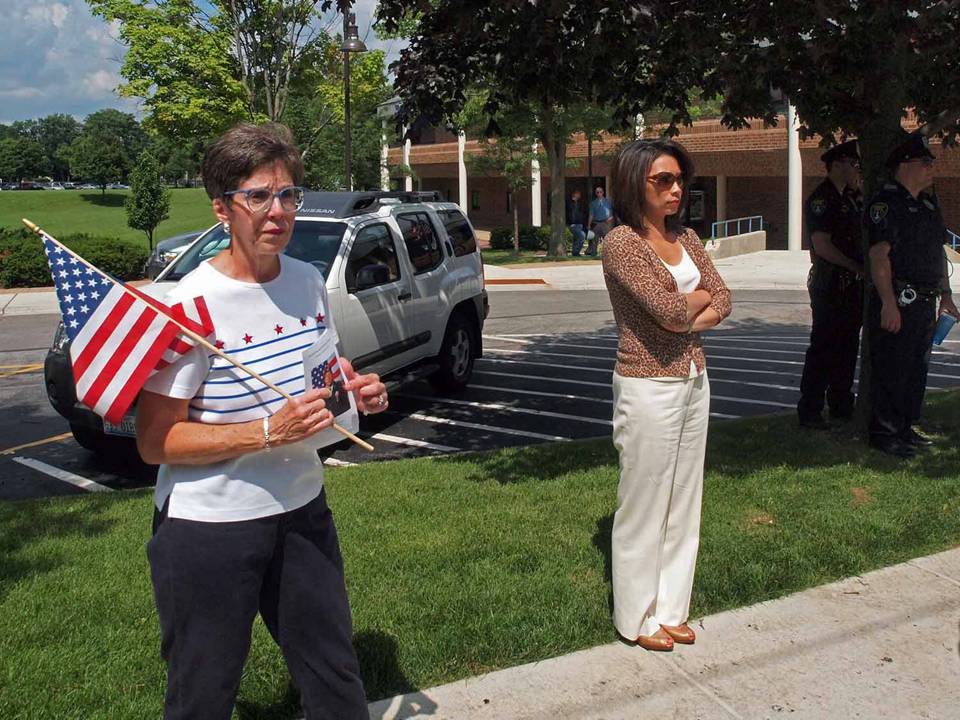 <![endif]>
Bev Horne of the Daily Herald set her focus on the flag.
(photo removed by request of Daily Herald)
Rob Hart of the Sun-Times set his focus on the hearse.
<![if !vml]>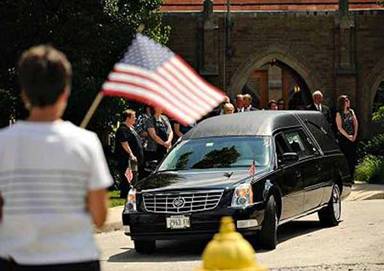 <![endif]>
Sarah Minor of the Naperville-Reporter took a different angle.
<![if !vml]>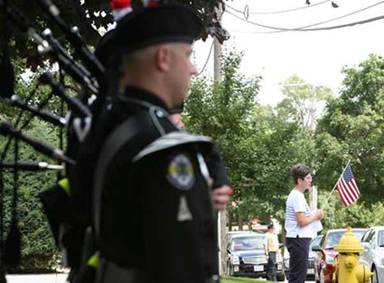 <![endif]>
There were several of us.
<![if !vml]>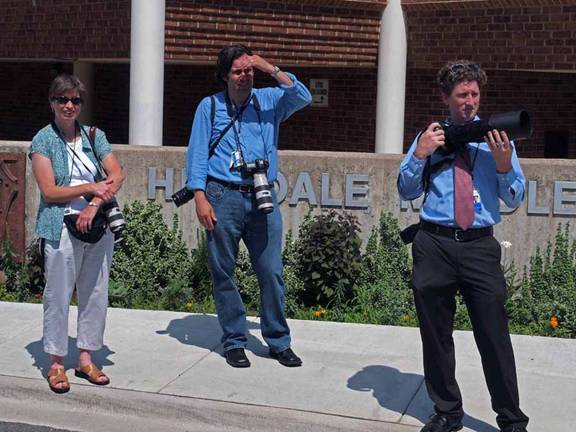 <![endif]>
This time I was across the street with the paparazzi to see what they could see.  The family had requested privacy, so I didn't expect to see much.
We formed a corridor one last time and Gunnar the soldier was placed in the hearse to the wail of bagpipes.
<![if !vml]>
<![endif]>
And then Governor Quinn escorted the family past young Gunnar and on to their cars.
<![if !vml]>
<![endif]>
Then we led the hearse to the cemetery.
<![if !vml]>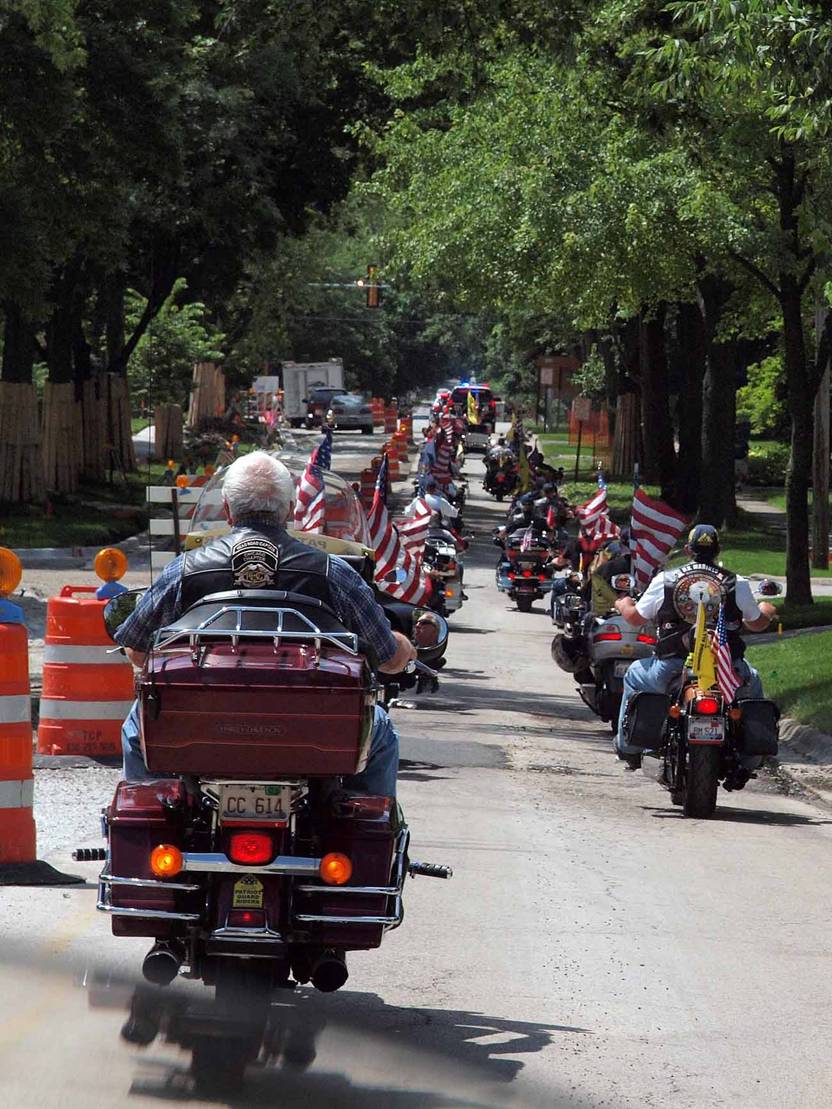 <![endif]>
Cars in both directions stopped, as they had on the Interstate the previous day.
<![if !vml]>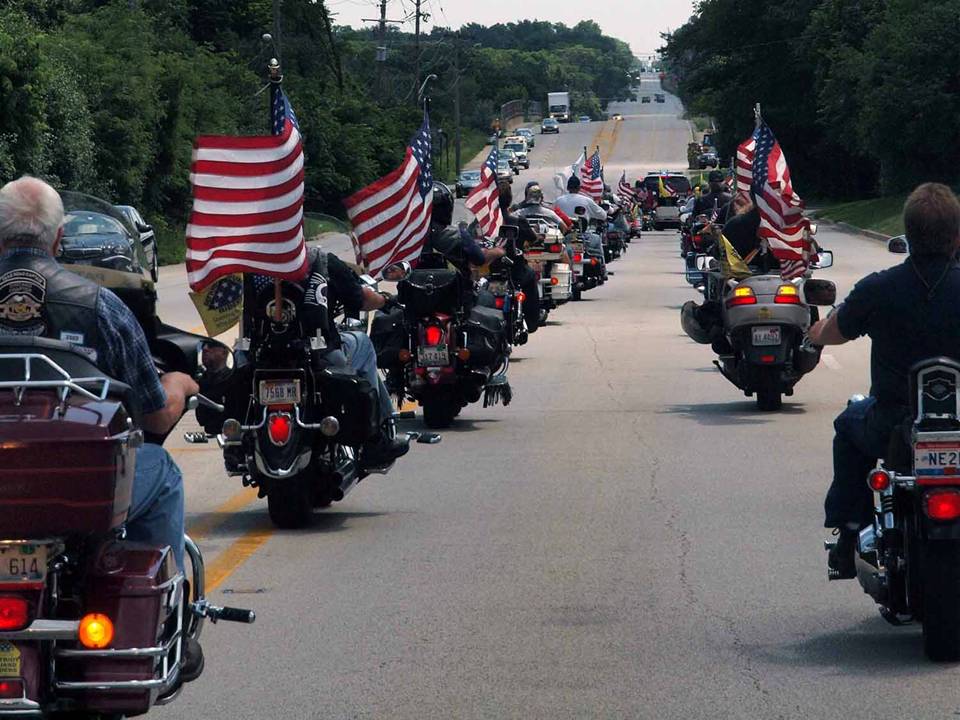 <![endif]>
And again, many firefighters lined our route.
<![if !vml]>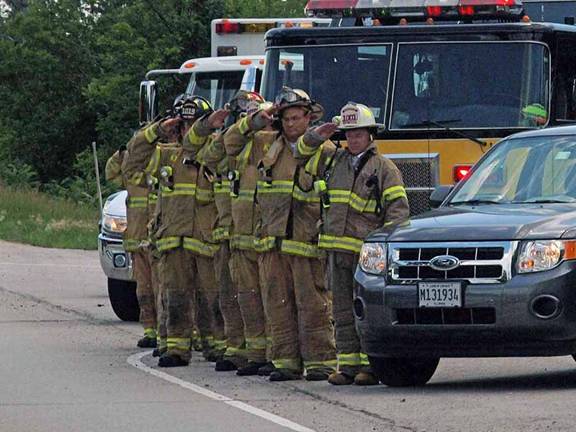 <![endif]><![if !vml]>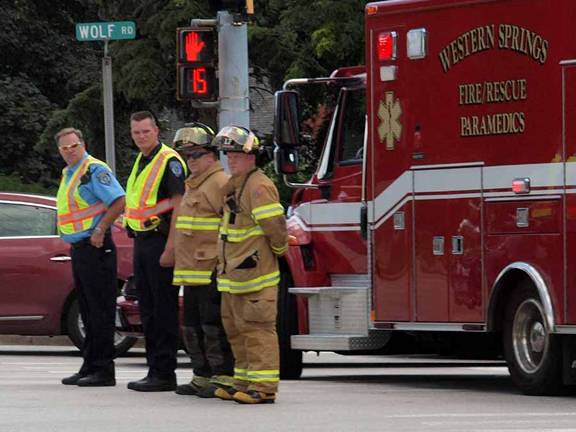 <![endif]><![if !vml]>
<![endif]><![if !vml]>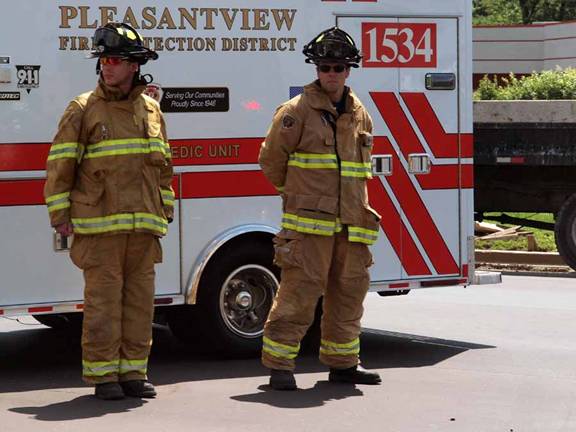 <![endif]><![if !vml]>
<![endif]><![if !vml]>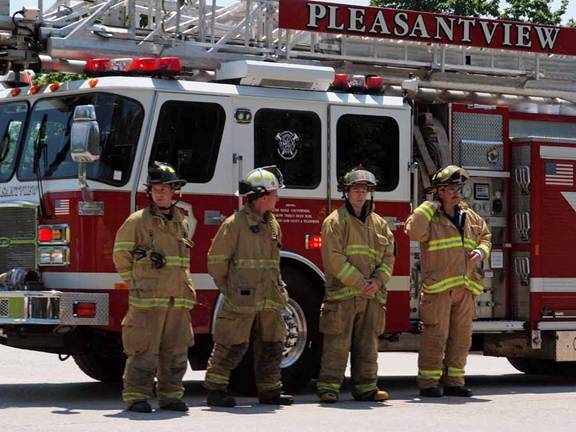 <![endif]><![if !vml]>
<![endif]><![if !vml]>
<![endif]><![if !vml]>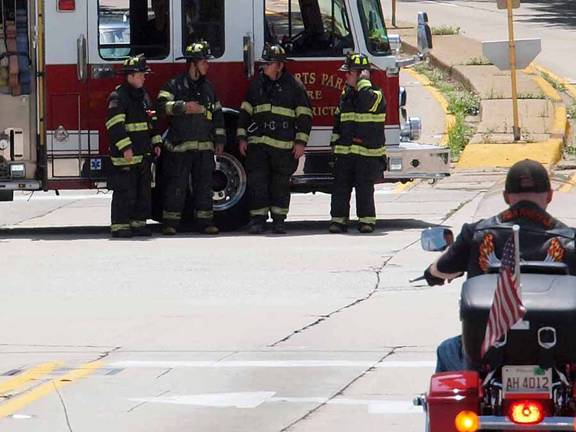 <![endif]>
As did more representatives of the community.  They discovered the route, they found their flags and they waited for us to pass.  Just because.
<![if !vml]>
<![endif]>
We marched in, past the soldiers.
<![if !vml]>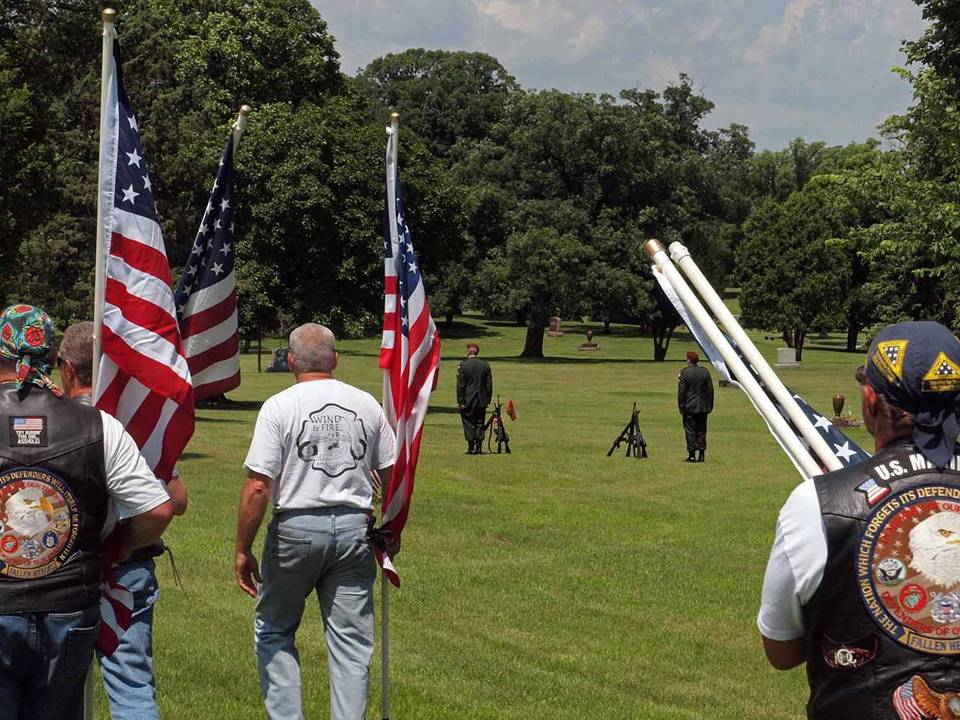 <![endif]>
We surrounded the gravesite with our colors and held our places through the religious and military ceremonies.
<![if !vml]>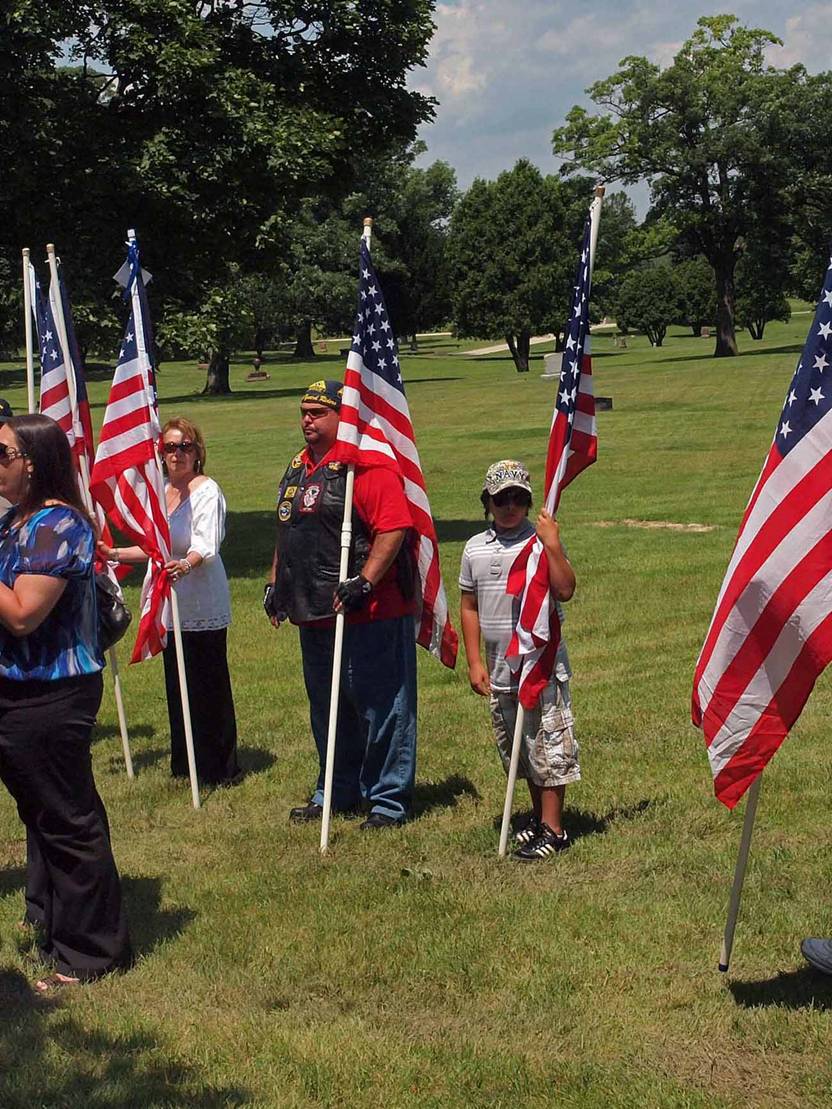 <![endif]>
And then we marched out.
<![if !vml]>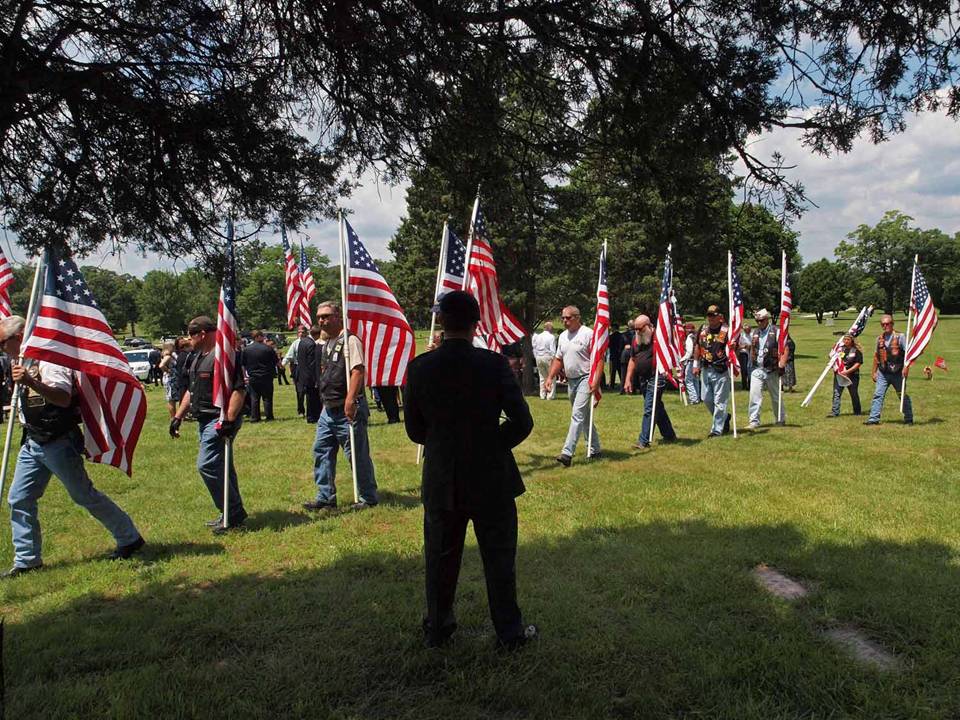 <![endif]>
These are a few of the soldiers who honored Gunnar.
<![if !vml]>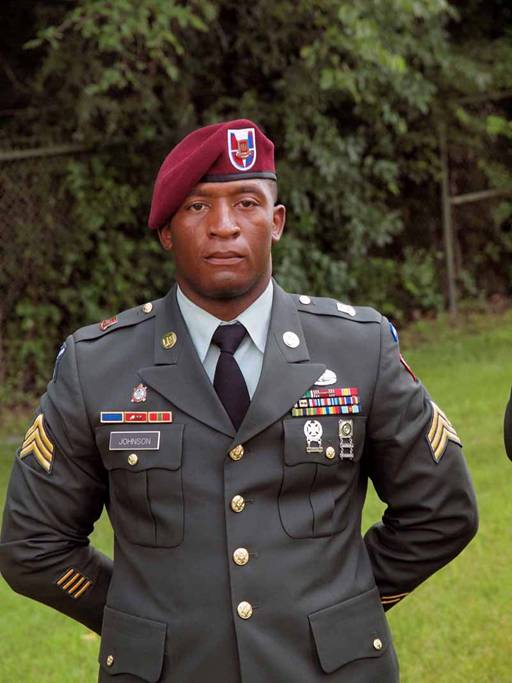 <![endif]><![if !vml]>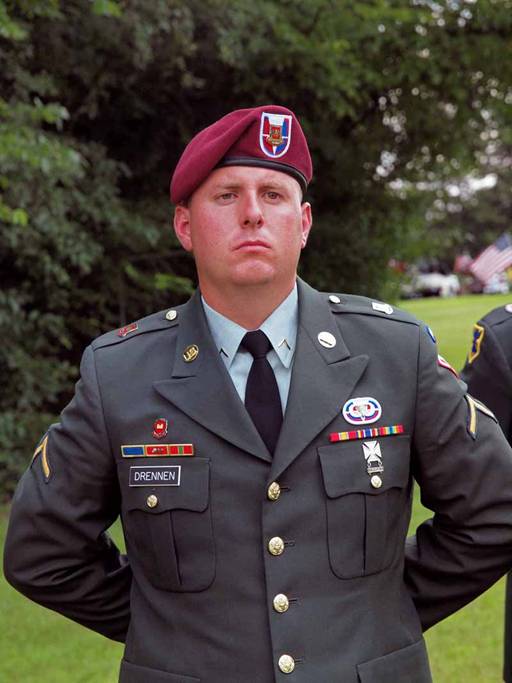 <![endif]><![if !vml]>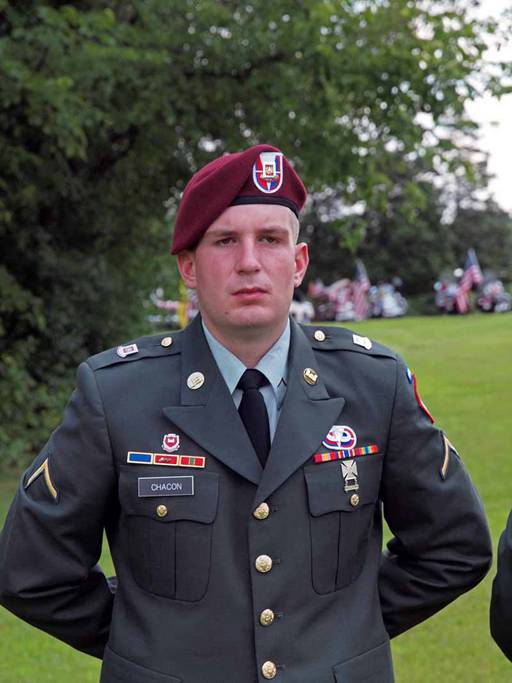 <![endif]>
This is the Command Sergeant Major.
<![if !vml]>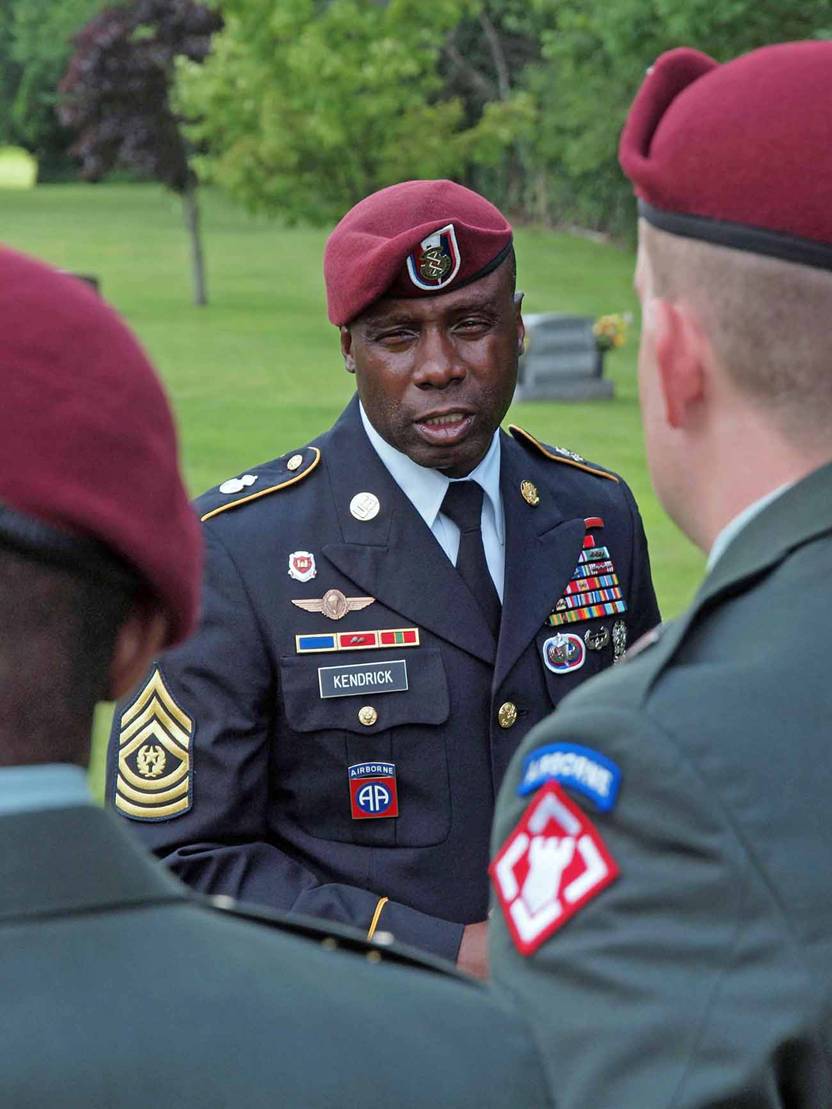 <![endif]>
And this is LTG Frank Helmick, Commander of XVIII Airborne Corps, who delivered the folded flags to the family.  The 3rd Infantry Division, the 10th Mountain Division, the All Americans of the 82nd Airborne Division, the Screaming Eagles of the 101st Airborne Division and Fort Bragg all belong to him.
During the Civil War, we could barely manage to bury our fallen were they fell.  Eighty years later, World War II resulted in 200 thousand American warriors MIA/POW of which only 120 thousand have returned home.
Today, a single Private soldier dies on the battlefield and a Lieutenant General attends his funeral.  How far we have come.
<![if !vml]>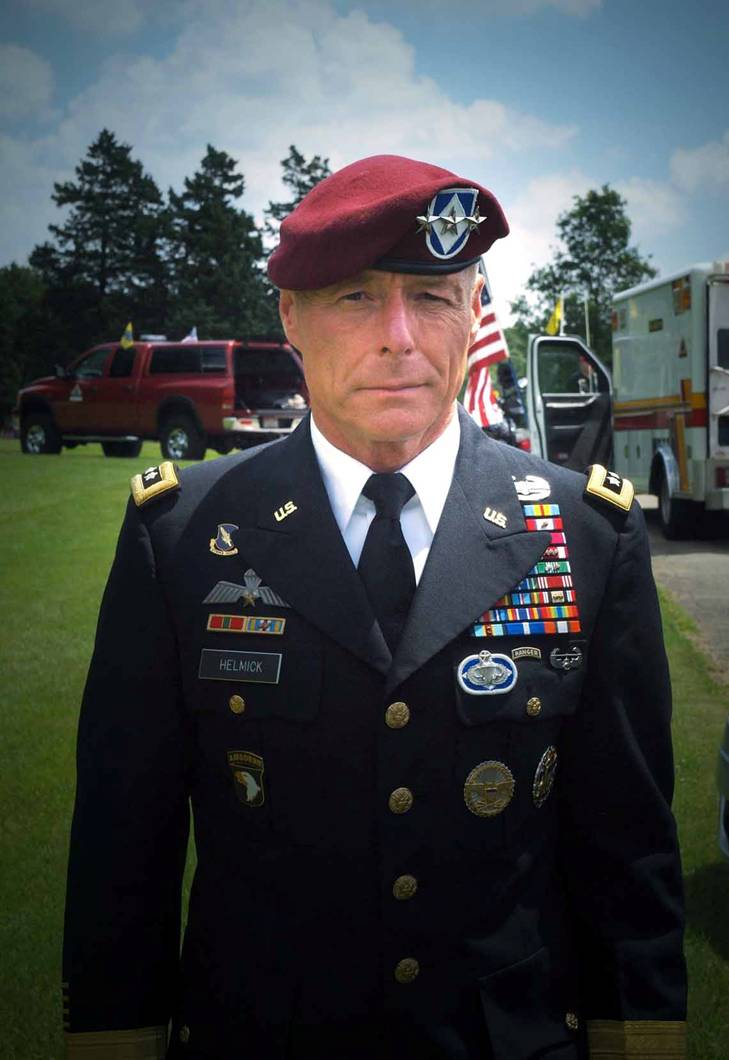 <![endif]>
According to the newspaper:  Helmick said Hotchkin set himself apart from the average soldier, and he proudly wore the maroon beret and wings that set a paratrooper's uniform apart from those of other soldiers'.  "Today, Gunnar has a different set of wings," Helmick said.
But the last soldier to leave the cemetery was a Staff Sergeant named Fabian Tumbaco.  He was in the plane that landed at the Midway armory.  He traveled with Gunnar to the funeral home, to the church and to the cemetery.  The service had ended and the guests had left, but the casket had not yet been lowered into the vault.    So Fabian remained at graveside.  He would stay with Gunnar until Gunnar was at rest.
<![if !vml]>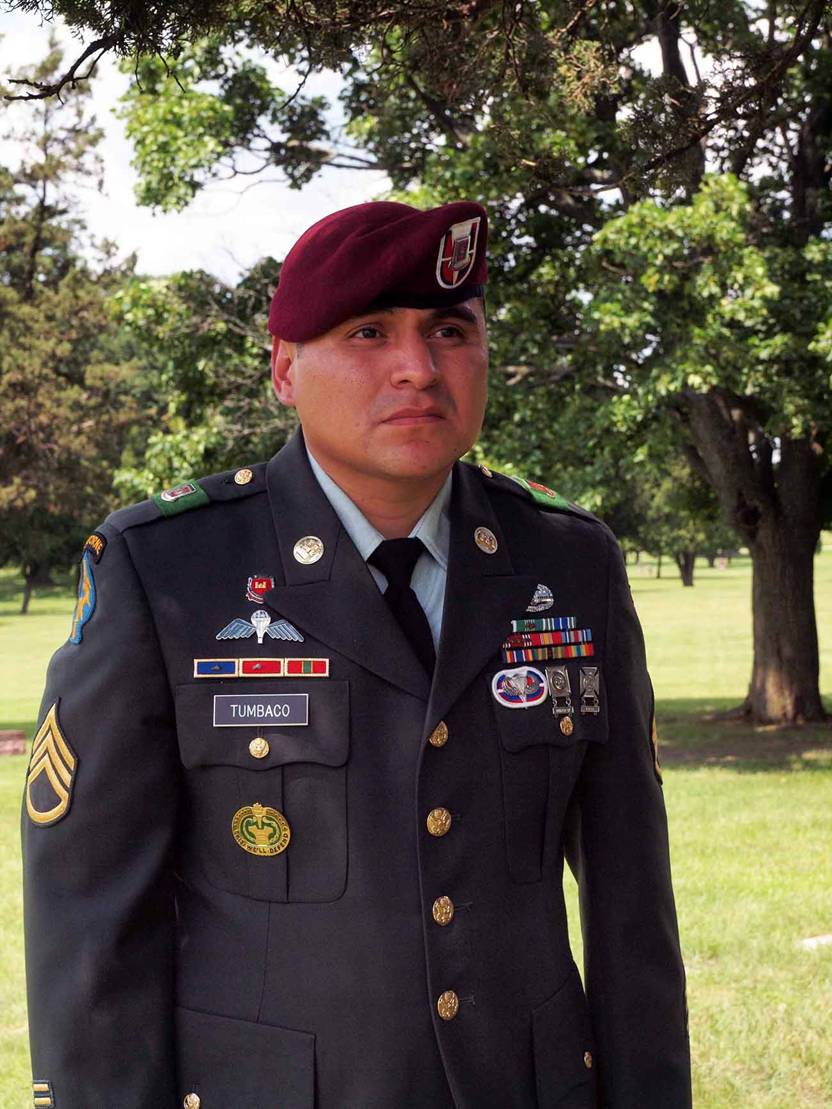 <![endif]>
Because honoring our fallen is part of the promise we make to them when they volunteer to face evil for us.
<![if !vml]>
<![endif]>
I began this page with a letter written by Gunnar's mother, and I close with one written by his brother.  It was written to Dave & Brenda, shown above.  He writes, "so you therefore consider this to simply be your honor. But I still feel I personally owe you guys something".
Stamp this one "Paid in Full".
    Hello,

This is Kurt, Gunnar's younger brother. I just wanted to tell you how appreciative I am of you and the Patriot Guard Riders. I had heard of your services, mostly on the news concerning those awful protesters. But I'm sorry to say I was completely mistaken about what you guys really do, which is so much more than protection. You protect the dignity of what has been the most solemn of events throughout history: the burial of a young soldier (how anyone could be dumb enough to desecrate such a thing with protests is beyond me). But more than that, you add to it. The tribute you guys paid to my brother was the greatest tribute to anyone I have ever seen.

Seeing my brother's casket be flown in and loaded into a hearse was the worst moment of my life, and may forever be that way. I weep thinking about it. It may have been the only thing I'd remember of that day, if it weren't for you guys. But I remember the ride afterwards. I'll remember it with pride for the rest of my life. You and your wife had described it to me in person, but it still took me completely and utterly by surprise to see it. Your bikes flying the red, white, and blue. The salutes of countless servicemen at every intersection. The I-55, usually packed with the traffic of people going abut their mundane business, made clear for my brother.

You guys stuck with my brother and my family every step of the way with more patience and respect than anyone. I could not have imagined it. I know you guys are mostly all veterans - and may I thank you for that - so you therefore consider this to simply be your honor. But I still feel I personally owe you guys something, which I promise to pay. I am inspired by what you guys do. It has made a very certain change in the way I see things.

Sincerely,
Kurt Hotchkin
From: Boyd, William
Sent: Tuesday, July 20, 2010 10:49 AM
To: Russ, Don
Subject: Flag kissing.
Don,
I first wanted to thank you for all that you do in chronicling the PGR missions with your camera and your words. I was at the Christopher Antonik wake Sunday night with you. I did not see the man kiss the flag because I was facing you but I did see your reaction. I wanted to share with you a similar experience that I had while standing the flag line at Gunnar Hotchkin's wake.
Tricia and I were standing the flag line in silent thought with many other PGR members at Gunners wake in Hinsdale. I know the impact that the PGR organization has on the families of our soldier's especially the RC's and members like you who do more than just stand and hold a flag. I often think if I were not here someone else would be and that my singular presence does not have a big impact. This must have been the last night of the wake because at the end of the evening all PGR members where invited in to pay their respects and witness the presentation. For personal reasons I usually choose not to go in to the visitation and I also believe that someone should still be standing the flag line outside so myself and another woman stayed outside flanking the doors to the funeral home. After a few moments an elderly woman came out muttering and sobbing in a heavy accent "31 so young, so young, how terrible". She engaged in a conversation with the two of us explaining she did not know the family but lived in the neighborhood and upon seeing the flags had to inquire about what was going on. She then went home changed into nicer clothes and came back to pay her respects. She went on to tell us that she was a young girl living in Eastern Europe during WWII and was able to escape to America to avoid the German persecution. She continued to express her concern for the world and how terrible war and the consequences of war have on these families. Before she turned to walk away back to her home still muttering "31 so young, so young, how terrible" she came over to each of us grabbing the flag and gave it a kiss. I then knew it was important for me to be there that night holding that flag. A little girl from Eastern Europe had taught a middle aged man from Bolingbrook how privileged we are to be an American.
Thanks again for all that you do.
See you down the road,
Bill Boyd
Three photo albums:              Visitation
back to ALL MISSSIONS
<![if !vml]>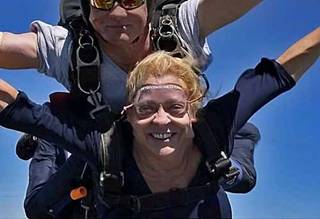 <![endif]>