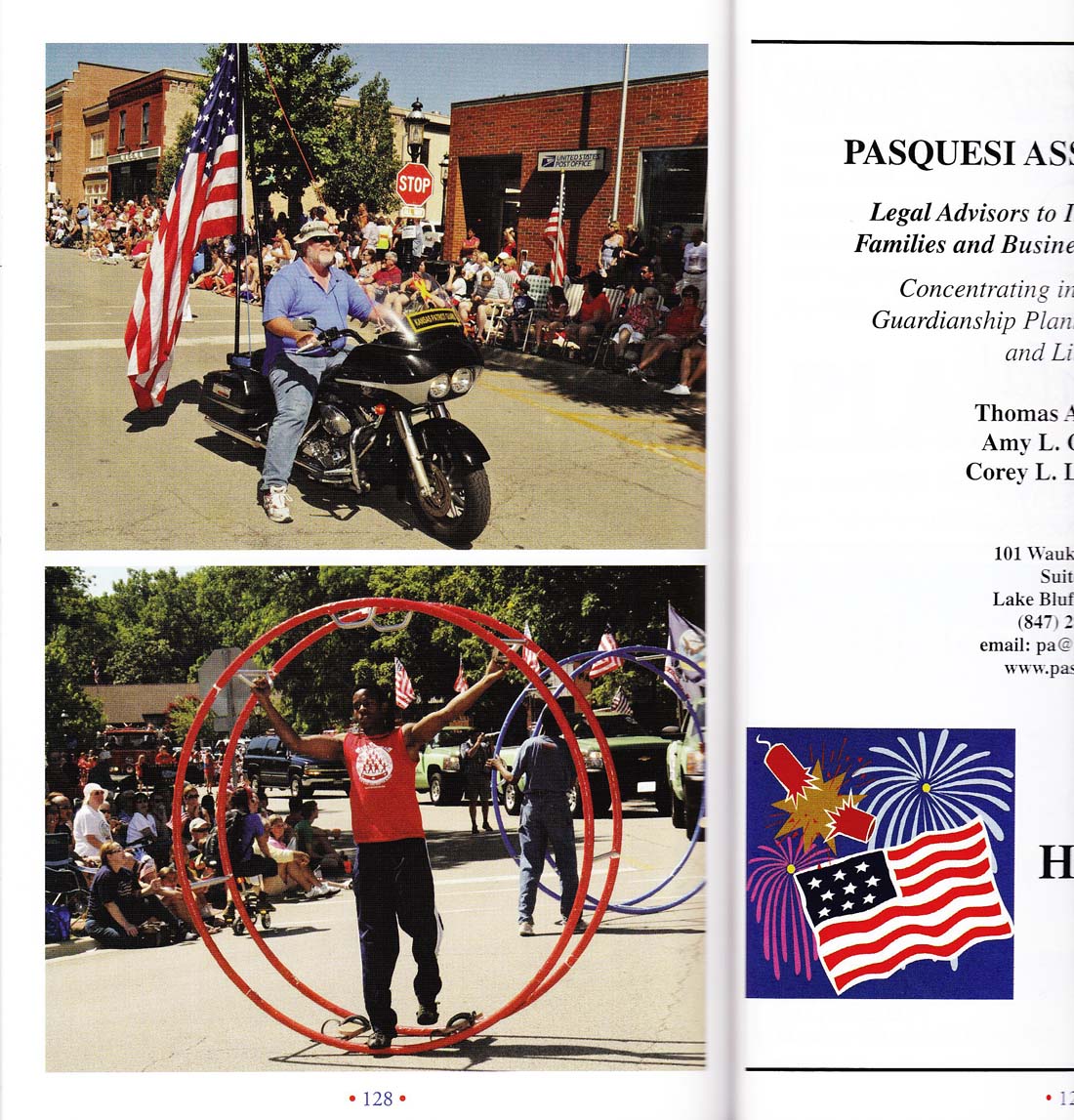 One of the biggest community events in Lake Bluff is that Fourth of July Parade. The Parade Committee finances it by selling advertising in their "parade book" which also includes a few pages of photos from the parade of the previous year. Last year I rode in the parade with the Cub Scouts and the top half of page 128 features my participation, shown above.
Shown below is the statewide email I received this evening, 6/25:
Special Event

4th of July Parade
Lake Bluff, IL
04 JUL 12


The Illinois Patriot Guard has been invited to participate in the 4th of July Parade in Lake Bluff, Illinois. This celebration by the city of Lake Bluff has been on-going since 1911.

This is a motorcycle only event. Parade organizers have recognized the difficulty of heavy motorcycles operating at slow speeds in outdoor conditions and have assigned the IPG a position of 15 in a field of over 100 entrants. Please consider the demands placed on your bike and your body when deciding to participate.

The Parade kicks off at 1000 hours.

All liked minded groups are invited to participate. Staging will be done at the designated parade check-in location. ARRIVE EARLY. See additional information below.

The parade check-in opens at 7 am.

Staging: ON OR BEFORE 830 am
Briefing: 915 am
Line up: upon arrival

PLEASE READ THE FOLLOWING INFORMATION
Here is the link to the parade: http://lb4july.org/
Directions to parade: http://lb4july.org/docs/directions.pdf
Map of Parade: http://lb4july.org/docs/map.pdf
Schedule of Events: http://lb4july.org/docs/scheduleOfEvents.pdf

Ride Captain
Al Oller
Cell (847) 436-3669
aloller@hotmail.com
My sister is part of the group that organizes the Lake Bluff parade each Independence Day. She signed us up as a "community group" so we didn't have to pay an entry fee. There were 117 entries this year.
We all arrived in plenty of time, which was helpful because the streets become crowded as the hour of the parade approaches. Several of us had the pancakes that are provided by the Kiwanis each year.
Our youngest, Gage, was recognized by Ride Captain Al Oller with a "mission accomplished" pin.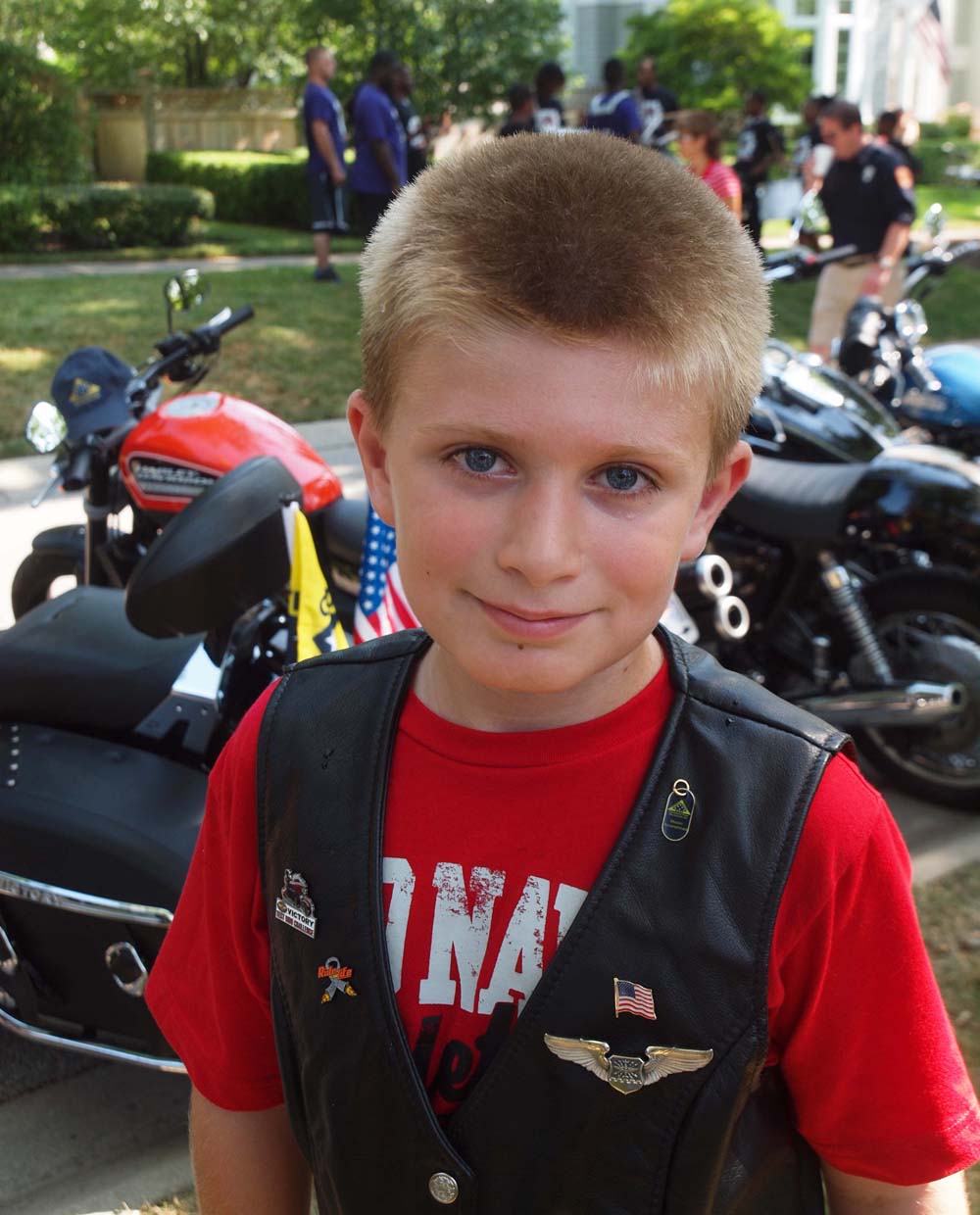 When the time came we moved the first block to the reviewing stand. The announcer had a script that we had submitted and we all knew what to do.
Our two columns reformed as four in front of the Reviewing Officer, Rear Admiral Sandra Adams. We stopped our engines and the RC dismounted.
"The Riders today wish to show respect and gratitude for all of America's warriors by offering a salute ..."
Al and Admiral Adams exchanged salutes.
"The Riders also wish to honor the one American warrior who remains a prisoner of the enemy. Sergeant Bowe Bergdahl of Idaho was captured by the Taliban on June 30th – three long years ago.
"
I had talked to Admiral Adams to give her a heads-up, but I was not able to talk to Joanna Rolek, the announcer. Nonetheless, she did a perfect job of reading that important line. Al faced east, his back to the reviewing stand, and saluted Bowe.
"Until they all come home, the Illinois Patriot Guard will continue to stand for America's heroes.
"
I recognized several of us from Warriors Watch missions who I had never before seen at PGR missions, so I regreted the narrowness of our script.
Our 90 seconds at the reviewing stand begins at minute 42 in this video.
The RC had assigned me a place at the head, so I promptly stated my bike and began to move when I recognized that the script had finished. Our short ceremony had created a gap between us and the entry ahead of us, but we moved no faster than parade speed down the main road past the crowds. My wife got photos of us coming and going.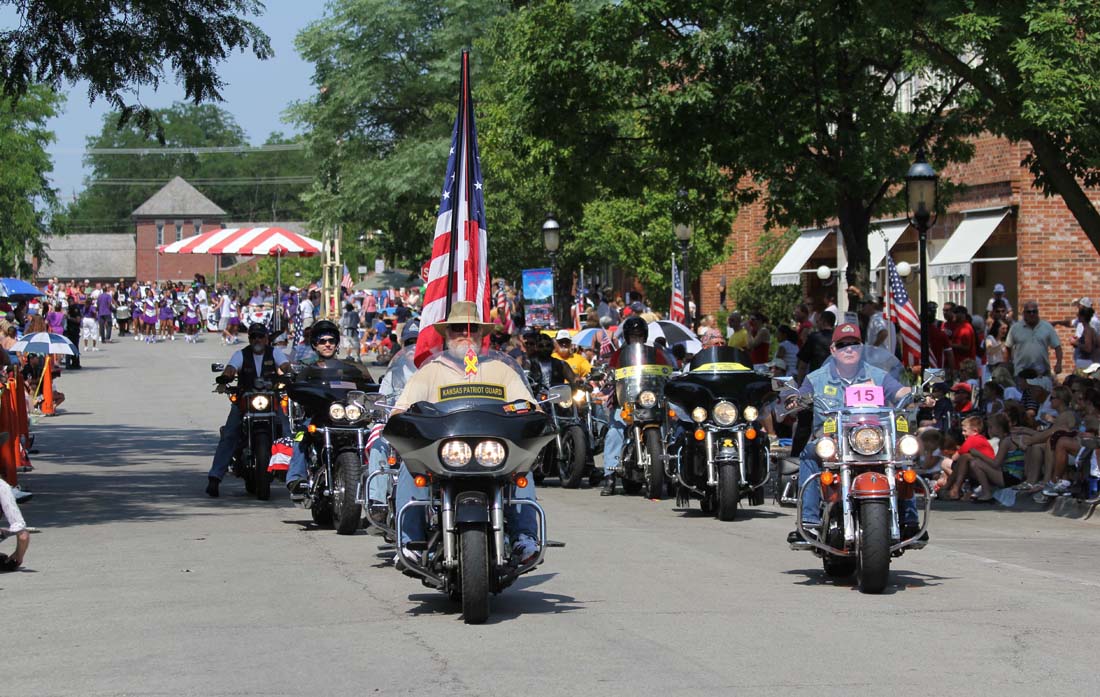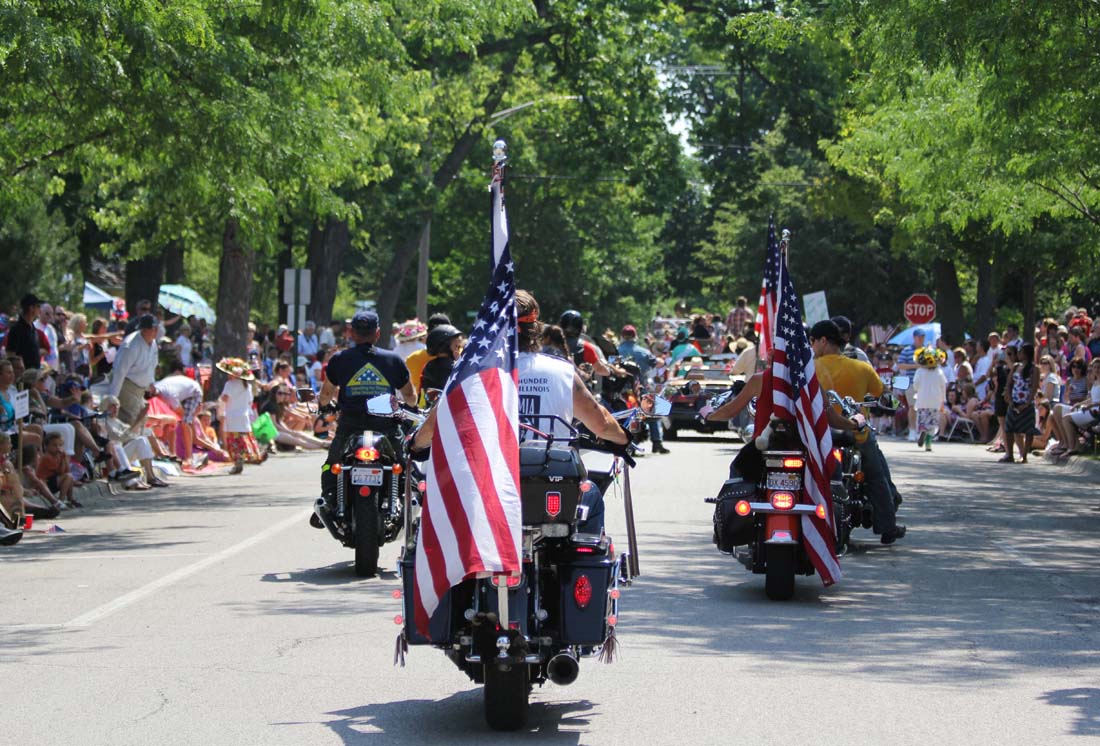 I kept my eyes forward and focused on speed and decorum but I heard the crowd reaction. Apparently the judges appreciated our performance too since we took second place in the competitive "community" category.
Moving slower that first-gear stall speed through triple-digit temperatures on an air-cooled bike means two things: A fatigued clutching hand and toasted legs. We could manage the clutches but there was little to do about the engine heat.
So I was pleased when one spectators near the end of the parade route was spraying parade marchers with his garden hose. I allowed him to spray me and then I pointed to the engine and he obliged.
Not my best idea. A big cloud of steam billowed up and engulfed me. I suppose it did the engine some good, but it sure didn't do any good for me.
photos: http://good-times.webshots.com/album/583065274TNtypj
back to ALL MISSIONS