The Antoniks had come home from church Sunday and were getting ready to go out to eat when the doorbell rang.
Three men were there to tell them that their son had been killed while serving in Afghanistan.
Staff Sgt. Christopher J. Antonik, 29, died while supporting combat operations in Helmand province, Afghanistan, long considered a Taliban stronghold. He was part of Operation Enduring Freedom.
Antonik's paternal grandmother, Florence, had been with her son and daughter-in-law when they were notified.
"My son had gone to open the door, and there stood three men in their uniforms and medals," she said. "They said they wanted to see his mother, too, and John called his wife to come down. It was just a shock."
Antonik was assigned to 1st Marine Special Operations Battalion, U.S. Marine Corps Forces Special Operations Command at Camp Pendleton in California. He and his wife, Erin, whom he married in December, shared an apartment in California.
"We just cried and cried," Antonik's grandmother said. "It was a hard thing to take."
Antonik, who graduated from Prairie Ridge High School, joined the Marine Corps on May 23, 2001, and was trained as a reconnaissance man. He was promoted to staff sergeant Feb. 1, 2009, joining the special ops Sept. 24, 2009.
It was Antonik's third tour overseas after two tours in Iraq.
"He wanted to serve his country, and he worked very hard at it," Florence Antonik said. "He was such a fine boy. I love him very much and I watched him grow up."
In a 2001 interview with the Northwest Herald, Antonik's father, John, spoke about his fears after his son joined the Marine Corps, but said that the family was in God's hands.
"We have anxiety, but not much at this point," he said. "I guess the reason we feel this way is because he got his wish. This is something he wanted to do, even in high school."
When his father came home from work, Christropher Antonik would rappel down a tree in his front yard as a greeting. He had hoped to one day become a Navy SEAL.
Christopher Antonik's decorations included a Navy and Marine Corps Achievement Medal, three Marine Corps Good Conduct Medals, a Combat Action Ribbon, four Sea Service Deployment Ribbons, an Afghanistan Campaign Medal, the Global War on Terrorism Expeditionary Medal, the Global War on Terrorism Service Medal, two Iraq Campaign Medals, the National Defense Service Medal, and two Navy Unit Commendations.
Antonik also is survived by his sister, Jennifer. He is the sixth service member from McHenry County to have died while serving in Iraq or Afghanistan, the third from Crystal Lake.
Army Pfc. Collier Barcus of McHenry was killed July 8, 2004, in Iraq; Marine Lance Cpl. Jonathan Collins of Crystal Lake was killed Aug. 8, 2004, in Iraq; Army Spc. Keith Nurnberg of McHenry was killed Sept. 5, 2007, in Iraq; Army Spc. Lukasz D. Saczek of Lake in the Hills died May 10, 2009, in Afghanistan, and Army Sgt. Jason A. McLeod of Crystal Lake was killed Nov. 23, 2009, in Afghanistan.
http://www.nwherald.com/articles/2010/07/13/r_gm3g3z60tgyrwbt3wizblg/index.xml
…The Department of Defense said Antonik was assigned to the 1st Marine Special Operations Battalion based at Camp Pendleton, Calif.
A former Crystal Lake resident and a 2000 graduate of Prairie Ridge High School, Antonik recently married his childhood sweetheart, Erin Gilbert.
Before John Antonik headed to a church meeting Saturday, he slipped on a T-shirt emblazoned with the Marines logo that his son left behind before departing for Afghanistan.
"John just graduated from our men's group on Saturday and was given dog tags that say, 'Leave no man behind,'" said John Engberg, associate pastor at Chain of Lakes Community Bible Church. "He was wearing his son's Marines shirt at the graduation ceremony — and his son dies the next day."
Engberg described Christopher Antonik as an outgoing, energetic, risk-taking young man who had found his niche.
"Regular society was not enough for Chris — he needed bigger things, and had a higher calling," Engberg said…
http://www.chicagotribune.com/news/local/northnorthwest/ct-met-military-deaths-20100714,0,5021061.story
<![if !vml]>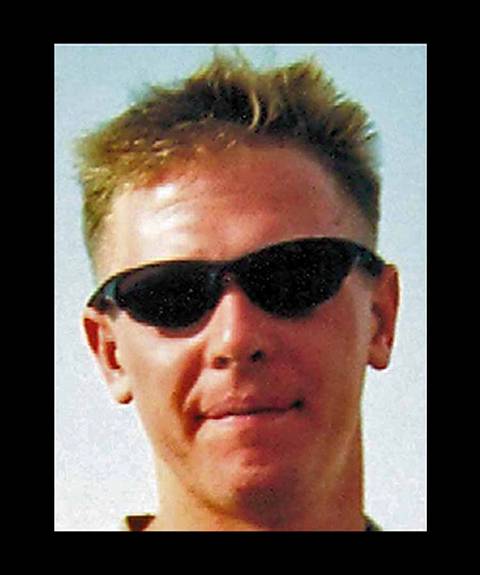 <![endif]>
Story of the Airport Escort
                  Photo album one
                  Photo album two
Story of the Visitation
                  Photo album three
                  Photo album four
Story of the Flagline
                  Photo album five
                  Photo album six
Story of the Funeral
                  Photo album seven
                  Photo album eight
back to ALL MISSIONS