Captain Nathan R. McHone, of Marine Heavy Helicopter Squadron 363, Marine Aircraft Group 24, 1st Marine Aircraft Wing, III Marine Expeditionary Force arrived on homeland soil at 0400 on 23 January 2012.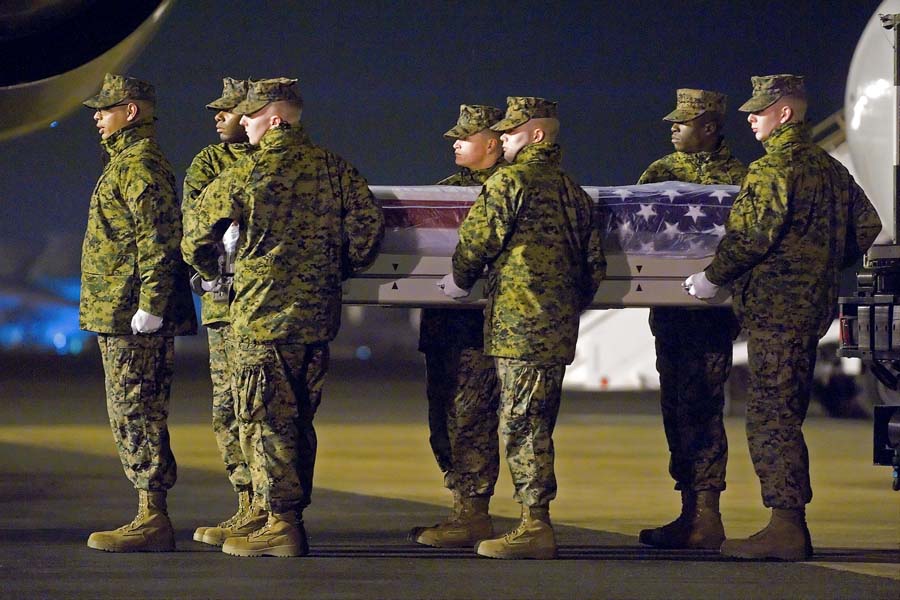 The next day, 24 January, two things happened: We were told that we will escoprt the Nathan the 25 miles from the DuPage County Airport to Crystal Lake. It is unusual to get three days advance notice -- it is almost always less. The temperatures will be in the 30s but the roads will be clear and dry. I plan to ride and with this good notice, so will others.
Also today the Lucky Red Lions, the HMH-363, had a memorial service in the chapel at Camp Bastion in Afghanistan. A few hundred yards from the chapel, this flag flew at half: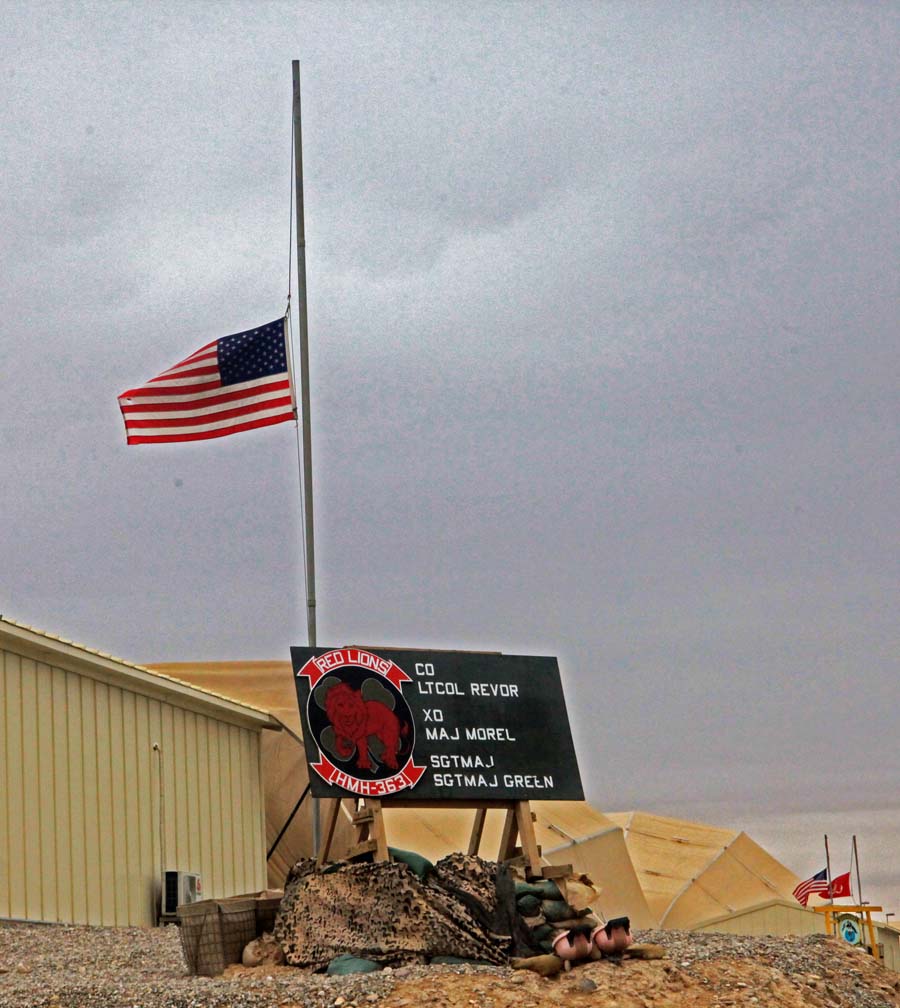 The personal sidearm of chopper pilots is typically a pistol. Nevertheless, the traditional helmet-on-M16 was displayed inside the chapel, albeit with characteristic chopper helmets.
When a warrior has a change of rank, a portrait is made. No one knew what the portrait might be used for but it is a serious business. They are not allowed to smile.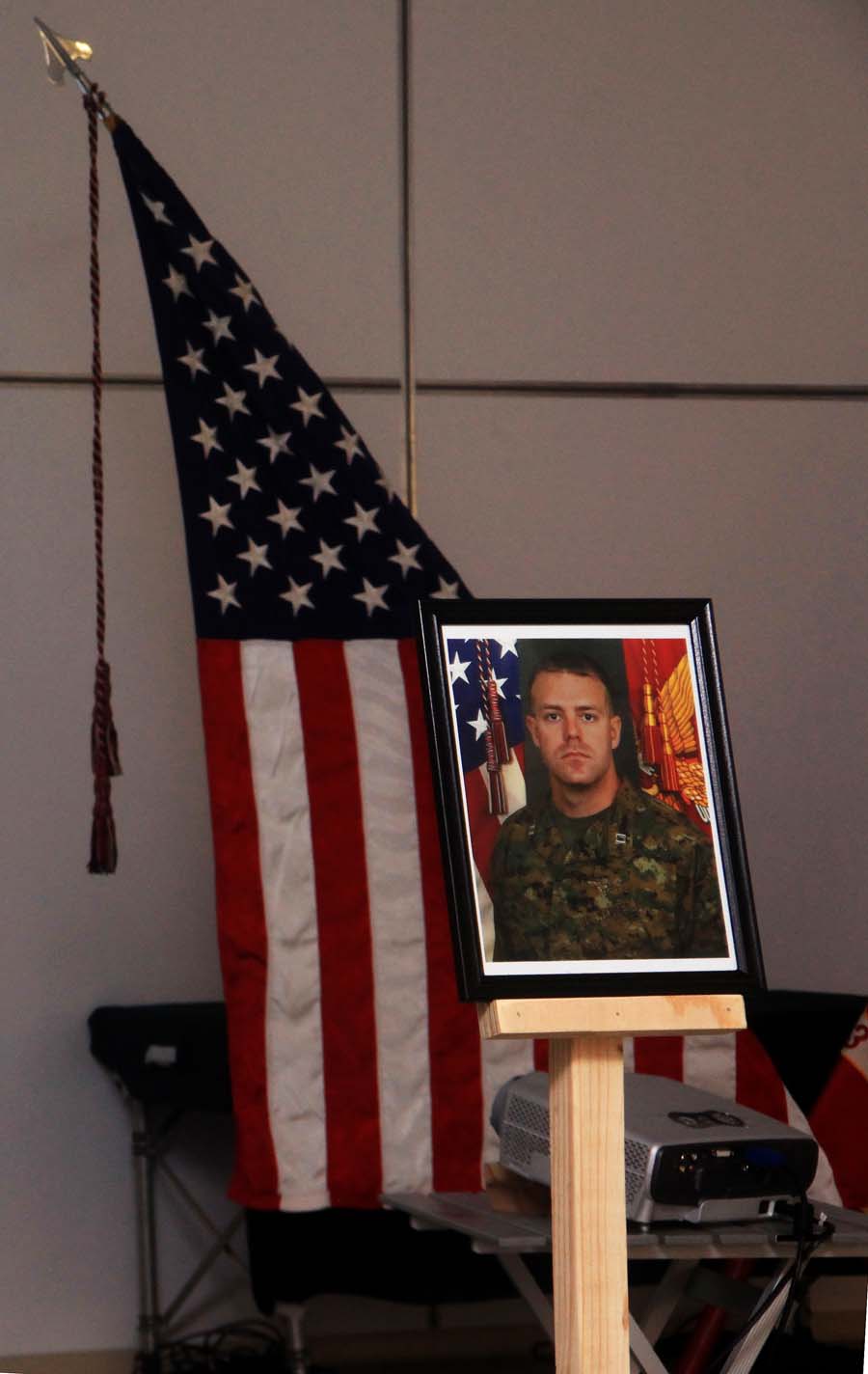 Looking at his "captain picture" I got the sense that Nathan had to be told not to smile.
The following photo has been reposted on FaceBook many times in the last week. It was taken near Fort Lewis a week ago on January 15th by the guy who runs fallen heroes websites.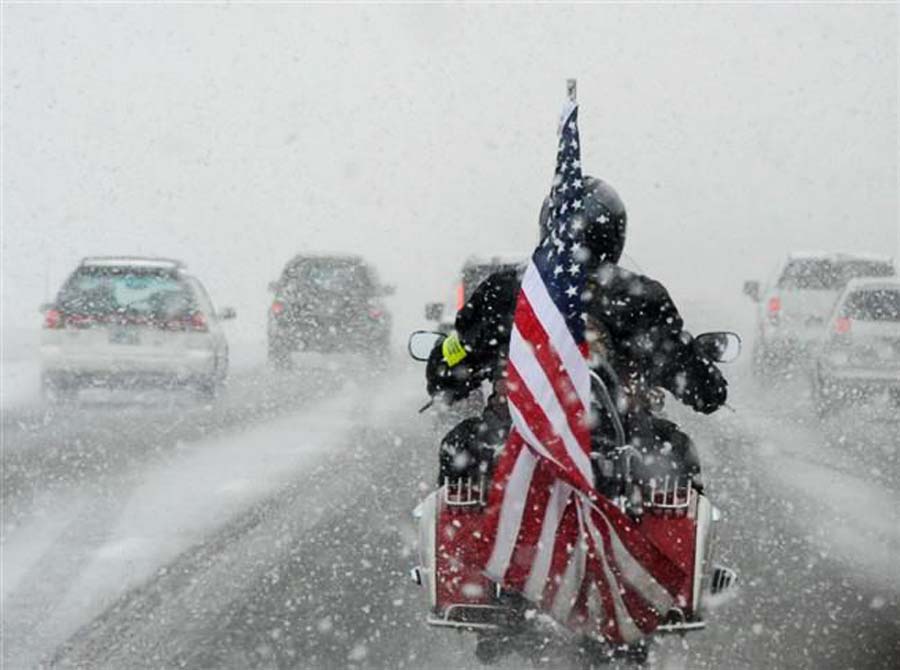 I think this epitomizes the spirit of the PGR -- you can see his yellow PGR armband. It's a tribute. That's why I rode for Robert Wenger.
Weinger Mission, March, 2009
It's why I'll ride for McHone. It will be cold, but not as cold as Valley Forge or Chosin Reservoir or Bastogne. Not as dangerous, either.
Friday: DuPage Airport
14 bikes! Temperatures in the twenties when we rolled in.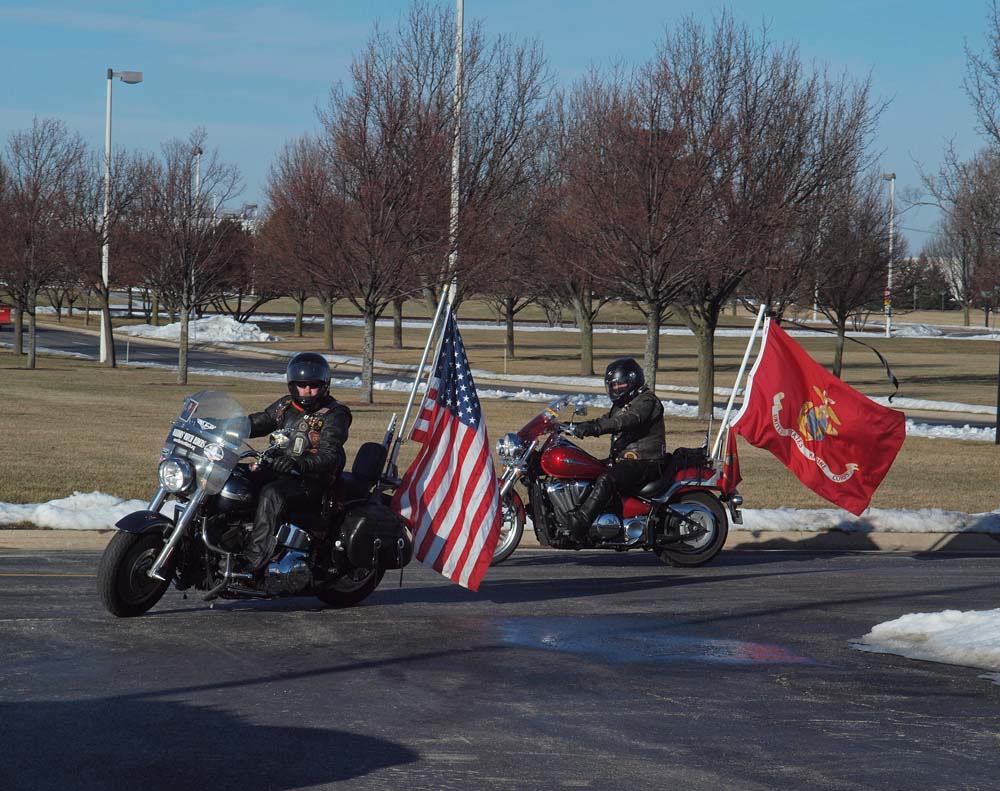 Many people came in cars, too. A good turnout.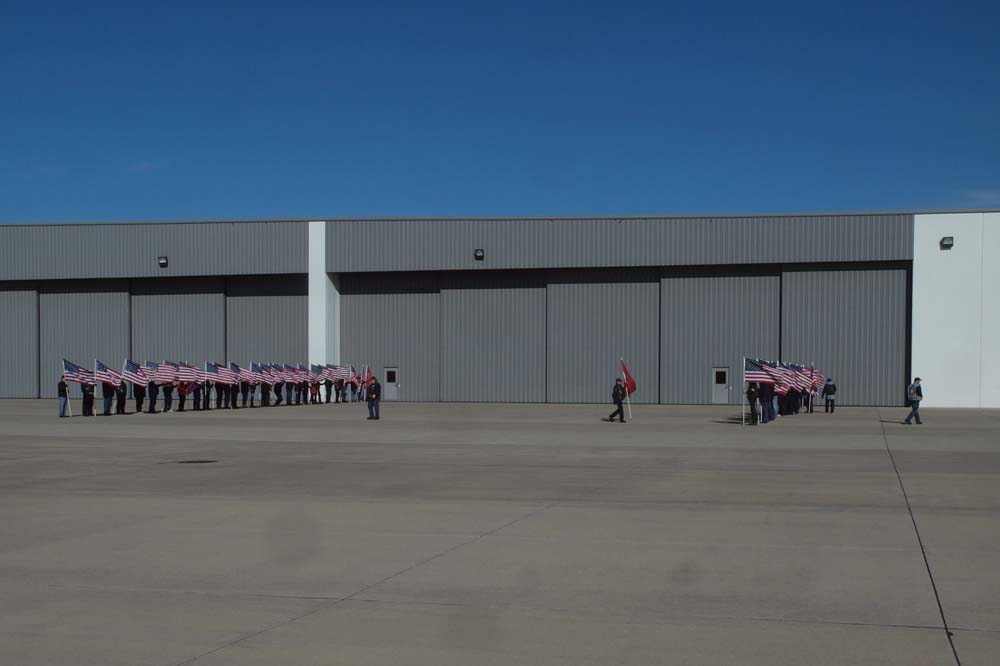 A young Marine named Zach.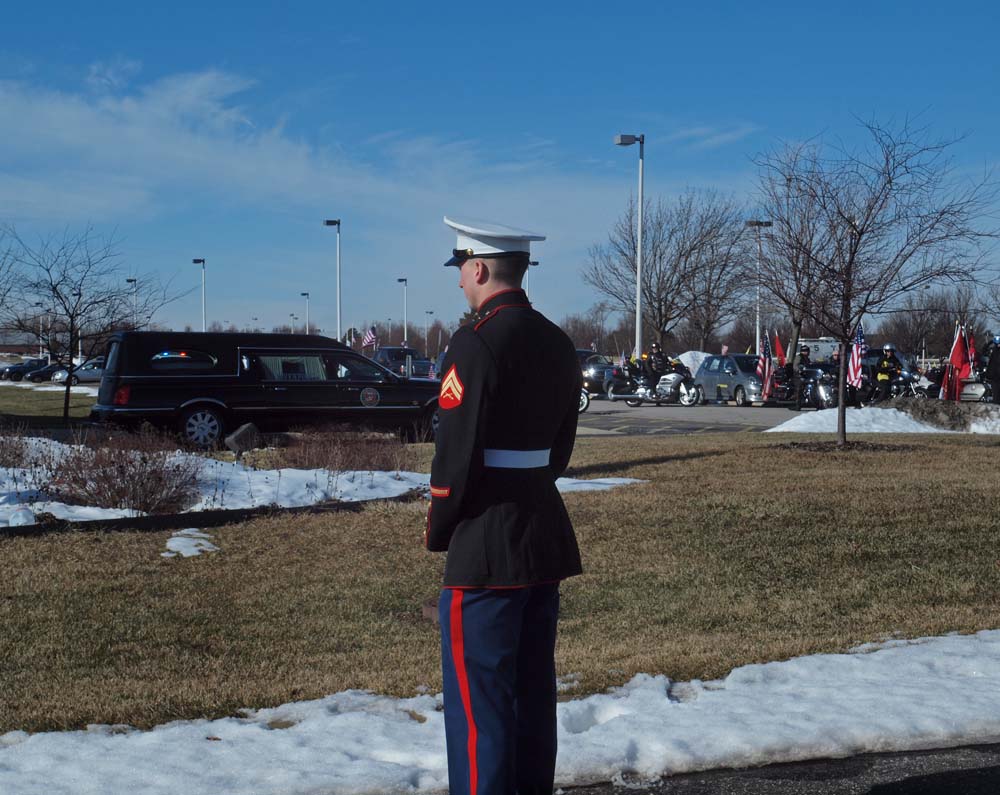 Ride Captain put my big flag in front, so this is the four Marine flag bikes leading the hearse.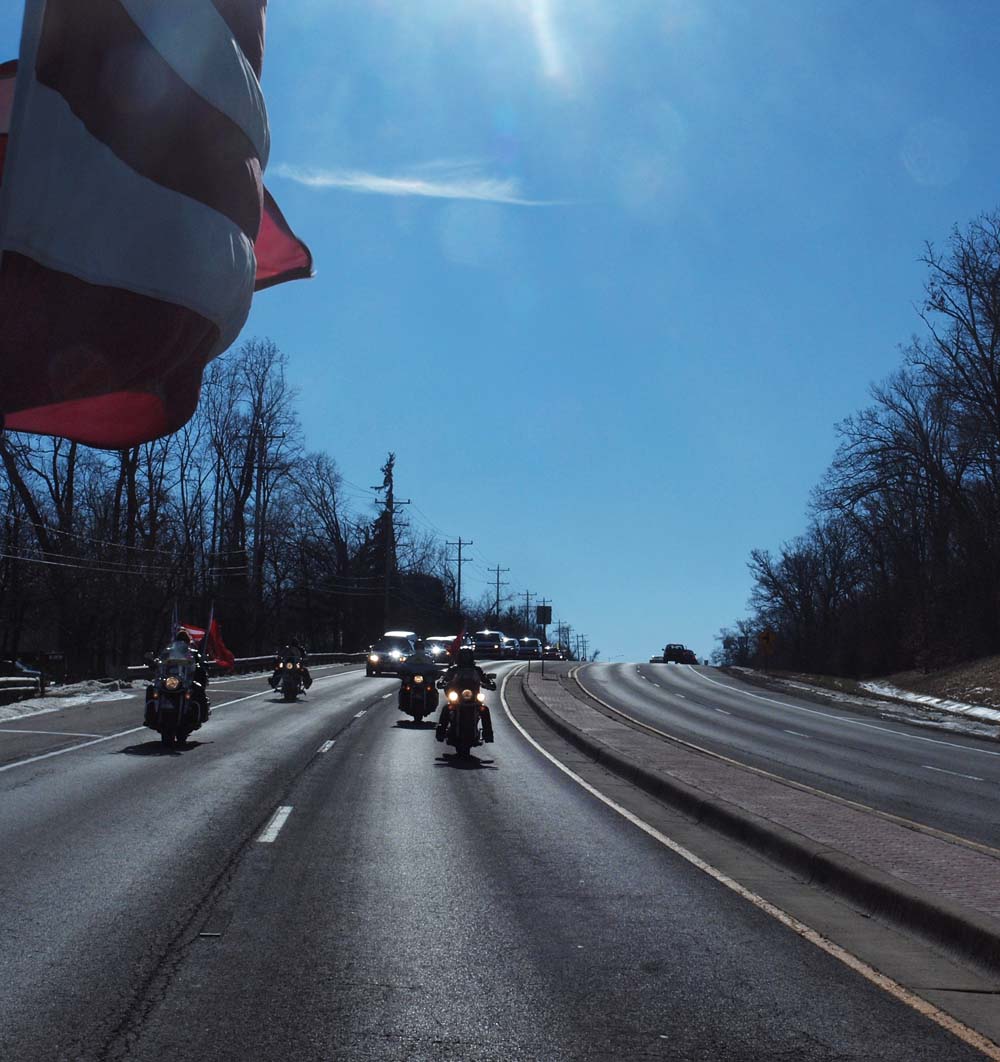 We traveled through the parking lot of his school and there were hundreds of students standing respectfully.
There were other Crystal Lakers along the roads, too.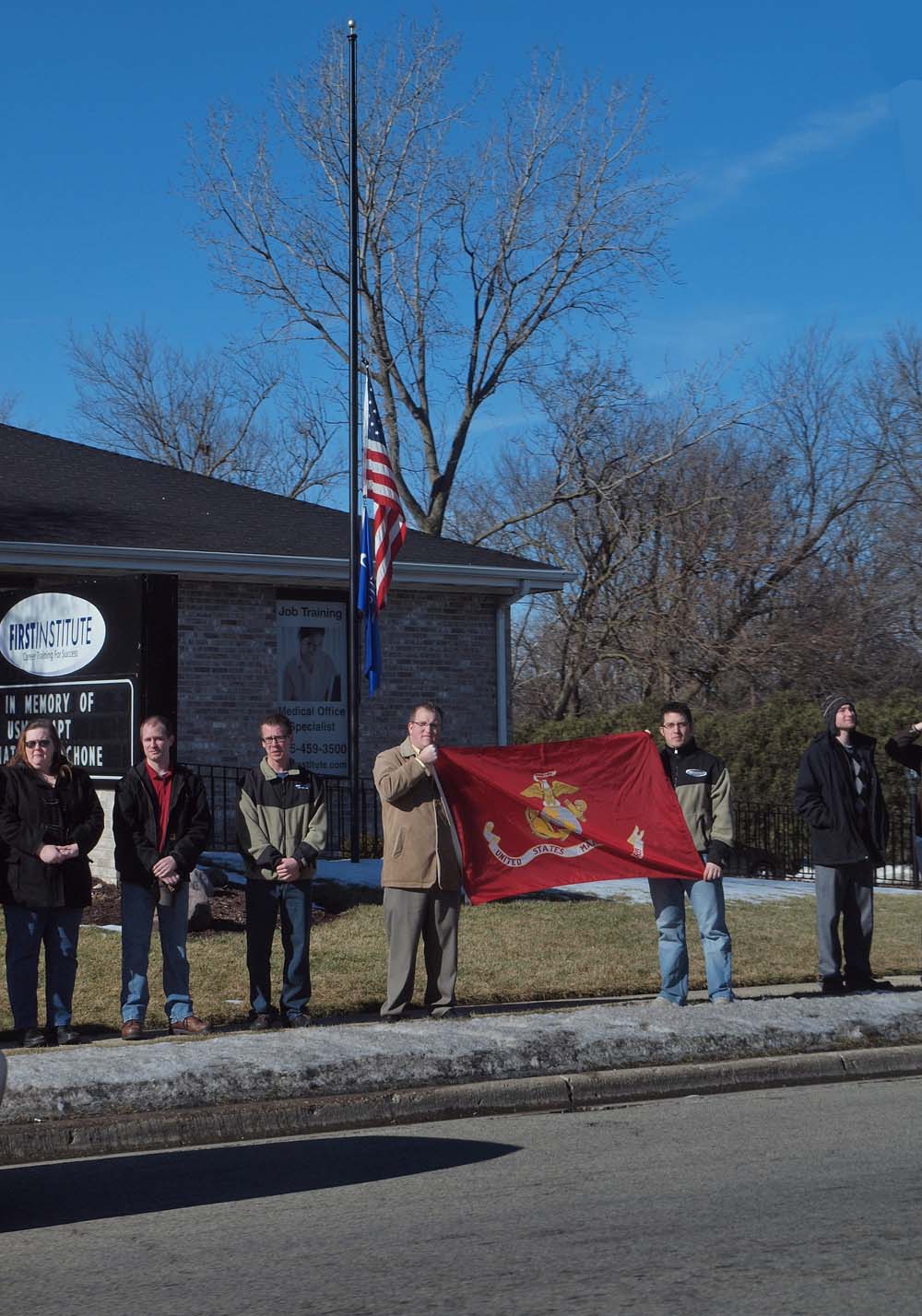 We got him there -- the Davenport Funeral Home, where we stood for Christopher Antonik and Jason McLeod.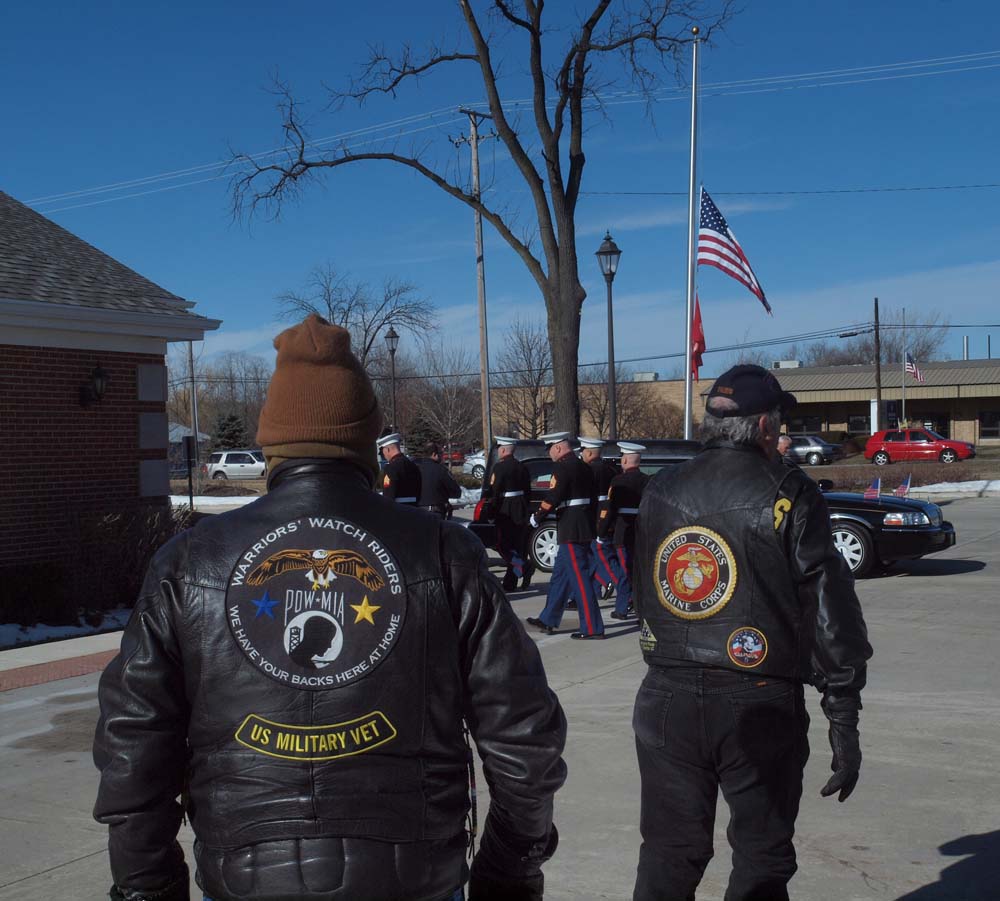 It has begun. Saturday and Sunday, visitation and funeral. Another debt I will never be able to repay.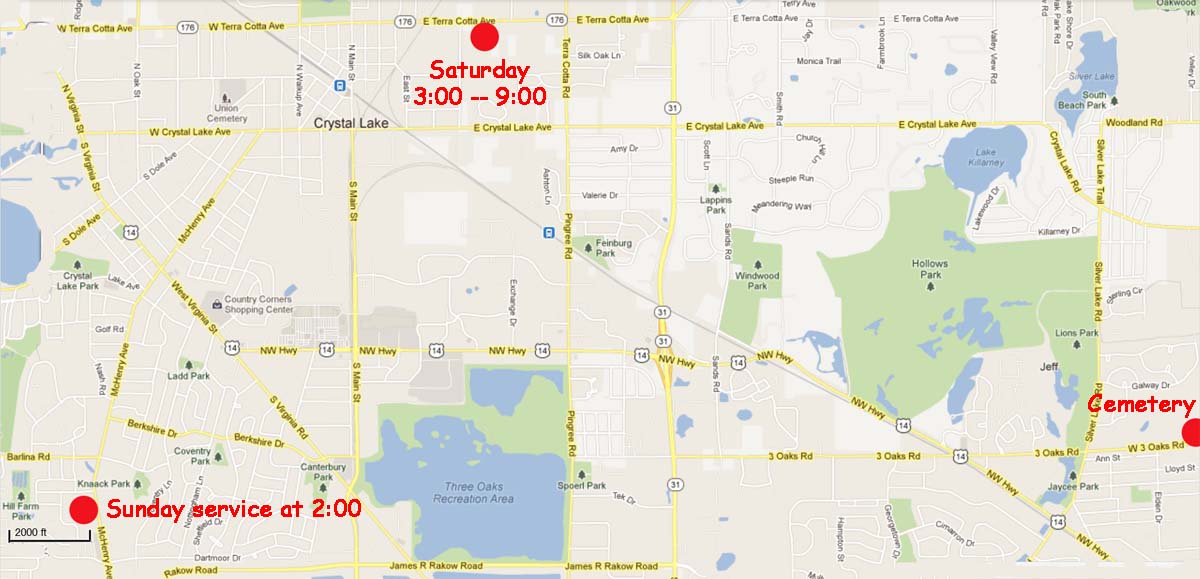 (map created by author from newspaper stories and published Thursday afternoon)
DuPage County Airport: http://news.webshots.com/album/582244478zJJYPy (96 photos)
Escort to Davenport F.H.: http://news.webshots.com/album/582244479kYbYNp (87 photos)
Saturday, visitation at Davenport:
I'd been here for KIA missions twice before. I knew the way and I knew site. I knew that Crystal Lake would have a cop there so that we could park across the street and not take space in the parking lot. I knew the flag would be half-staffed and that the Marine flag would fly along side. I knew PGR flags would be staked along the perimeter of the property.
Still, what a sight.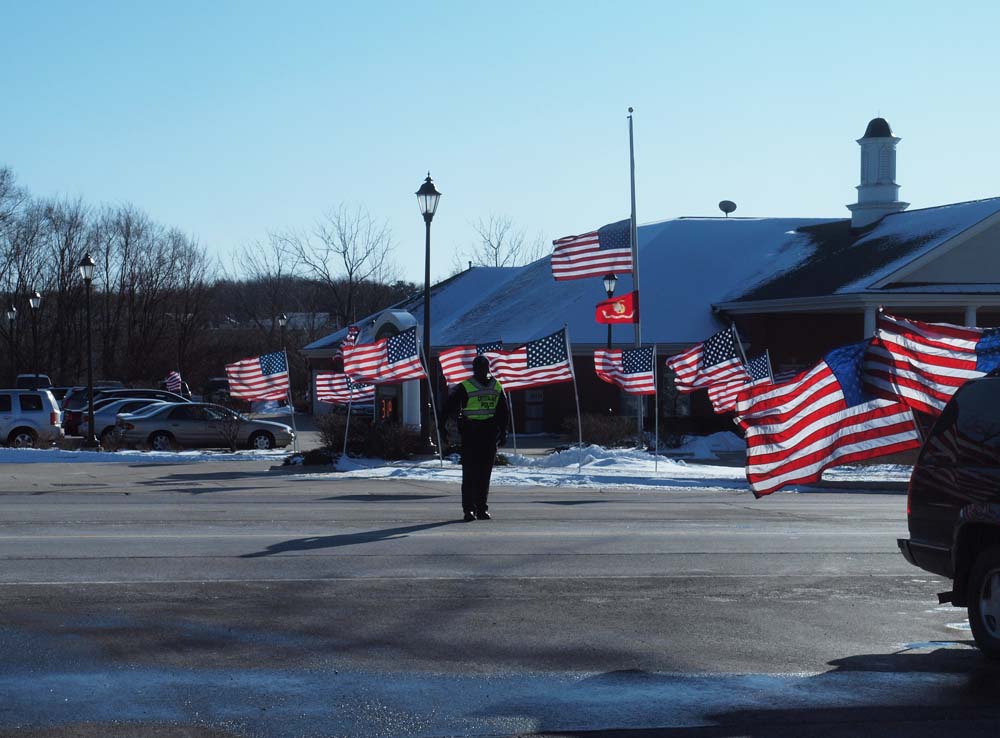 It snowed last night and it will snow tonight. It was a windy day. The building entrance twisted the wind all around and adjacent flags could be blown in opposite directions.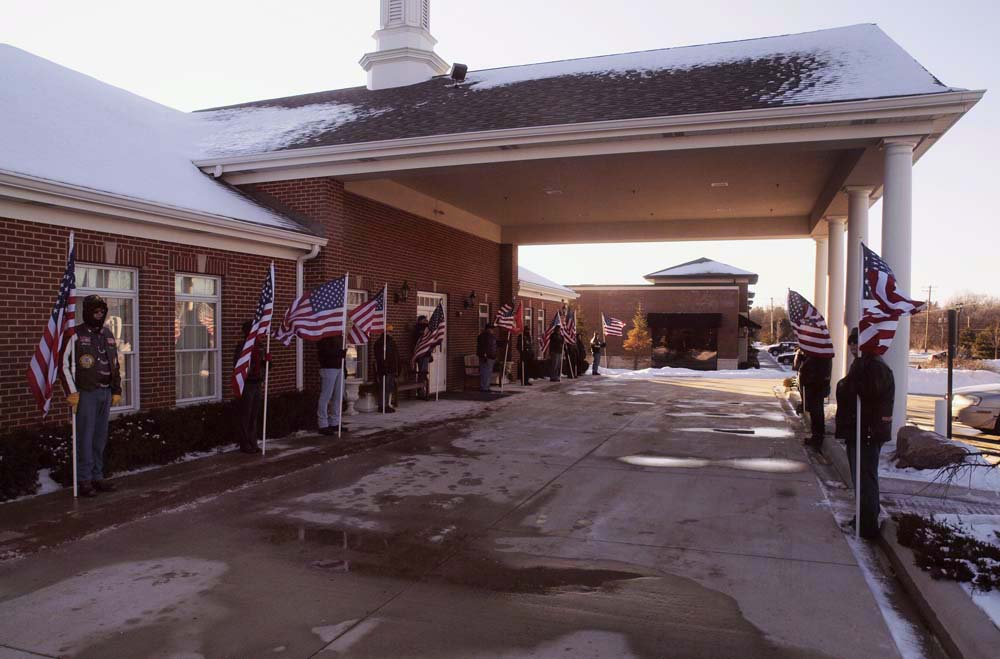 Personally, I don't think people holding flags should be holding doors. The strong wind made today different. It was more than a courtesy; it was a genuine service.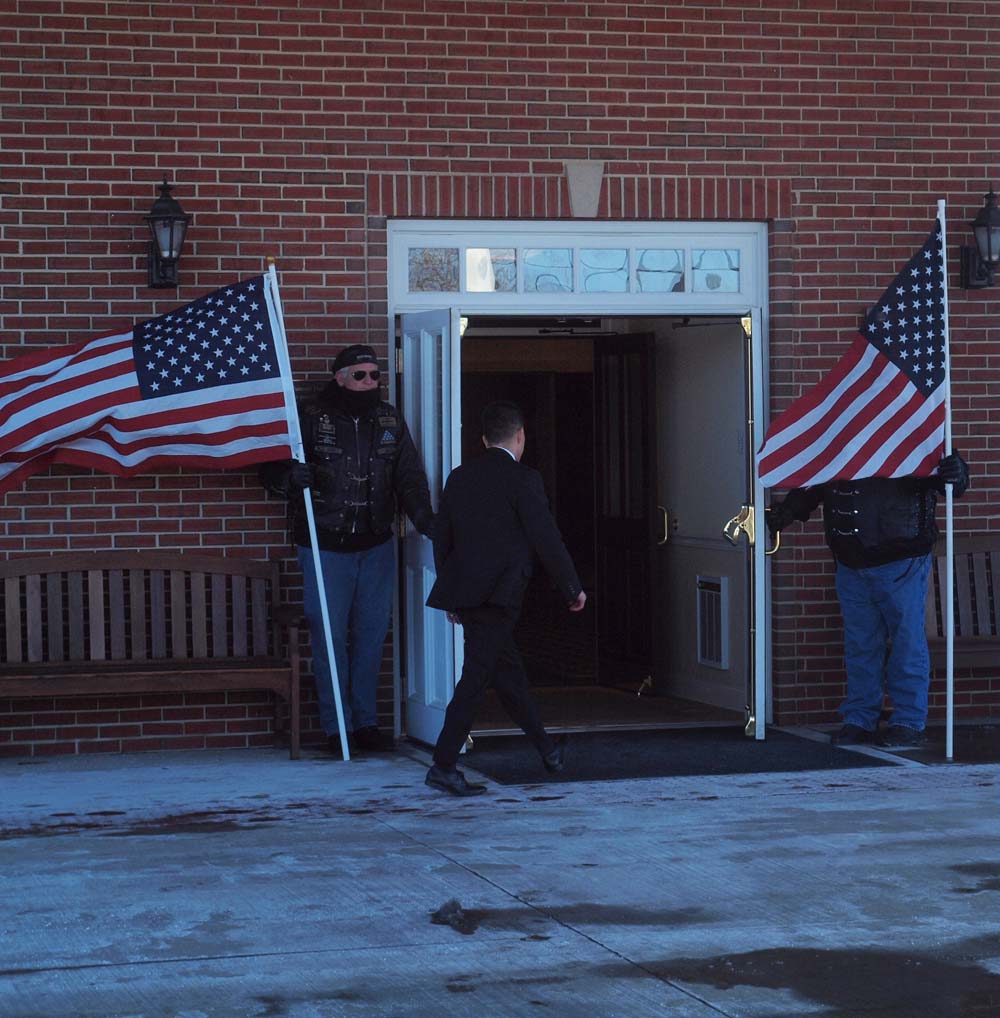 Maybe it was 32 but it seemed colder. And the sun would set soon.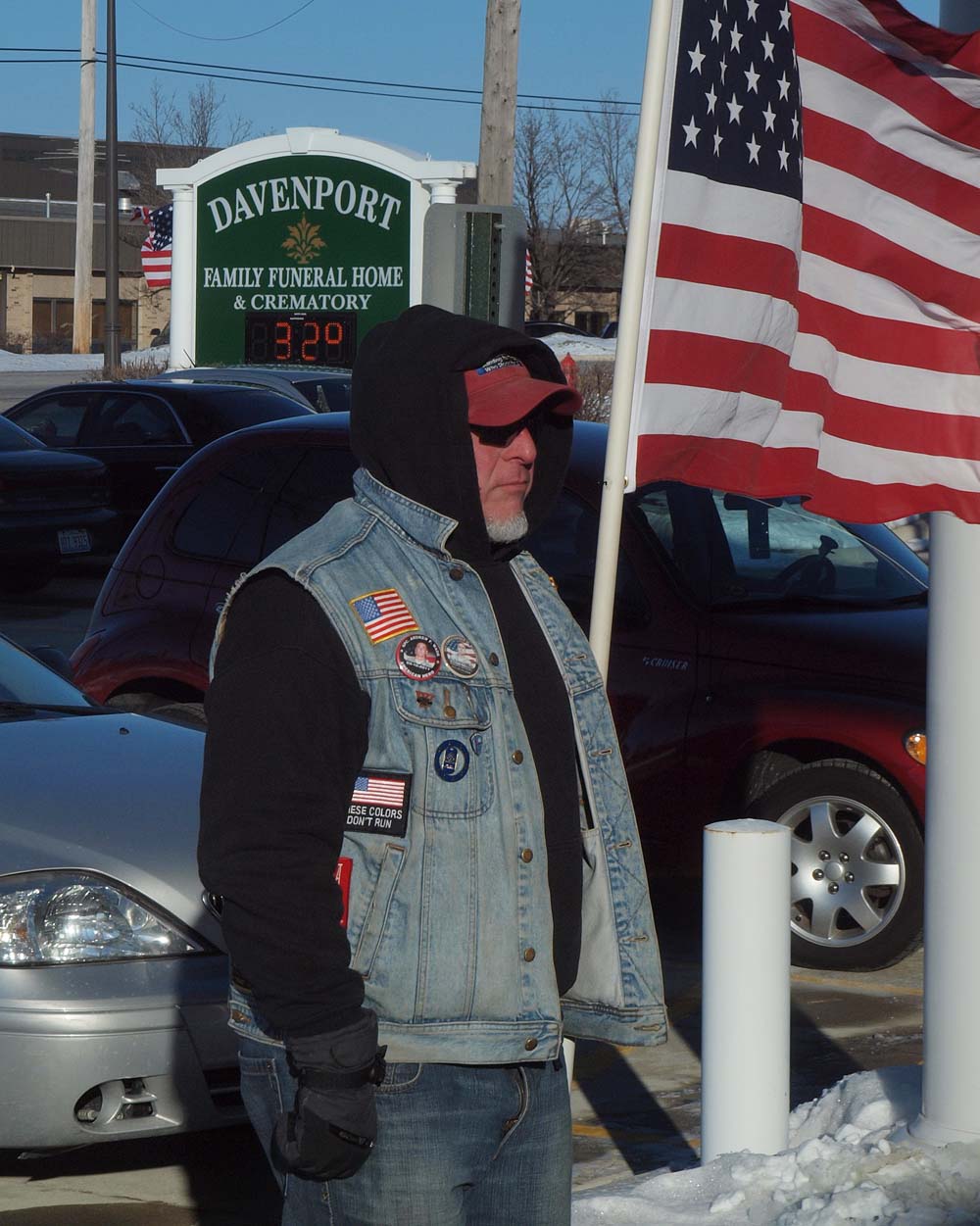 Like many of us Yankees, the Governor does not bother with an overcoat when he is moving only the short distance from his car to the door of the building. Indeed, if he were headed inside we would hold open the doors to speed his entrance.
But it was precisely because it was cold that he went down our line. We have seen him many times and no one faults him if he passes briskly. None of us would second-guess his schedule or his health or his priorities.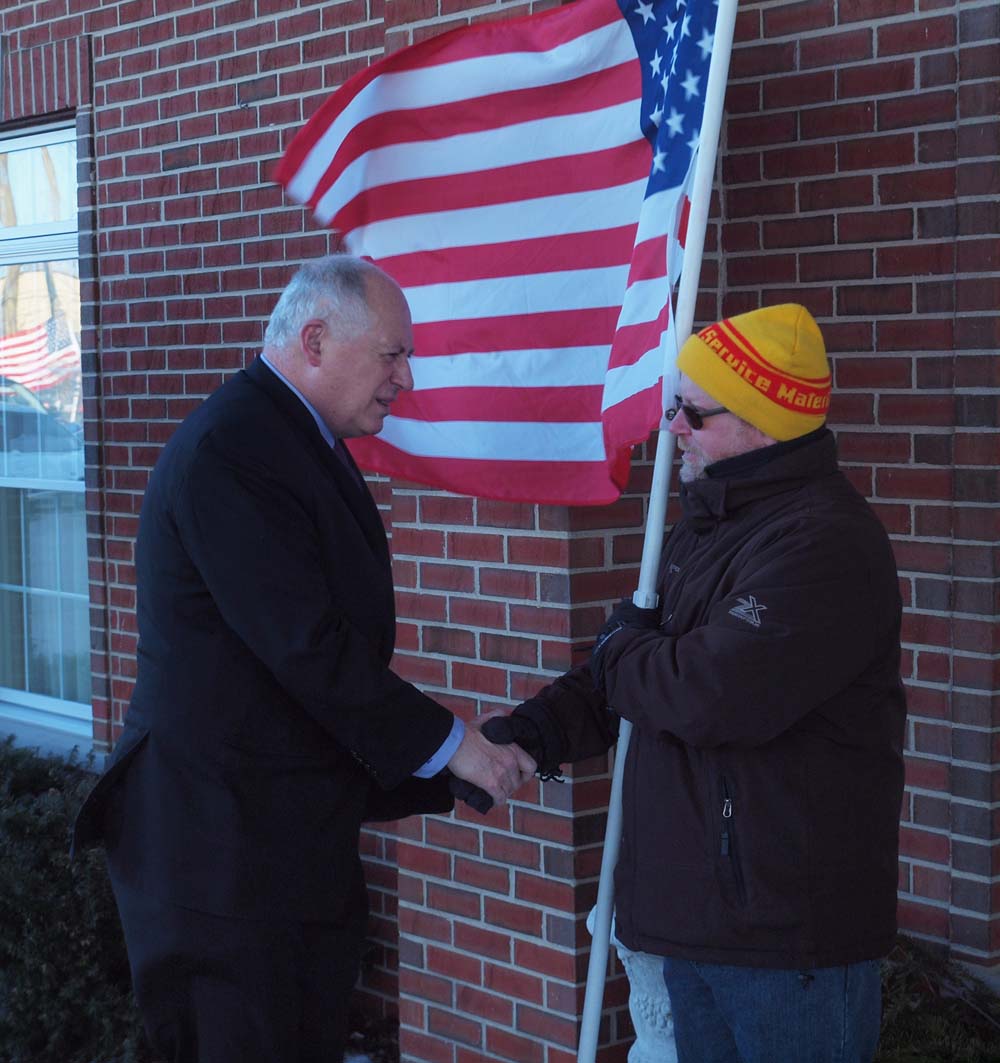 Well, his priority was to recognize the service of the flag-holders standing in the cold, simply because they were standing in the cold holding flags. So while his bodyguards waited and I while clicked away with my camera, Governor Quinn had a conversation about the wind and about the yellow Bowe Bergdahl patch on the jacket of Steve Allen.
The Governor's only concession to the cold was to put his hands in his pockets.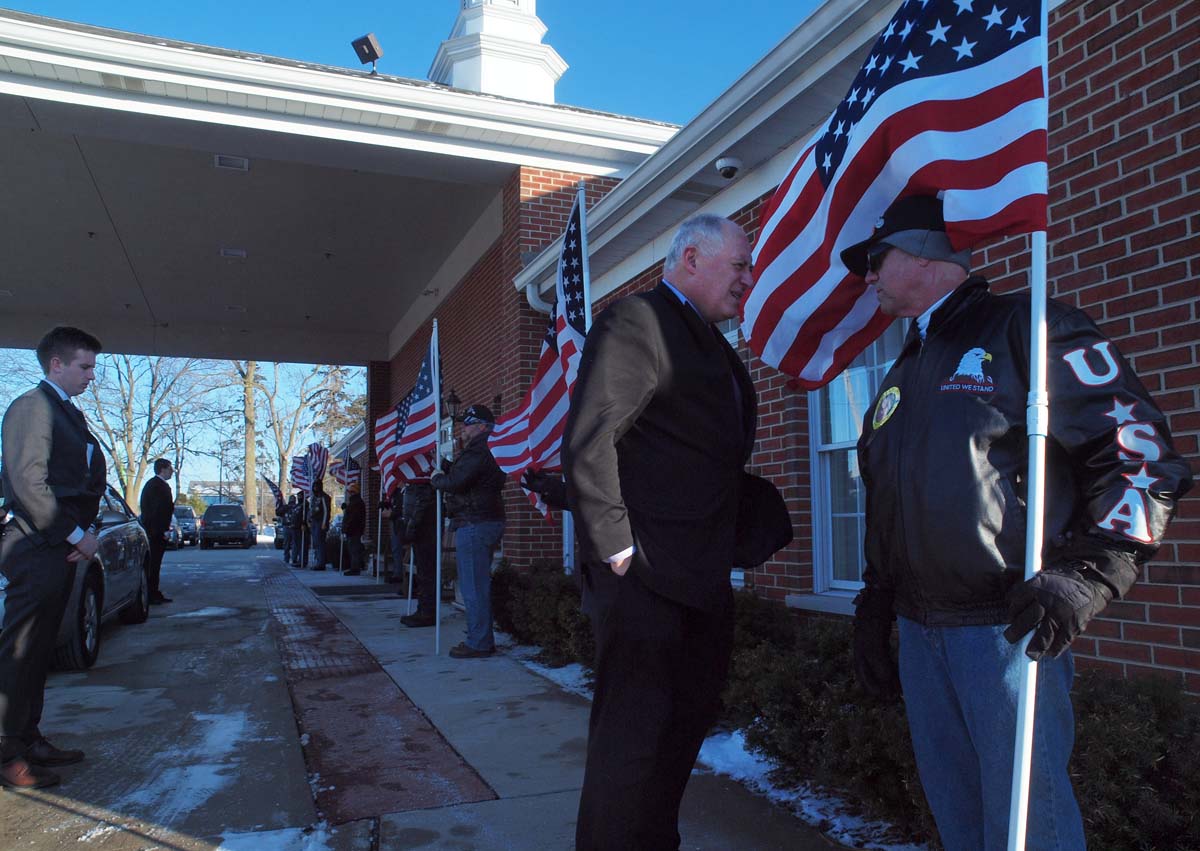 And then he went inside.
Sunday funeral at Prince of Peace Lutheran Church:
The snow stopped in Crystal Lake at 0800 and in Lake Bluff at 0900. So its on:

http://www.nwherald.com/2012/01/28/funeral-services-today-for-crystal-lake-marine/ai8sodc/
I was one of only two bikes. Well, the important thing is that the number not be zero.
I got to the church shortly after noon. A short time later we were set-up: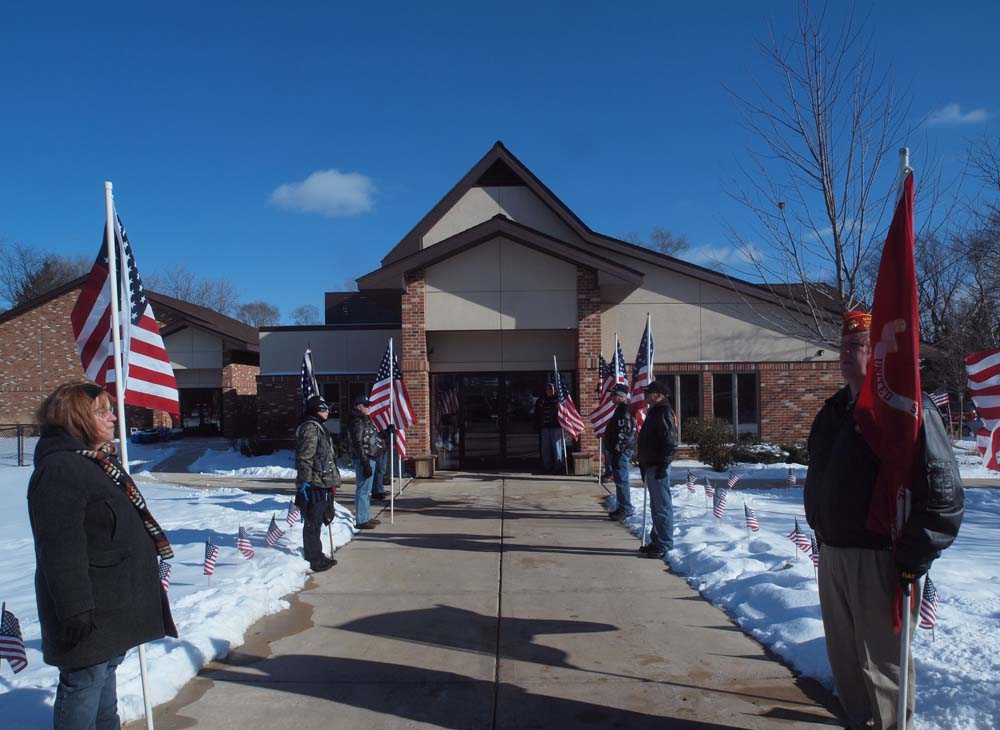 This was the coldest of the three days but we had 24 volunteers standing in it. The piper was practicing: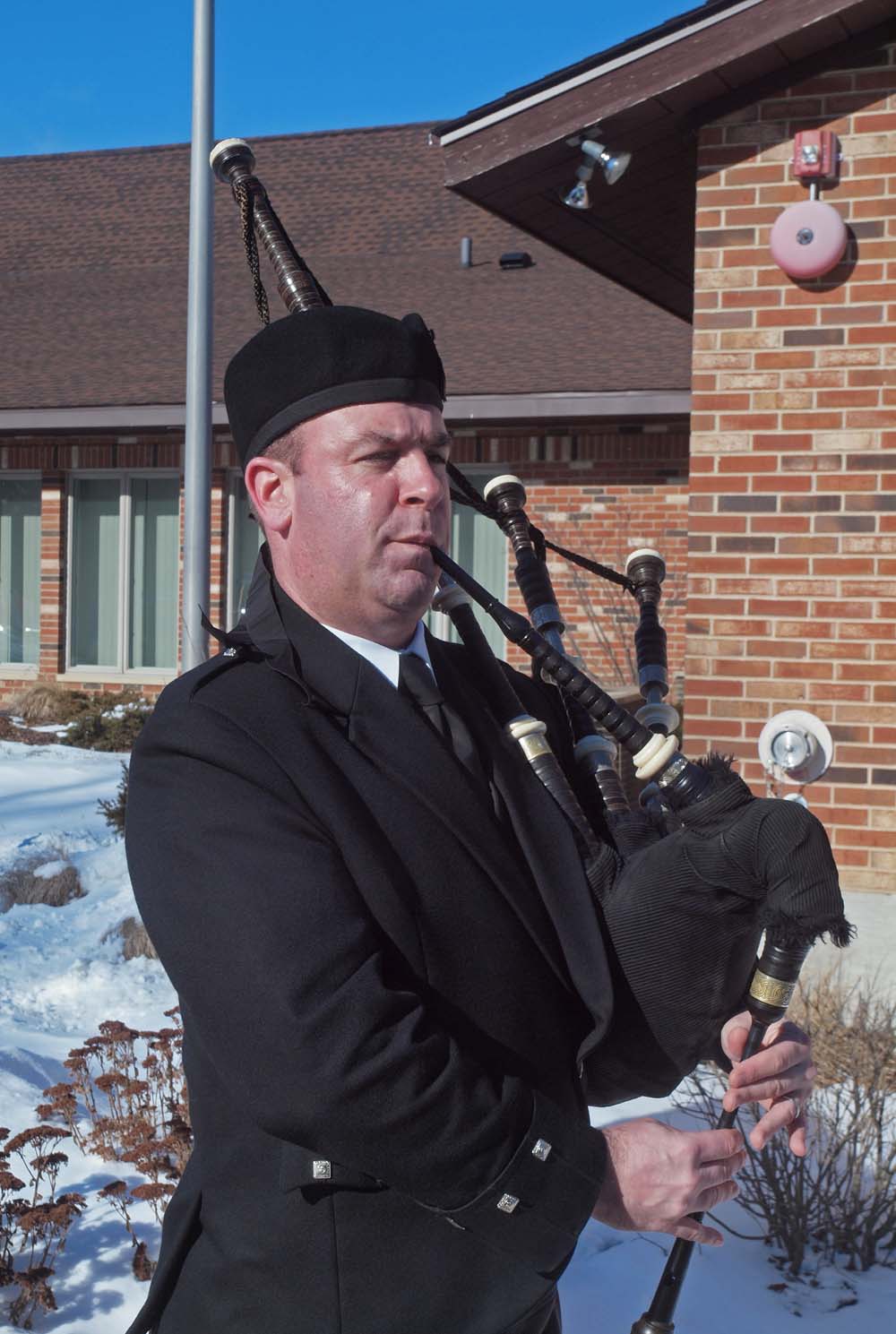 A few of us stood in the rear of the sanctuary and listened. Most of us waited outside. When the casket emerged we were gathered in a semi-circle extending from the hearse to a nearby car, thereby extending the warmth and privacy of the church to the area of the transfer.
We two bikers took position at the end of the drive and waited. On command we turned into the street and followed the directions of the police standing in the intersections. When we reached the cemetery there was a car waiting with its 4-ways on to lead us to the grave. This was my partner just before we left: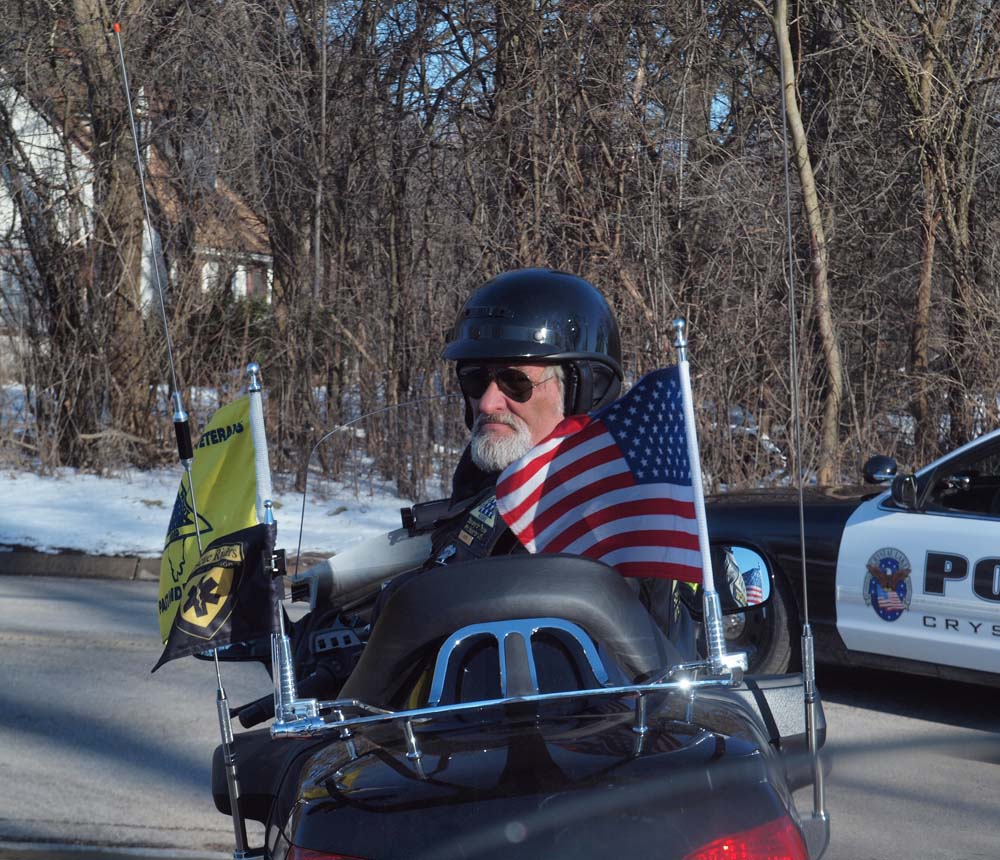 At the cemetery, the Honor Guard marched in: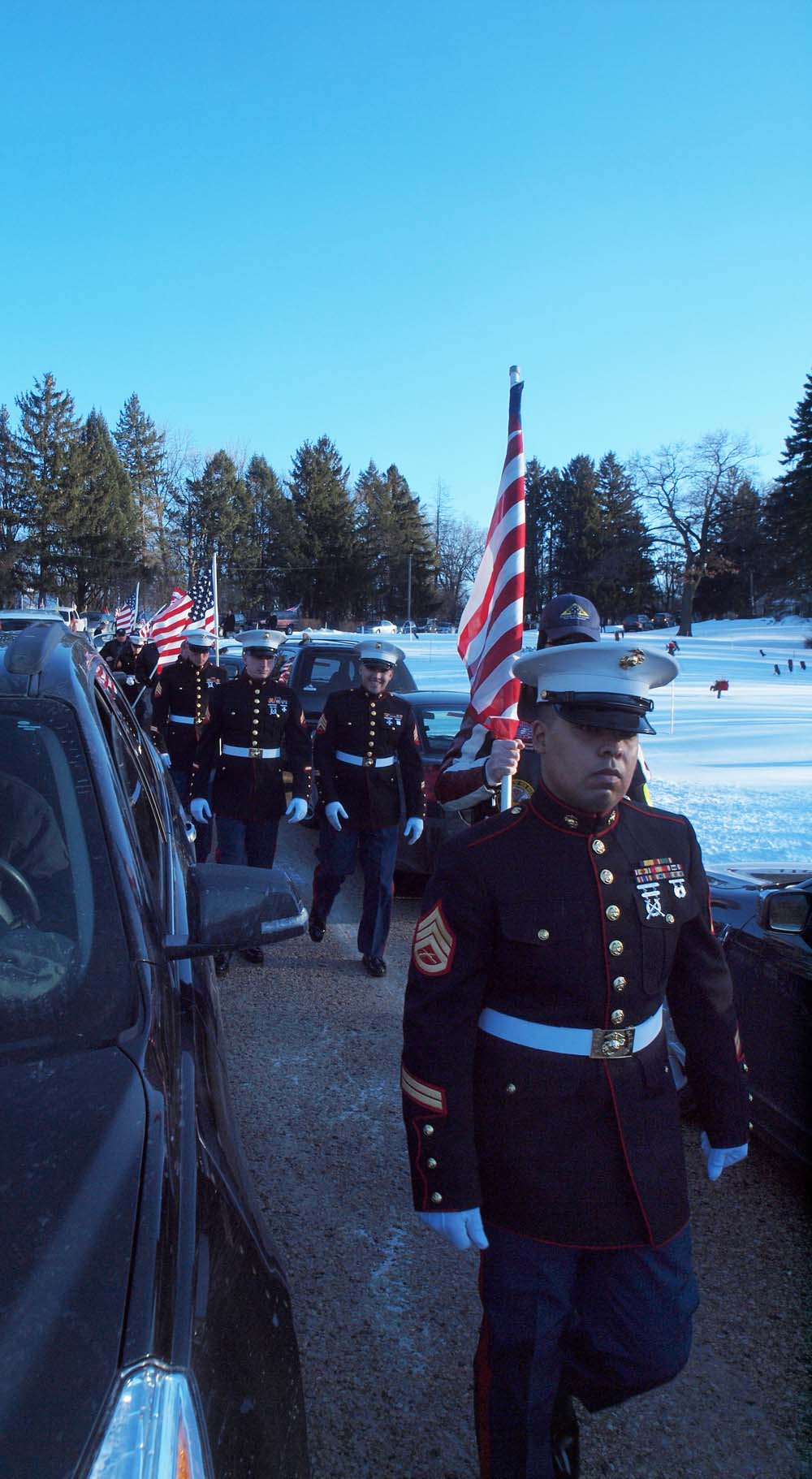 and we marched in: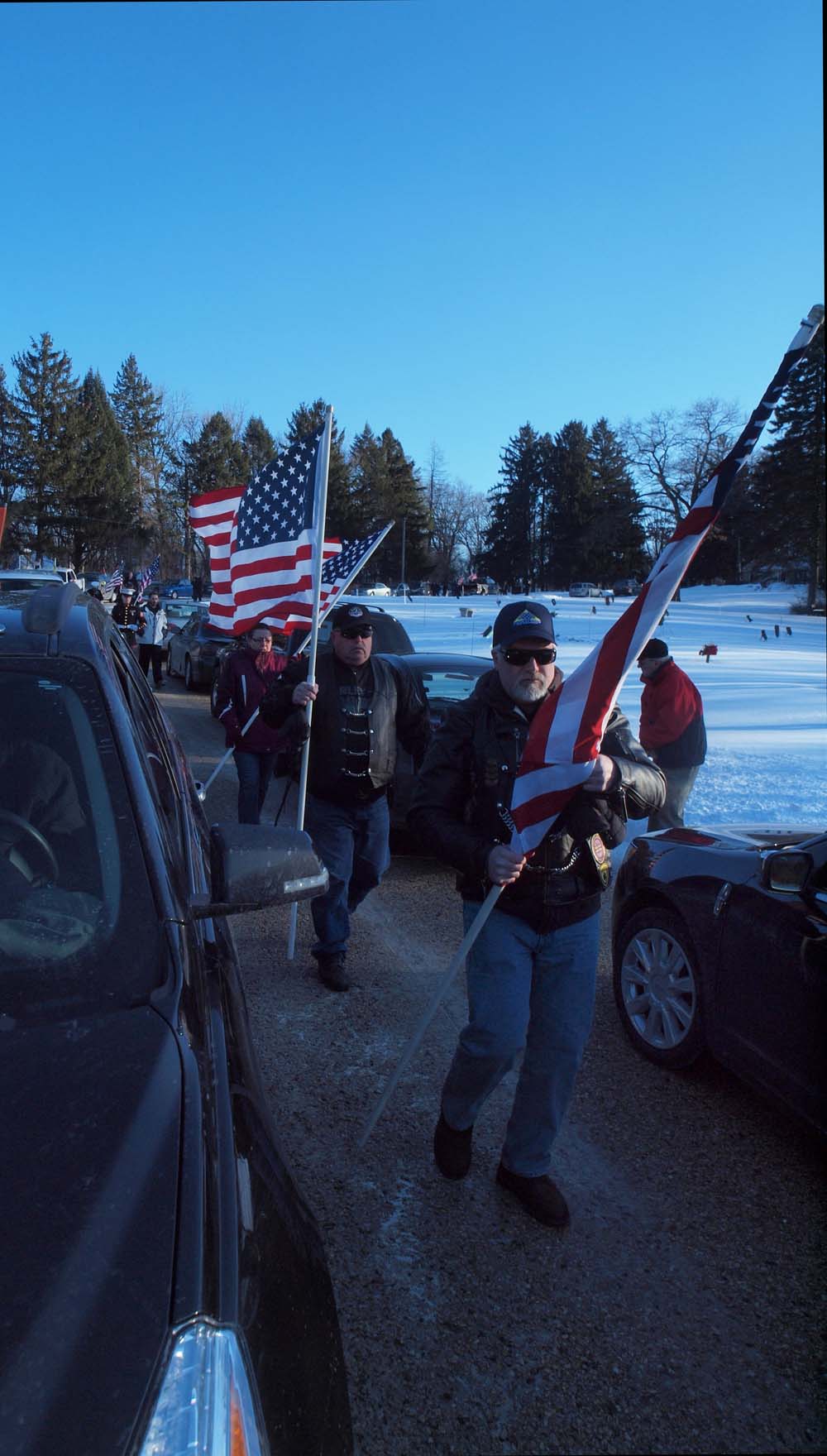 And then we went about the business that had a comforting routine for those of us familiar with it. It was cold, so there would not be any extra ritual. Just the volleys: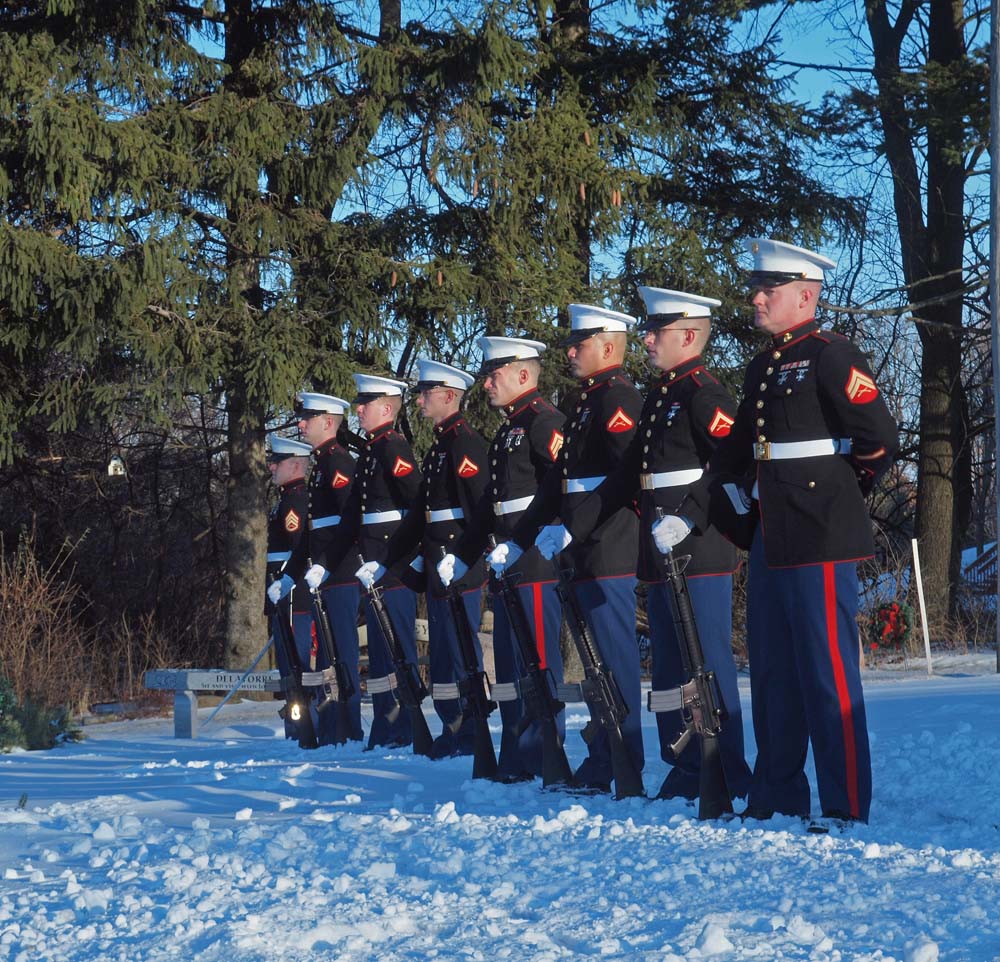 and then Taps: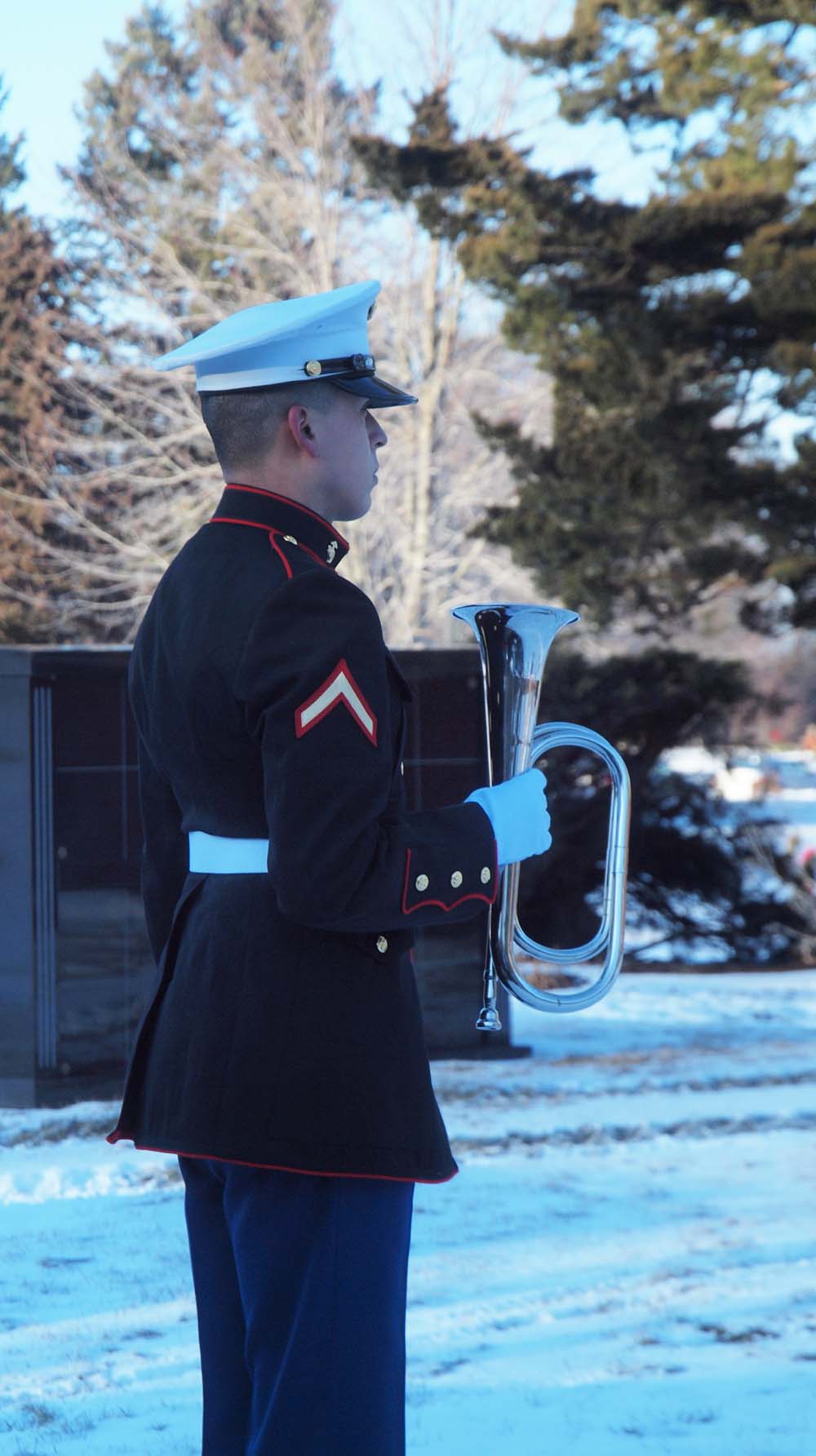 and then the folded flags: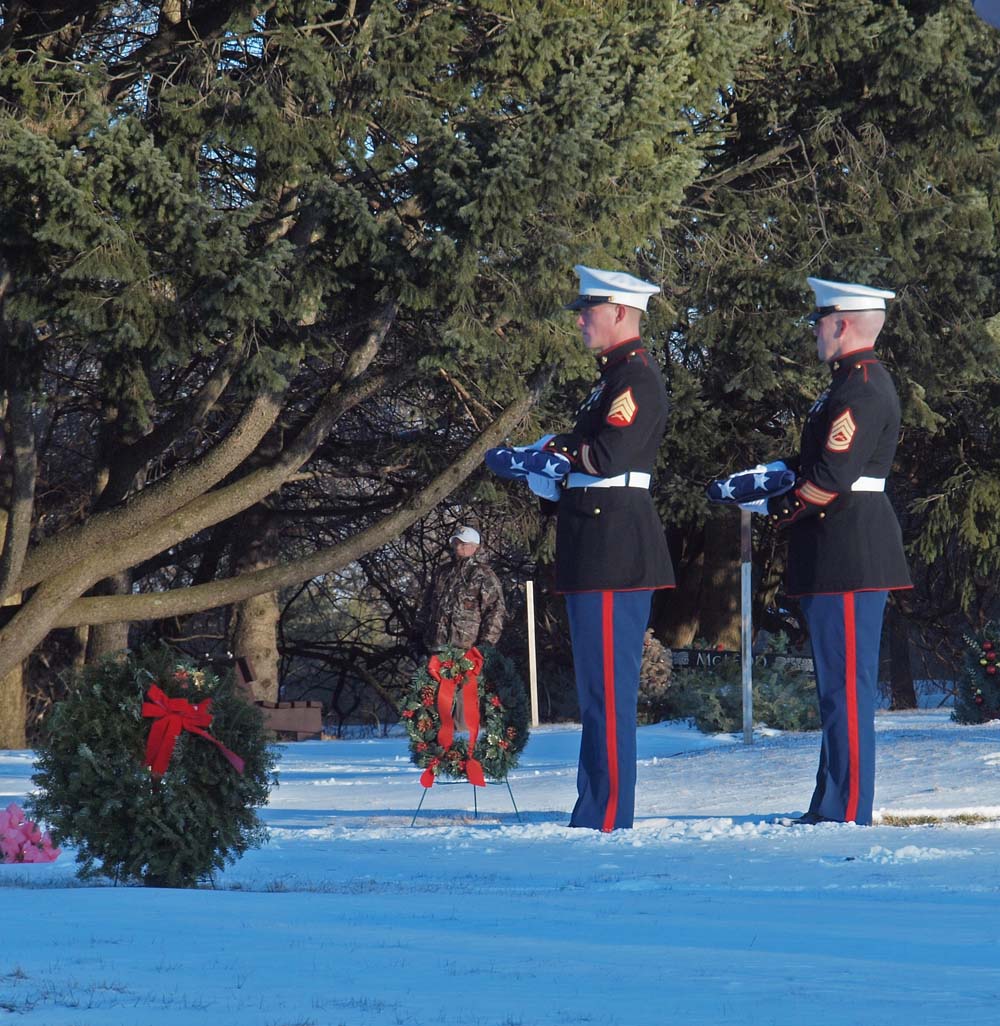 I remember the first time I went through it. It is a profoundly moving statement of sincere gratitude. I hope our presence added meaning.
I got home before dark. Another adventure is now in the books. Done.
One of the very last interactions stayed with me through the ride home. I was standing by my bike waiting for a chance to leave when a young captain came over to me. He said he wanted to thank me. I'm afraid I was not very gracious, given the significance of that moment. I did manage to press a card into his hand so that he might find this page.
Captain, if you are reading this, please know that it is we who must thank you. In fact, that is the whole point. We are just riding motorcycles and waving flags. When a warrior who has dedicated his life, or the best years of it, to facing down those who would threaten us, turns instead to us and is grateful that we have noticed his service, then everything is backward.
Another Marine captain, a few years retired, was a Ride Captain for this mission. He coached us with the exact words to say, "We are honored to be here."
I missed my opportunity with you, Captain. You see, I was never in the service. My father was, and lots of uncles, and one cousin. But I never earned my place in America. Some of us participate because we are veterans. But some of us, like me, participate because we were not. And for me, the very best result is to be told that I am serving now. You're welcome.
~~~
I was certified as a public accountant by the Texas Society of CPAs years ago. Decades ago. Nathan was a Marine for 6 years. I was struck by a Northwest Herald story five days ago:
Nathan McHone attended Western Michigan University, where he once dreamed of becoming a pilot. He joined the Marines to log more flight time. More recently, he had plans to move back to Crystal Lake and settle down in a more "serious" career – he thought he would be an accountant.
Everything is backward.
Visitation at Davenport F.H. and funeral at Prince of Peace: http://news.webshots.com/album/582243545Sknrpa (33 and 25 photos)
back to ALL MISSIONS
PostScript: "a somewhat motley group of ragtag, flag-bearing motorcycle riding patriots"